Chocolate Stout Cheesecake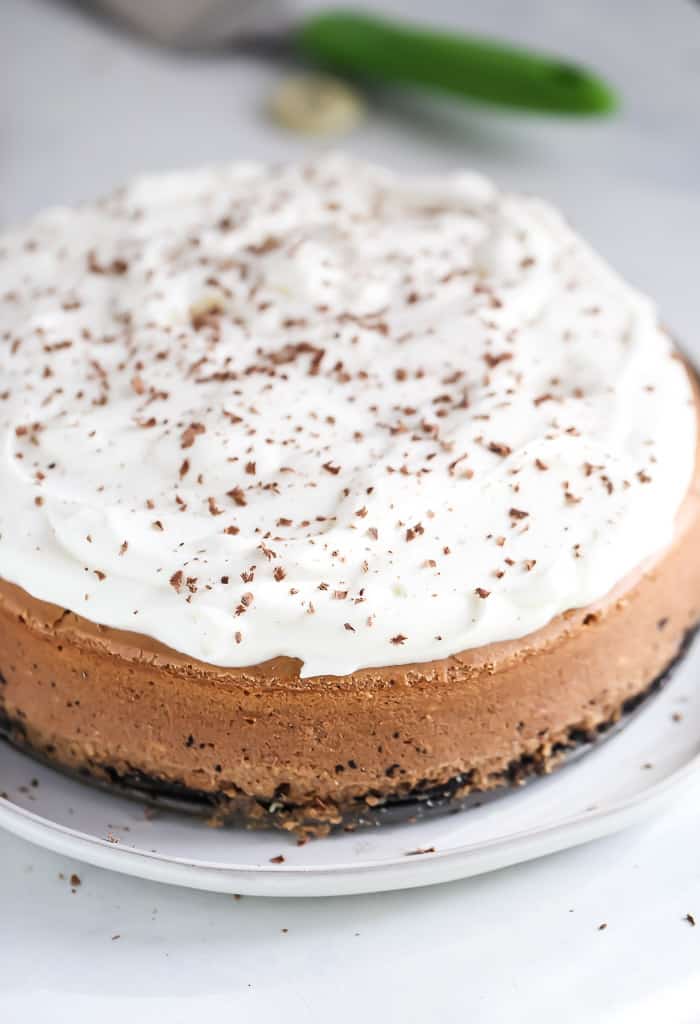 Happy Monday friends! I hope you had a wonderful weekend. It was a very cold winter one for us but we survived and got the kids out of the house a few times. It's hard to be couped up in the house with two kids under 5. The energy level is insane. But you are not here for my toddler woes, let's get to the recipe. This chocolate stout cheesecake is soon to become one of your favorite desserts and I am about to tell you why.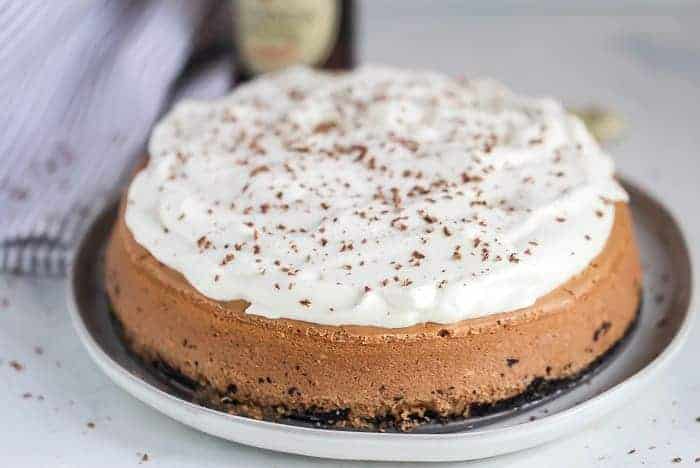 Cheesecake is fastly becoming one of my favorite things to bake. There is just something special about a slice of creamy, decadent and delightful cheesecake. It is the perfect way to end an evening that needs that sweet ending.
Cheesecake is also a great dessert to experiment with flavors. Once you have a good basic cheesecake recipe, you can build off it to play with flavors and seasonal ingredients. For me, that good basic cheesecake recipe is this white chocolate biscoff cheesecake I shared with you in 2013. Yes, 7 years ago and it is still my go-to. The base is a great one that I have used over the years to adapt to every season. I used it in this cranberry orange cheesecake recipe, this swirled pumpkin cheesecake, and this snickers peanut butter cheesecake. You get the idea right?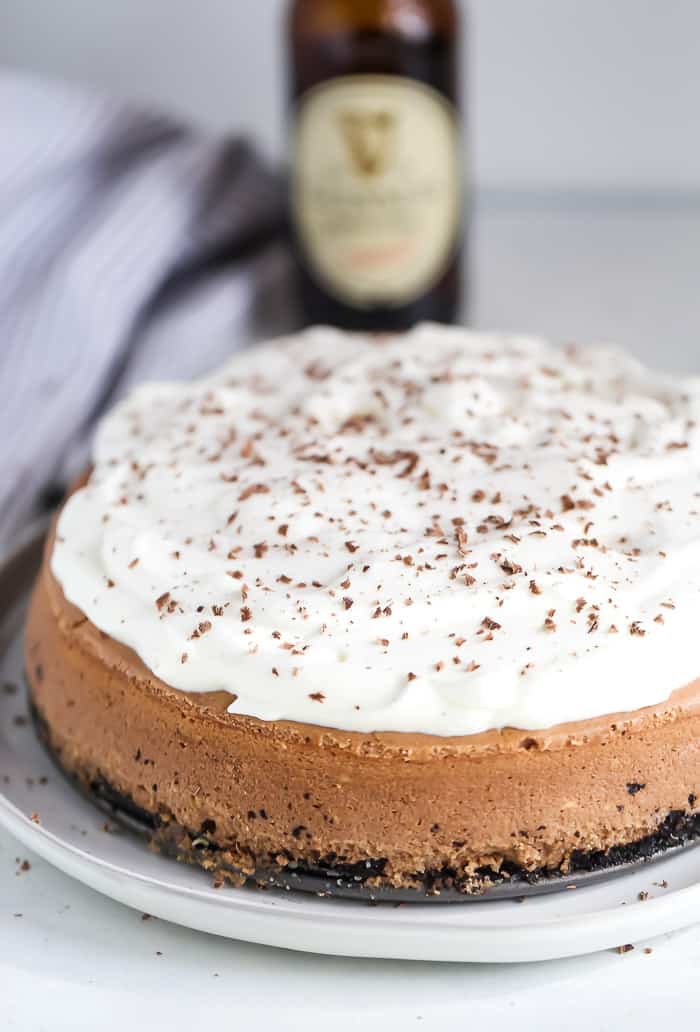 With St Patrick's Day just around the corner, I was inspired by these popular chocolate Guinness cupcakes this time of the year to recreate these flavors in a cheesecake form. This chocolate stout cheesecake was born after a few tweaks to my basic cheesecake batter.
The cheesecake batter is infused with melted chocolate and stout (I used Guinness but I am sure you can use your favorite or even a dark lager beer). It is baked over a simple oreo crust. The alcohol in the stout bakes off so there is no alcohol in the end product. However, you do have the taste of stout. Once baked and cooled, the cheesecake is topped with fresh homemade chocolate whipped cream for an additional flavor boost.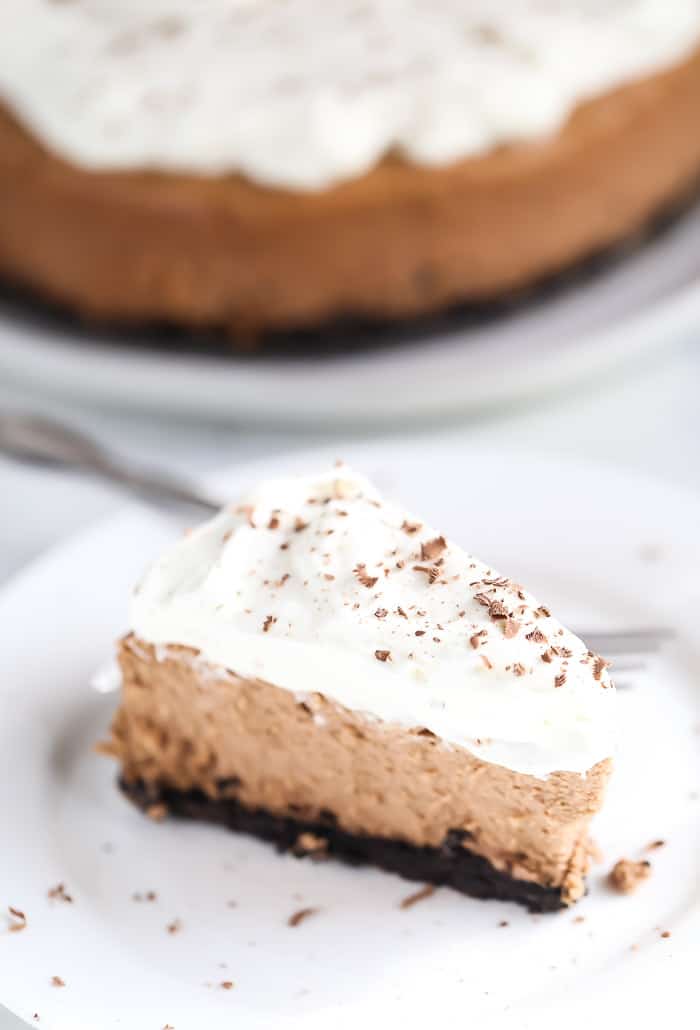 As you should know by now, stout is a great complement to chocolate. It enhances the richness of chocolate and why they go so well together. That combination is outstanding in this cheesecake and truly a great one you need to try.
If you are a cheesecake fan, then you will love this cheesecake.
Here are some more St Patrick's Day recipes you might love: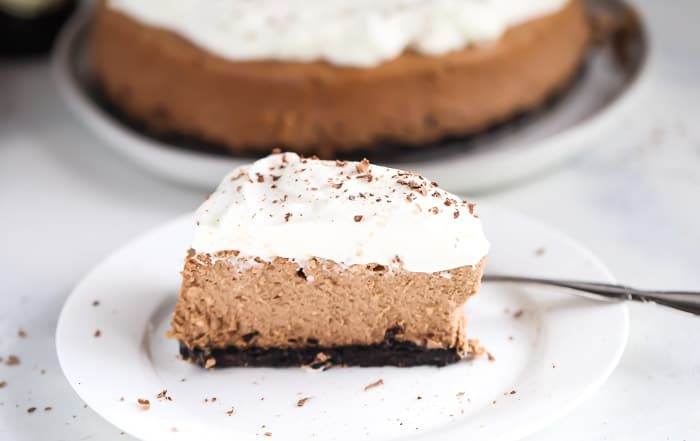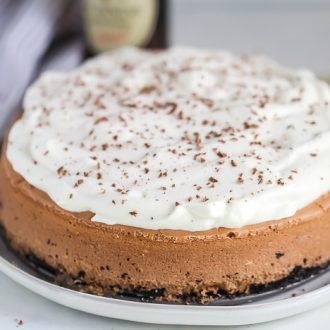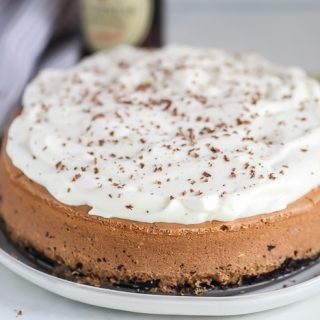 Yield: 1 9-inch cheesecake
Chocolate Stout Cheesecake
Creamy, decadent chocolate stout cheesecake is flavored with stout to bring out the chocolate flavor. Topped with a cloud of homemade whipped cream, this cheesecake is a delight.
Cook Time
2 hours
45 minutes
Total Time
9 hours
30 minutes
Ingredients
For Crust:
24 oreo cookies
5 tablespoons unsalted butter, melted
For the Filling:
24 ounces (3 blocks) cream cheese softened at room temperature
1 cup granulated sugar (I used Dixie Crystals)
4 ounces bittersweet chocolate, chopped and melted
3 large eggs, room temperature
1/4 cup all-purpose flour
3/4 cup stout
1 teaspoon vanilla extract
For Whipped Cream
1 cup heavy cream, cold
1/2 cup powdered sugar (I used Dixie Crystals)
1/4 cup cocoa powder (optional)
shavings of chocolate (toppings)
1 teaspoon vanilla extract
Instructions
Preheat oven to 325 degrees F. Wrap the entire outside of a 9-inch springform pan with two sheets of foil.
Using a food processor, pulse the cookies into a fine crumb. Add the melted butter. Process until combined. Transfer the crumbs to the prepared pan and evenly spread it. Use a flat bottom cup and press down on crust to create an even layer.
In the bowl of an electric mixer, beat the cream cheese on medium speed until smooth and creamy, about 2 minutes. Add sugar and mix until combined, another minute, scraping down bowl as needed. Add in melted chocolate and mix until incorporated. Reduce speed to low and add eggs in one at a time, mixing until combined. Add in the flour, stout and vanilla extract. Mix filling until smooth for an additional minute.
Pour the cream cheese batter into the prepared crust.
Place springform pan into a much larger baking pan or large cast iron. Add hot water into the larger baking pan to reach halfway up the side of your spring-form pan.
Bake cheesecake until the center is firm to the touch but still move when the pan is shaken about 45-50 minutes. Turn off the oven and leave the cheesecake in the oven for an additional 45 minutes.
Remove cheesecake from oven and water bath and allow to cool at room temperature for at least an hour. Remove foil and refrigerate for at least 6 hours or overnight.
To make the whipped cream topping, combine all the ingredients in the bowl of your stand mixer. Using the whip attachment, whip the cream until soft peaks form on medium speed. If you added cocoa powder, your whipped cream will be chocolate flavored and brown.
Remove the cheesecake from pan when ready to serve. Top the cheesecake with the whipped cream before serving. Top with chocolate shavings.
Recommended Products
As an Amazon Associate and member of other affiliate programs, I earn from qualifying purchases.