Coconut Raspberry Cake with Whipped Cream Frosting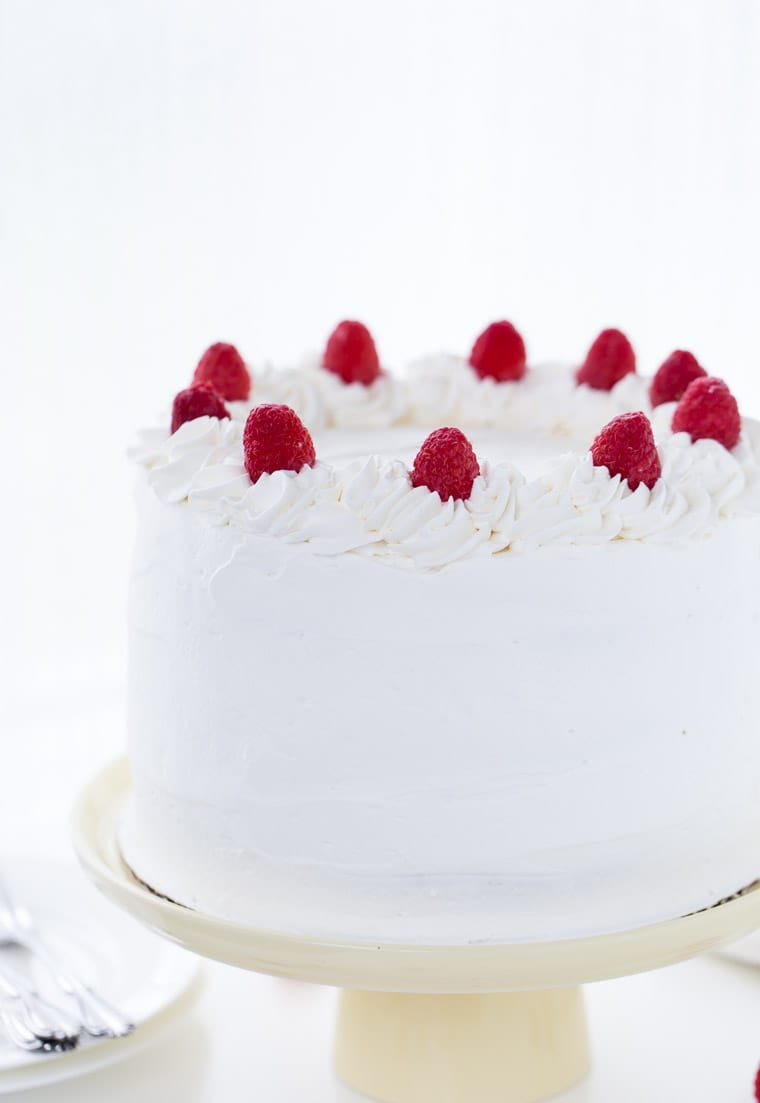 Happy first day of summer friends! I'm popping in today for a special surprise with this coconut raspberry cake with whipped cream frosting.
It's a surprise virtual baby shower for my dear friend Ashley from Spoonful of Flavor. Ashley and her husband are expecting their first baby and it's a girl!! We are all so excited for them and throwing a virtual baby shower to celebrate their little one.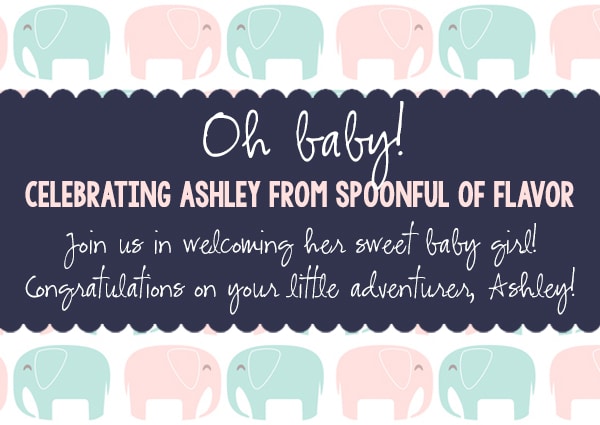 Ashley is a lover of strawberries. She has plenty of epic strawberry recipes on her blog that I love (this and this). So it was a no brainer when hosts of the shower (Julianne and Lindsay) said it was a strawberry themed shower.
Of course I went against the rule and brought raspberries. Whoops. I know Ashley loves coconut as much as I do so this cake was safe to make in her honor.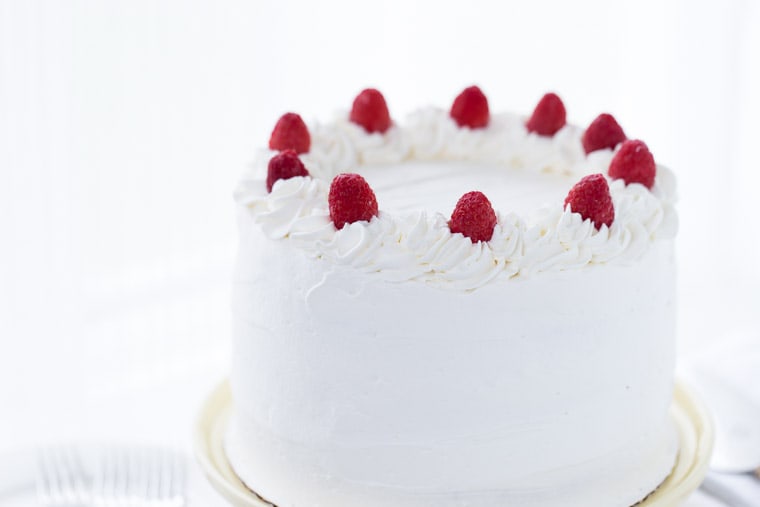 This coconut raspberry cake starts with one of my favorite coconut cake recipes and builds upon it. With a raspberry filling and a light whipped cream frosting, this cake is fluffy and light in all the right places. Just what we need for summer! If you are looking for a simple summer cake, this is one to try.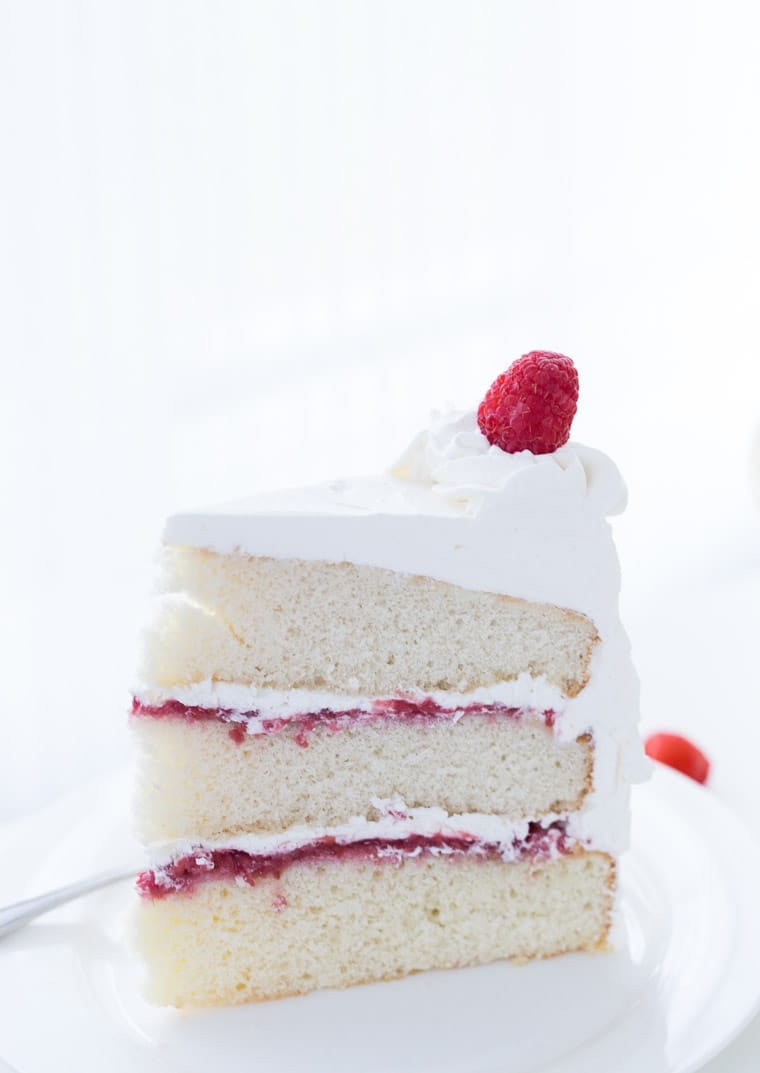 Ashley, I wish I could celebrate with you. I am so happy for you and your husband. And I know you are going to be the best parents to your little girl. I can't wait to meet her soon.
Thank you Julianne and Lindsay for bringing us together for this shower. And be sure to check out all the other tasty food everyone else "brought" to the shower! It all looks so good!
Strawberry Rose Macarons from Beth Cakes
Vegan Strawberry Shortcake with Coconut Whipped Cream from Hip Foodie Mom
Strawberry Funfetti Cake Mix Cookies from Beyond Frosting
Coconut Raspberry Cake with Whipped Cream Frosting from Blahnik Baker
Spice Rubbed Cedar Plank Salmon with Strawberry Salsa from Joyful Healthy East
Strawberry Balsamic Crostini with Whipped Ricotta from Recipe Runner
Strawberry Ice Cream Sandwiches from Cooking and Beer
Strawberry Layer Cake from Life, Love and Sugar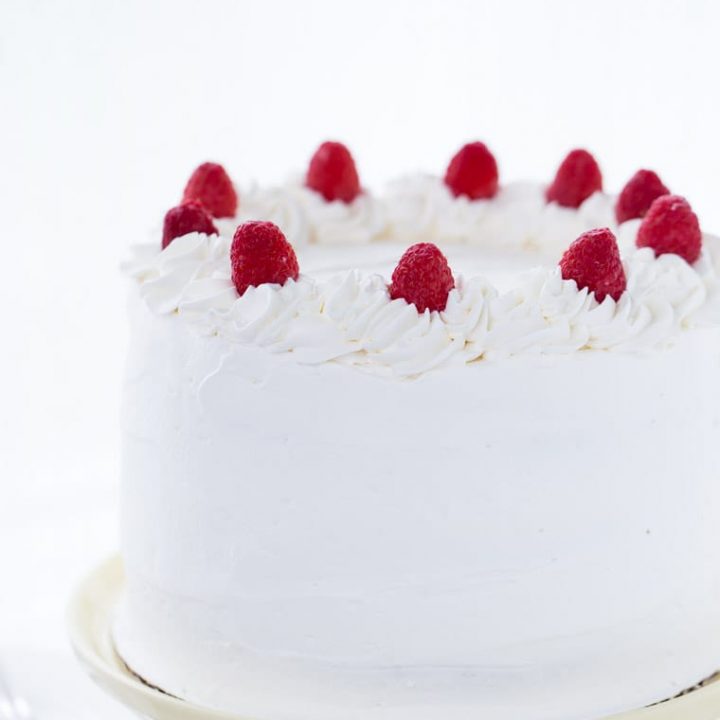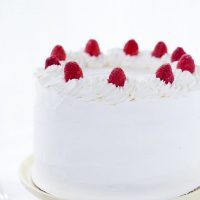 Yield: 1 6-inch cake
Coconut Raspberry Cake with Whipped Cream Frosting
This summer coconut raspberry cake is filled with raspberry filling and topped with fluffy whipped cream frosting for a light summer recipe.
Total Time
1 hour
15 minutes
Ingredients
For Coconut Cake:
1 large egg plus 2 large egg whites
3 ounces cream of coconut + 2 tablespoons water (mix the cream well before measuring)
½ teaspoon pure vanilla extract
½ teaspoon coconut extract
1 cup plus 2 tablespoons cake flour
½ cup granulated sugar
½ tablespoon baking powder
½ teaspoon salt
6 tablespoons unsalted butter, softened at room temperature cut into pieces
For Raspberry Filling:
1 cup fresh raspberry
¼ cup sugar
a dash of lemon juice
For Whipped Cream Frosting:
2 cups heavy whipping cream, very cold
¾ cup powdered sugar
2 teaspoons vanilla extract
Instructions
For Coconut Cake:
Preheat oven to 350 degrees F. Grease two 6-inch round cake pans, line with parchment and grease parchment.
In a small bowl, whisk together the egg and egg whites. Whisk in the coconut cream, water and vanilla, coconut extracts into the egg mixture. Set aside.
In a large bowl, combine the cake flour, sugar, baking powder and salt. Using an electric mixer, mix on low for one minute. With mixer on low, add in butter, one piece at a time, and mixing until only pea-size pieces remain, about 1 minute. Do not over mix. Add in half of the wet ingredients, increase speed to medium-high, and beat until light and fluffy, about 1 minute. Reduce speed to low and add in the remaining wet ingredients. Mix on low until combined, about 30 seconds. Stir batter once by hand with a rubber spatula (Do not over mix cake batter otherwise you will end up with a dense cake).
Divide batter evenly into prepared pan. Bake cakes until toothpick inserted in centers comes out clean, about 25-30 mins, rotating pans halfway through baking.
Let cakes cool in pan for 10 minutes before removing and cooling completely on a wire rack. Meanwhile prepare the frosting. You could wrap the cakes in plastic wrap and keep refrigerated or frozen for up to 2-3 days. Be sure to bring back to room temperature before frosting.
For Filling:
In a medium saucepan, combine the raspberries with sugar and lemon juice. Cook on medium-low heat until berries breakdown and mixture starts to thicken, about 3-5 minutes. Once thicken, remove from heat and transfer to a heatproof bowl and let cool completely.
For Whipped Cream Frosting:
Pre-chill the bowl of your stand mixer and whisk in the freezer for 10 minutes. Add the cold heavy cream, powdered sugar and vanilla extract to the chilled bowl. Using a mixer, whisk the heavy cream on medium-high speed until stiff peaks form. Be careful not to over whip the heavy cream.
Assembly:
Using a serrated knife, remove dome on cake layers. Slice each cake into two equal halves if you want a 4 layered cake as pictured. If not, continue to frosting. Place one layer of cake onto a cake platter. Spread about 1 cup frosting evenly. Add half of the filling. Place the second layer of cake on top of frosting. Spread some more frosting on top and the rest of the filling. Finally frost the top and the sides of the cake. Smooth frosting as evenly as possible and decorate as desired.
Notes
Cake Adapted from America's Test Kitchen Cookbook