Fonio Pound Cake with Hibiscus Glaze
Fonio is an ancient African grain that is a staple in many West African cultures. This Fonio pound cake uses Fonio flour to add nutty and earthy flavors to a tender pound cake that is paired with tropical and tart hibiscus!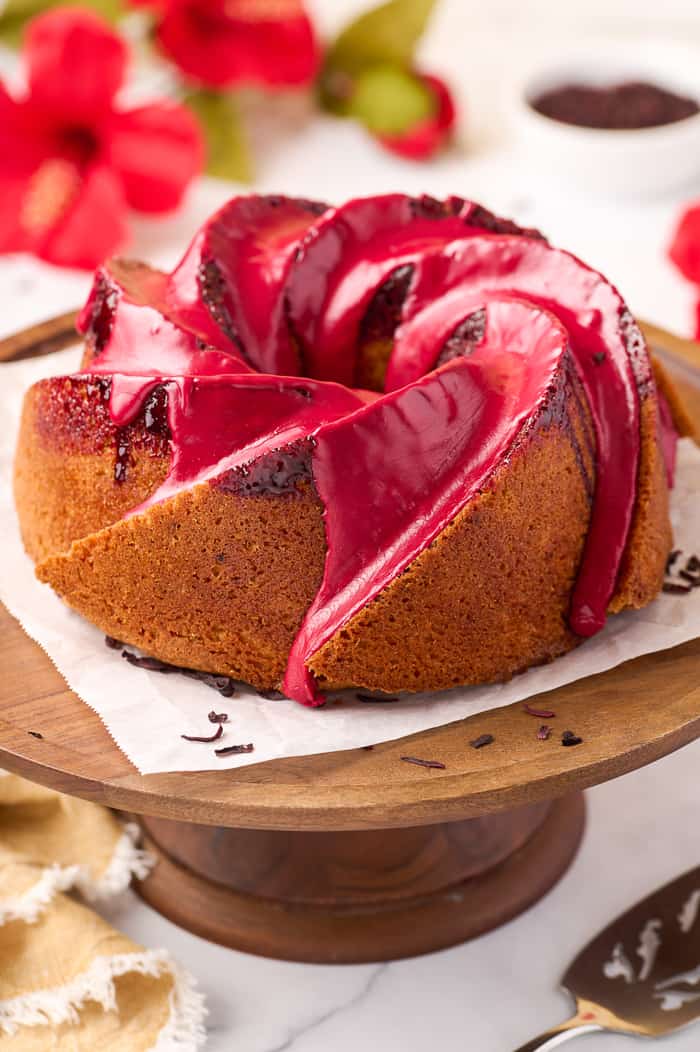 Hello friends!! I have a great new recipe for you today that is special and close to my heart. This Fonio Pound Cake with Hibiscus Glaze is an ode to my African roots and my love of experimenting with new flavors in unexpected ways. Don't sleep on trying this one if you are looking for a new kitchen adventure!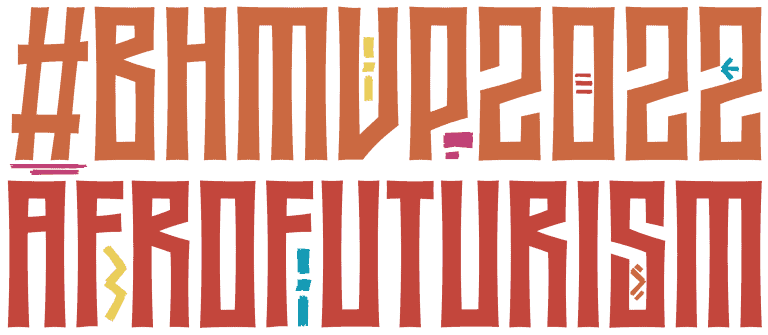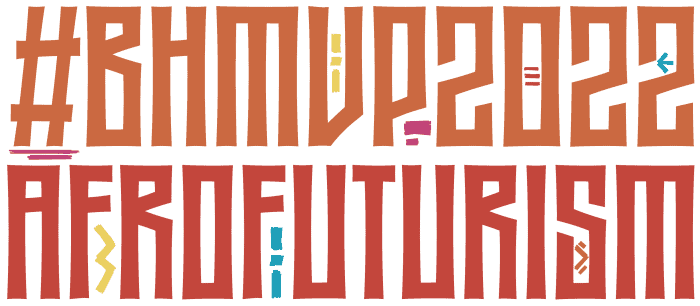 I'm proud to collaborate with more than 30 Black recipe developers as we celebrate Black History Month 2022. This Virtual Potluck explores Black food through the lens of Afrofuturism. Our collaboration of recipes explores the intersection of the Black diaspora via culture, future, geopolitics, imagination, liberation, culture, and technology.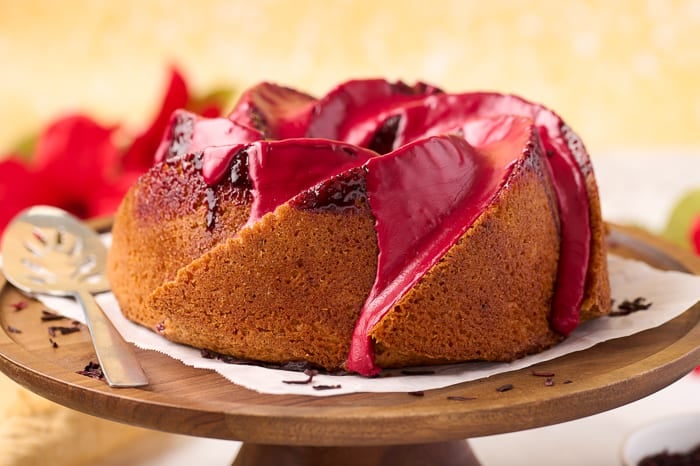 I have been participating in this BHM virtual potluck for a few years now. Each year, I learn new things about the African diaspora and the culture through the amazing food. This year's theme is Afrofuturism. I wanted to develop a recipe that pulls from my past and utilizes it in a new and innovative way that paves a culinary future. So take a familiar ingredient from my culture and reimagine that in today's food culture. Which to me that is my baking!
In thinking of what I would contribute to this year, I turned to see what African meals I eat daily and what I can utilize in new ways. Fonio just so happens to be a grain I was eating more of recently as I've substituted it for rice in my daily routine.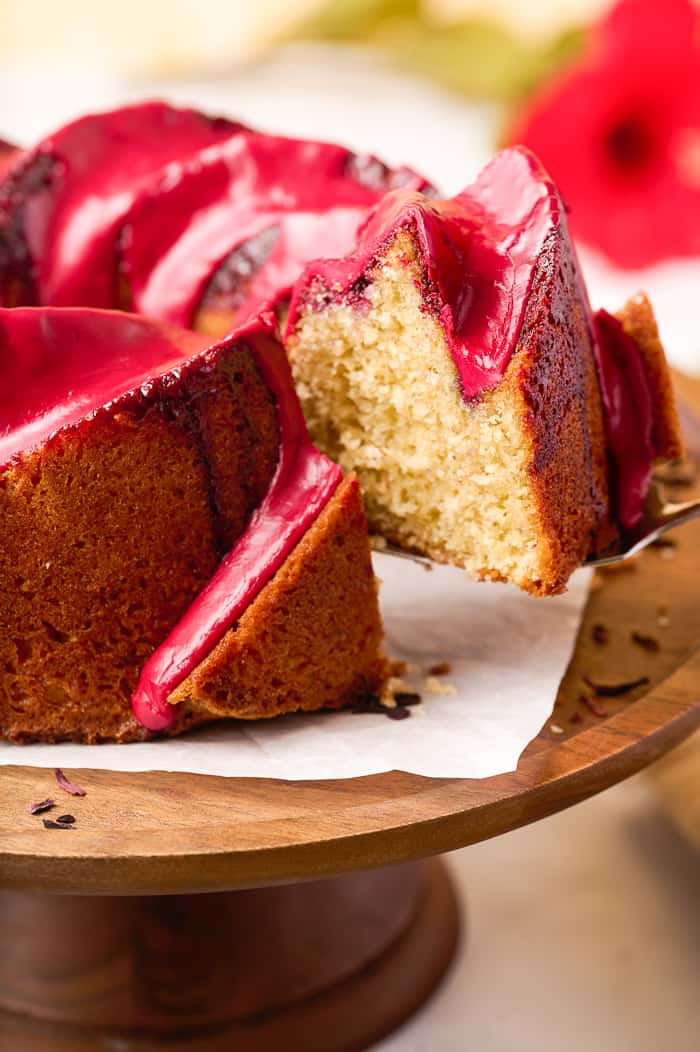 What is Fonio?
Fonio is an ancient African grain that is nutrient-rich and a staple in many West African cultures including Sierra Leone. It grows in drought conditions and poor soils making it a grain that can sustain regions during doughts. It is a great source of Vitamin Bs and calcium and is naturally gluten-free.
I grew up eating fonio, cooked like couscous, and paired with several savory soups and stew. The earthy flavor of cooked fonio is mild and it takes on the flavors of what it is paired with. This makes it perfect for baking!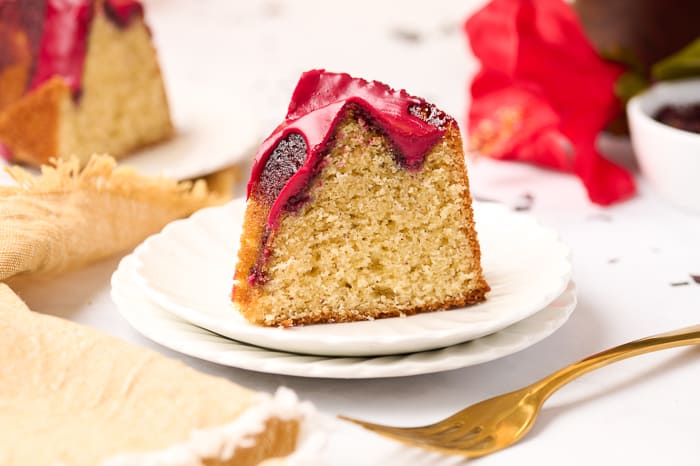 This Fonio pound cake brings in the nutty and earthy flavor of fonio into a classic vanilla pound cake. I used fonio flour, which is similar in texture to other grain flours as it is easier to work with flours in cakes. The cake batter is infused with vanilla flavor a touch of lemon zest and the soft crumb I achieved with olive oil and yogurt. It is a very easy and delicious cake.
The nutty pound cake is paired with hibiscus. A vibrant sweet and tart hibiscus syrup that is made with edible hibiscus flowers and is soaked into the cake. Hibiscus, or Sorrell or bissap, is one of those refreshing juices I grew up on. The classic red color, tart, and sweet flavors mixed with ginger and cloves are so comforting! I bring that tropical bliss to a cake that is already a winner.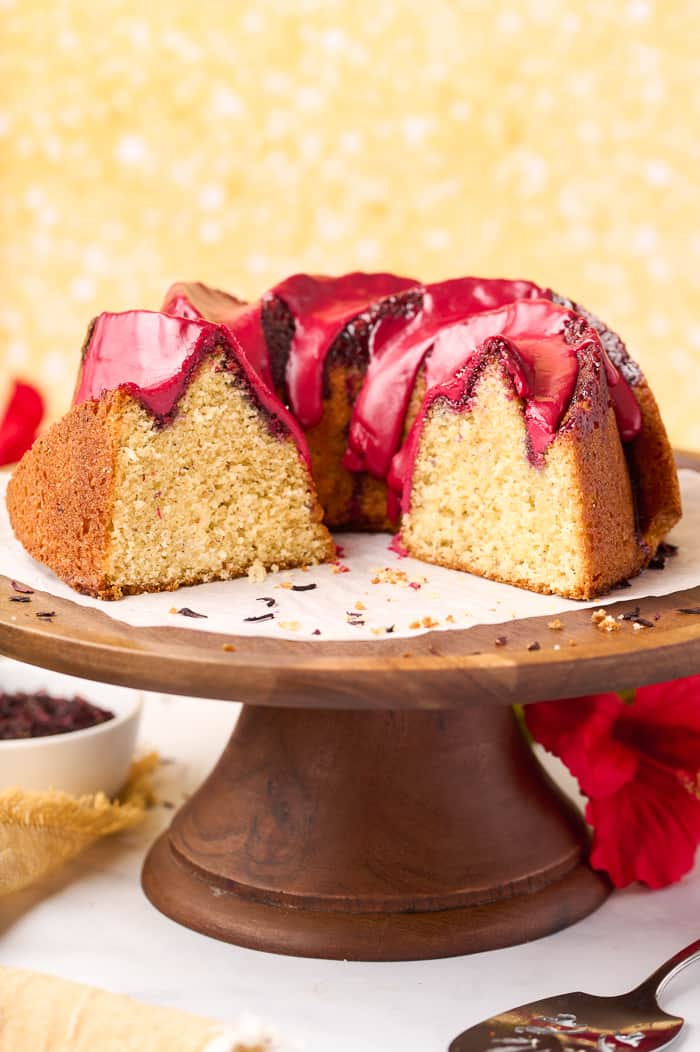 Anyway, enough talking about the flavors and why you should try this fonio pound cake. Let's walk you through how to make it.
How to Make Fonio Pound Cake?
As always, if you are not a fan of the step-by-step pictures, feel free to scroll to the end for the recipe or use the "jump to recipe" button at the top of the page.
Let's start by gathering our ingredients.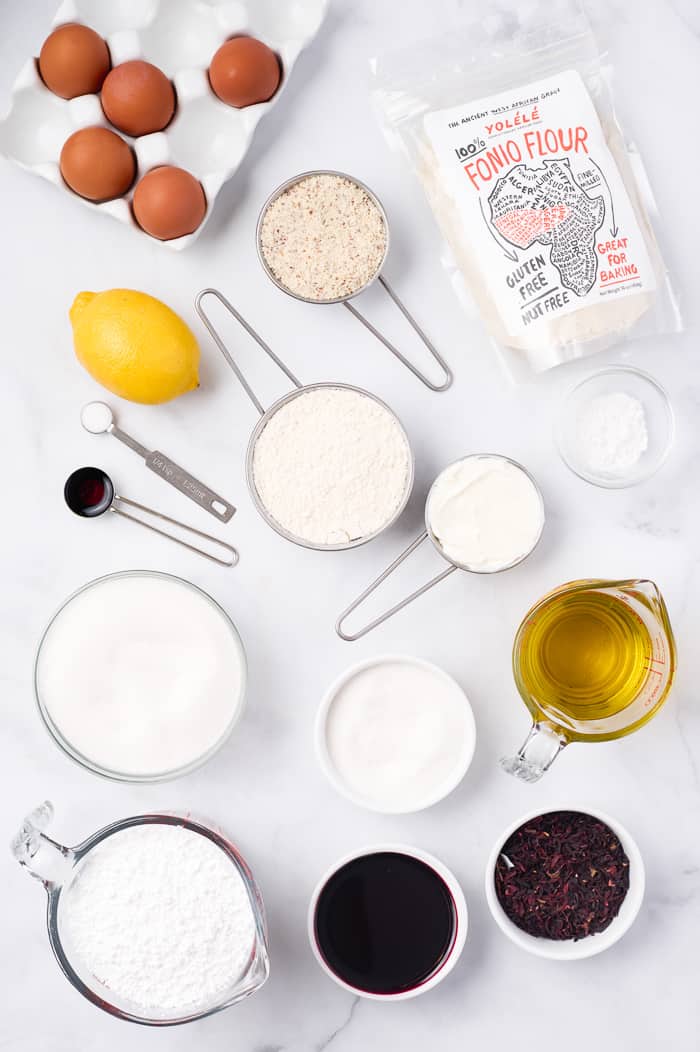 I used Yolele Fonio flour for this recipe. Yolele Foods, an African food brand by Chef Pierre Thiam, has been my go-to for fonio. The precooked fonio is an easy way to try fonio grain. You can find it on Amazon and I link it below for you.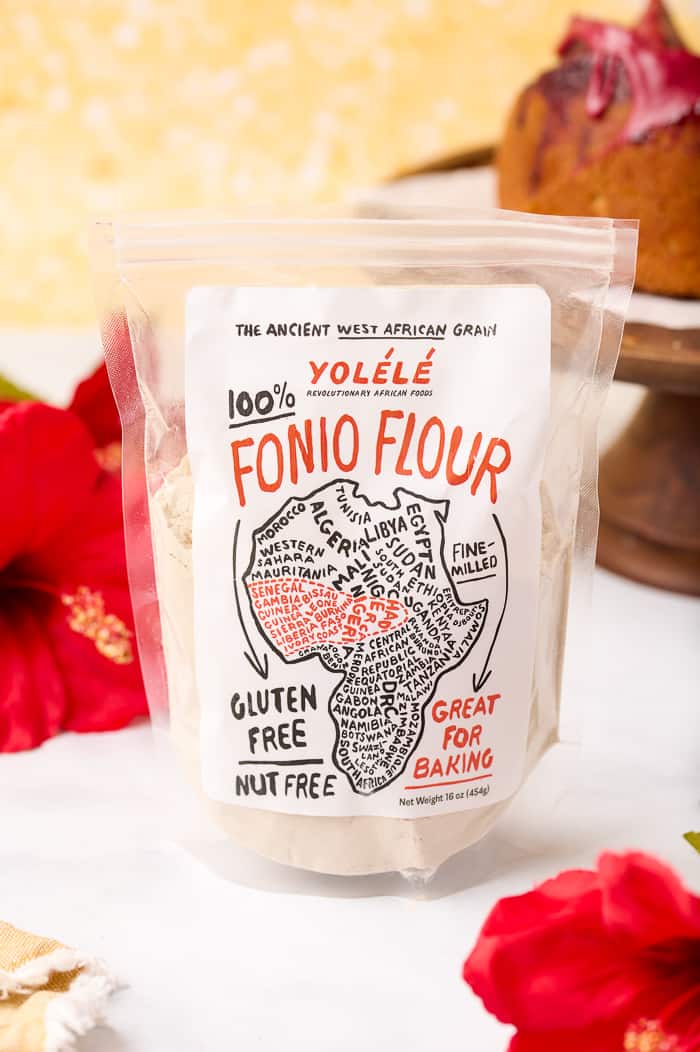 We start by combining together our eggs, sugar, and lemon zest. Bring out the oils in the lemon zest and whip the eggs until they are pale, pillowy, and thick.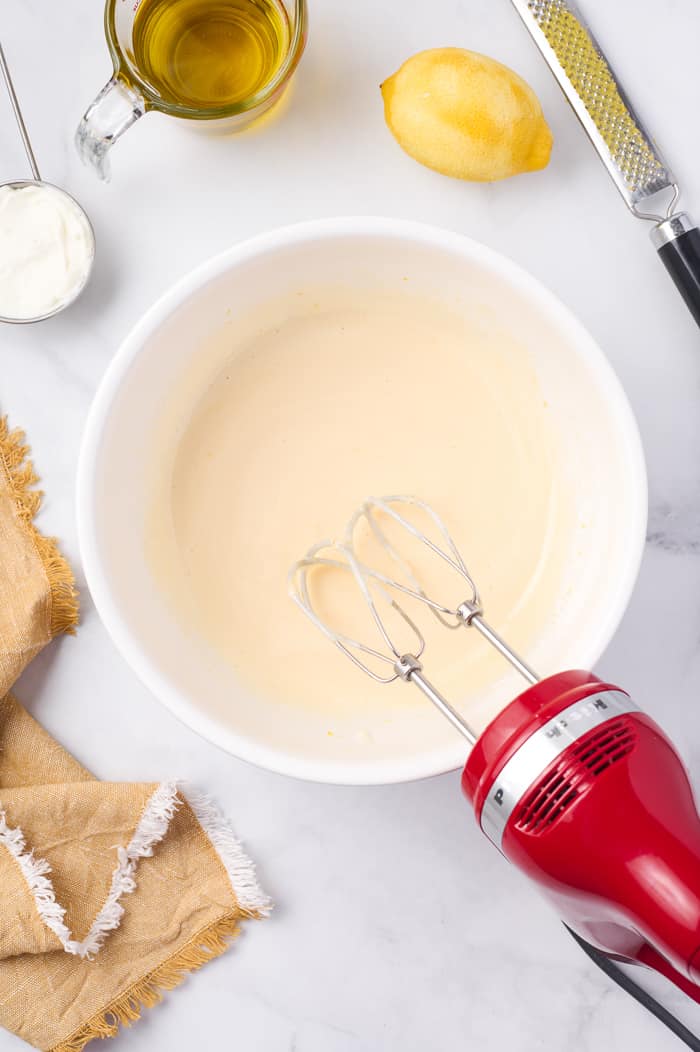 Next, we add in the olive oil, yogurt, and extracts. Mix this until incorporated.
In a separate bowl, whisk the dry ingredients together. Make sure they are well combined before they get added to the wet ingredients.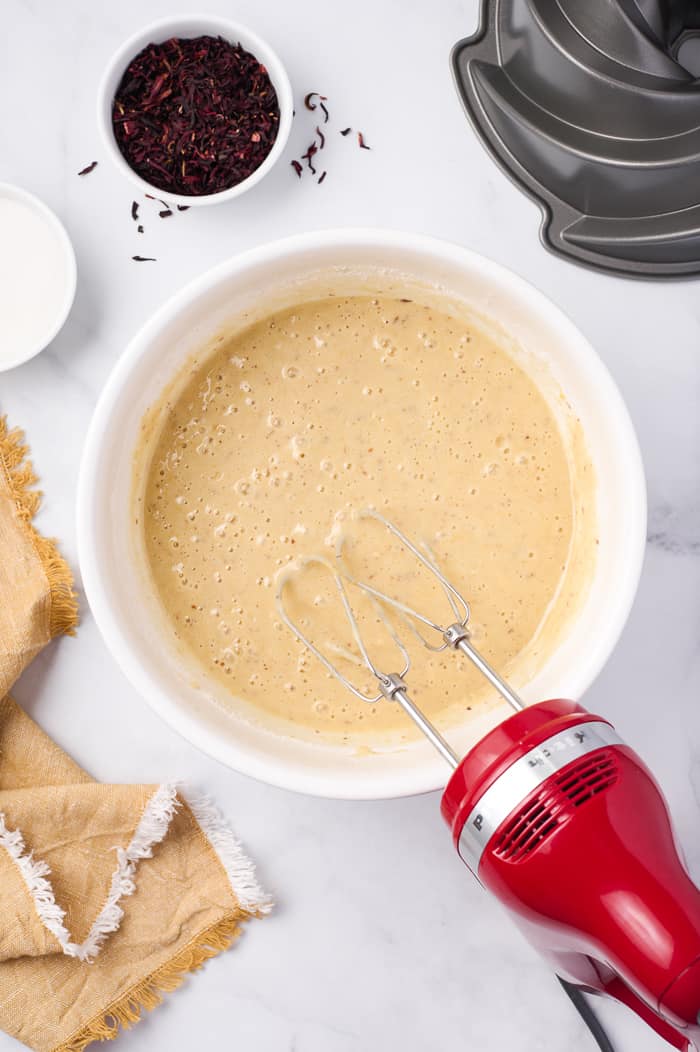 Add dry to wet ingredients and mix until just combined. No overmixing here.
Transfer batter to your prepared bundt pan!! Use your most elegant bundt pan as this cake deserves it.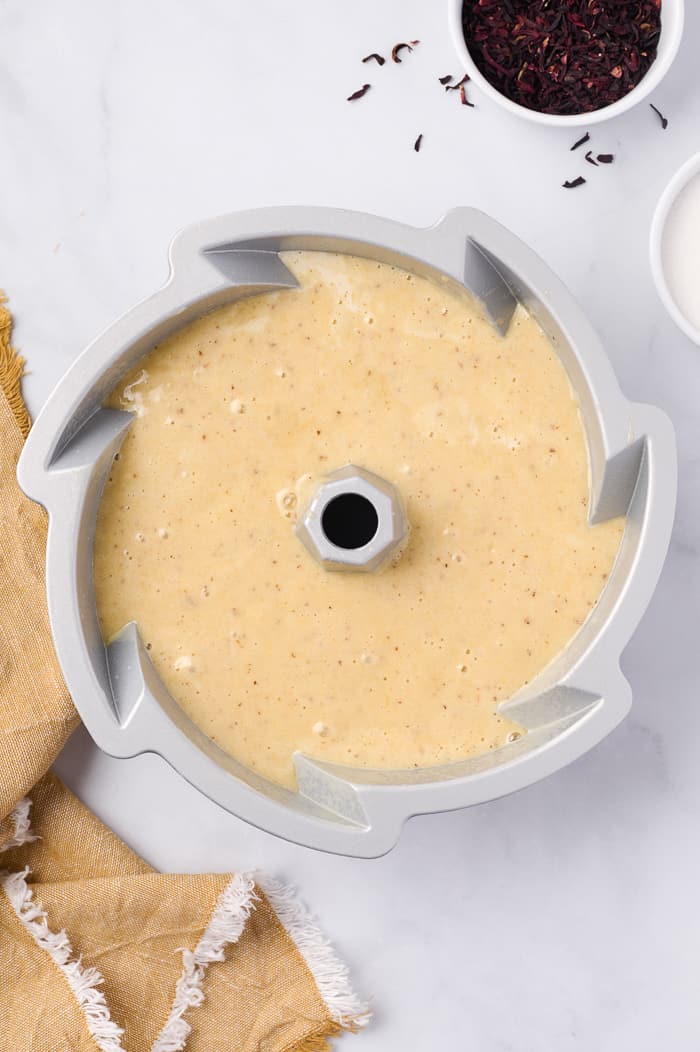 Bake!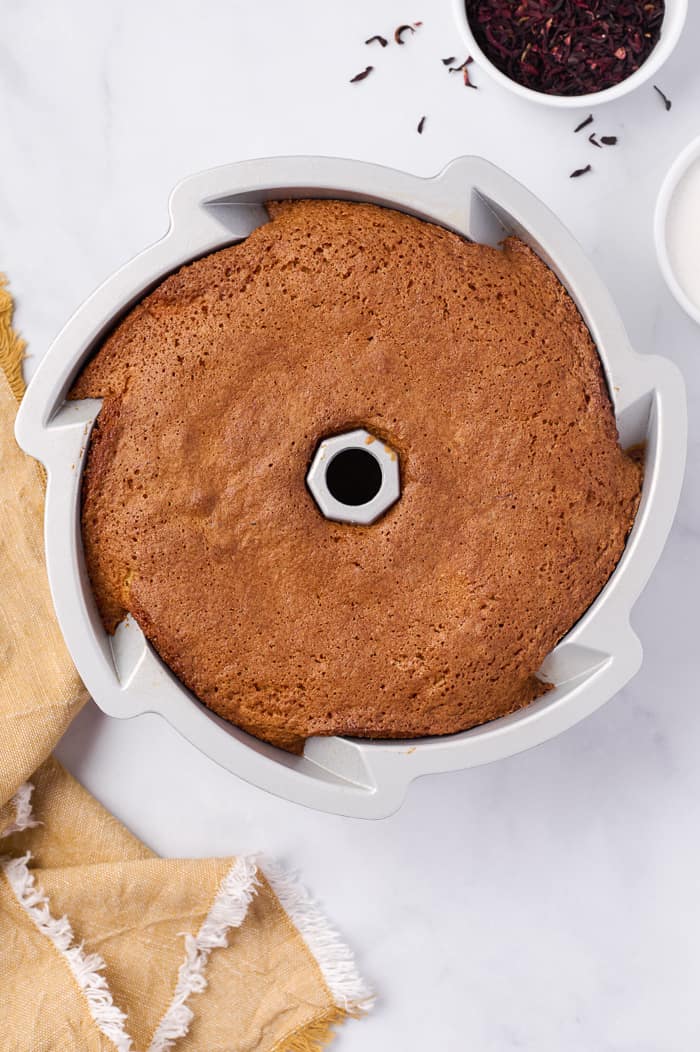 While you bake the cake, make the hibiscus syrup. To make this, let's soak the hibiscus flowers in hot water. Let steep.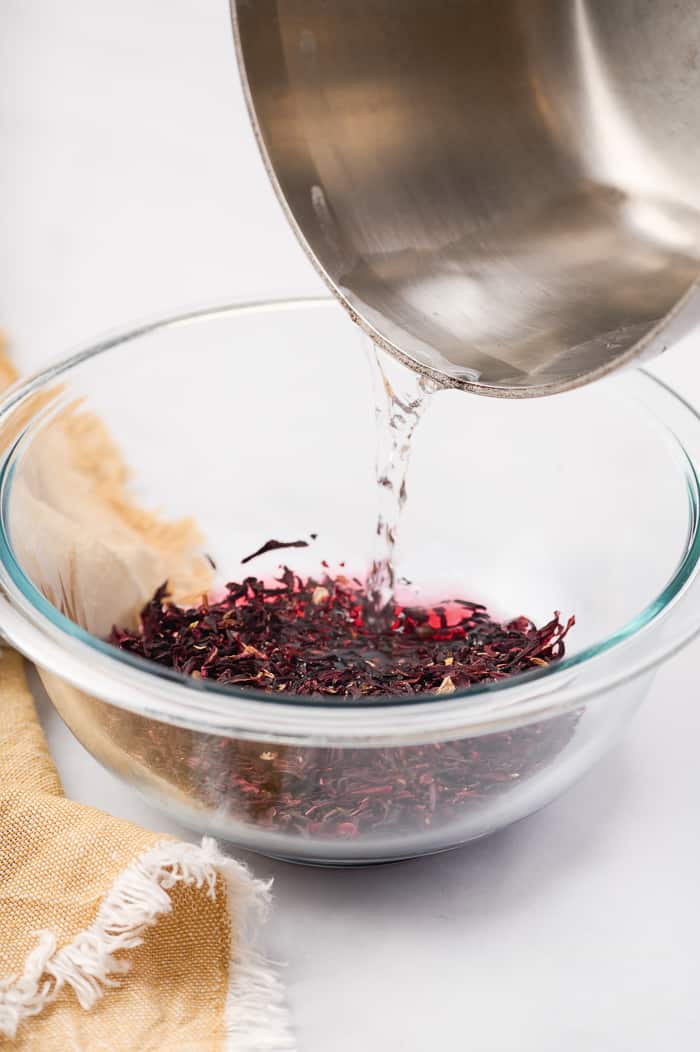 Drain the flowers, combine the hibiscus water with sugar and cook down until reduced and thickens.
Once the cake is done baking and cooking, brush the warm cake with the cooled hibiscus syrup. Let the syrup soak into the cake.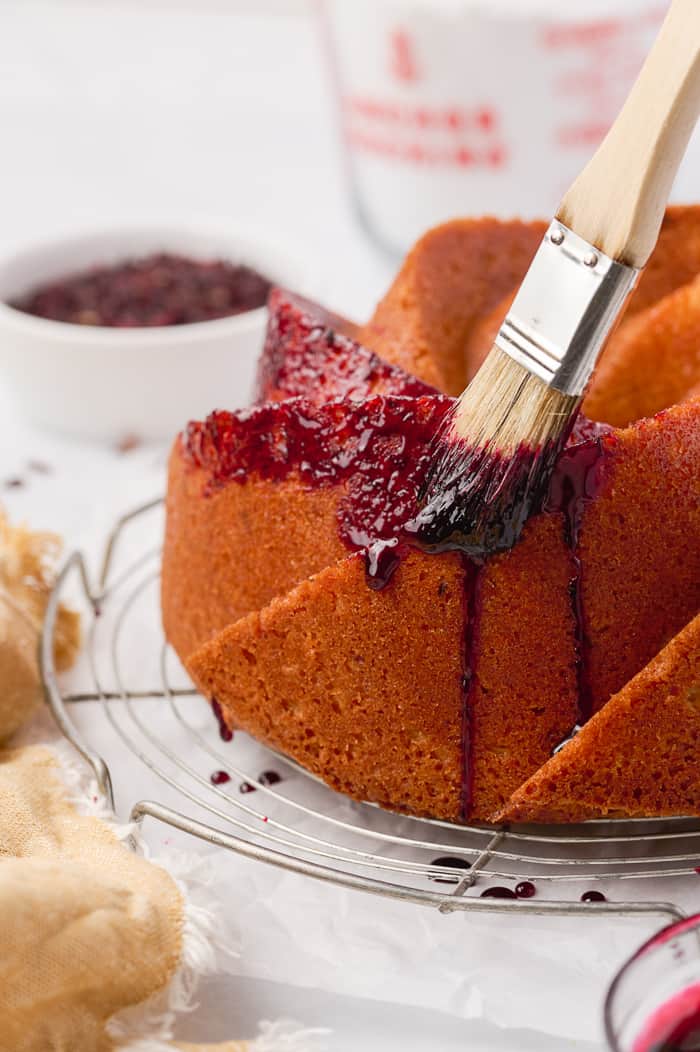 Next, make the glaze by combining powdered sugar with the remaining syrup.
Top the cake with the glaze and decorate.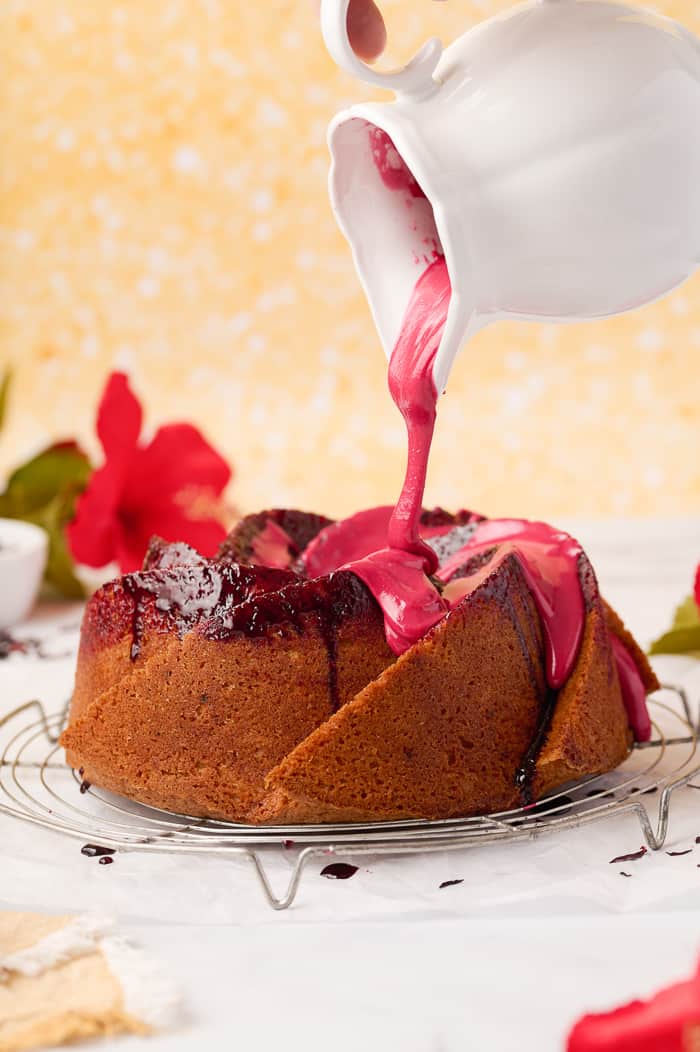 That's it! The cake is soft, has a very tender crumb, and is bursting with nutty, vibrant citrus and tropical flavors. I hope you enjoy it!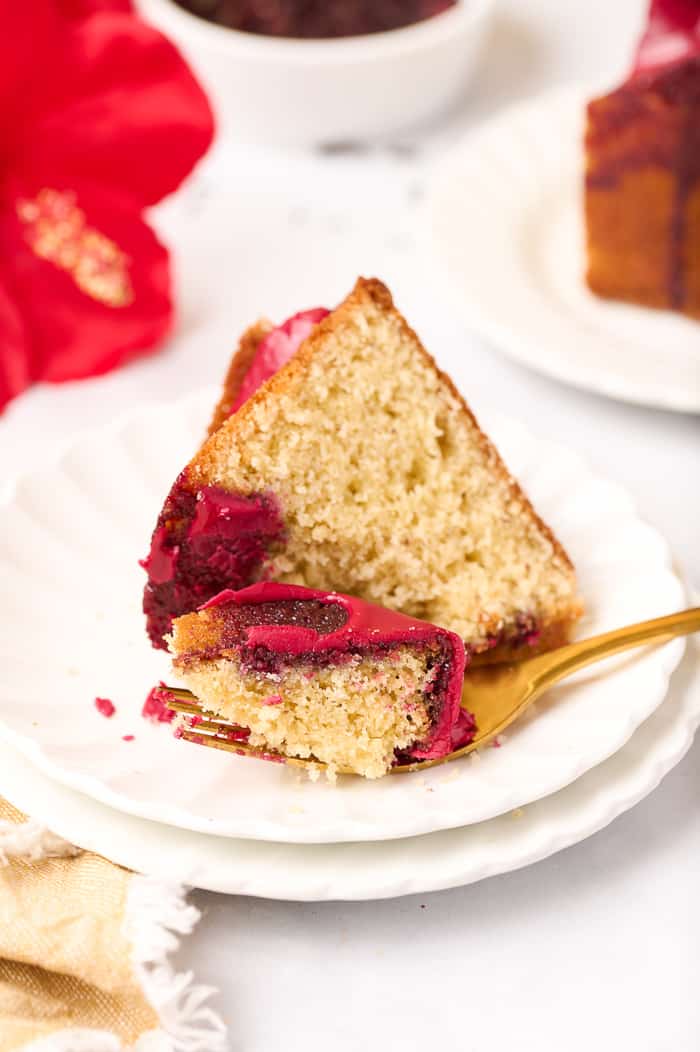 Be sure to check out the below amazing recipes in the Black History Month Virtual Potluck.
Cook and share the inspiring recipes by checking out the list of participants below. Follow each participant and continue the discussion with us on social media using the hashtag #BHMVP2022!
Collard Green Hand Pies by A Girl Called Adri
Sweet Potato Wedges with Peanut Dipping Sauce by Big Delicious Life
Sweet Potato Biscuits by Black Girls Who Brunch
Chicken Plantains and Vegetables by Black Peoples Recipes
Bobo de Camarao (Brazilian Shrimp Stew) by Brazilian Kitchen Abroad
Salted Caramel Chocolate Tart with Candied Peanuts by Britney Breaks Bread
Vegan Coconut Cake with Lime Glaze by Chenée Today
Fried Green Tomato BLT by Coined Cuisine
Shrimp Po'Boy Salad by Collards Are The Old Kale
Warm Brewed Zobo Drink by Dash of Jazz
Sorrel Martini Popsicles by Dish It With Tisha
Fish Patties with Pontchartrain Sauce by Dude That Cookz
Stuffed Shrimp & Grit Collard Green Rolls by Fior
Spicy Berbere Lentil Chili by Flights and Foods
Sankofa Bowl w/ Suya Duck Breast by Food Fidelity
Brown Stew Pineapple Chicken with Roasted Groundnuts by Geo's Table
Champurrado Custard by Global Kitchen Travels
Caribbean Fish and Chips with Tamarind Sauce by Heal Me Delicious
Curry crab-stuffed dumplings by Home Made Zagat
Nigerian Chapman Cocktail by Immaculate Ruému
Dragon Fruit Pineapple Rum Punch by Jamieson Diaries
Smothered Okra & Tomatoes by Kenneth Temple
Brown Butter Sombi – Coconut Rice Pudding Brulee by Meiko And The Dish
Coffee and Bourbon Braised Short Ribs by My Pretty Brown Fit + Eats
Fig Cake with Tamarind Glaze by My Sweet Precision
Coconut-Lime Cornmeal Tres Leches Cake by Savor and Sage
Salmorejo (Stewed Crab) over Garlic Grits by Sense & Edibility®
Mango Cake and Coconut Cream by Sims Home Kitchen
Sous Vide Ox Tail with Coconut Rice by Sweet Tea + Thyme
Yam Gnocchi served with Oxtail Peppersoup by The Food Disciple
Bourbon Bean Pie by The Queen of Yum
Black-Eyed Pea And Cornbread by The Vgn Way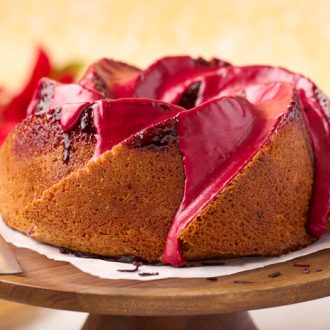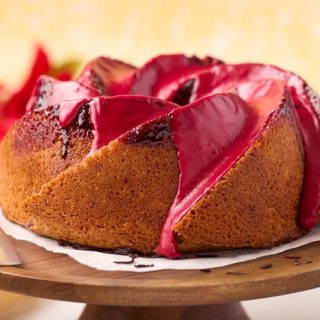 Yield: 1 large bundt cake
Fonio Pound Cake with Hibiscus Glaze
This cake combines two West African flavors in a new way! A nutty vanilla bundt cake with nutrient-dense fonio is topped with tropical and vibrant hibiscus glaze.
Total Time
1 hour
15 minutes
Ingredients
FOR CAKE:
5 large eggs, at room temperature
1 ¼ cups granulated sugar
zest from 1 lemon
½ cup + 2 tablespoons olive oil
1/3 cup plain yogurt, at room temperature
1 teaspoon pure vanilla extract
1 cup all-purpose flour
½ cup almond meal/ flour
1 ¾ teaspoon baking powder
¼ teaspoon salt
FOR THE HIBISCUS SYRUP:
1/3 cup dried hibiscus flowers
1/3 cup granulated sugar
FOR THE HIBISCUS GLAZE:
2 cups powdered sugar
2-3 tablespoons of hibiscus syrup from above
Instructions
Preheat oven to 350 degrees F. Grease an 8-10 cup bundt pan with baking spray.

Combine the eggs, sugar, and lemon zest in a large bowl. Using an electric mixer, beat on medium speed until pale, thick, and pillowy, about 5 minutes.
Add the olive oil, yogurt, and vanilla extract. Beat until just combined.

Whisk together the flours, baking powder, and salt in a medium bowl.

Reduce mixer to low speed and gradually add the flour mixture. Mix until just combined. Do not over mix.

Spoon cake batter into prepared pan.

Bake cake for 40-45 minutes or until a cake tester inserted into the middle comes out clean.

While the cake is baking, make the hibiscus syrup. Place the dried hibiscus flowers in a small heatproof bowl. Pour 1/2 cup boiling water over the flowers and let steep for 10 – 15 minutes. Strain the flowers out.
In a medium saucepan set over medium-low heat, combine the hibiscus liquid and sugar. Bring to a low boil. Let simmer until slightly reduced to about a 1/3 cup. Remove from heat and let the syrup cool.

Remove cake from oven and let the cake cool in the pan for at least 10 minutes before inverting onto a wire rack to cool.

Using a toothpick or cake tester, poke small holes over the top of the cake. Brush the cake while still warm with the hibiscus syrup. This adds moisture and hibiscus flavor to
the cake.

Serve cake with a dusting of powdered sugar or a simple hibiscus glaze (combine hibiscus syrup with powdered sugar to make the glaze).
Notes
Recipe adapted from Boy Who Bakes for Bake from Scratch
If you do not have self-rising flour, use 1 cup all-purpose flour, 1 1/2 teaspoons baking powder, and 1/4 teaspoon salt.
Recommended Products
As an Amazon Associate and member of other affiliate programs, I earn from qualifying purchases.