Gingerbread Latte Cake with Maple Glaze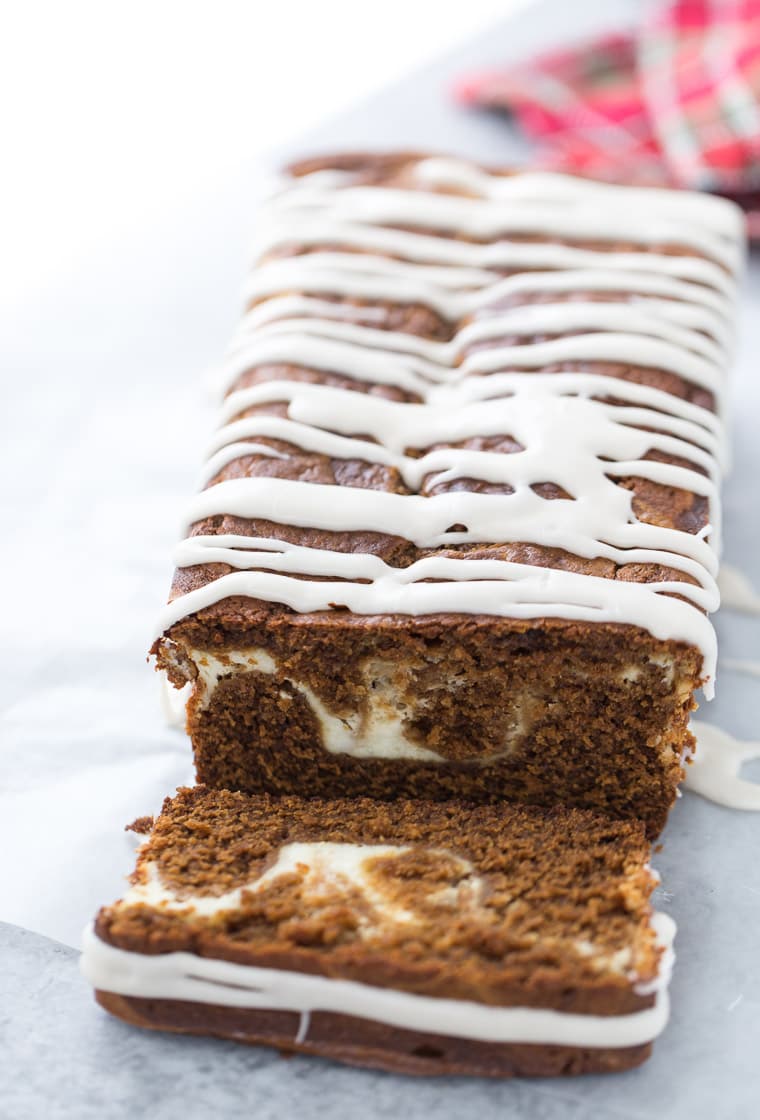 Hi guys!! Do you have room for one quick last minute recipe? This gingerbread latte cake with a sweet maple glaze is worth the addition to your ever-so filled holiday baking list. I am sorry it is so late but just like you, I am feeling the hustling and bustling of the season. With a house packed with guests and to-do lists longer than my arm, I am trying to get it all done before we hit Friday and sign off for the year.
So bear with me for one last recipe!! This quick bread/cake is perfect for snacks and heck, with your morning coffee too. I feel like I do this every year, I fail to share gingerbread recipes before the holidays and by the time I get to it, it's too late. It's not reflective of my love of gingerbread everything at all. I love me some gingerbread and always need to have this classic flavor this time of the year especially the gingerbread latte from my favorite coffee chain. However, besides these gingerbread cookies, this cake was the first gingerbread recipe in my kitchen. And it was well worth it!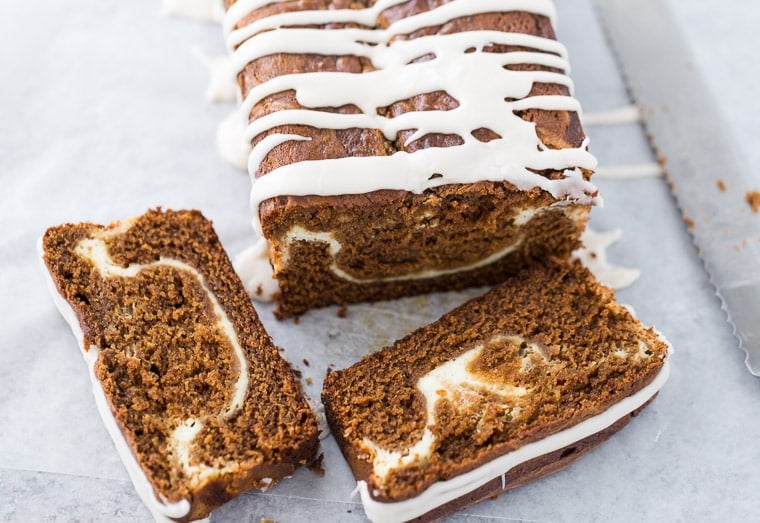 This gingerbread latte cake boasts of a perfectly spiced soft gingerbread cake that is infused with espresso powder for that lovely coffee flavor and also marbled with a swirl of cream cheese. Doesn't that sound delicious? Well, it is just that. Topped off finally with a sweet maple glaze. The glaze can be optional if you like but why would you leave it out?? I mean, it complements the cake so well!! With bold molasses, ginger, cloves and brown sugar the spices of this cake will keep you warm and cozy.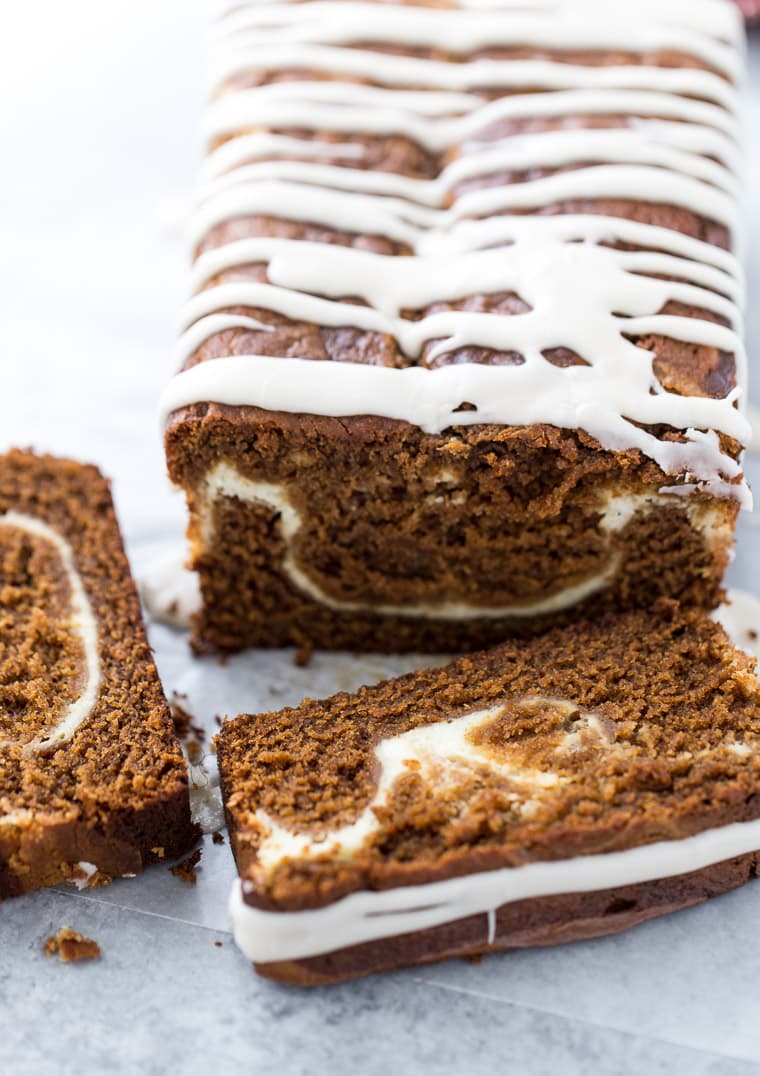 Look at that swirl!! In the interest of keeping things short and sweet today, I will not keep drooling over this cake. I will just advice you to make it and enjoy with your friends and family.
I want to wish you all a merry and happy holiday season!! Thank you for being here with me and hope you enjoy time with your friends and family!
PS: Find the full recipe and directions for this gingerbread latte cake over on Delish Dish where I am sharing it with their readers too.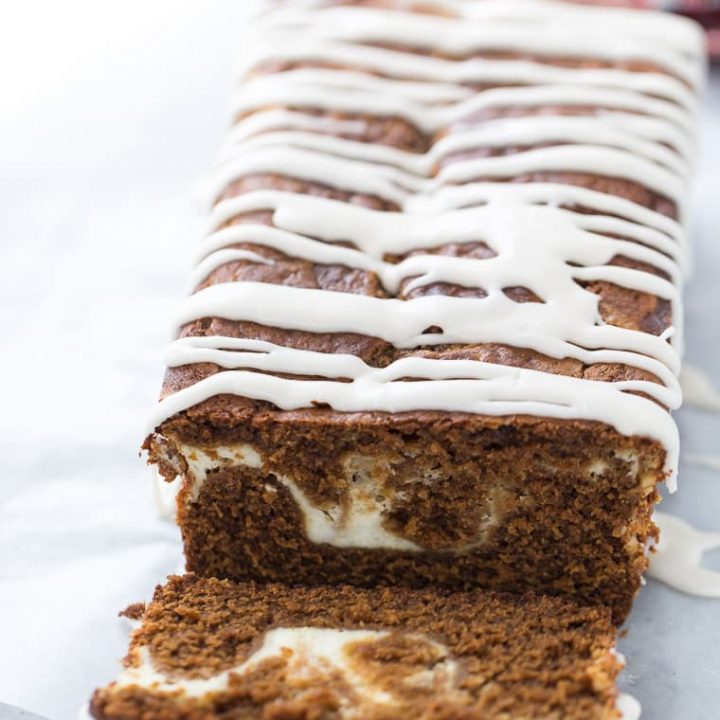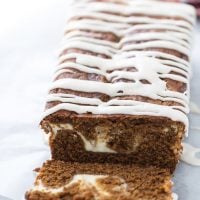 Yield: 1 Large Loaf
Gingerbread Latte Cake with Maple Glaze
Ingredients
For the Cake:
1 8 ounce package cream cheese, softened
1/4 cup granulated sugar
1 egg
1 1/2 cups all-purpose flour
1 teaspoon ground cinnamon
1 teaspoon grated fresh ginger or 1/2 teaspoon ground ginger
3/4 teaspoon baking soda
1/2 teaspoon baking powder
1/2 cup butter, softened
1/4 cup packed brown sugar
1 teaspoon instant espresso powder
1/2 cup full-flavor molasses
1 egg
1/2 cup buttermilk
For Maple Glaze:
1 1/4 cups powdered sugar
2 tablespoons pure maple syrup
1 - 2 teaspoons milk
Instructions
Find the full directions on BHG.com