Coconut Date Balls
These no-bake, vegan, gluten-free coconut date balls are the perfect energy bites for snacks on-the-go.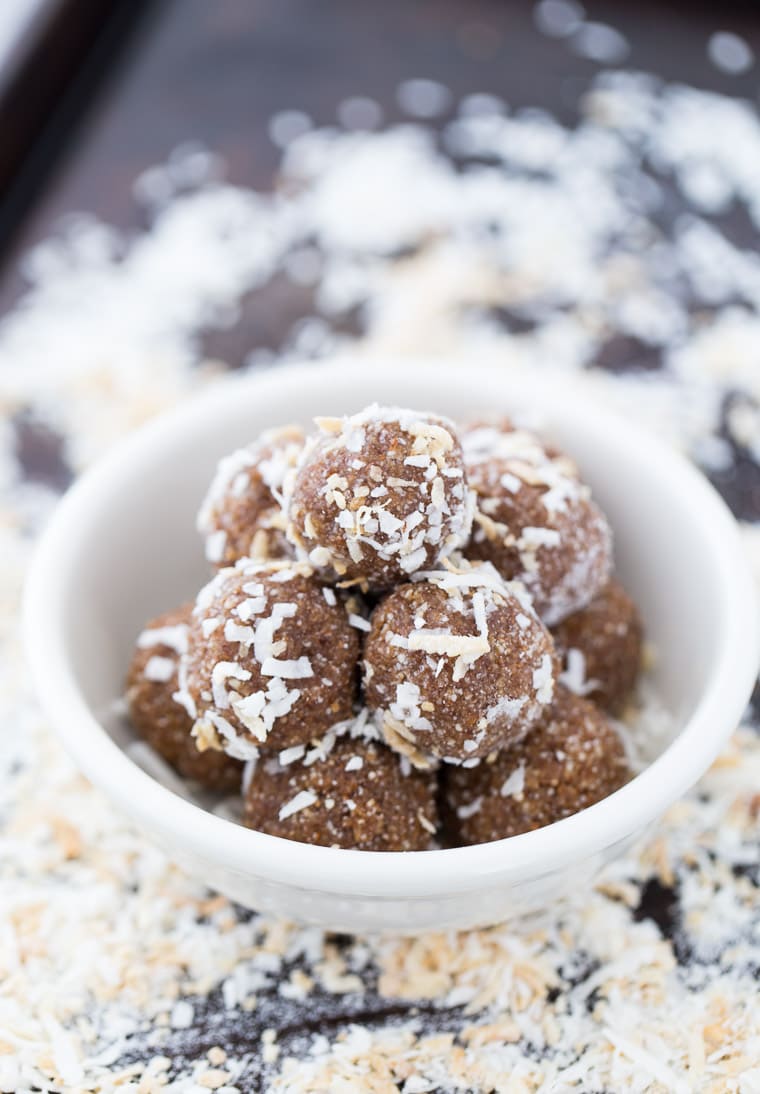 Happy New Year friends!! I hope you had a delicious holiday with friends and family. I love this time of the year. Fresh starts inspire us to reflect on the blessings of the last year and resolve to be better, do better and live life to the fullest. Before we get into the usual sweets agenda, I've whipped up a few healthier options for us to start the year off on the right foot. These coconut date balls are really just energy bites that are perfect for quick snacks on-the-go.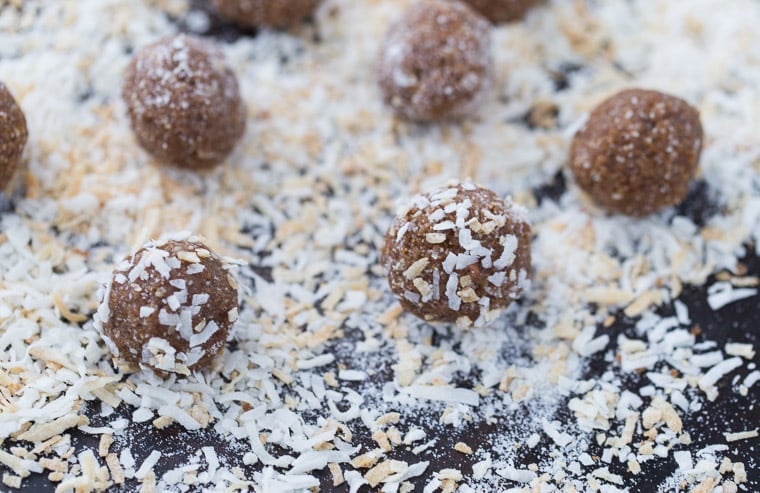 Have you ever made your own energy bites? I love whipping up energy bites over the weekend to store in my purse for running errands and I keep some at work for those days when I just need a pick me up. These no bake chocolate energy bites were my go-to before I made these coconut date balls. I wish I made them sooner and my rotation would have been much interesting.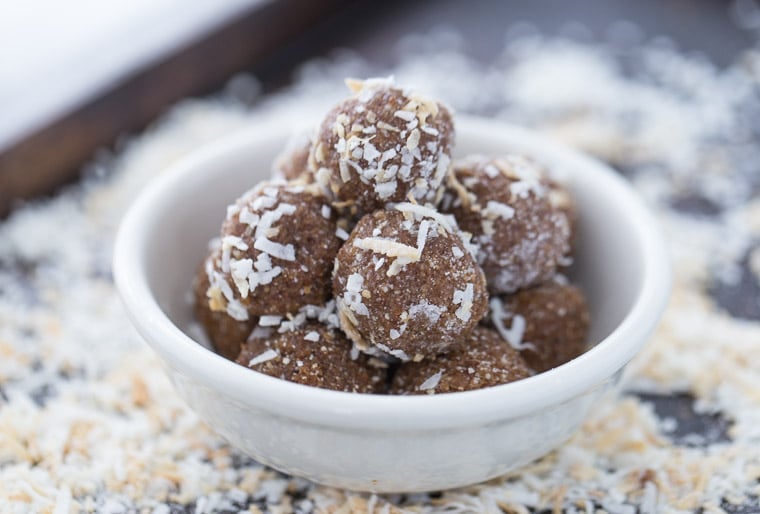 With just three ingredients, these energy bites are quick to whip up. Just pulse the ingredients in a food processor until finely ground and roll in coconut flakes. It's sweet, wholesome and good-for-you. There are also so many ways you could customize them. I'm thinking of adding some espresso powder to my next batch for a mocha flavor. What flavors would your make?
As you get into the groove of the New Year, make these coconut date balls to keep in your purse. They are the perfect on-the-go snacks for a busy day.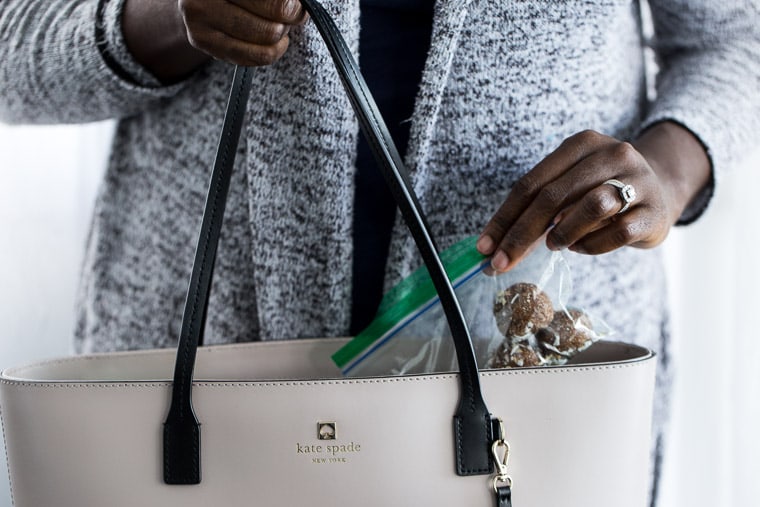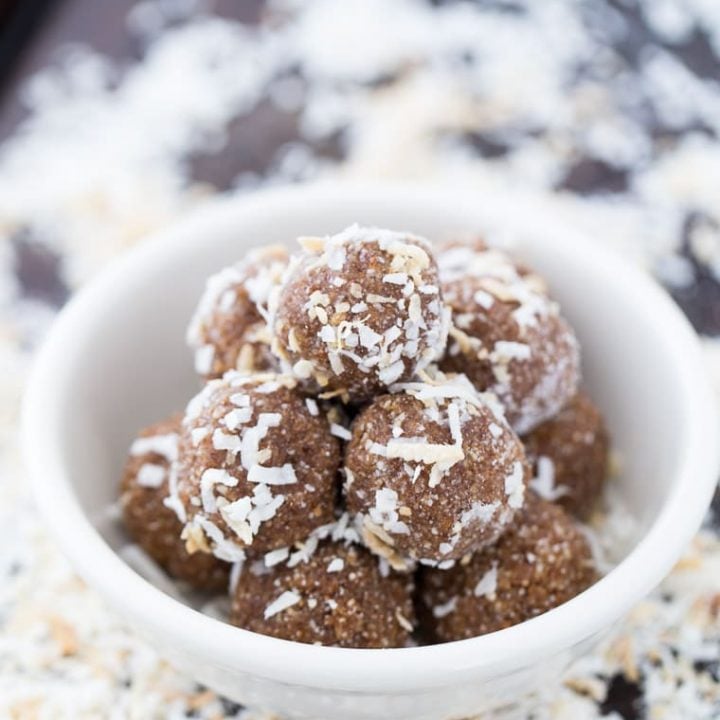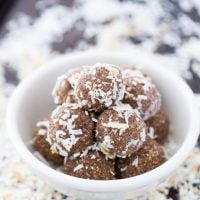 Yield: ~12
Coconut Date Balls
Ingredients
1/4 cup unsweetened shredded coconut, divided
7 ounces pitted dates
1/3 cup whole natural almonds
1/2 teaspoon ground cinnamon
a pinch of coarse sea salt
Instructions
Place 2 tablespoons of the shredded coconut on a small plate.
In the bowl of a food processor, pulse the remaining coconut, dates, almonds, cinnamon and salt until finely processed.
Using a round tablespoon, form balls of the mixture and roll into the shredded coconut so it adheres.
Store leftovers in an airtight container for up to one week.