Shortbread Thumbprint Cookies (Three Ways)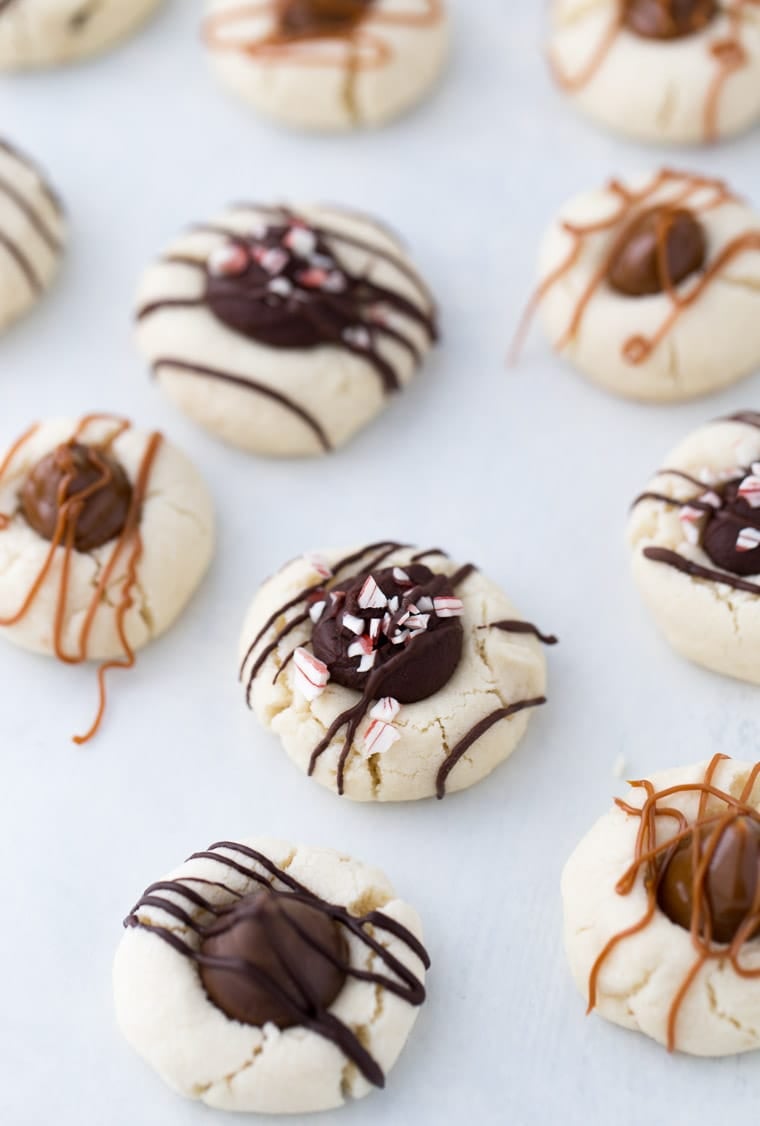 I've been meaning to make shortbread cookies for two years now. My good intentions have gone unanswered until this weekend when I made these shortbread thumbprint cookies. I figured this year my cookie boxes should finally include them in addition to my annual homemade peppermint marshmallows. I filled these cookies with three different ways; peppermint chocolate, dulce leche and classic cookies.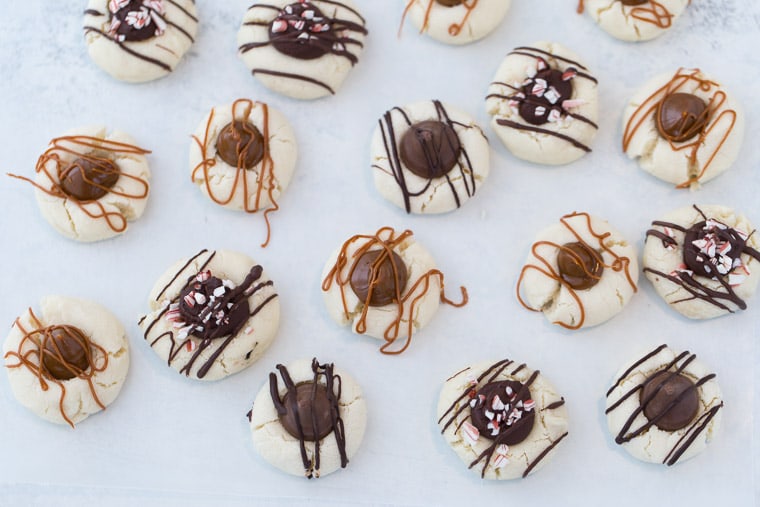 These are actually the first shortbread cookies I've made for the blog. I've tried a few recipes here and there but I am always going for the complicated flavored ones. I wanted something simple and classic for these cookies so I went in search for an easy recipe that I can fill with different fillings.
The recipe below is a new creation that combines a few recipes that I found. While researching, I found that shortbread recipes fall into two camps; cornstarch vs. no cornstarch OR extract flavorings vs. no extracts. I tested it both ways and I decided I love the melt-in-your-mouth level of adding cornstarch to the cookie dough and I added a little bit of almond extract to it too. So while this isn't entirely an elaborate recipe, the simplicity of it makes it possible for you to get creative with your filling.
For my fillings, I went with the classic chocolate kisses drizzled with chocolate ganache.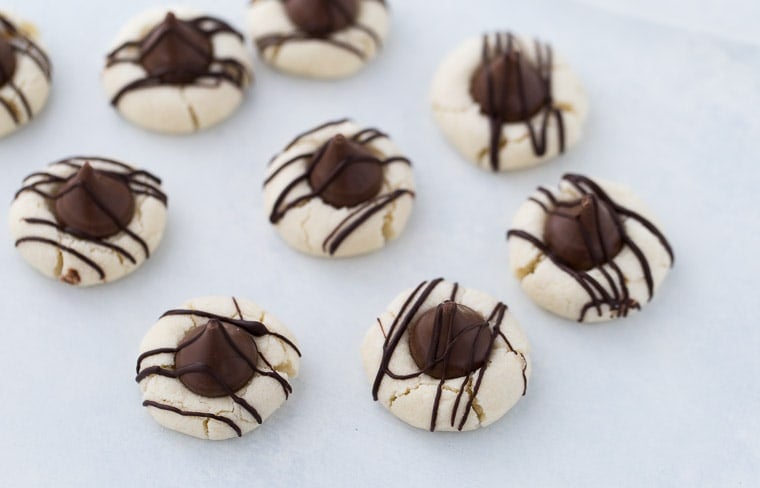 Dulce Leche filling which will be great with some coarse salt on top.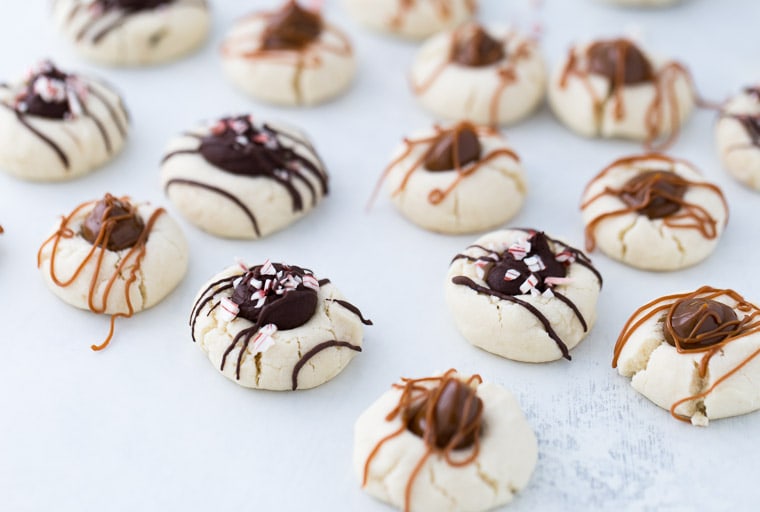 Finally, peppermint chocolate with chocolate drizzles.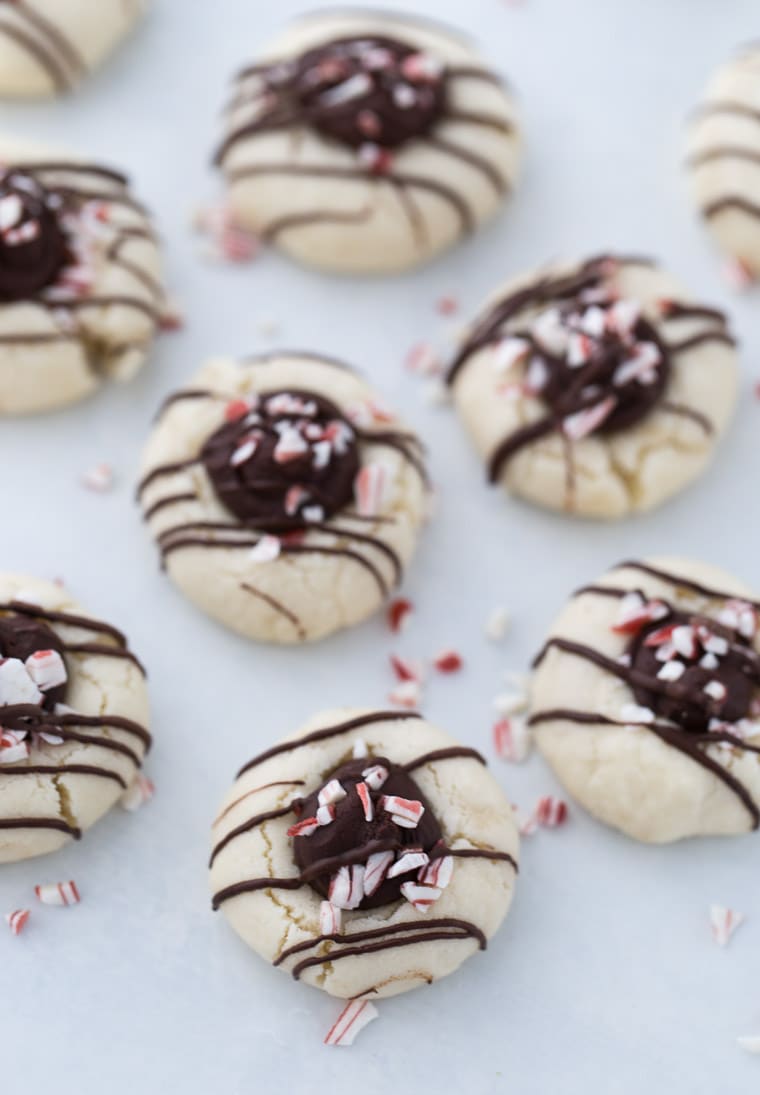 All equally amazing and impossible to pick a favorite. I know the variety will be great for your cookie boxes and if you are anything like me, you are still sending out cookies this week. So add one or three of these to your boxes.
Happy cookie baking!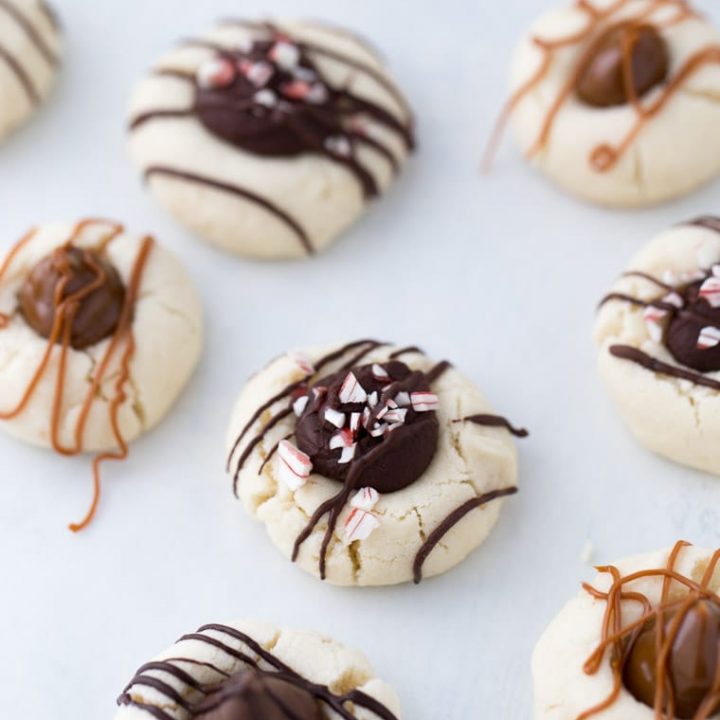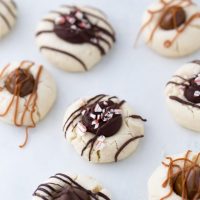 Yield: ~ 3 dozen cookies
Shortbread Thumbprint Cookies (Three Ways)
Ingredients
For the Cookies:
1 cup unsalted butter, at room temperature
1/2 cup confectioner's sugar, sifted
1 1/2 cups all-purpose flour
1/2 cup corn starch
1 teaspoon vanilla extract
1/2 teaspoon almond extract
1/4 teaspoon salt
For the filling:
2 ounces chocolate, melted with 1/2 teaspoon peppermint extract
crushed peppermint candies
3 tablespoons dulce leche, softened
Coarse sea salt for sprinkling
12 hershey chocolate kisses
Instructions
Preheat oven to 300 degrees F. Line a baking sheet with parchment.
In a medium bowl, using an electric mixer, beat the butter and confectioner's sugar until light and fluffy, about 3-4 minutes on medium speed.
Slowly add in the flour and cornstarch until incorporated. Beat for another 2-3 minutes on medium speed until whipped. Beat in the vanilla extract, almond extract and salt.
With your hands lightly coated in cornstarch, scoop out 1/2 tablespoon dough and roll into 1-inch balls. Place the dough 2 inches apart on the prepared sheet.
Bake for 20-22 minutes until the cookies are lightly browned on the bottom. Half way through baking, remove the cookies from oven and using your thumb, press into the middle of the cookies to form an indent. Continue baking for the rest of the time.
Remove from oven and let cool on baking sheet for 5 minutes.
For Peppermint Chocolate Options:
Using a piping bag, add some melted chocolate into the center of the thumbprint cookies. Top with crushed peppermint candies
For Dulce Leche Options
Warm up the dulce leche slightly in a microwave (about 10-15 seconds). Fill up the center of the cookies with the dulce leche. Drizzle leftover dulce leche over the cookies and sprinkle with coarse sea salt.
For the Kisses Option:
Immediately out of the oven, place a Hershey Kiss in each cookie.
For another whipped short bread cookie recipe, check out these perfect
toasted coconut shortbread cookies
.