Peppermint White Chocolate Latte Cupcakes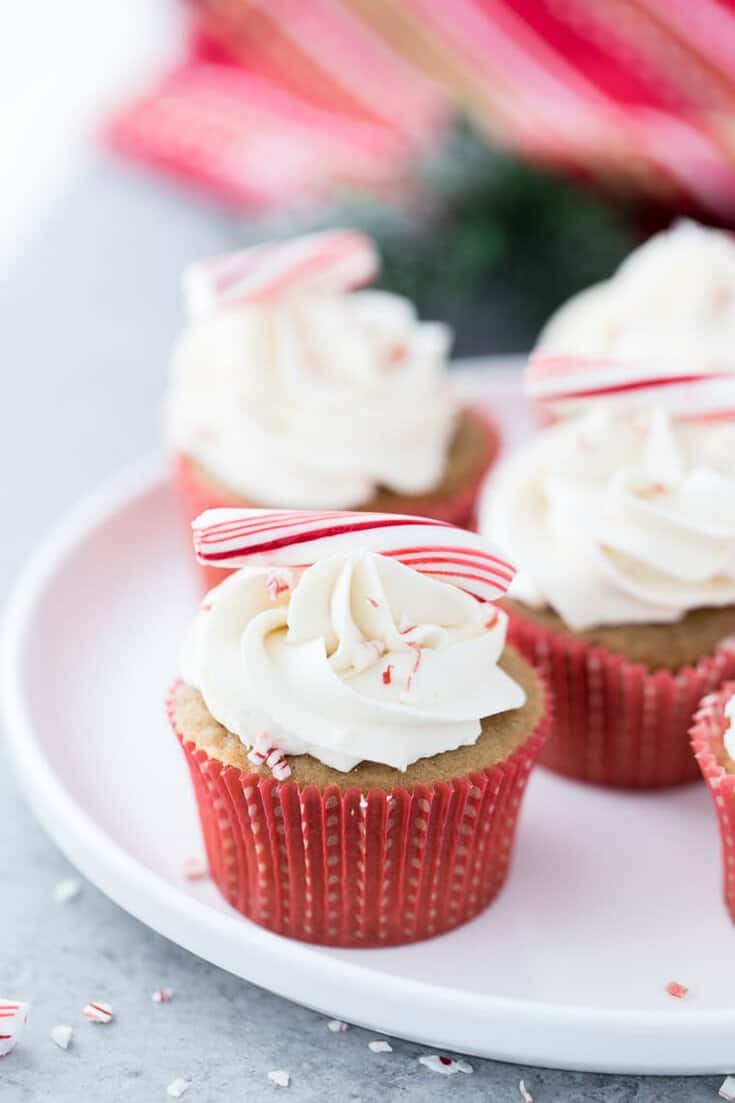 TGIF! I am at it again with the peppermint and made you these peppermint white chocolate latte cupcakes to toast the start of the weekend.
Who's happy its the weekend? We have just one full weekend before Christmas people and if you are like me, you will be scrambling to finish your holiday shopping. I traveled last weekend to visit a friend who just had a baby and have since delayed in my shopping. So tomorrow, I'll be one of those scrambling to finish their shopping, fighting off the crowds. Luckily I only have stocking stuffers to hunt for and a few things to get the house ready for guests.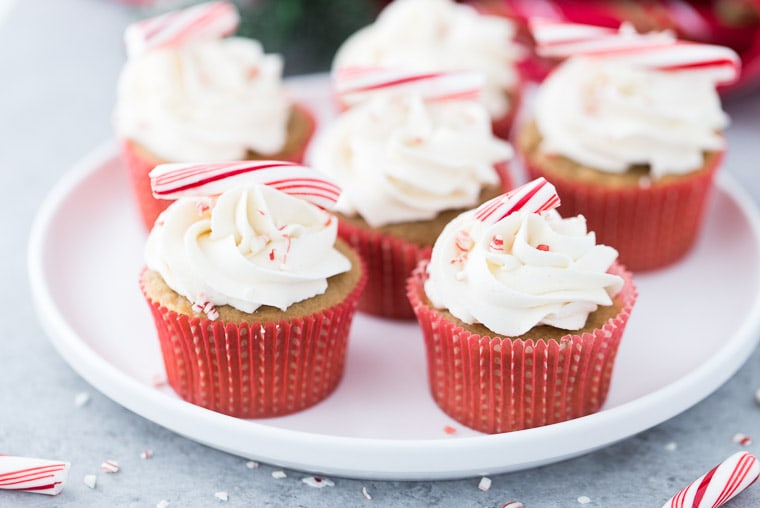 These peppermint white chocolate latte cupcakes will be perfect for guests and why I tested the recipe a few weeks ago to be prepared for guests. They are based off one of my favorite lattes I like to get during this time of the year. Peppermint Mocha is not the only coffee of the season. Have you tried a peppermint white chocolate latte? So yummm! And even better in cupcake form.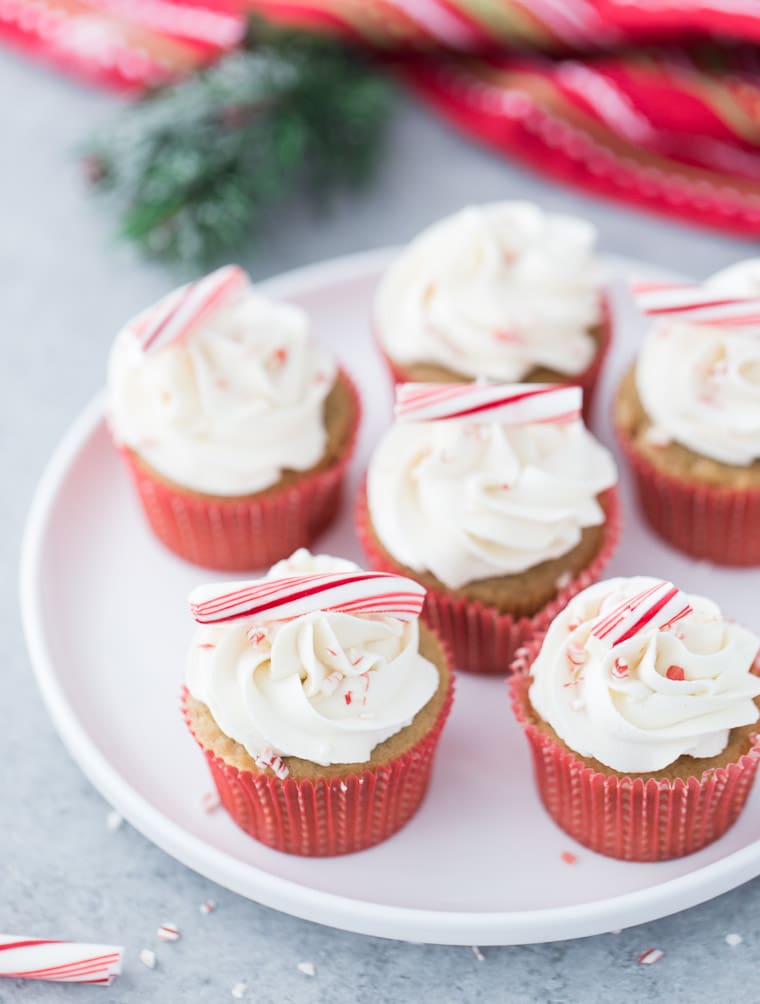 The cupcakes start with a soft, fluffy white chocolate cupcake with cool peppermint and hints of espresso. It is topped with an equally sweet and creamy peppermint white chocolate frosting. All in all, they are deliciously festive and perfect for the season. Everyone who tried these loved them!! I can't wait to make them again.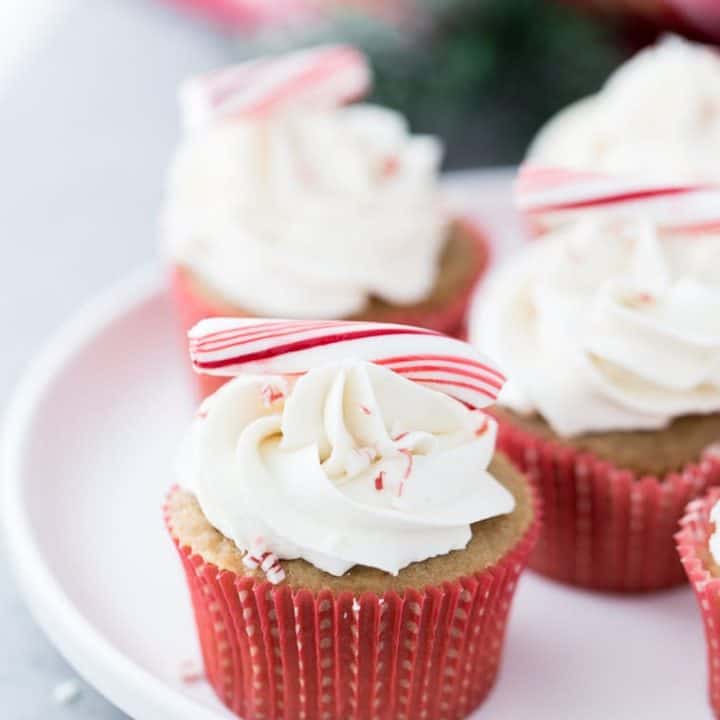 Yield: ~24 cupcakes
Peppermint White Chocolate Cupcakes
Ingredients
2 cups cake flour
1 teaspoon baking powder
¾ teaspoon baking soda
½ teaspoon salt
½ cup (1 stick) unsalted butter, softened to room temperature
1 cup sugar
2 large eggs, at room temperature
1 ½ teaspoons pure vanilla extract
¼ teaspoon peppermint extract
1 cup buttermilk, at room temperature
2 teaspoons espresso powder
2 ounces white chocolate, chopped and melted
For the Frosting:
2 cups (4 sticks) unsalted butter, softened to room temperature
4-5 cups powdered sugar
2-3 tablespoons heavy cream
1 teaspoon vanilla extract
½ teaspoon peppermint extract
¼ cup white chocolate, melted
Topping: Peppermint meringue kisses
Instructions
For Cupcakes:
Preheat oven to 350 degrees. Line two muffin tins with cupcake liners.
In a medium bowl, whisk together cake flour, baking powder, baking soda and salt.
In the bowl of an electric mixer, beat butter and sugar on medium speed until light and fluffy, about 3-5 minutes. Add in eggs, one at a time, and mix until combined. Beat in vanilla and peppermint extract.
In a small bowl,a dd the espresso powder to the buttermilk and mix to dissolve. Add ⅓ of the flour mixture and mix until just combined. Add half of the buttermilk mixture then ½ of the remaining flour, then the rest of the milk and the rest of the flour, beating well after each addition. Using a rubber spatula, fold in the melted white chocolate into the batter until well combined.
Divide the batter into the prepared cupcake liners, filling each about ¾ of the way. Bake the cupcakes until a tester comes out clean, about 12-15 minutes. Cool for 1-2 minutes in pans before transferring to a cooling rack. Let cool completely before frosting.
For Frosting:
Whip butter for 6 minutes on medium speed using the paddle attachment of an electric mixer. The butter will become pale and creamy.
Add the rest of the ingredients and mix on low speed for 1 minute. Then increase speed to medium and mix for 6 minutes until the frosting is very light, creamy and fluffy. Frost the cupcakes and top with crushed candy canes.