Honey Lime Coconut Oatmeal Cookies
These honey lime coconut oatmeal cookies are soft and chewy with sweet crunches of coconut flakes and hints of lime.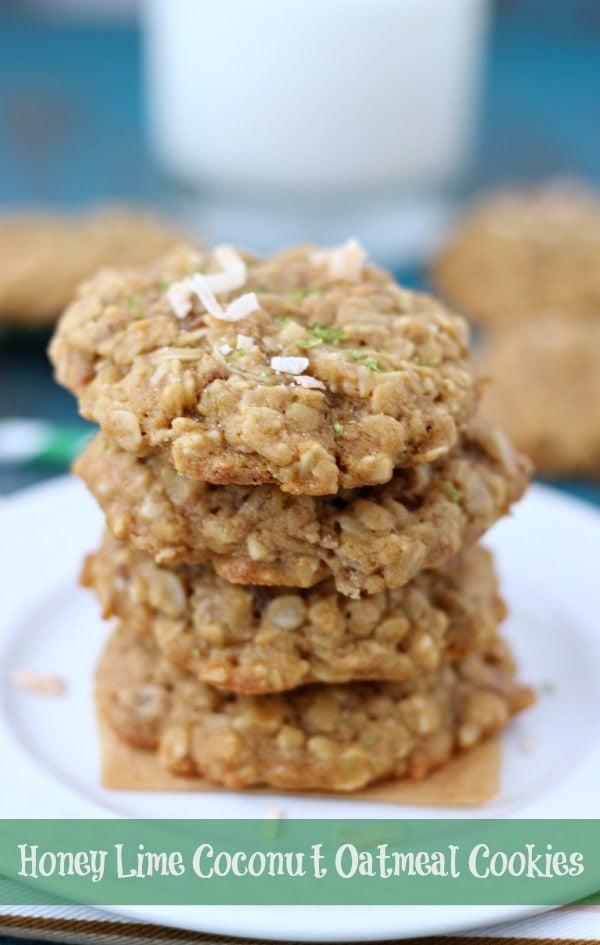 It's almost the end of March (can't believe it!) and that means it's time for Mystery Dish reveal!! Mystery Dish is a group of talented food bloggers that I joined last month (read more about it here). Each month a list of secret ingredients are selected by a host and group members get to create a unique recipe using two or three of the mystery ingredients (Chopped-style!).
The lovely Kat, from I Want Crazy, was our host this month and she picked these fun ingredients:
Boxed Cake Mix
Peeps
Oats
Ginger
Honey
Wine
Shallots
Coconut
Shrimp
Cinnamon
Cherry Tomatoes
Kiwi
Dried Fruits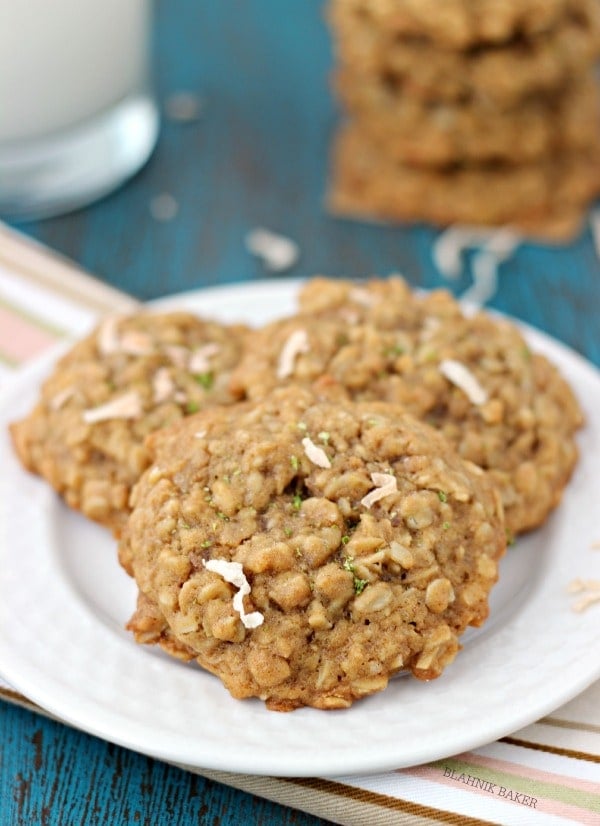 It has been a while since I made some oatmeal cookies. Actually a few months since these vanilla pomegranate oatmeal cookies so I had oatmeal cookies in the head when I saw the secret ingredients. Since I always jump at the opportunity to add coconut to everything, I had to take it one step further and create a flavor combination that is unexpectedly superb.
These honey coconut lime oatmeal cookies are just that. The cookies are soft, chewy and chunky and they are filled with crunchy toasted coconut flakes, zest of fresh lime and the sweetness of natural honey. Absolutely delicious and "the best cookie" I've made to date according to Mr J (the resident taste tester). The hints of citrus blended with tropical coconut is truly amazing! Try them please 🙂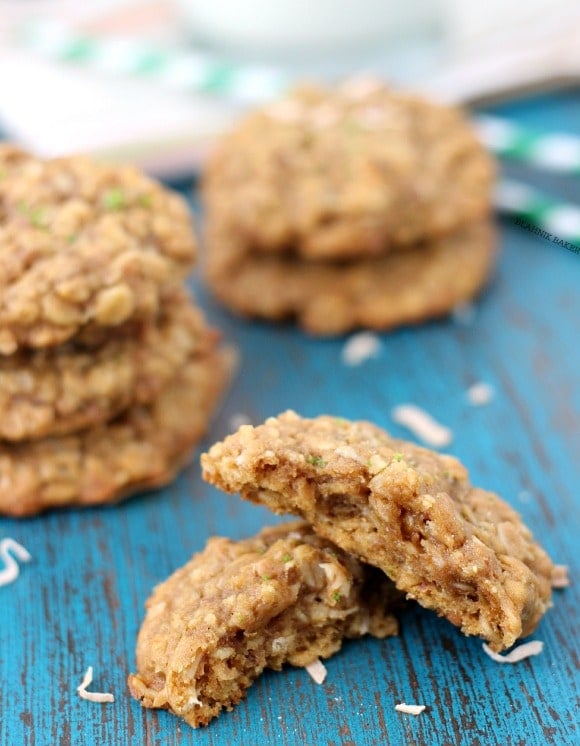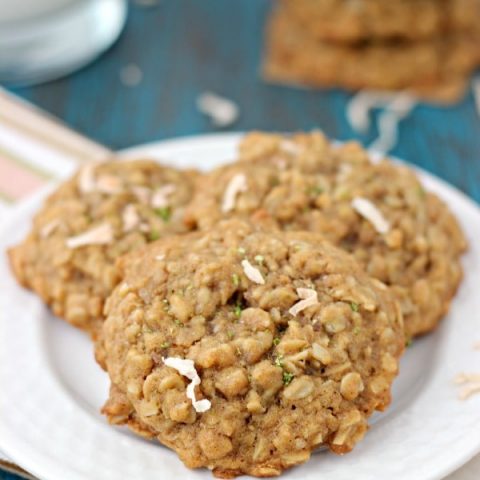 Yield: 11 cookies
Honey Lime Coconut Oatmeal Cookies
These honey lime coconut oatmeal cookies are soft and chewy with sweet crunches of coconut flakes and hints of lime. 
Prep Time 20 minutes
Cook Time 11 minutes
Total Time 31 minutes
Ingredients
1½ cup oats
1 cup all-purpose flour
½ teaspoon baking soda
¼ teaspoon salt
⅓ cup coconut flakes, toasted
⅓ cup butter, softened
2 tablespoons coconut oil, melted
¼ cup honey
¼ brown sugar
1 egg, room temperature
1 teaspoon vanilla extract
zest of one lime
1 teaspoon lime juice
Instructions
Preheat oven to 350 degrees F. Line two baking sheets with parchment paper.
In a medium bowl, whisk together the oats, all-purpose flour, baking soda, salt and coconut flakes.
In another bowl, beat the butter, coconut oil, honey and brown sugar until combined on medium speed. Add the egg and beat until blended. Beat in the vanilla, zest and lime juice.
Reduce the speed to low and add in dry ingredients. Mix until just combined. Do not overmix.
Using a medium cookie scoop, arrange dough balls 2 inches apart. Bake cookies for 9-111 minutes or until lightly golden around the edges. Remove from oven and let cool on baking sheet for two minutes before transferring to a wire rack. Cool completely.
Here's all the amazing recipes Mystery Dish members created from the secret ingredients. Be sure to check them out!
1. Coconut Shrimp with Thai Chili Ginger Sauce by Joyful Healthy Eats
2. Sangria Poached Pears by Baking a Moment
3. Baked Mini Carrot Cake Donuts by Culinary Couture Blog
4. Funfetti Cookies with Peeps Marshmallow Frosting by I Dig Pinterest
5. Carrot Oatmeal Cookies by Yummy Healthy Easy
6. Gooey Oatmeal Cranberry Bars by I Want Crazy
7. Honey Lime Coconut Oatmeal Cookies by Blahnik Baker
8. Chocolate Almond Date Balls by The Well Floured Kitchen
9. Tropical Kiwi Fruit Muffins by The Pajama Chef
10. Nesting Peeps Cupcakes by The Dessert Chronicles
11. Carrot Cake Cookies by Chez CateyLou
MAKING THIS RECIPE? Share it with us on Instagram using #aclassictwist so we can see what you are baking up in your kitchen!