Hot Cross Buns
These traditional hot cross buns are soft and sweet with distinct flavors of lemon, cloves and nutmeg on the inside and crisp on the outside.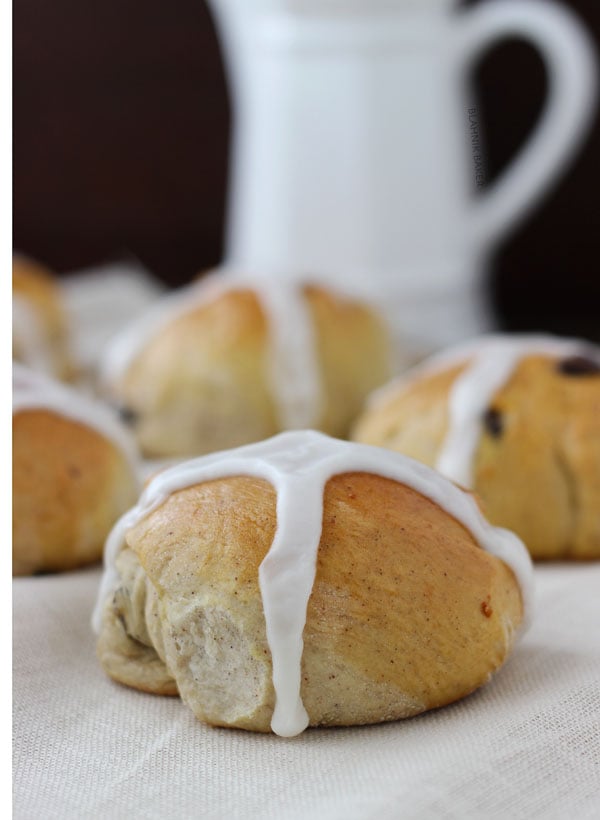 Believe it or not, Easter is just right around the corner. So it is time to start thinking of Easter recipes especially those that are easy to put together for large gatherings. These hot cross buns fall in that category. If you are unfamiliar with hot cross buns (as I was before the selection of this month's cookbook for Pass the CookBook club), they are rich buns perfectly spiced with cloves and nutmeg that are usually enjoyed on Good Friday and over Easter.

As usual for Pass the Cook Book club, our fearless leader Kita from Pass the Sushi selects three recipes from a cookbook collecting dust. This month's book is Clodagh's Kitchen Diaries: Delicious Recipes Throughout the Year
and when I saw the recipes (Scotch Eggs, Hot Cross Buns or Three Cheese Ravioli with homemade pasta) we were to attempt, I knew I wanted to go for a real challenge. I could a) make something I've never made before (homemade pasta) or b) tackle that yeast-phobia that hangs over my head. I went with making some delicious traditional hot cross buns as you can tell and thanks to my friends over at Red Star Yeast, I was well armed with their amazing yeast products before starting. My stress level was at #2 (thank you guys!) and that's needed for a first time bread maker.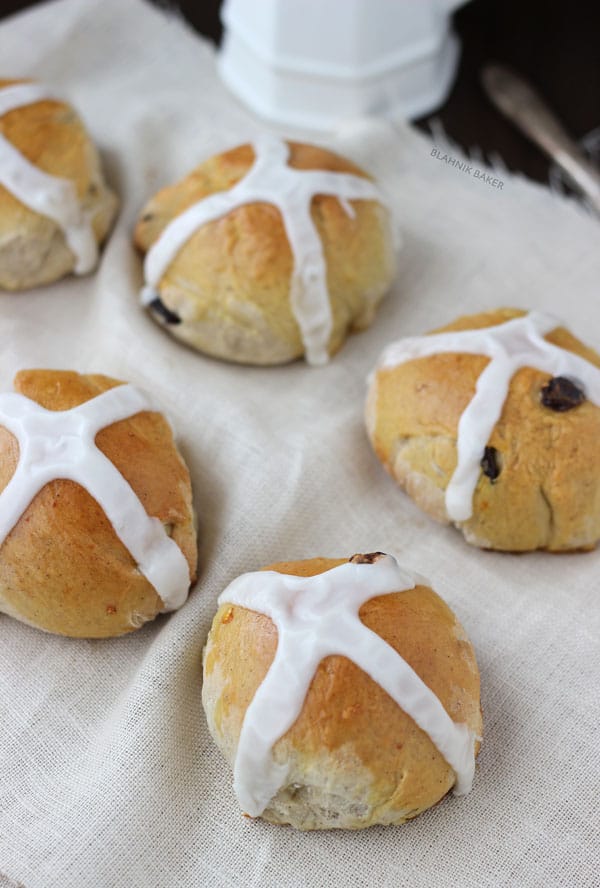 To be honest, I don't know why I was intimidated by bread making. Making these hot cross buns was pretty straight forward once I played around with the recipe. The original recipe from our cookbook was giving a few people some headaches so I opted to adapt it and go with suggestions from RED STAR YEAST. I'm glad I did because the buns are soft and sweet with distinct flavors of lemon, cloves and nutmeg on the inside and crisp on the outside.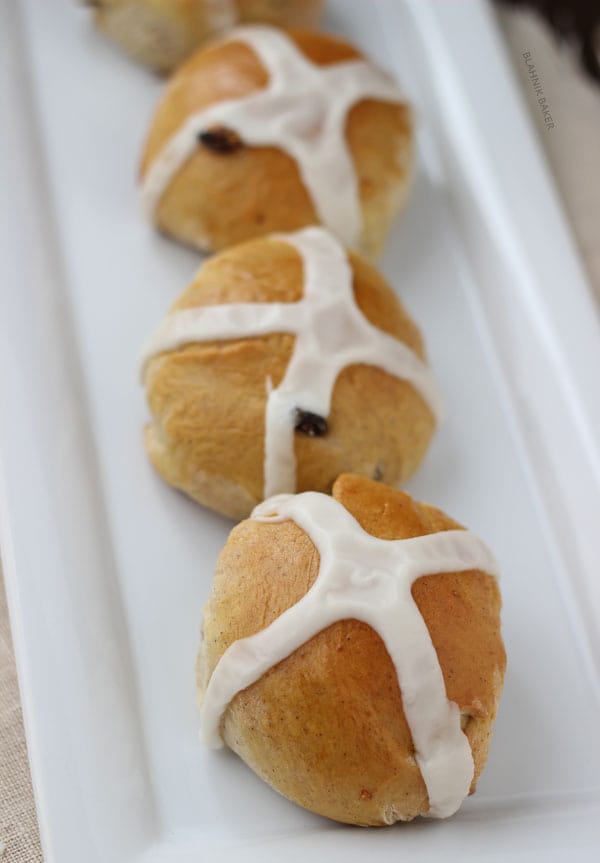 We enjoyed the buns toasted with a spread of butter. But I am sure some jelly will work great too. From one novice bread maker to another, start with a great yeast to avoid all the horror stories you hear about playing with dough. A well trusted yeast like Red Star Yeast will not fail you and all you have to worry about is your recipe. Take the stress out of bread making 🙂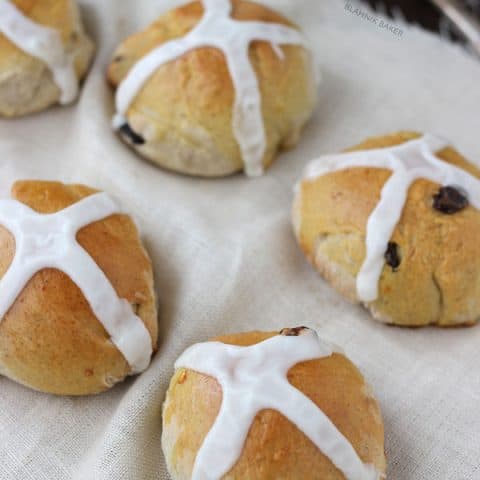 Yield: 9 buns
Hot Cross Buns
These traditional hot cross buns are soft and sweet with distinct flavors of lemon, cloves and nutmeg on the inside and crisp on the outside
Prep Time 4 hours 30 minutes
Cook Time 12 minutes
Total Time 4 hours 42 minutes
Ingredients
3 ½ cups bread flour
1 package RED STAR Active Dry Yeast or Quick-Rise Yeast
1 teaspoon cinnamon
¼ teaspoon ground cloves
¼ teaspoon ground nutmeg
1 teaspoon salt
2 tablespoons lemon zest
¼ cup sugar
¾ cup raisins or currants
½ cup milk
½ cup water
¼ cup butter
1 egg
1 egg yolk
1 tablespoon water
1 cup powdered sugar
½ teaspoon vanilla
3-4 teaspoons water
Instructions
In a medium bowl, combine 1 ½ cup flour, yeast, cinnamon, cloves, nutmeg, salt, lemon zest and sugar.
In a small saucepan, heat milk, water and butter to 120-130 degrees F. Add the liquid mixture to the flour mixture and beat on medium speed for 2 minutes. Add egg and beat for additional one minute. Add the remaining flour and raisins to make a soft dough. Using the hook attachment of your mixer, knead the dough until smooth and elastic on low for 3-4 minutes. Alternatively, knead on a floured surface until smooth and elastic, about 5-7 minutes. Lightly grease a large bowl and place the dough in bowl. Turn over once to coat with oil. Cover with plastic wrap and let rise in a warm place until dough doubles in size. About 2 hours.
Lightly grease two 8-inch or 9-inch cake pans. Punch down the dough and divide into three equal parts. Divide each third into three equal smooth balls. Cover pans and let rise until an indentation remains after lightly touched, about an hour.
Preheat oven to 375 degrees F. Make the glaze but whisking the ingredients together. Brush the buns with glaze. Bake for 10-12 minutes until golden brown. Immediately remove from pan and let cool completely on rack.
To make frosting, whisk all the ingredients together. Frost the buns, making a cross on each bun.
Notes
*Prep time includes rising of dough*
Here's what everyone in the group made from our cookbook of the month;.



*Disclosure: This is not a sponsored post. Red Star Yeast is not paying me…I just love their products. I received free samples that I used to make these rolls. All opinions are as usual 100% mine. Referral links above.*
MAKING THIS RECIPE? Share it with us on Instagram using #aclassictwist so we can see what you are baking up in your kitchen!