Kale Salad with Maple Butternut Squash and Pomegranate Vinaigrette
Spice up your salads this fall with a kale salad bursting with sweet roasted maple butternut squash, goat cheese, and a crunchy pomegranate vinaigrette!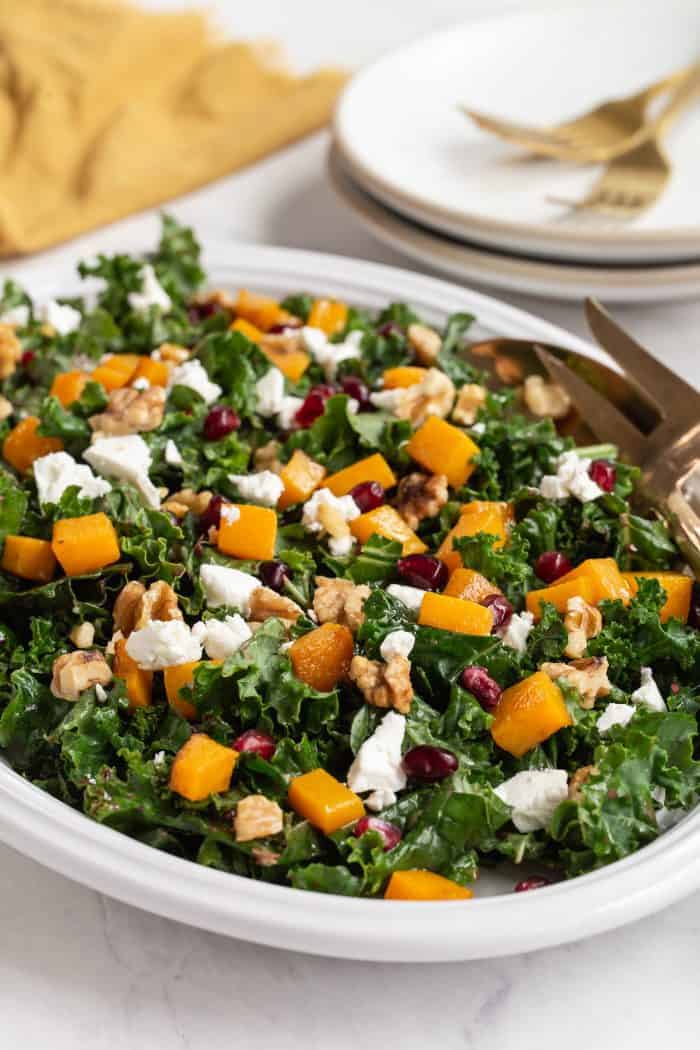 Happy Monday!! I am very excited about a Monday (so rare) because today is a special day! We are having a virtual bridal shower for a dear and special friend. You are invited to the surprise shower for Joanne of Eats Well with Others hosted by her blogging friends!! (Surprise Joanne!!).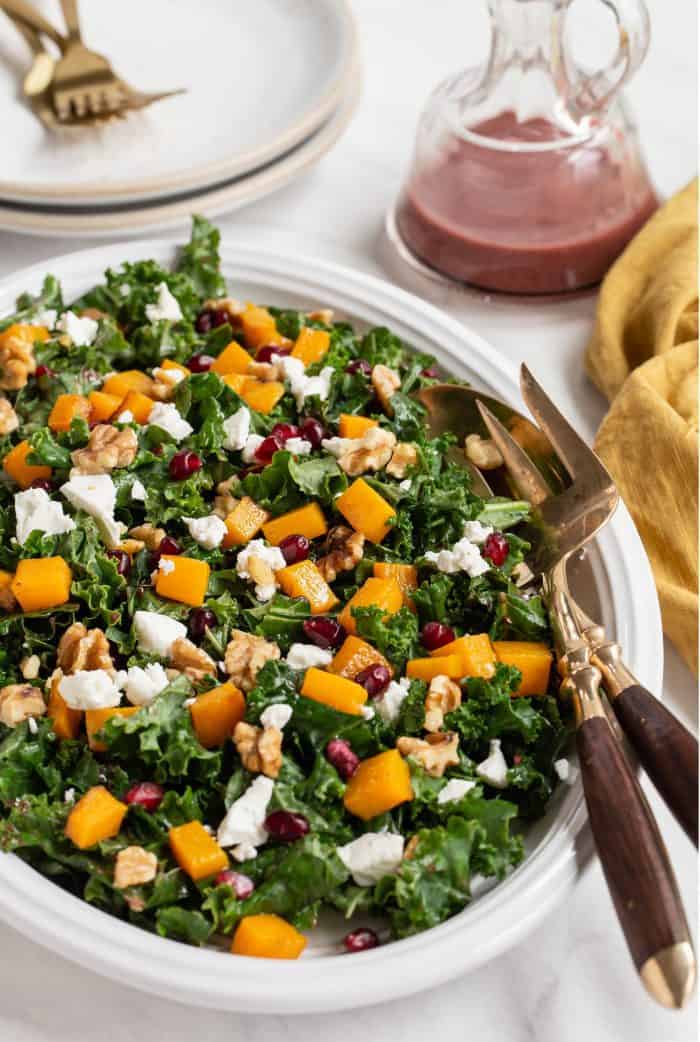 I've had the pleasure of calling Joanne a dear friend for the past year and a half. She is a Ph.D. (and MD) student like myself and we bonded over that right away but despite our misery over failed experiments, we both love food! How she juggles blogging every day and being a scientist beats me. She is seriously a powerhouse of a chick and just so down to earth.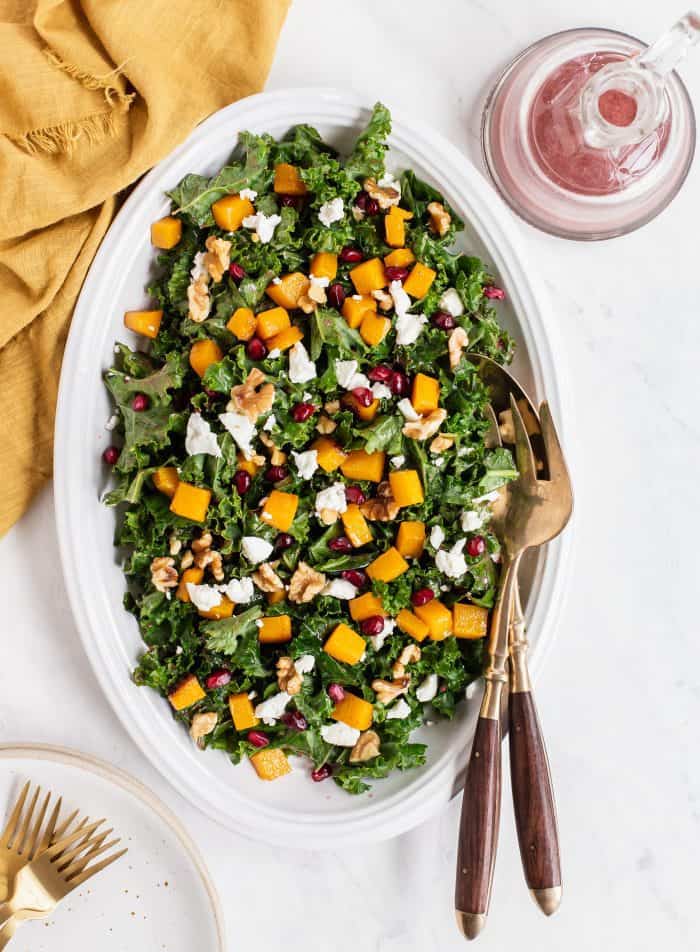 I was so lucky to meet her twice this summer! Once in NYC over coffee and almond croissant and a few weeks later in Philly when we attended The Big Traveling Potluck. She is just as sweet and hilarious in person and I'm so excited for her upcoming nuptials to the boy. He is one lucky man!!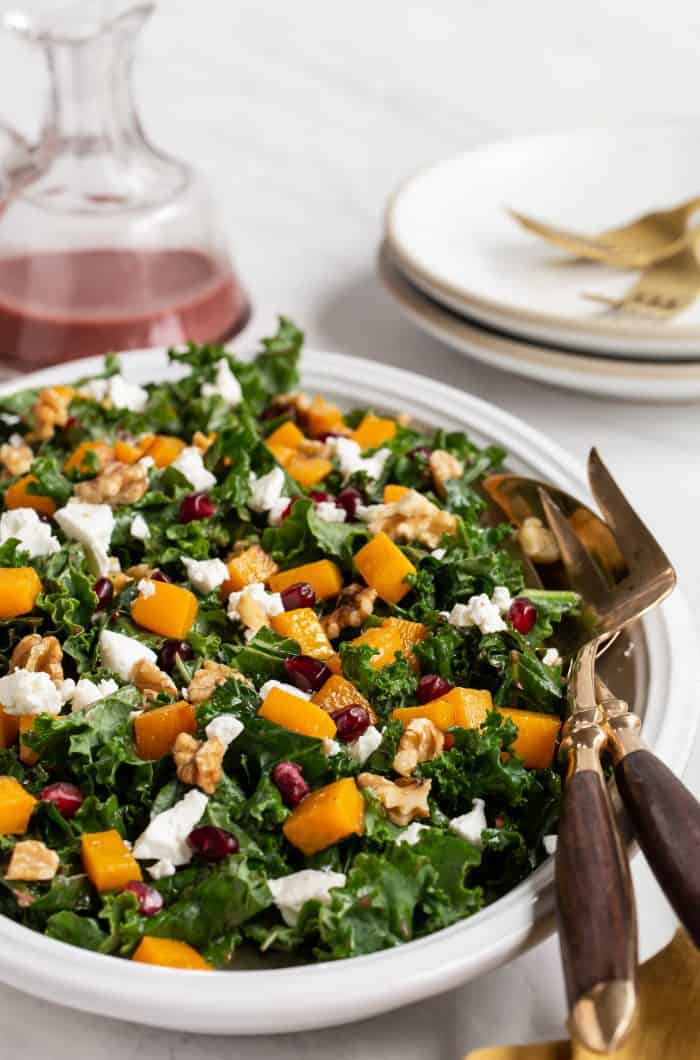 Joanne's favorite season is fall and that's the theme of her shower!! Check out all the amazing recipes at the end of the shower attendees. Naturally, I wanted to make a super decadent fall dessert but when I think of Joanne, I think of kale, squash (all varieties, she doesn't discriminate), and chocolate. Things like massaging kale, the uselessness of romaine, or just how you need a chocolate slab pie on those terrible weeks are a few of the things I've learned from her. She is all about balance while staying healthy. How can you not love that?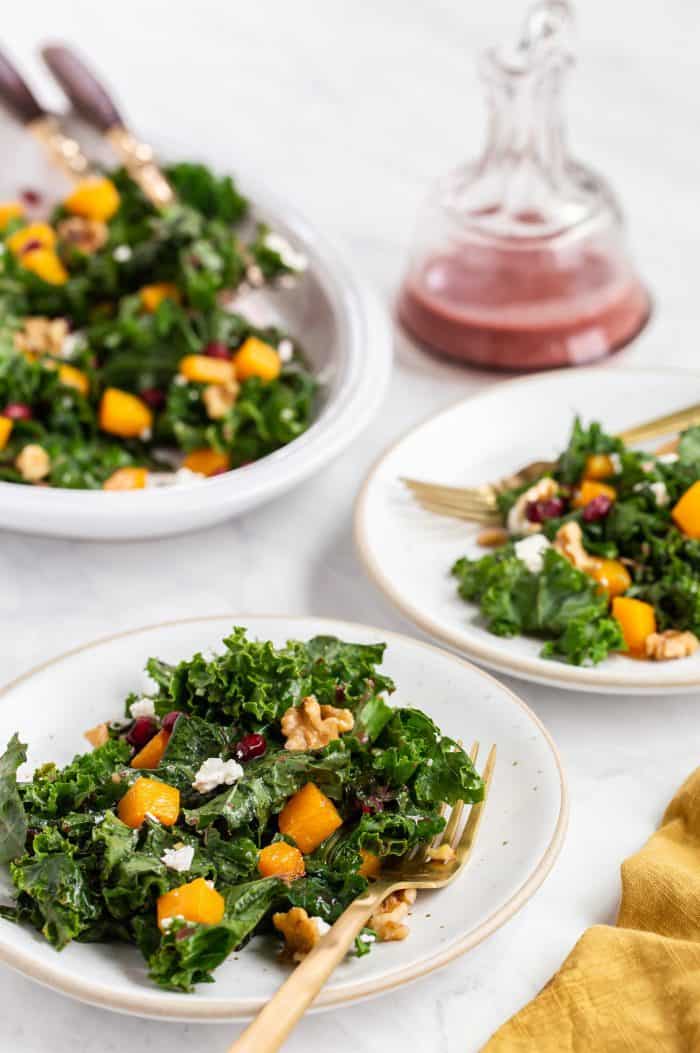 She doesn't know this but she has inspired me over the past year to try new-to-me superfoods like kale. I've been enjoying cooking my way through her extensive salad archive and spicing up my lunches. I decided to whip up this kale salad with maple roasted butternut squash and pomegranate vinaigrette. Massaged kale is tossed with a crunchy (slightly spicy) pomegranate vinaigrette and butternut squash roasted in maple syrup. The salad is finished with fresh pomegranate seeds, goat cheese, and walnuts! It's a powerhouse salad!!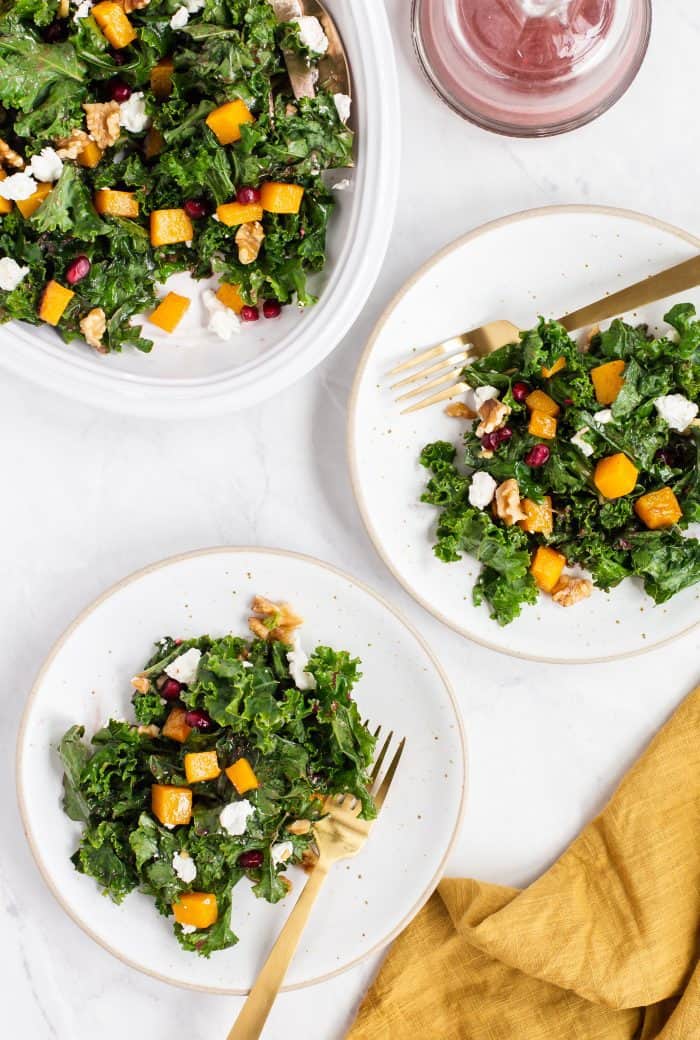 Joanne – I wish you and the boy a happy and blessed marriage!! Have fun at the wedding and I can't wait to see your gorgeous pictures. You are one stunning bride 🙂 Love you!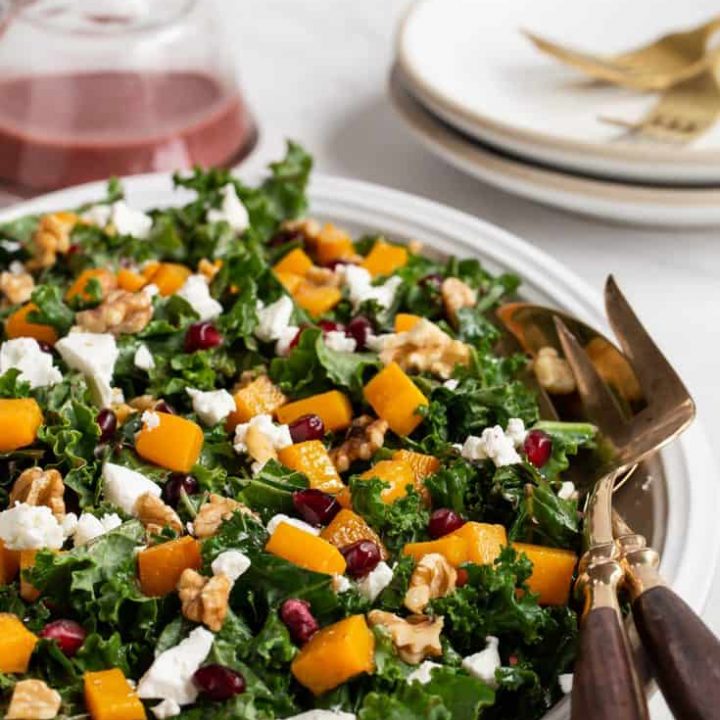 Yield: Serves 4
Kale Salad with Maple Butternut Squash and Pomegranate Vinaigrette
Spice up your salads this fall with a kale salad bursting with sweet roasted maple butternut squash, goat cheese and a crunchy pomegranate vinaigrette! 

Prep Time 10 minutes

Cook Time 30 minutes

Total Time 40 minutes
Ingredients
For Salad:
1 pound butternut squash, peeled and cut into 2-inch cubes
1 tablespoon olive oil
1 tablespoon maple syrup
Salt and pepper, to taste
1 pound kale, chopped
Juice of 1 lemon
¼ cup chopped walnuts
Goat cheese, to taste
For Dressing:
½ cup pomegranate seeds
1 teaspoon honey mustard
2 tablespoon balsamic vinegar
1 teaspoon sugar
¼ cup olive oil
Instructions
Preheat oven to 400 degrees F. Toss squash with olive oil, maple syrup and salt and pepper. Bake on a lined baking sheet 20-30 minutes.
In the bowl of a food processor, process pomegranate seeds, mustard, vinegar and sugar until smooth. With processor going, gently pour the olive oil into bowl and pulse until combined. Pour into a jar and set aside.
In a large bowl, sprinkle kale with lemon juice and salt. Massage (by rubbing) kale until it reduces in volume by half and soft, about 3 minutes. Toss kale with dressing and squash. Top with walnuts and goat cheese.
Here are all the wonderful ladies celebrating Joanne today! Be sure to stop by and check out all the Fall-themed recipes. Thank you Audra for putting this all together.
Cocktails:
Pumpkin Spice White Russian – Nutmeg Nanny
Warm Apple Pie Cocktail – Miss In The Kitchen
Bourbon Apple Cider Cocktail– Cook Like Champion
Snacks/Savory:
Baked Brie with Honey and Sliced Almonds – The Lemon Bowl
Butternut Squash and Apple Galette – Warm Vanilla Sugar
Roasted Pumpkin Crostini – Annie's Eats
Kale Salad with Maple Butternut Squash and Pomegranate Dressing – Blahnik Baker
Lemony-Pasta Stuffed Zucchini – Very Culinary
Pumpkin Dip with Apple Chips– Meadows Cooks
Sweet:
Pumpkin Cinnamon Roll Cake – The Baker Chick
Peanut Butter Fudge Pie with Salted Peanut Butter Caramel– Taste and Tell
Caramel Apple Upside Down Cake – The Girl in the Little Red Kitchen
Snickerdoodle Bundt Cake – Chocolate and Carrots
Roasted Butternut Squash Pie with Brown Sugar Marshmallow Topping – Keep It Sweet
Caramel Corn Chocolate Chip Cookies – The Cooking Actress
Caramel Cranberry Apple Galette – Bakeaholic Mama
Coconut Pecan Tarts – Bake or Break
Cranberry Margarita Cupcakes – Baker by Nature
Gingerbread Truffles – Dinners Dishes and Desserts