Mini Chocolate Covered Strawberry Cupcakes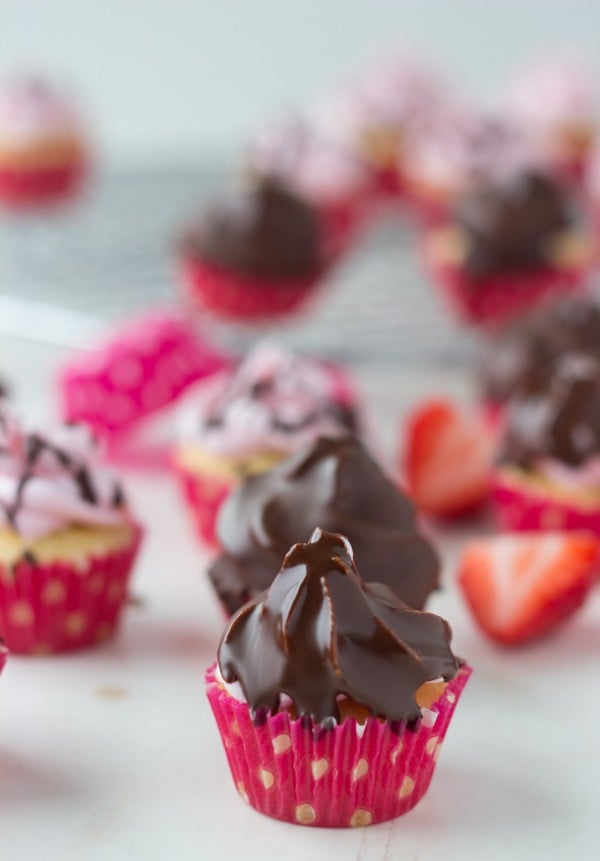 Hello hello!! I have one last treat for you before you decide on what you will be making for Valentine's Day. Or do you already have it locked down? Wait until you meet these cupcakes 🙂
When you think of Valentine's Day, I am sure we all think about CHOCOLATE and everything red. And no other treat encompasses these two than classic chocolate-covered strawberries. I figured why not make this classic into a cupcake? A mini cupcake so I don't feel too bad about sharing and having more than one (the way I think sometimes is just not rational but I love it).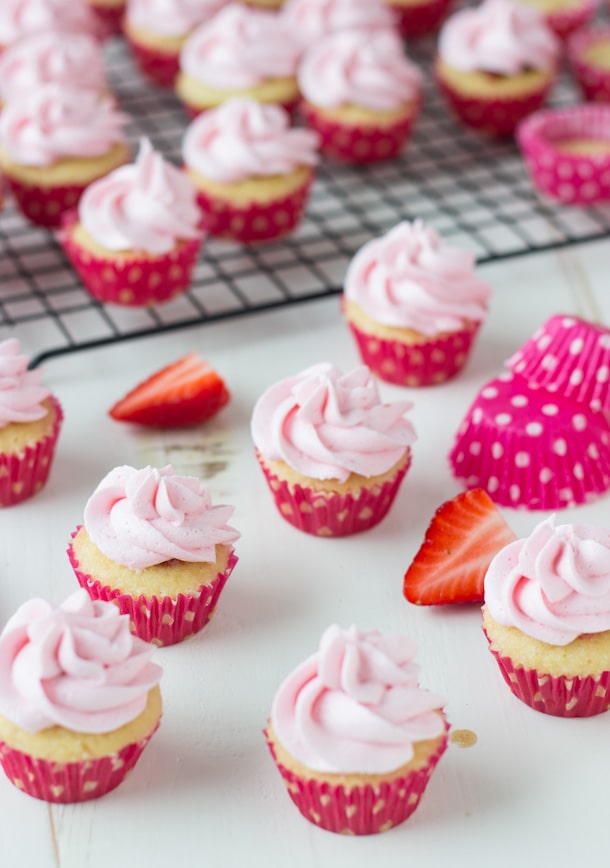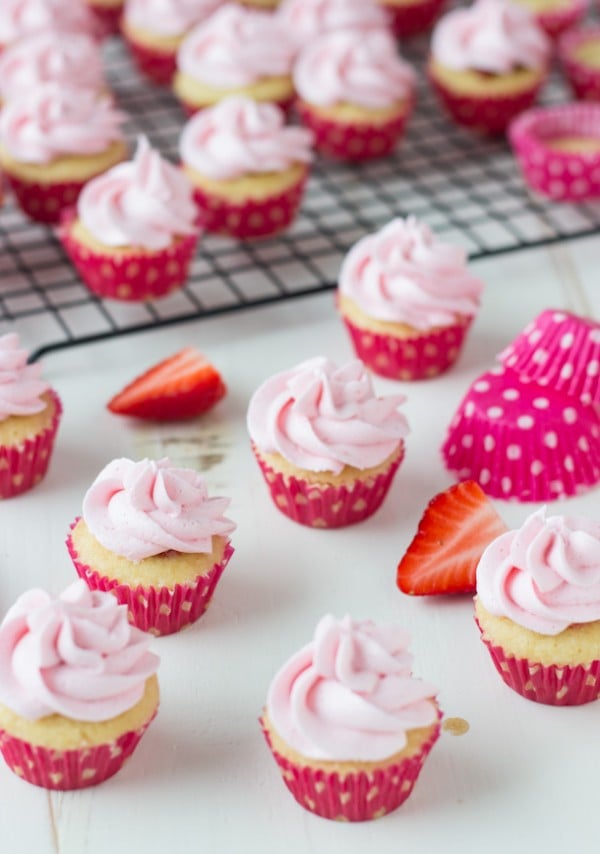 These mini chocolate covered strawberry cupcakes are perfect for any kind of celebration beyond Valentine's Day. Whether it's a Galentine's Day party, a baby or a bridal shower or a girl's birthday party, they will be admired and loved by everyone.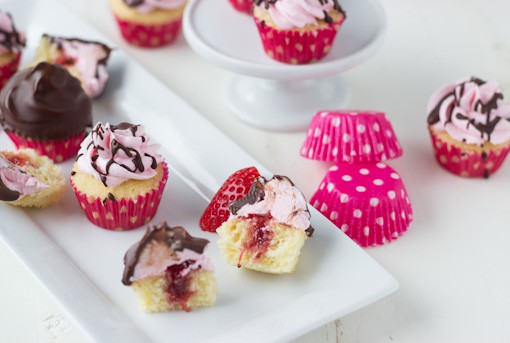 It all starts with my favorite vanilla cupcake recipe, a soft and crumbly cake that is filled with fresh strawberry filling. Topped with a fluffy strawberry frosting, it is all covered in a layer of chocolate coating!! Incredibly easy and just lovely for any get together you are having. Grab the recipe over at The Kitchenthusiast today!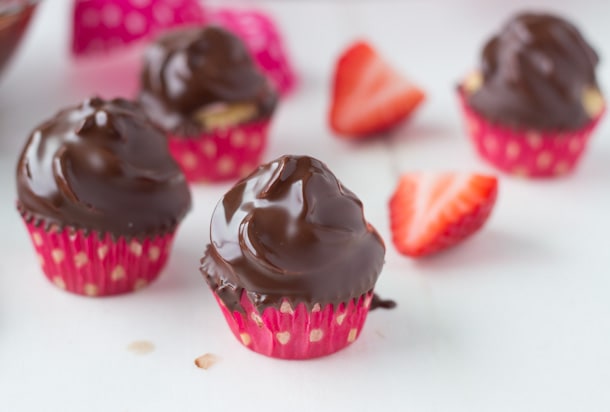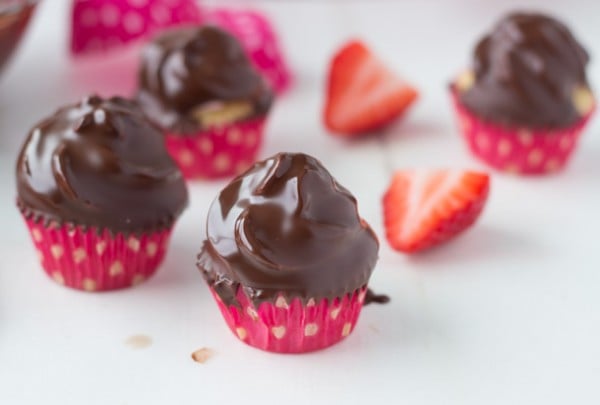 I am virtually sending these cupcakes to all my blogger friends, boos, and girlfriends! You gals are always there for me and I love you very much. Happy Galentine's Day!!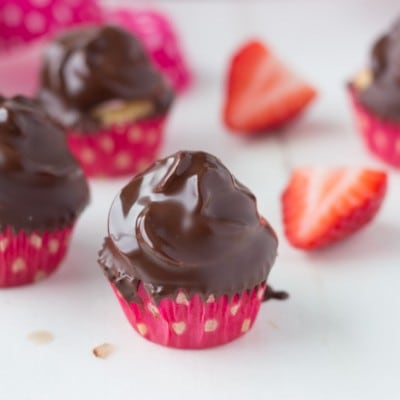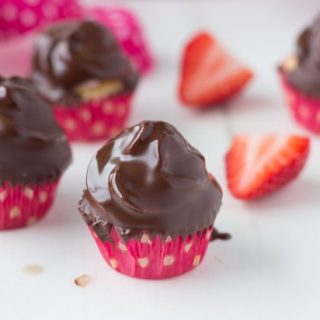 Yield: 48 mini cupcakes
Mini Chocolate Covered Strawberry Cupcakes
Ingredients
For mini cupcakes:
1 1/4 cups all-purpose flour
1/2 teaspoon salt
3/4 teaspoons baking powder
1/8 teaspoon baking soda
1/2 cup (1 stick) unsalted butter, room temperature
1 cup granulated sugar
2 eggs, at room temperature
1 teaspoon pure vanilla extract
1/2 cup buttermilk, at room temperature
For strawberry filling:
1 cup fresh strawberries, hulled and chopped
1/4 cup granulated sugar
1/4 cup water
For strawberry buttercream:
1 cup (2 sticks) unsalted butter, softened
2-3 cups sifted confectioners' sugar
1 teaspoon vanilla extract
2-3 tablespoons milk or heavy cream
A pinch of salt
1/2 cup strawberry puree (from above)
For toppings:
4 ounces dark chocolate, melted and cooled
Instructions
For Cupcakes:
Preheat oven to 350 degrees F. Line your KitchenAid® Professional-Grade Nonstick Mini Muffin Pan with mini cupcake liners.
In a medium bowl, whisk together flour, salt, baking powder, and baking soda.
Using a KitchenAid® Stand Mixer, cream butter and sugar together until pale and fluffy, about 2-3 minutes on medium speed. Add eggs one at a time, beating until just combined after each addition. Beat in vanilla extract.
Reduce Stand Mixer speed to low and slowly add half of the flour mixture to the batter. Add the buttermilk and beat until just combined. Add the rest of the flour and mix. Scrape down the side of the bowl as needed. Do not overmix.
Divide batter into prepared tins. Fill each liner about 2/3 full. Bake cupcakes until lightly golden or a toothpick inserted into the center come out clean, about 8-10 minutes.
Remove cupcakes from pan and cool completely on a wire rack.
While the cupcake cools, make the filling. In a medium saucepan, combine the strawberries, sugar, and water. Cook until strawberry is broken down and sauce thickens. Divide into two and save one half as filling. The other half you can pass through a fine mesh and use in the frosting.


For strawberry frosting
Whip butter for 8 minutes on medium speed using the flat beater of a KitchenAid® Stand Mixer. The butter will become pale and creamy.
Add the rest of the ingredients and mix on low speed for 1 minute. Then increase speed to medium and mix for 6 minutes until the frosting is light, creamy, and fluffy.
Frost cooled cupcakes using your favorite decorating tip. I used Wilton Tip 1M for these cupcakes. Chill for about 20 minutes before coating with melted chocolate.
Dip each frosted cupcake into the melted cupcake to coat the top. Let cupcakes sit for 10-15 minutes or until chocolate hardens.