Pumpkin Hazelnut Streusel Babka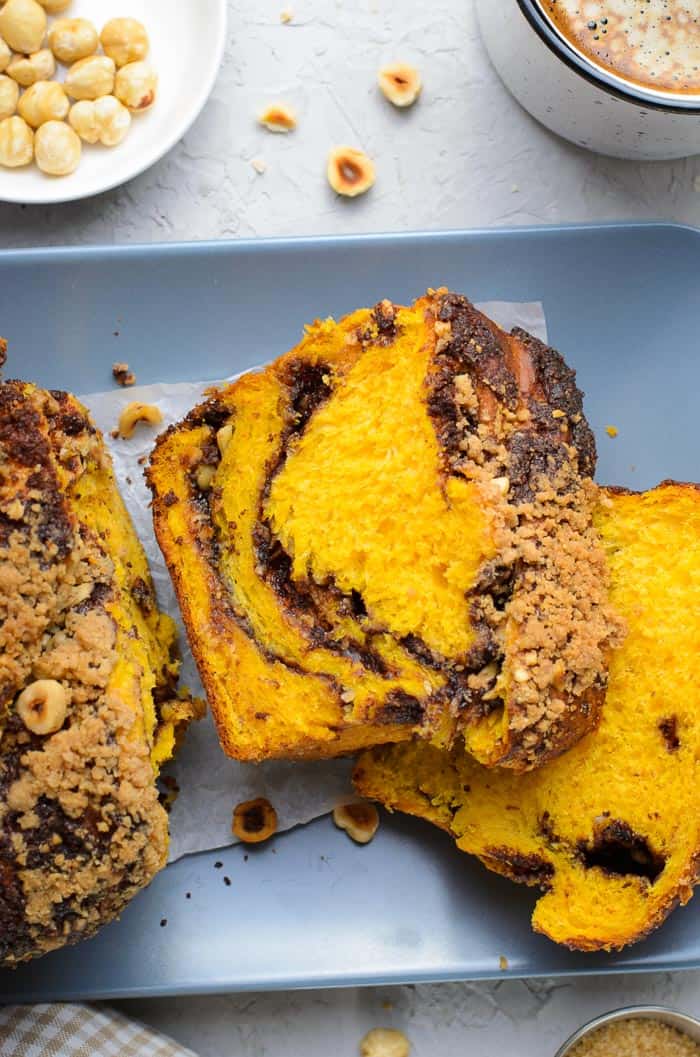 Hello, friends. I am so excited to share a new fall recipe with you all. This Pumpkin Hazelnut Streusel Babka is a flavor-packed, spiced bread with pockets of warm chocolate. Can it get any better than this?
In case you haven't made one before, let's start with what a babka is. A babka is a braided dough that is either turned into bread or cake. It usually contains a few layers in the braid of different flavors. This recipe uses a Brioche-type dough which is thicker and more buttery than most. Let's walk through how to make this Pumpkin Hazlenut Streusel Babka and what makes it so delectable.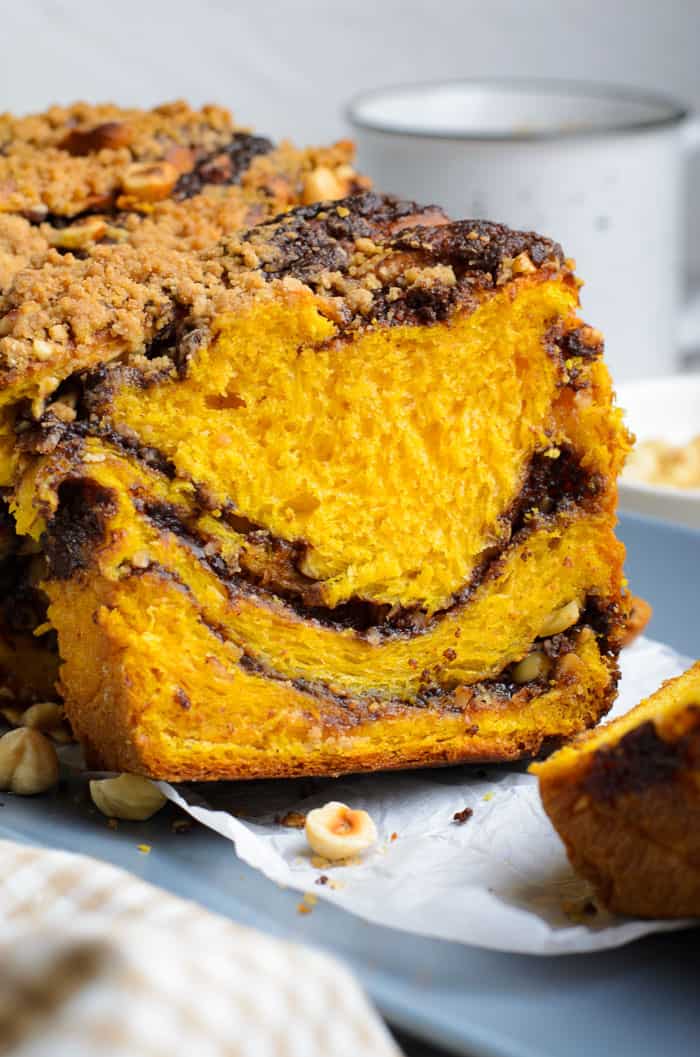 It almost looks too pretty to eat, but with all the amazing flavors packed into this recipe, you won't be able to keep your hands off of it. Rich and buttery dough infused with pumpkin puree for a moist base and intertwined with a Cocoa Cinnamon filling and the oh so amazing Streusel topping.
As I mentioned earlier, babka is usually can be made into a loaf of bread or cake and this recipe, in particular, is so versatile you can serve any way you want for practically any occasion. Want a slice for breakfast? Serve with a melted slab of butter. Looking for an easy snack for the kids in their lunch? Pack a slice or two of this dessert for that extra boost they need for the rest of the school day. The possibilities are endless.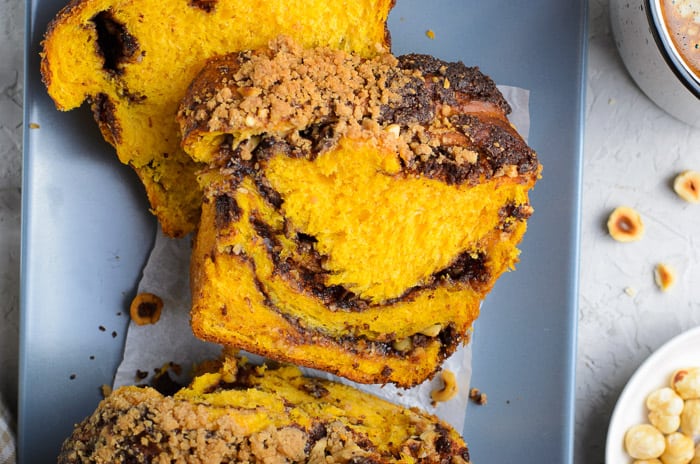 I feel like during the fall season I make so many variations of this because my family just can't get enough. It's the snack I can't say no to for the kiddos and myself. So let's jump into how you can make this at home.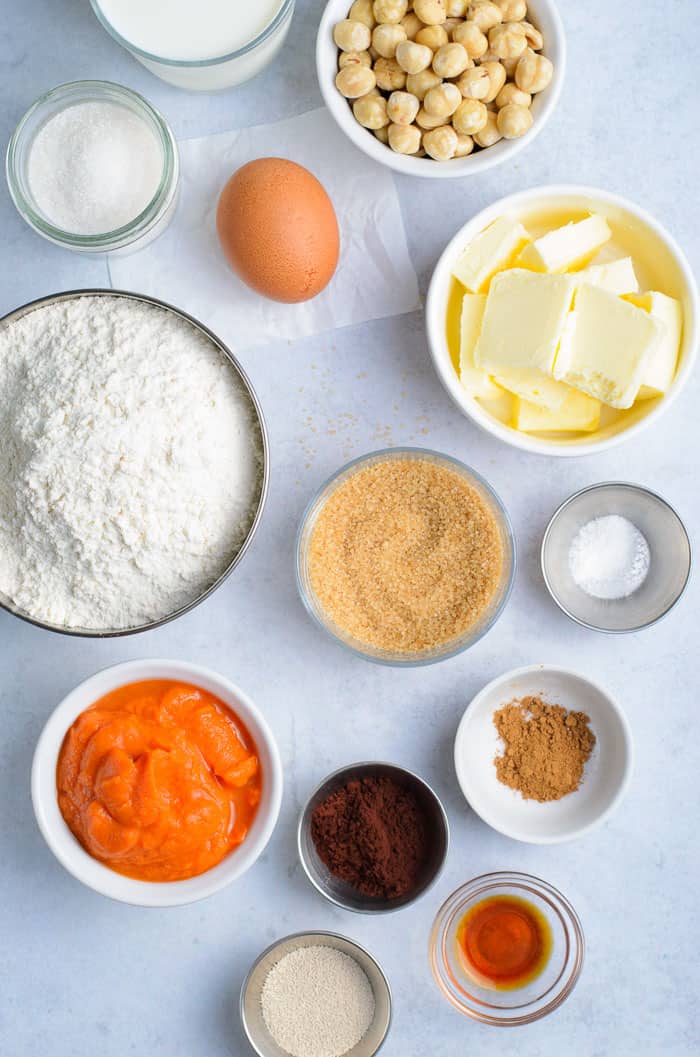 We start by making the enriched dough. It's filled with pumpkin flavor.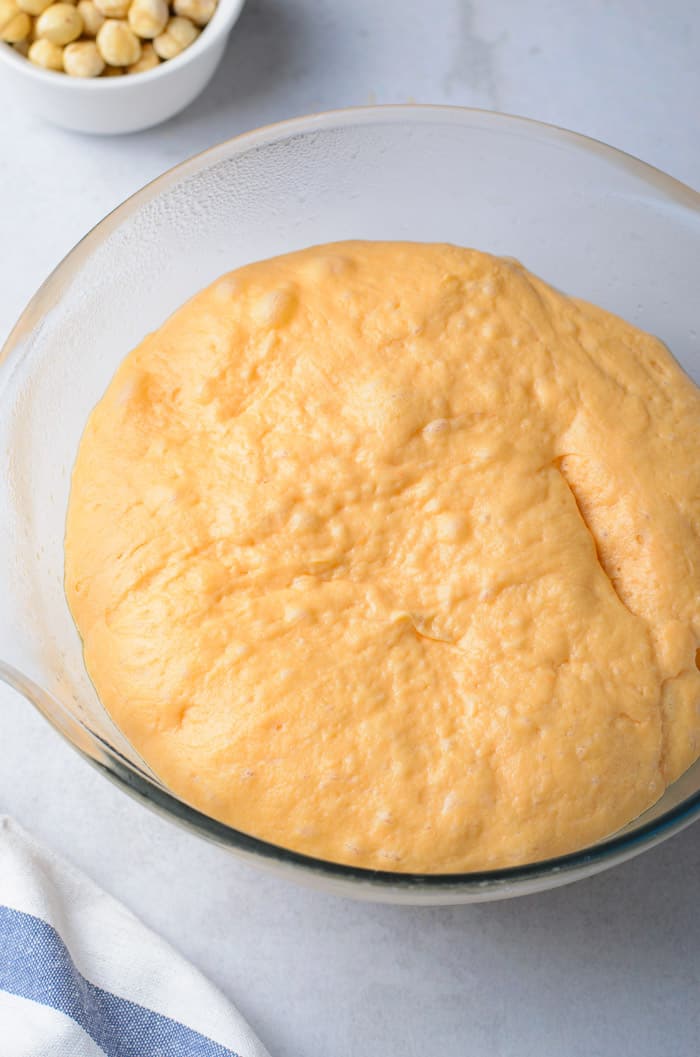 While the dough rises, make the Cocoa Cinnamon Filling.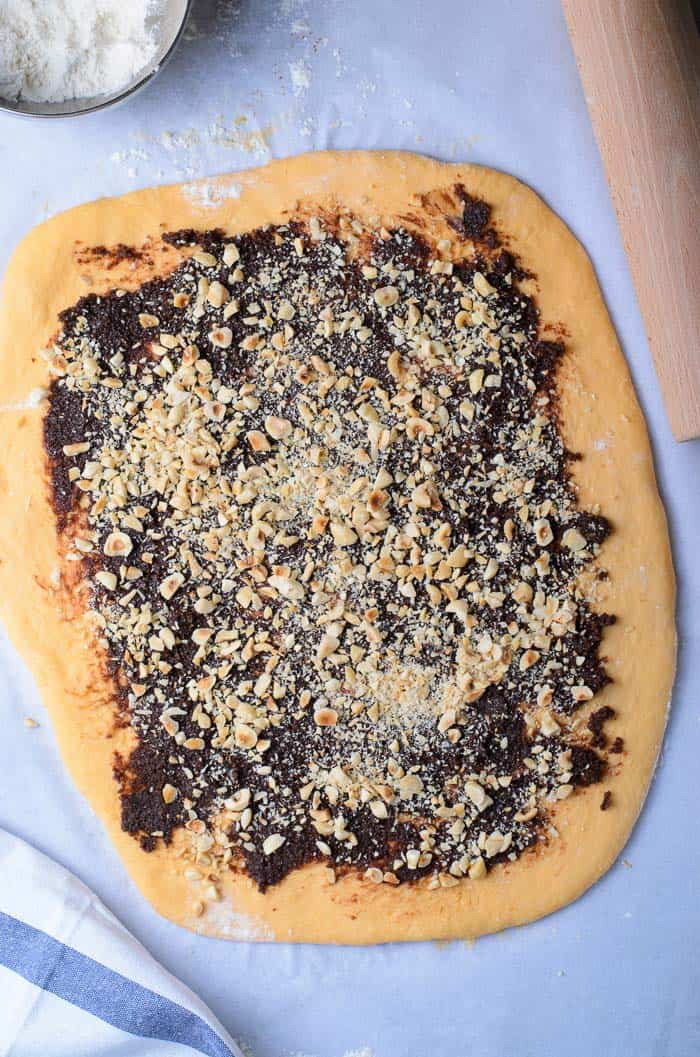 Spread the Cocoa Cinnamon Filling on with chopped hazelnuts.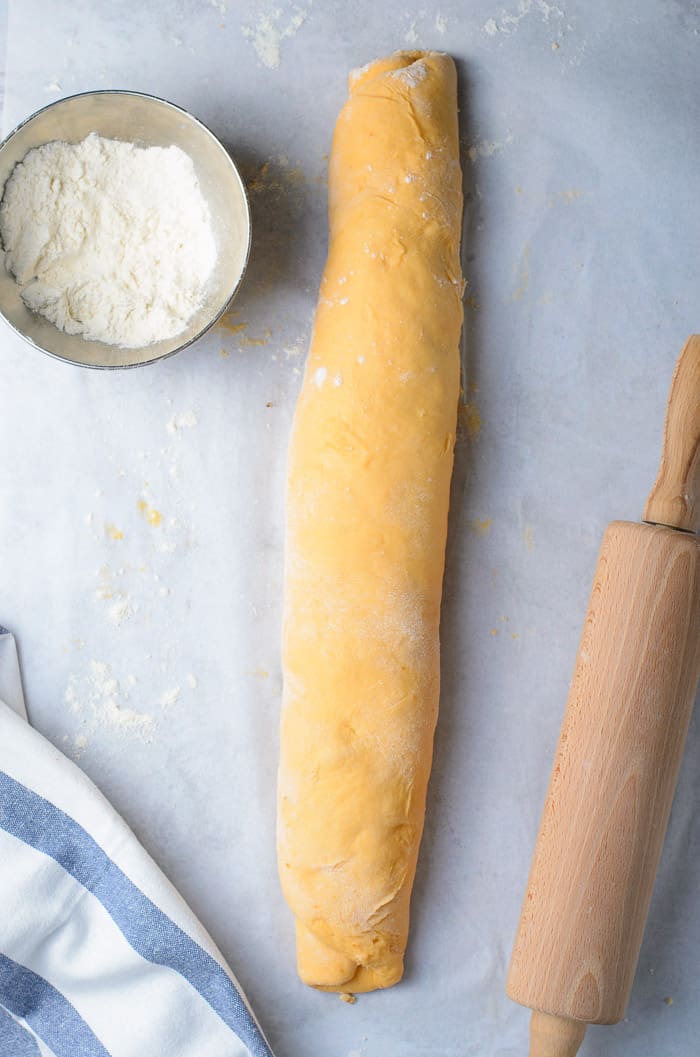 Roll your dough up tightly to form a log. Then go ahead and cut and braid your dough.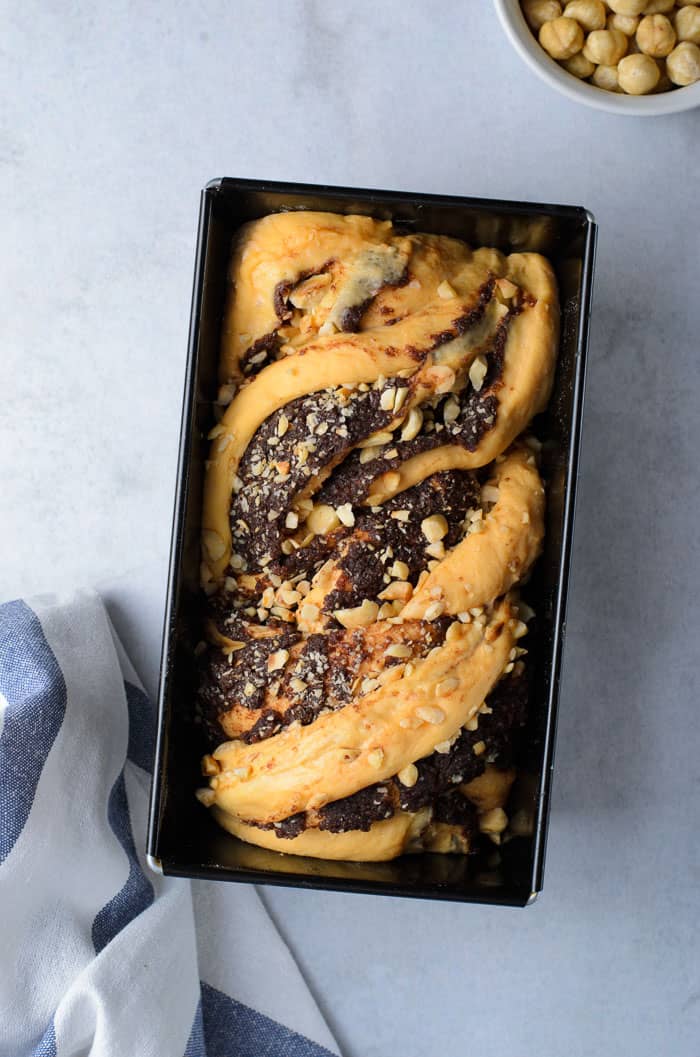 Let the loaf rise again and top with streusel mixture.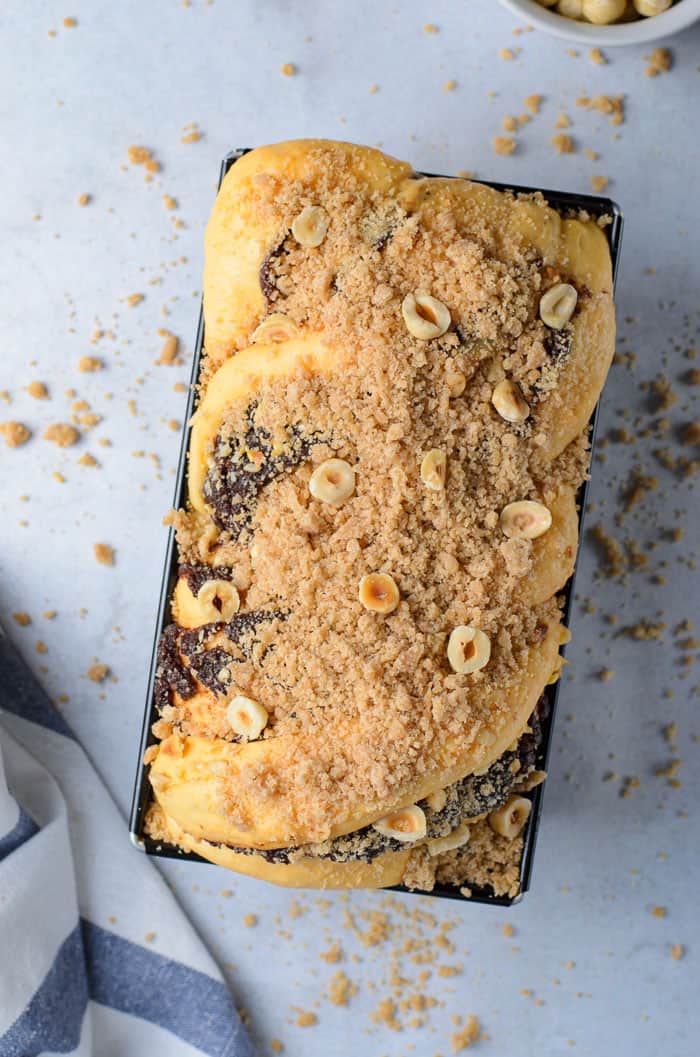 Bake the loaf until golden brown.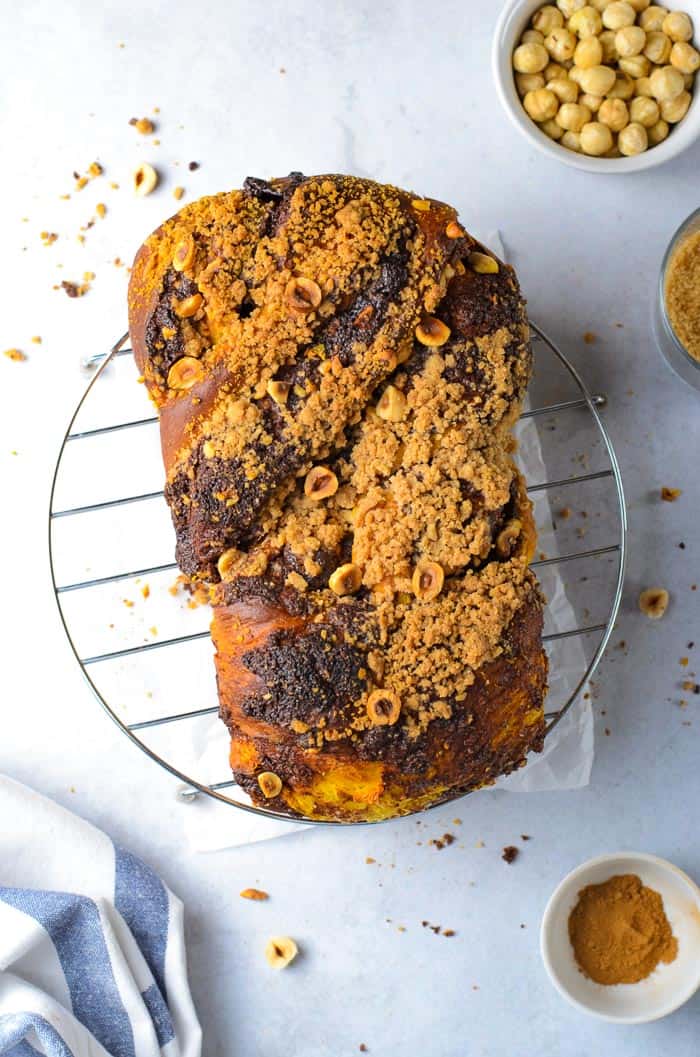 Your Pumpkin Hazlenut Streusel Babka is ready to be enjoyed :-).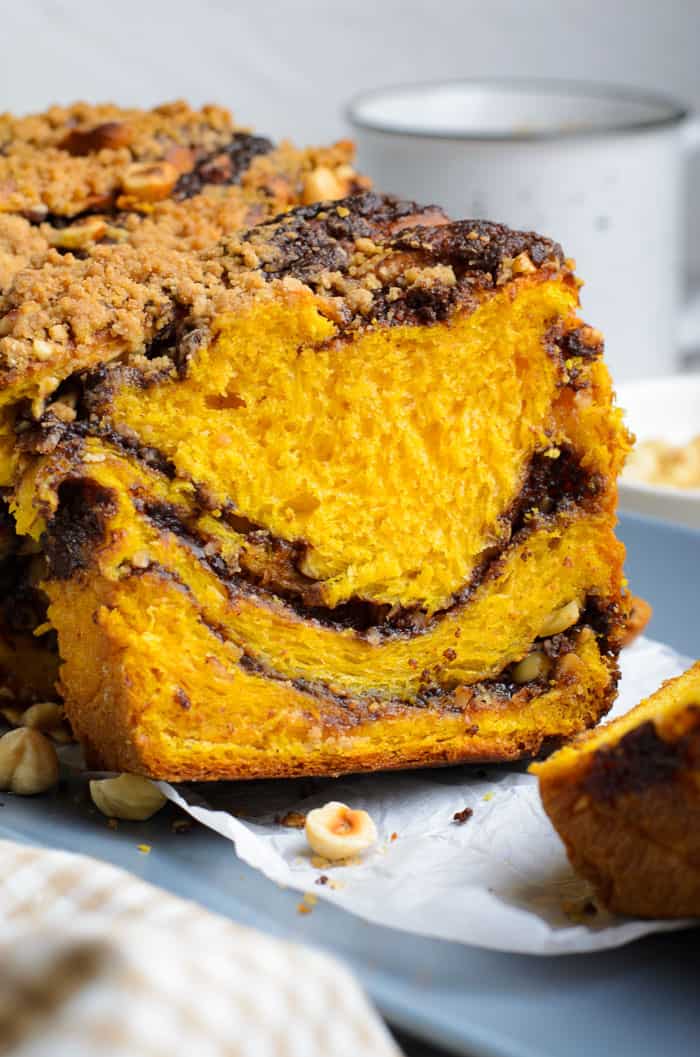 Pretty easy right? I recommend making the dough at night so that way you can get your beauty rest while the dough rises and you have freshly baked bread in the morning. Similar recipes that create such a "WOW" factor are Homemade Savory Cheddar Twist Bread, Brown Butter Pumpkin Sage Bread, and Whole Wheat Pumpkin Chocolate Chip Bread; just to name a few. I have tons of Pumpkin inspired recipes in my blog for you to choose from. From breakfast foods to cupcakes. I got you covered this season :-).
Let me know in the comment section below what you thought of this recipe and other ones you have tried. If you share it on social media please make sure to tag #aclassictwist so I can see all your wonderful creations. Happy Baking everyone :-).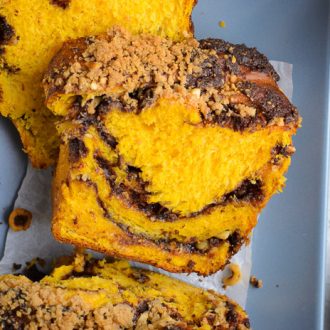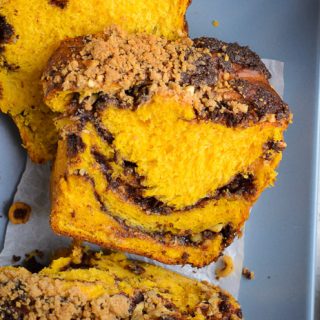 Yield: 1 loaf
Pumpkin Hazelnut Streusel Babka
This Pumpkin Babka is soft and buttery pumpkin-flavored brioche dough loaded with cocoa cinnamon filling and lots of hazelnuts. Topped with streusel and extra hazelnuts, it is simply addictive!
Total Time
3 hours
15 minutes
Ingredients
Pumpkin Dough
1/2 cup milk, lukewarm
2 tablespoons + 1 teaspoon granulated sugar, divided
1 1/2 teaspoons active yeast
2 1/4 cups all-purpose flour
1/2 teaspoon salt
1 egg, room temperature
1/3 cup pumpkin puree
1 teaspoon vanilla extract
4 tablespoons unsalted butter, softened, cubed
Cocoa Cinnamon Filling
1/2 cup light brown sugar
3 teaspoons ground cinnamon
1 tablespoon cocoa powder
1 tablespoon all-purpose flour
4 tablespoons unsalted butter, melted
1 teaspoon vanilla extract
1/2 cup roasted hazelnuts, finely chopped
Streusel Topping
2 tablespoons light brown sugar
2 tablespoons all-purpose flour
1/2 teaspoon ground cinnamon
2 tablespoons unsalted butter, cold, cubed
1/4 cup roasted hazelnuts, chopped
Instructions
Combine the lukewarm milk, 1 teaspoon of sugar, and yeast in a bowl. Whisk to dissolve the yeast. Leave for 5-10 minutes until foamy.
In a separate bowl, combine the flour, 2 tablespoons of sugar, and salt.
Pour the yeast mixture into the bowl of a stand mixer fitted with a dough hook. Add in the egg, pumpkin puree, and vanilla. Mix to combine.
Add the dry ingredients. Mix on low speed until combined, and then increase speed to medium and mix for about 5 minutes until the dough is smooth. (Alternatively, you can use a large bowl and knead the dough using a wooden spatula and then by hand. )
Add butter, 1 cube at a time, and mix on medium until incorporated and the dough is smooth about 5 minutes.
Place the dough in a large greased bowl. Cover the dough with plastic wrap and let rise in the fridge for 8 hours or preferably overnight.
For the filling, in a small bowl, combine the brown sugar, cinnamon, cocoa powder, and flour. Add in vanilla extract and melted butter. Stir to combine.
Grease a 9x5 loaf pan. Set aside.
Transfer the dough to a lightly floured surface. Knead together by hand for a short while. Roll the dough out to a large rectangle. Spread the cinnamon filling, leaving a 1/2 inch border around the edges. Sprinkle the chopped hazelnuts over the filling.
Roll up the dough tightly to form a log. Using a sharp knife, cut the log longwise, leaving the last inch of the dough intact on one end.
Carefully transfer to prepared loaf pan. Cover loosely, and let rise for 30-40 minutes or until almost doubled in size.
Preheat oven to 350°F.
Make the streusel topping. In a small bowl, mix together the brown sugar, flour, and cinnamon. Add in pieces of cold butter. Mix with a fork until crumbly. Set aside.
After the dough finishes rising, sprinkle the streusel topping and hazelnuts over the loaf.
Bake for 40-45 minutes until golden brown.
Allow the loaf to cool in the pan for 15 minutes, then transfer to a wire rack to cool completely before serving.
Recommended Products
As an Amazon Associate and member of other affiliate programs, I earn from qualifying purchases.