Halloween Chocolate Bark
This Halloween chocolate bark is an easy, kid-friendly Halloween treat that is perfect for a last-minute treat. It is a quick treat that can be thrown together for a party in just a few minutes. My Halloween dark chocolate bark gets blended with crispy rice cereal for some fun added texture. White chocolate spider webs are swirled on top, and finished off with spooky candy for an adorable Halloween party dessert!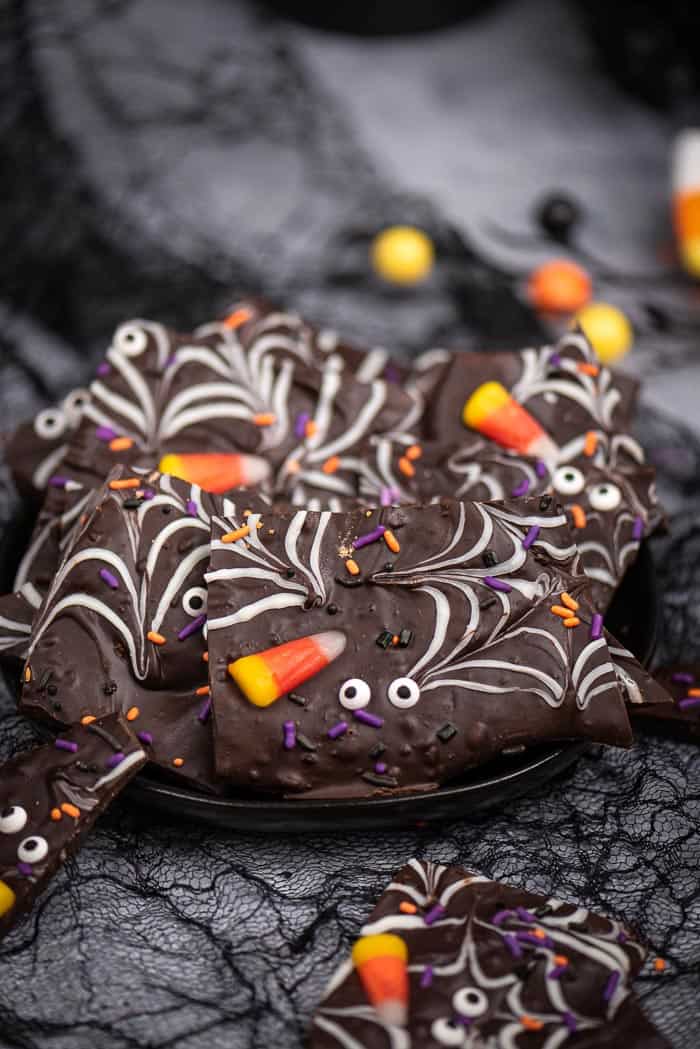 I am always excited to share fun new recipes with you all, but today I really have a big treat for you. As a busy mom, the last thing you want to add to your plate is last-minute Halloween party snacks that your kids forgot to tell you about.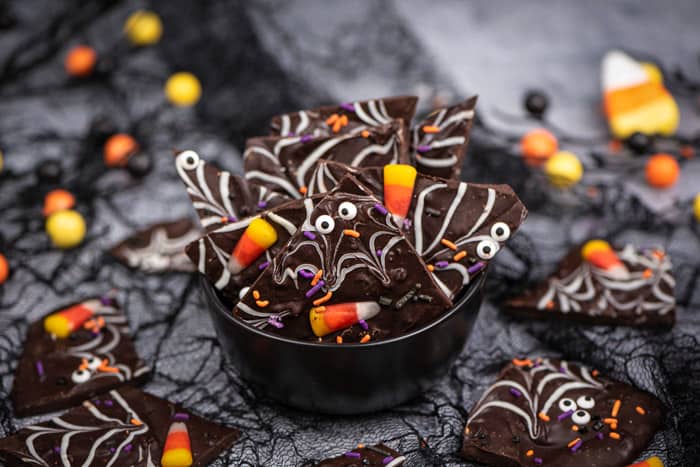 We have all been there, it's 8:00 PM on a school night and you are cleaning up after dinner trying to get everyone to settle down for the night. Suddenly, your child looks over and says their Halloween class party is tomorrow and they have to bring something. Please tell me I'm not the only one this has happened to haha. Actually, I forgot to check the folder in his backpack.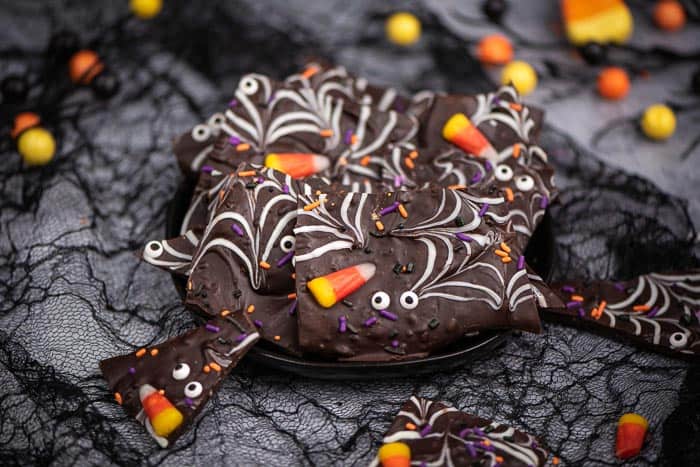 After taking a breath, I start to try and figure out what the heck I can make that's fun, easy and with ingredients I already have. This Halloween Chocolate Bark is a win-win all around! Made with dark chocolate or semi-sweet chocolate poured over rice Krispies for an added layer of crunch. Now add the little spider webs with candy corns and your kids will be grinning ear to ear bringing them into school the next day.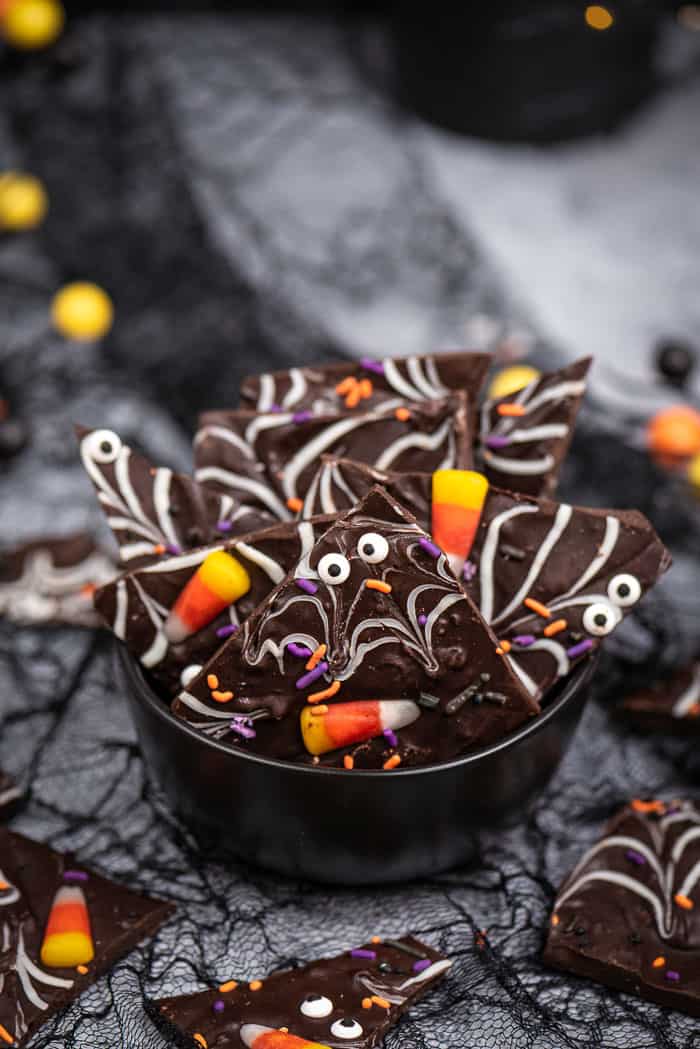 Let's look at the step-by-step directions for these creepy treats. If you don't wish to read this then you can scroll to the bottom for the recipe.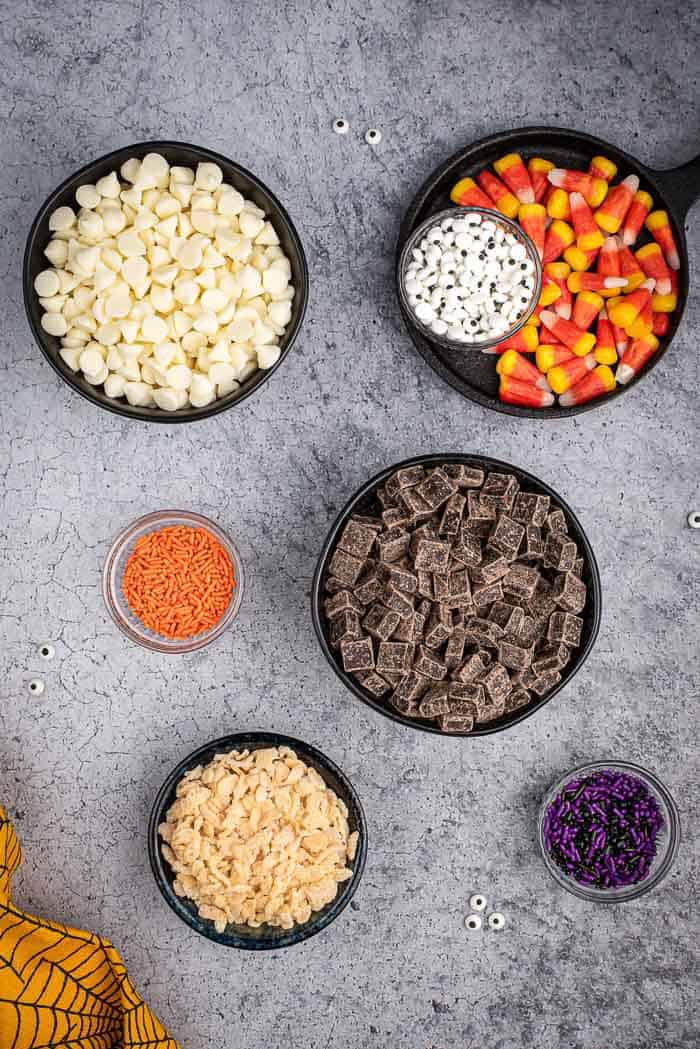 Start by crushing your rice Krispies into smaller sand-like pieces.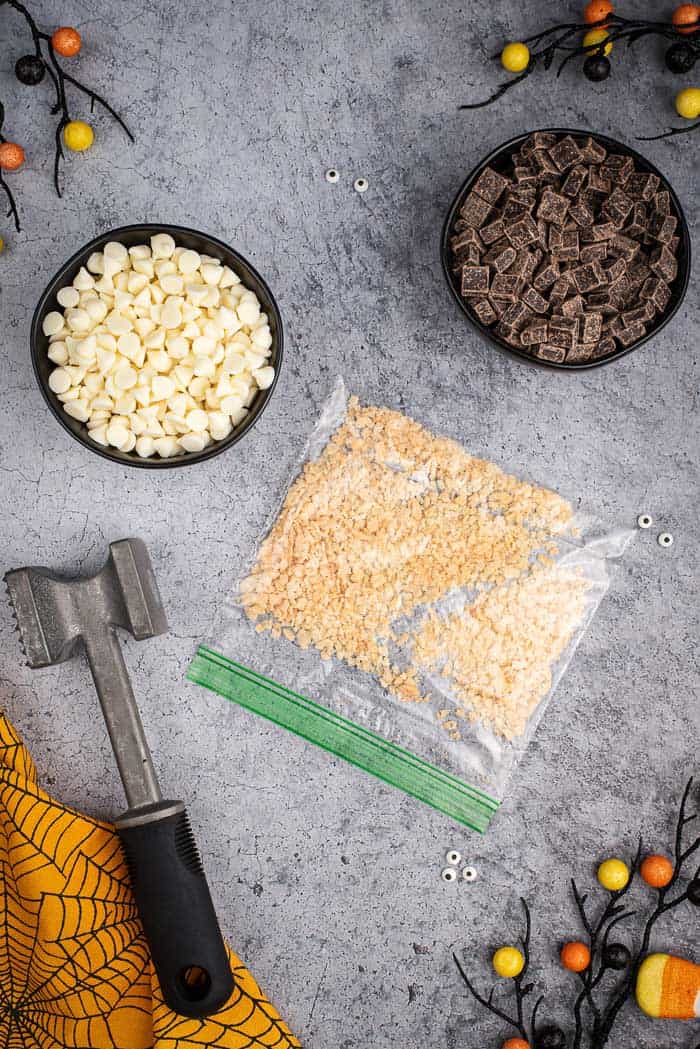 Melt your dark chocolate.
Pour the Rice Krispies mixture into the dark chocolate and mix.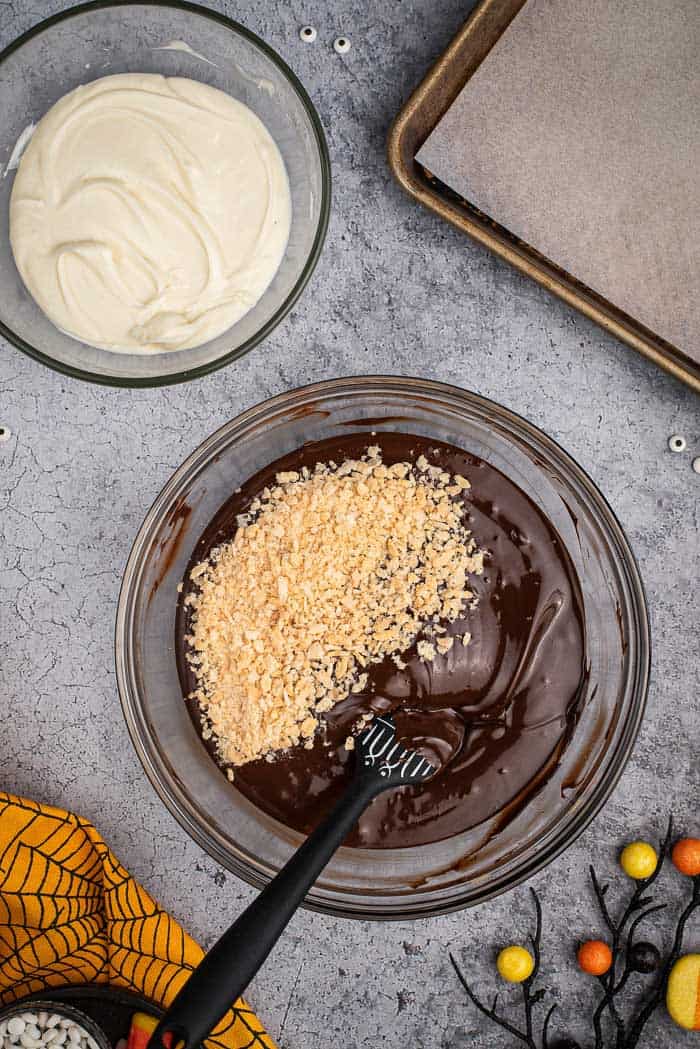 Spread it over your parchment-lined baking pan.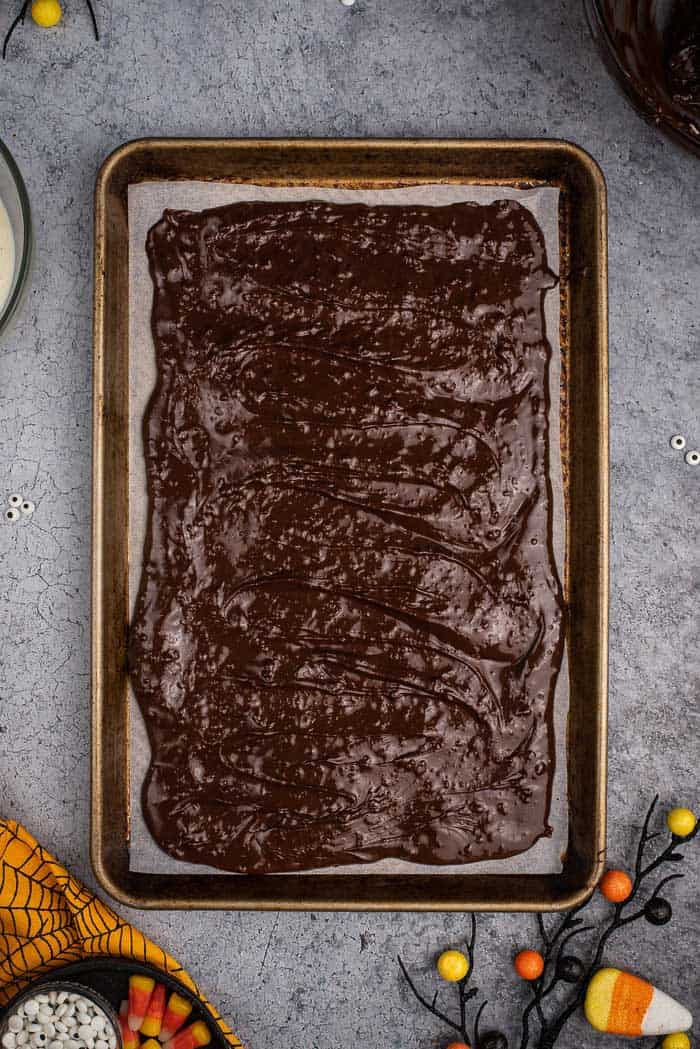 Melt your white chocolate for piping your spider webs.
Make your spider webs ensuring to leave space between them.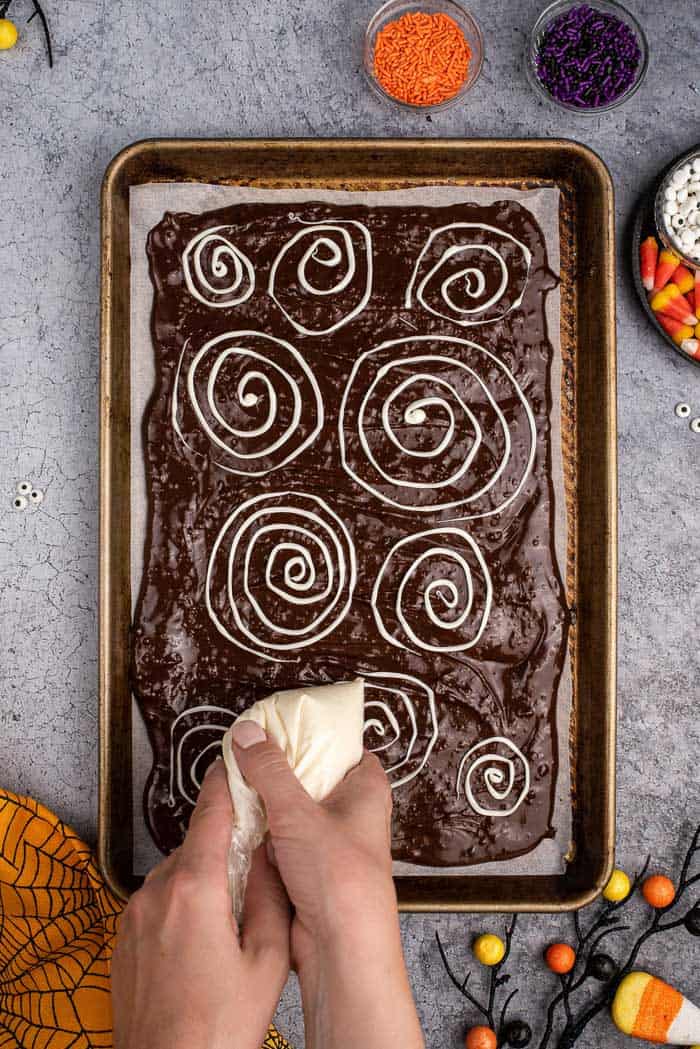 Using a toothpick, swirl the spider webs.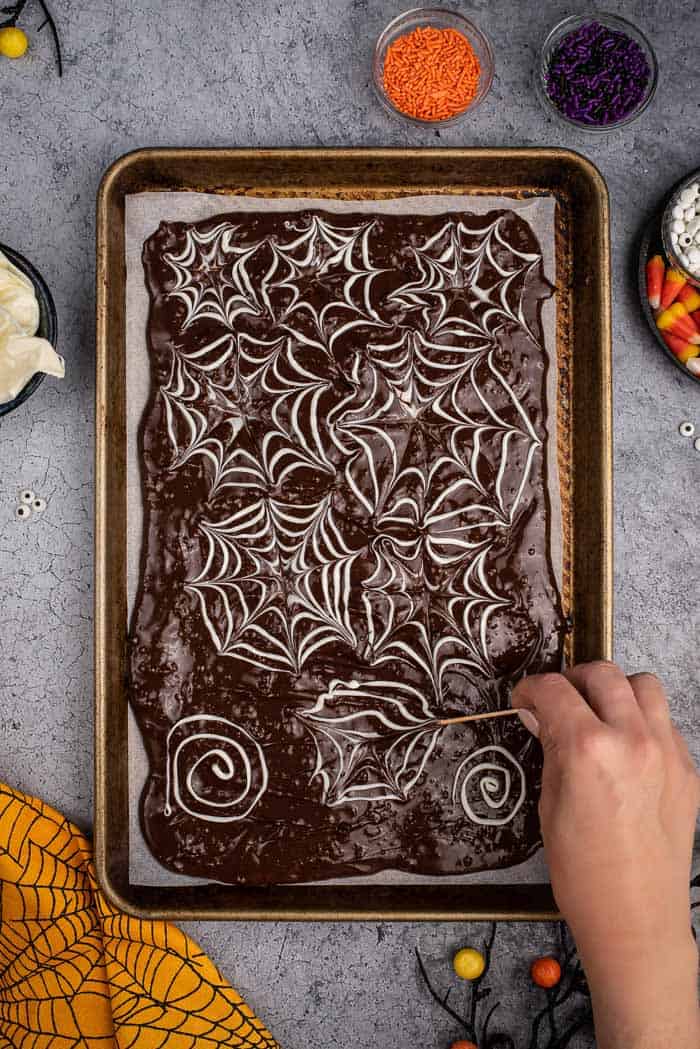 Pour on candy corn, sprinkles, and any other fun Halloween candy you have.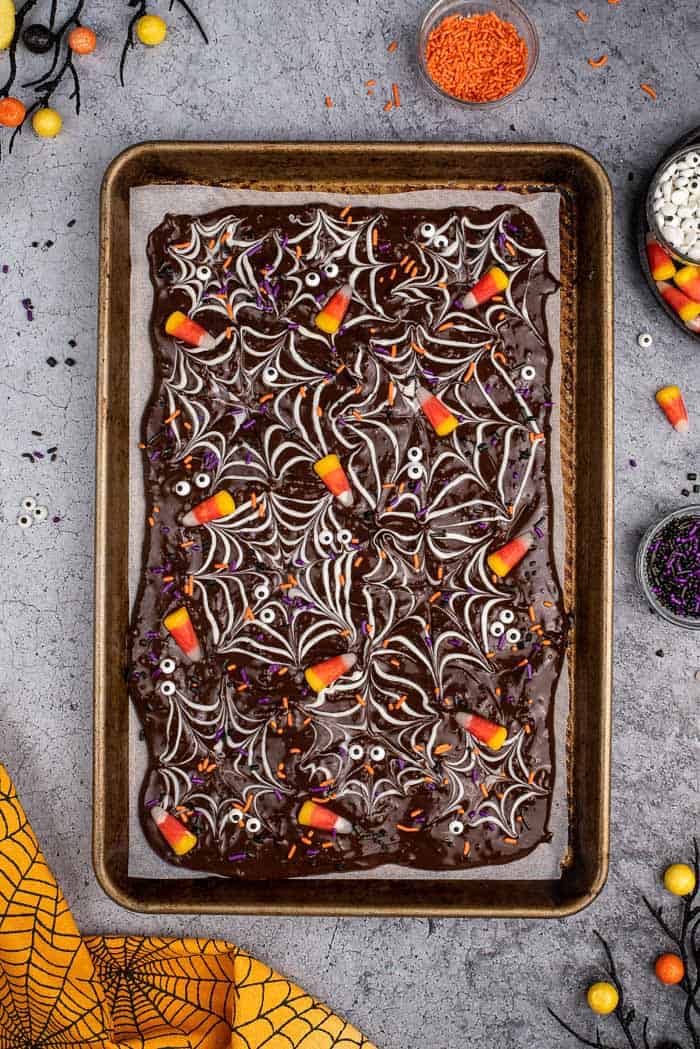 Allow them to harden in the fridge, break into pieces and serve!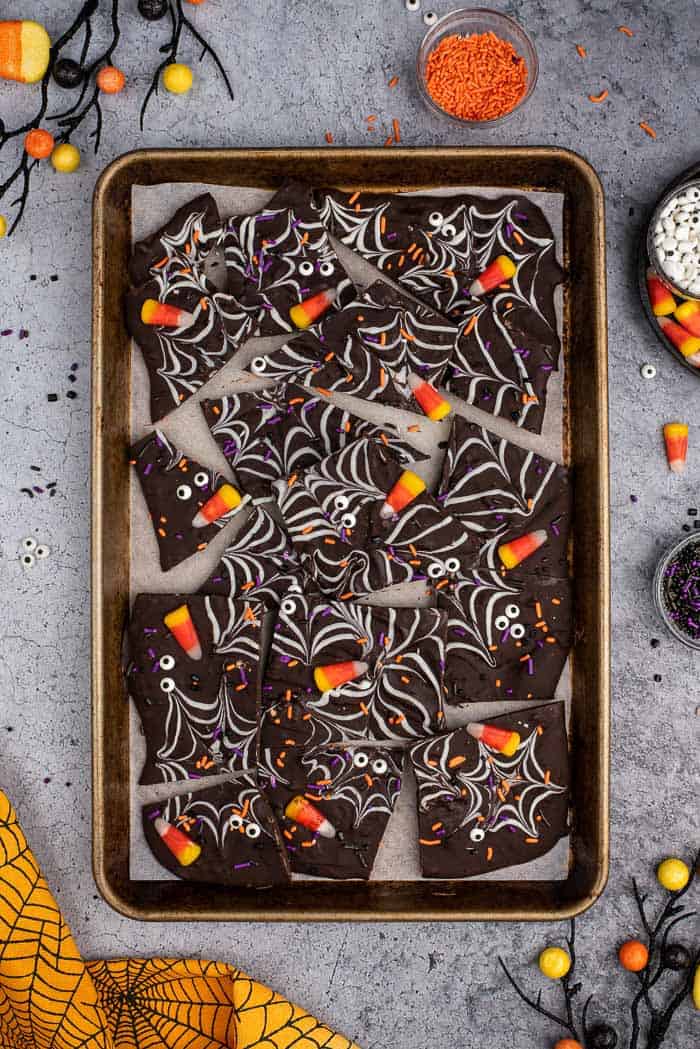 What could be more simple than Halloween Chocolate Bark!? Decorate how you want, super simple, and really inexpensive to make in large batches to share. That can sometimes be the hardest part about finding a kid-friendly recipe to share with a class of 20-30 is keeping that cost down. With this recipe, you can make enough for each child to enjoy to their heart's content.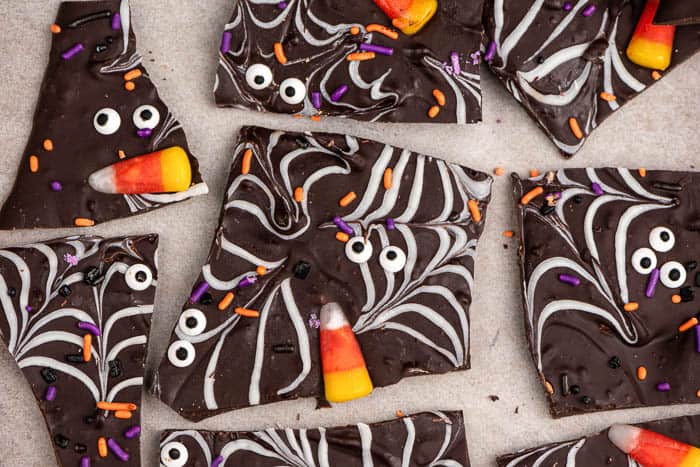 I really hope you love this spooky treat as much as I do and I'd love for you to tell me all about it in the comment section below. Sharing across social media? Tag #aclassictwist so I can see all the spooky details you used.
Have a great weekend!
If you have a larger variety of ingredients on hand for a last-minute treat, then try my Chocolate Halloween Cupcakes or these Halloween Monster Cookies.
Tips and FAQ
Don't like dark chocolate? Semi-sweet chocolate would work great too!
Crushing the rice cereal helps to keep a smooth appearance on the surface of the chocolate, keep cereal whole if you'd like your bark lumpy!
Use the best chocolate that is within your budget, cheap chocolate often contains filler ingredients that can hinder the melting process.
Additional add-ins/toppings: Crushed pretzels, caramel bits, flaked sea salt, dried fruit, nuts, pumpkin seeds.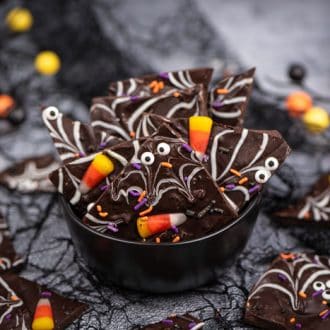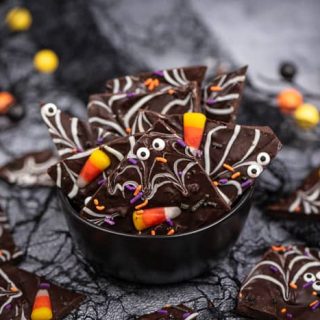 Yield: 20 servings
Halloween Chocolate Bark
Looking for an easy Halloween treat? This Halloween chocolate bark is indulgent and quick to whip up.
Ingredients
1 cup crispy rice cereal
20 ounces Belgian dark chocolate chunks
2 tablespoons heavy cream, divided
8 ounces white chocolate
Assorted Halloween candy, sprinkles, candy corn
Instructions
Line a large baking sheet pan with parchment paper, or wax paper.
Pour rice cereal into a small plastic bag, squeeze the air out and seal shut. Crush cereal into smaller pieces with a rolling pin or meat mallet.
In a large microwave-safe bowl; combine the dark chocolate with one tablespoon of heavy cream. Melt in a microwave on 50% power for about 2 minutes, stirring every 20-30 seconds, until just melted. Your microwave may take more or less time so keep a close eye on it.
Spread dark chocolate evenly on the parchment paper-lined sheet pan with an offset spatula, or silicone spatula.
Fold in the crushed rice cereal into the melted dark chocolate.
In a small microwave-safe bowl; melt the white chocolate with the remaining heavy cream in the microwave on 50% power for about 1 minute, stirring every 20-30 seconds, until melted. Transfer the melted white chocolate to a decorating piping bag cut at the tip.
Pipe several thin spiral shapes with the white chocolate onto the dark chocolate, being careful to leave space between each one.
Starting in the center of each spiral, using a toothpick, pull the toothpick outward through the spiral to create spider webs.
Decorate the bark with Halloween candy and sprinkles.
Cool at room temp for 1 hour, then refrigerate for 15-30 minutes. If you're in a hurry, put it straight into the refrigerator for 30-60 min. Break apart into small shards.
Store in the refrigerator for up to a week.
Recommended Products
As an Amazon Associate and member of other affiliate programs, I earn from qualifying purchases.