Pumpkin Scones with Maple Glaze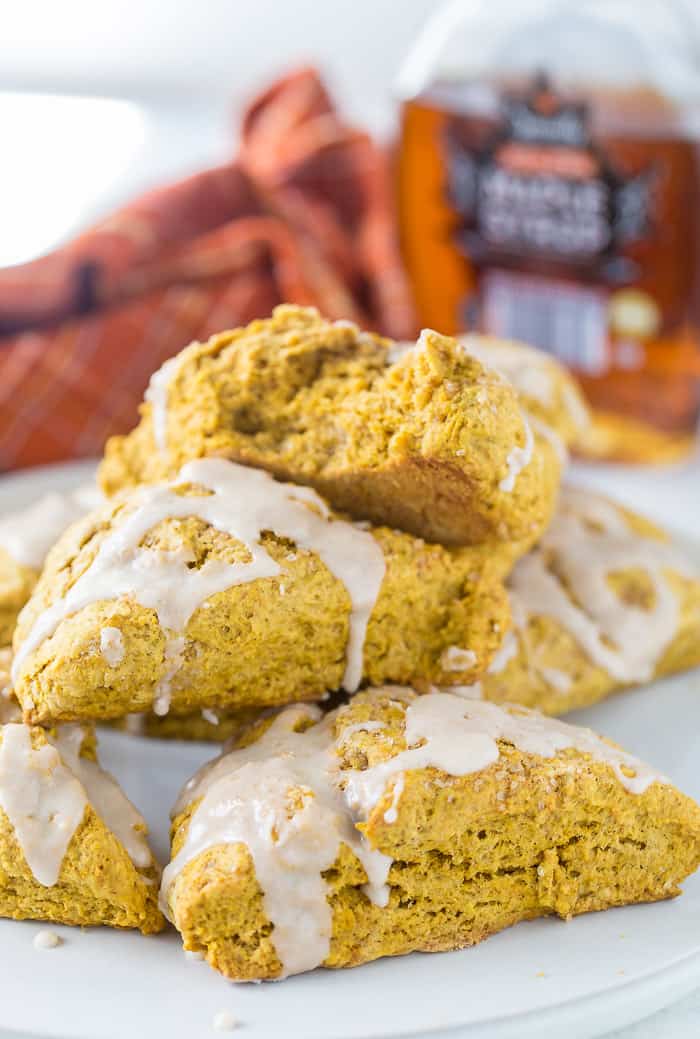 Howdy!! I am back with another scone recipe for you. These pumpkin scones are going to be a staple in your fall baking list especially after you see how easy it is to make in these with the step-by-step picture instructions below.
You all asked for these pumpkin scones after you saw the sweet potato scones from a few weeks ago. Even after I said, all you have to do is switch out the sweet potato puree with pumpkin, a few of you still said it was easier to have a dedicated recipe. I will not object as I am on a scone adventure these days.
First of all, who loves scones?? I am raising both hands if you cant tell. I used to be afraid of making them as I would always buy them at coffee shops and assumed it was hard to make and replicate those pillowy layers. That is so not true. They are the easiest thing to make and really is an example of how a few good ingredients can be turned into a wonderful treat.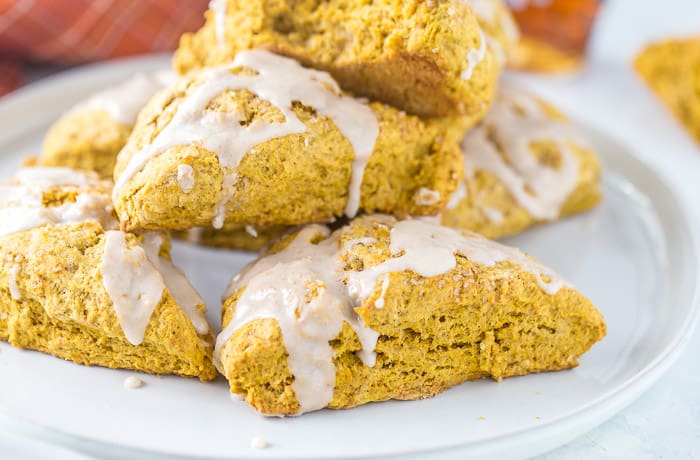 Take for example these pumpkin scones, you start with flour, sugar, and very cold butter. You make some adjustments and flavor it with pumpkin puree and bam, you end up with flaky, buttery scones. I'll take you through the steps below, I kid you not.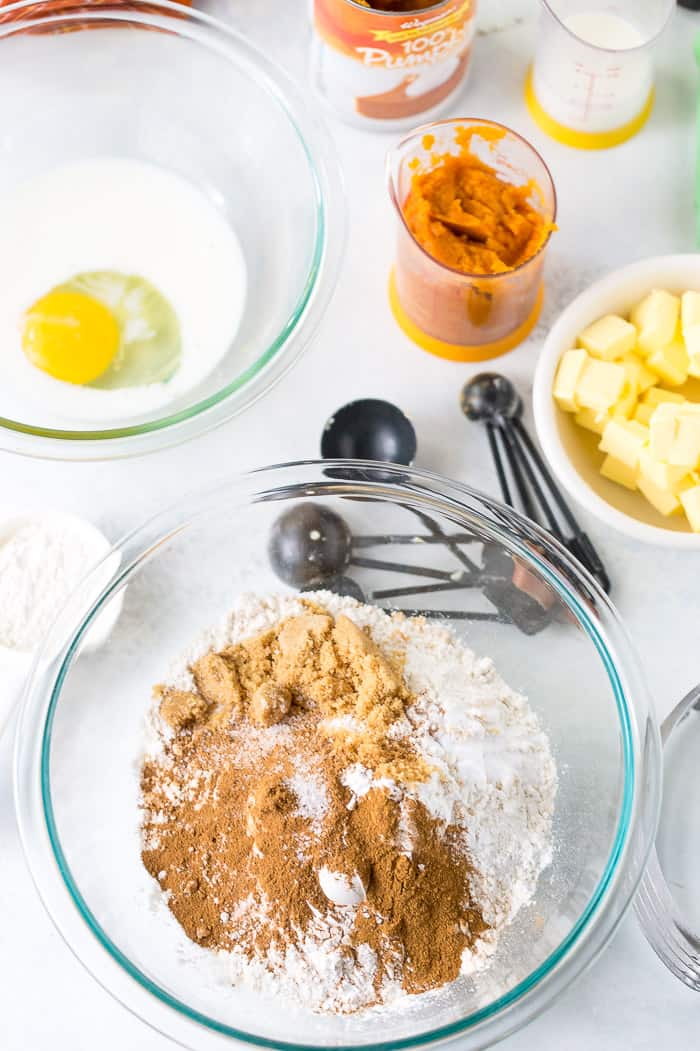 Let's start by gathering our dry ingredients. And what are these? Flour, brown sugar, baking powder, pumpkin pie spice, an extra dose of cinnamon and nutmeg, and salt. Whisk all together in a large bowl.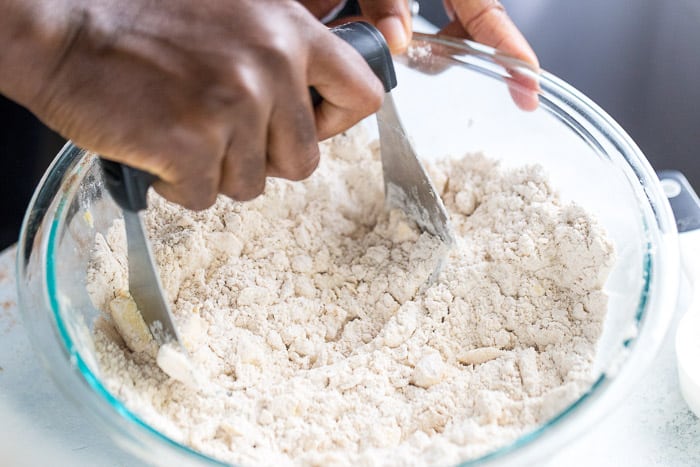 We then cut in the cold butter with a pastry cutter. This old-school way ensures we keep the butter cold and it is cut into the flour mixture evenly. You don't want to overwork the butter so be sure to stop as soon as it looks like pea-sized clumps in the flour mixture.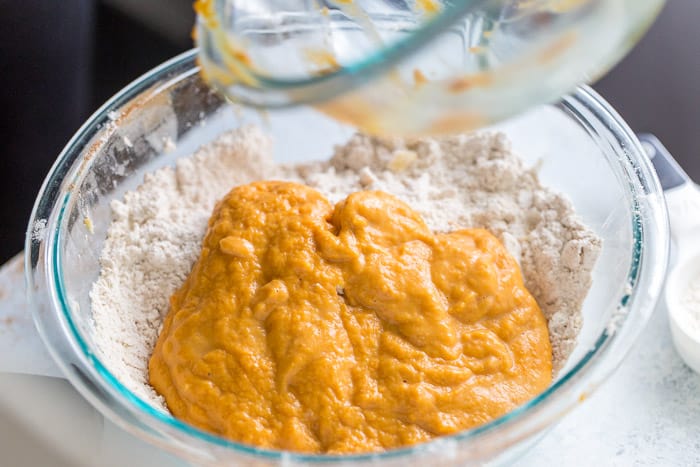 Next, in a medium bowl, whisk together the wet ingredients. These are simple too, just eggs, canned pumpkin puree, and milk. These are then added to your dry ingredients mixture.
Gently, with a rubber spatula, fold in the wet into the dry ingredients. you want to again, just mix until combined.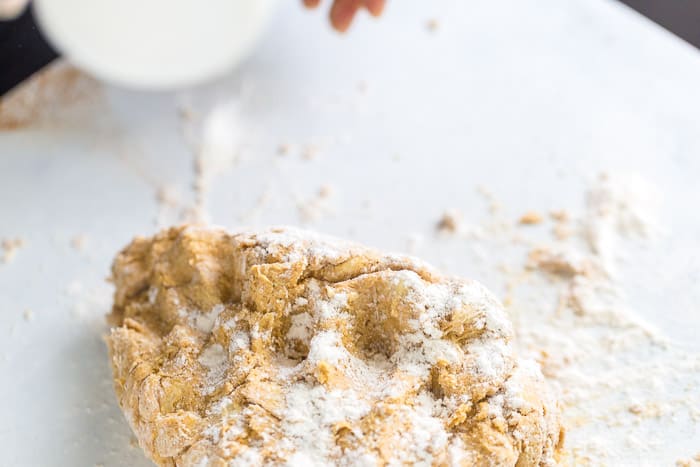 We then turn this out onto a floured surface to work the dough briefly.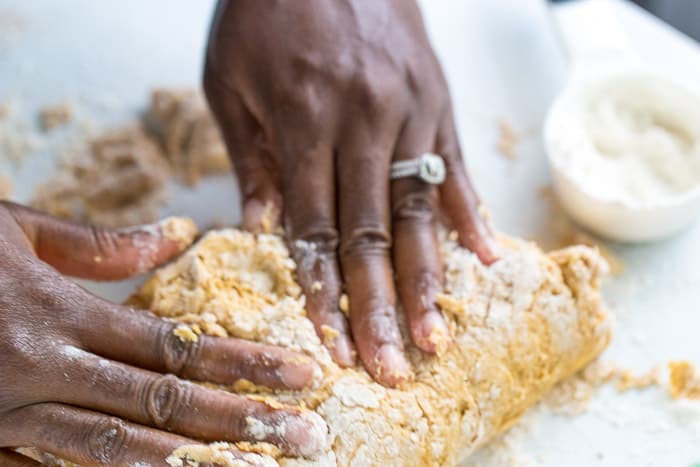 Once nicely incorporated, we pat into a circle and cut into wedges.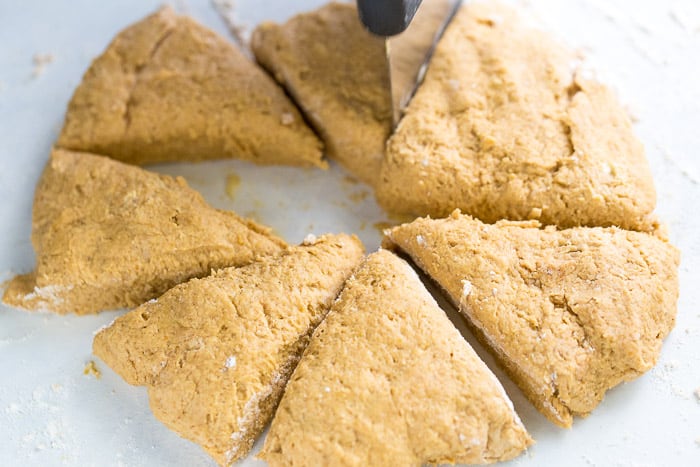 Transfer the wedges to a baking sheet lined with parchment. Brush the scones with milk. I love sprinkling sugar over them. You can use sparkling sugar, turbinado sugar, or cinnamon sugar.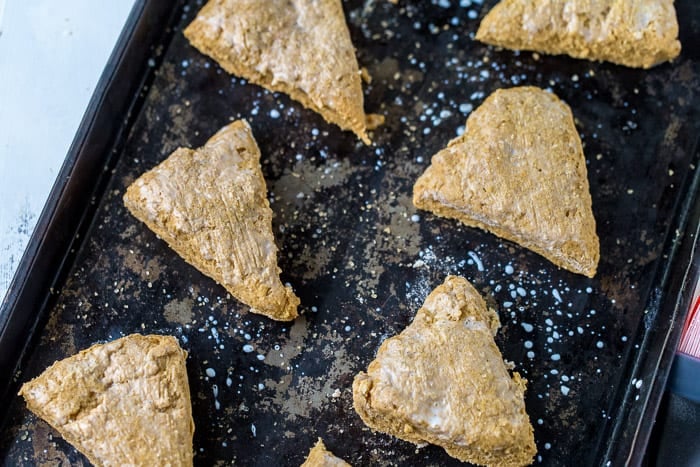 And that's it my friends. Just bake them up until nice and puffy and slightly golden.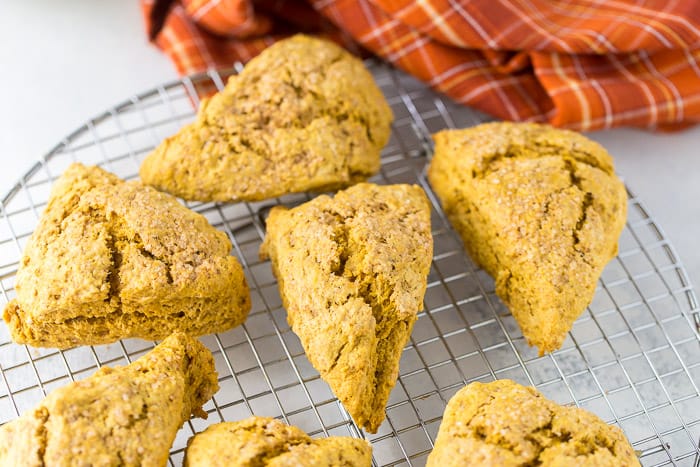 You can then glaze the scones with a simple icing. I love using a hint of maple in my icing to add that flavor here. But you can also do a simple glaze or skip it altogether.
For the kids, I skip the icing and just serve these with maple syrup and fresh fruits.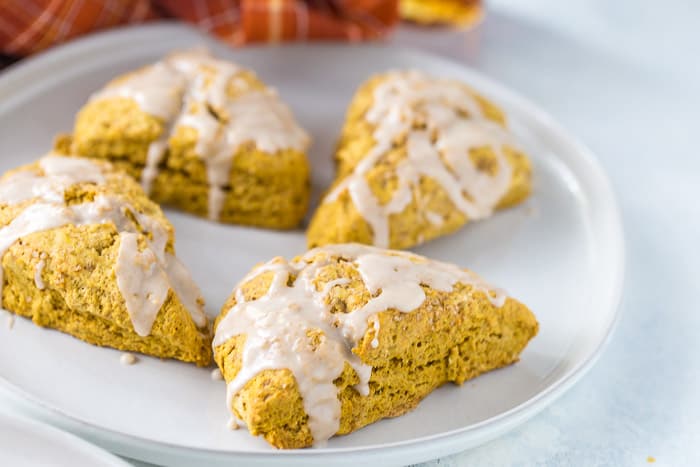 If you are a fan of scones, then these pumpkin scones are one to try. They are sweet, spiced, and filled with pumpkin flavor. Just grab a pumpkin spice latter (or regular coffee) and enjoy this fall treat.
Happy baking!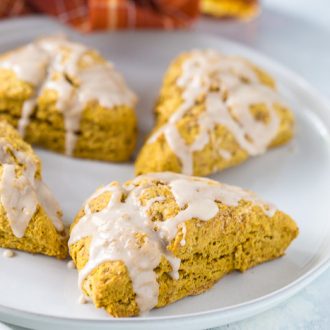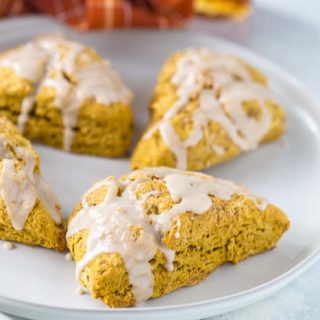 Yield: 8 scones
Pumpkin Scones with Maple Glaze
Pumpkin spice scones that are fluffy, sweet, and perfectly spiced.
Ingredients
2 ¼ cups all-purpose flour
¼ cup light brown sugar
2 teaspoons baking powder
1 ½ teaspoons pumpkin pie spice
½ teaspoon ground cinnamon
¼ teaspoon nutmeg
¼ teaspoon baking soda
¼ teaspoon kosher salt
½ cup (1 stick) cold butter, cut in cubes
1 large egg, at room temperature
¾ cup pumpkin puree
1/3 cup milk, divided
For the Glaze:
1 cup confectioners' sugar
1-2 tablespoons maple syrup
A pinch of pumpkin pie spice
Instructions
Preheat oven to 400 degrees F. Line a baking sheet with parchment paper.
In a large bowl, whisk flour, brown sugar, baking powder, pumpkin pie spice, cinnamon, nutmeg, baking soda, and salt.
Using a pastry cutter, cut in the butter into the dry ingredients until the resembles coarse crumbs.
In another bowl, whisk together the egg, pumpkin puree, and about ¼ cup milk. Add the wet ingredients into the dry. Stir until just combined and the dry ingredients are moistened.
Turn the dough onto a lightly floured surface. Knead gently, about 10 times. Pat the dough into an 8-inch circle. Cut the circle into 8 wedges. Transfer each wedge onto the prepared baking sheet, placing each an inch apart. Brush each wedge with remaining milk. Optional: you can sprinkle each scone with cinnamon sugar.
Bake scones for 12-15 minutes or until golden brown.
Remove from baking sheet and let cool on wire rack. To make the glaze, combine all the ingredients. Drizzle over the warm scones.
Notes
Adapted from Taste of Home
Recommended Products
As an Amazon Associate and member of other affiliate programs, I earn from qualifying purchases.