Apple Spice Cupcakes with Cinnamon Frosting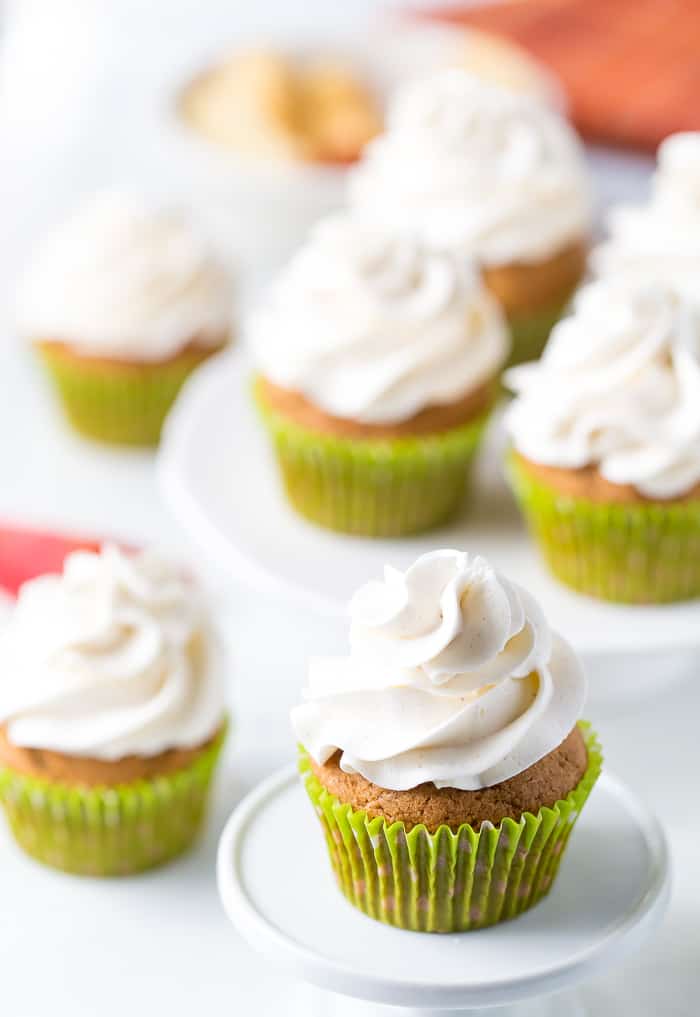 Hi friends! Happy Monday. I hope you are having a good fall season and enjoying your weekends as much as possible. I know these are unusual times and some of the fall traditions we use to do may not all be possible. However, I hope you are making the best of what things you can safely do and also enjoying some of the season's best produce. Like apples and all things apple spice. These apple spice cupcakes are filled with spices that make apple pie our fall favorite and the comforting dessert it is.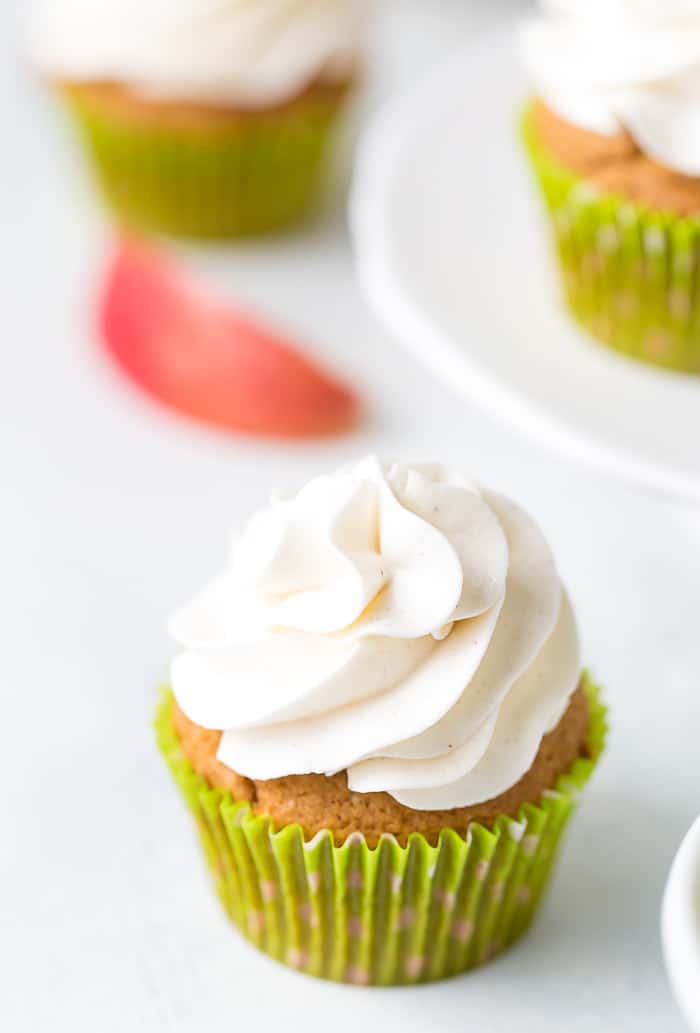 Fall baking is one of those things that despite being in a global pandemic we can still safely indulge in. From baking all things pumpkin (PSL cupcakes anyone), snickerdoodle (snickerdoodle cheesecake), or apple, we can bring the joy of the season to our homes. These apple spice cupcakes are basic but yet amazing and perfect for getting that apple pie filling fix without making the pie.
After making these apple cider cupcakes a few weeks ago, I got a request from a few readers for more apple-inspired cupcakes. I decided to use this apple pie spice mix in my pantry to create a cupcake that centers around the spices we all love in apple pies. What's there not to love? It's the perfect blend of cinnamon, nutmeg, and allspice. This combination is all you need to make this cupcake a fall favorite.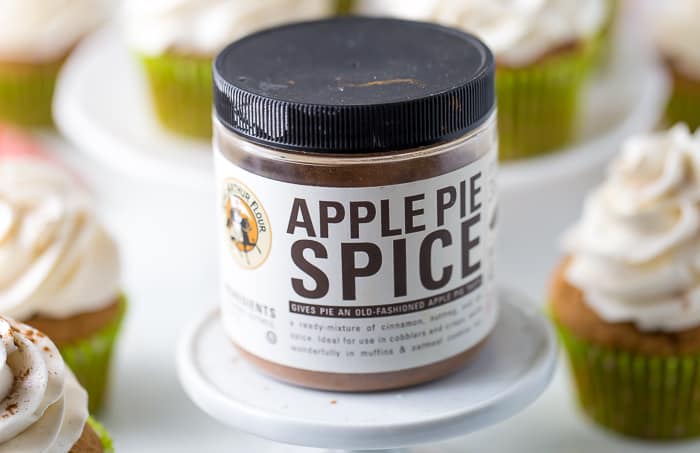 The cupcakes start with a brown sugar apple pie spice batter which is then baked into a moist and fluffy cupcake. Thanks to the secret dose of sour cream in the batter, the cupcakes are rather moist and have a wonderful crumb. It's all topped with a sweet, fluffy lightly spiced cinnamon frosting. Together, each bite of this cupcake is bursting with fall spices and celebrating one of my favorite things at this time of the year; apple pie! You get everything but the apples in these cupcakes. Which if you must…you can easily add one shredded apple to the batter. Just saying!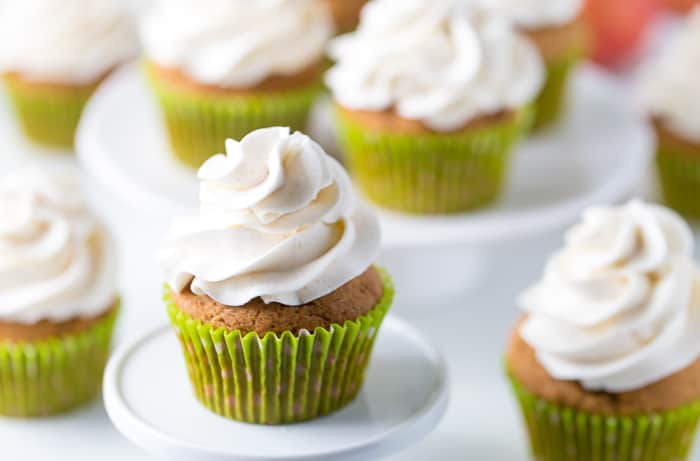 Happy fall baking!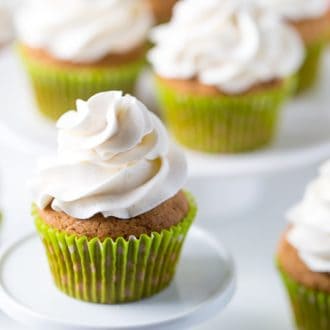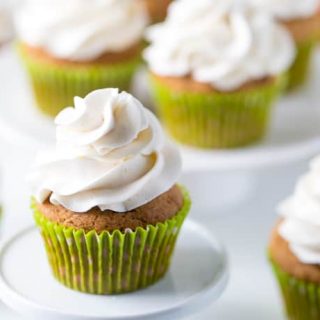 Yield: 12-15 cupcakes
Apple Spice Cupcakes with Cinnamon Frosting
These apple spice cupcakes are filled with spices that make apple pie our fall comfort.
Total Time
1 hour
3 minutes
Ingredients
For the Cupcakes:
1 1/2 cups all-purpose flour
1/2 teaspoon baking powder
1/2 teaspoon baking soda
1/2 teaspoon fine sea salt
1 teaspoon apple pie spice
1/4 teaspoon ground nutmeg
a pinch of ginger
1/2 cup (1 stick) unsalted butter, room temperature
1 cup (packed) golden brown sugar
2 large eggs, room temperature
1/3 cup sour cream, at room temperature
1 teaspoon pure vanilla extract
Frosting:
1 cup (2 sticks) unsalted butter, softened at room temperature
3-4 cups powdered sugar
1/2 teaspoon ground cinnamon
2 tablespoons heavy cream
Instructions
Preheat to 350°F. Line a 12-cup muffin tin with muffin cups.
In a medium bowl, whisk together the flour, baking powder, baking soda, sea salt, apple pie spice, nutmeg, and ginger.
In a large bowl, using an electric mixer beat the butter until smooth, about 2 minutes on medium speed. Add the brown sugar and beat until light and fluffy, about 3 minutes. Add the eggs, one at a time, beating to combine after each addition. Beat in the sour cream and vanilla extract. Reduce speed to low and add in the dry ingredients, in two separate additions. Beat until just combined and incorporated.
Divide the batter into the prepared muffin cups, filling each 2/3 full.
Bake the cupcakes for 12-15 minutes or until a toothpick inserted into the center comes out clean. Let cool completely before frosting.
For the frosting, beat the butter on medium-high speed until light and fluffy. Add in the rest of the ingredients and mix on low speed to combine. Increase speed and beat frosting until fluffy, about 2-3 minutes.
Frost cupcakes and decorate as desired.
Recommended Products
As an Amazon Associate and member of other affiliate programs, I earn from qualifying purchases.