Roasted Hasselback Butternut Squash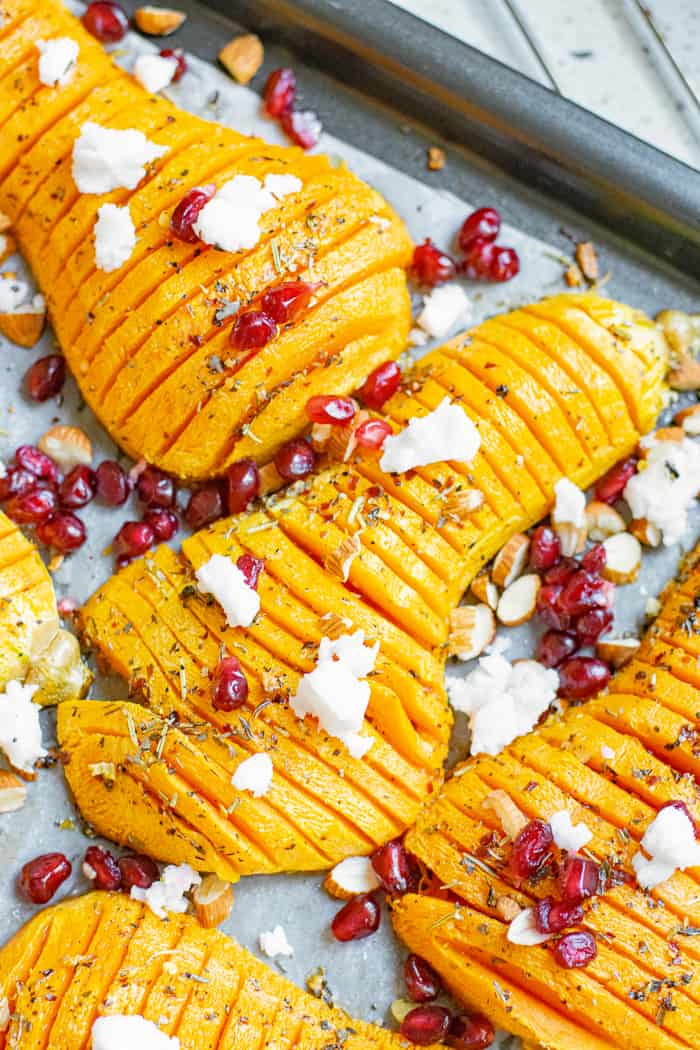 Hi friends! As we get closer to November, Thanksgiving, and the holiday season of entertaining, it's time to bring some side dishes to you. This roasted Hasselback butternut squash is an easy way to 1) bring one of fall's favorite side dishes to your table and 2) take it to a new level with this presentation.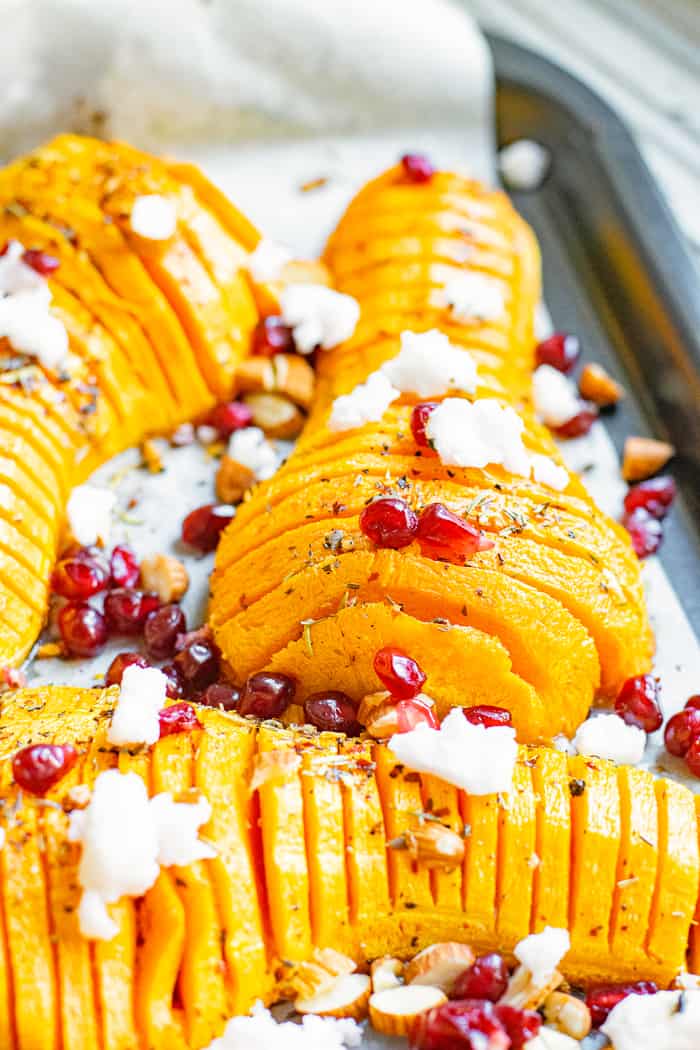 On our holiday table, there is always some form of squash. Whether it is roasted acorn squash, butternut squash mash, or roasted squash soup (similar to this roasted sweet potato soup!), there is always a form of squash as a side on our tables. We make use of the seasonal abundance of squashes and I am always challenging myself with a new way to serve it.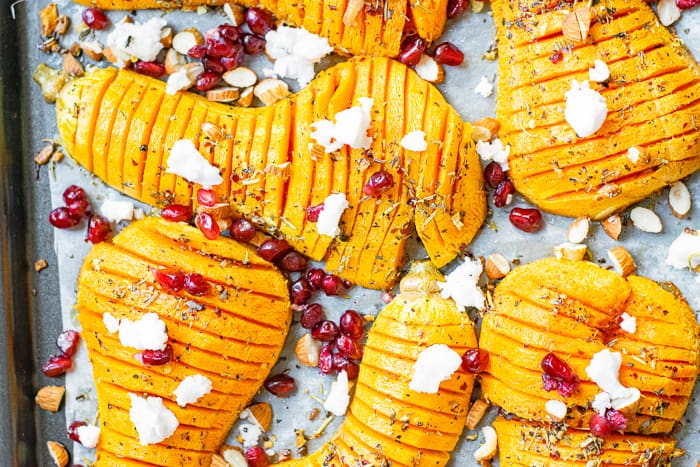 This Hasselback butternut squash was an easy way to have squash. It is pretty and best of all, very easy to prep. Just need to practice your knife skills and go to town on this.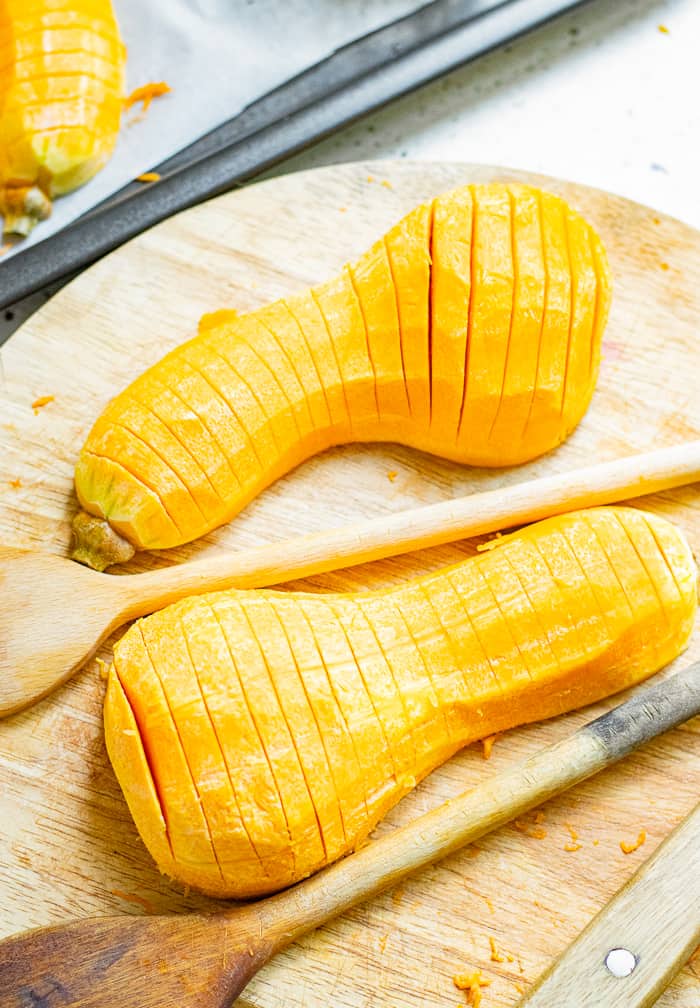 You toss with olive oil, salt, and perhaps add some spices if you'd like. Roast until nice and tender.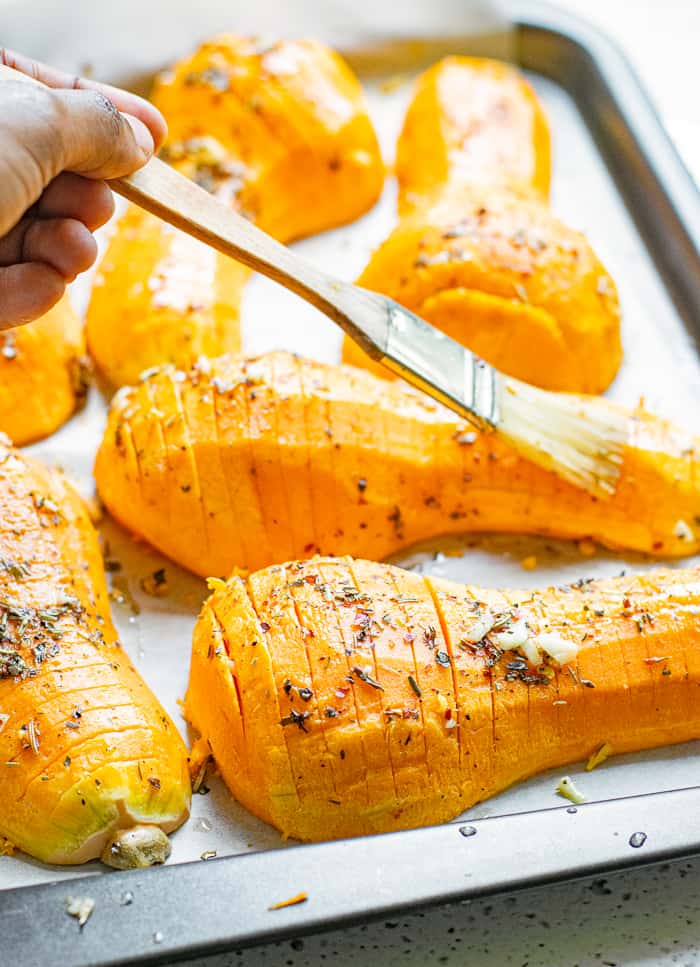 I like serving this with a squeeze of lemon juice, some nuts, colorful pomegranate (or roasted cranberries), and some sort of cheese over it. I've done freshly grated parmesan, feta cheese, or goat cheese. My husband once used gouda cheese which was also a great one. Oh, you can also drizzle some maple syrup over these too.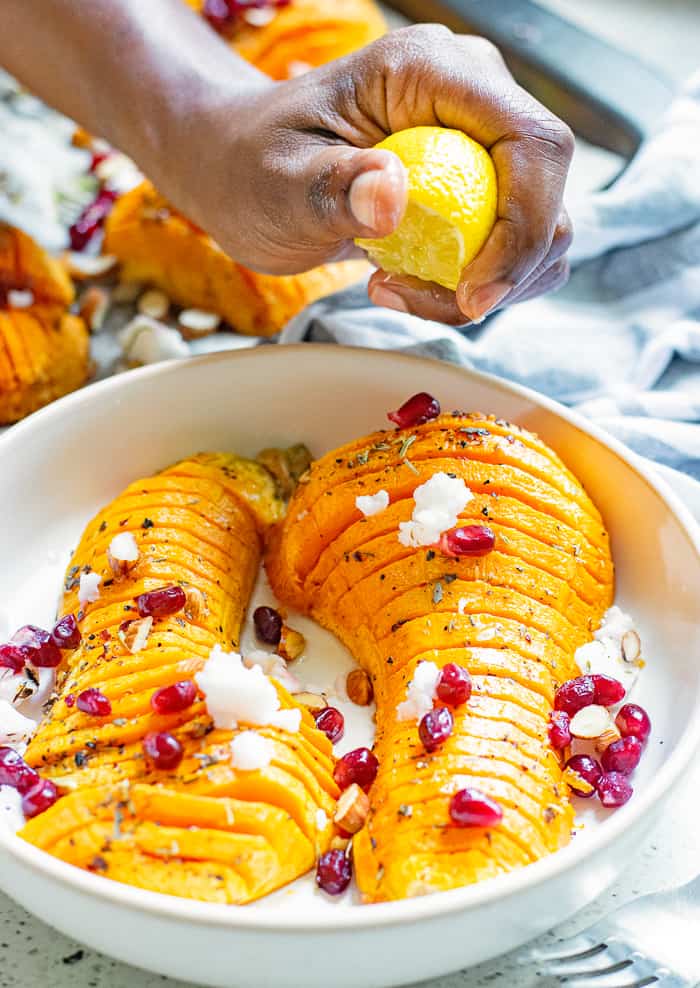 As you can see, it is versatile and you can customize it to what your family likes. We serve this roasted butternut squash with any of our dinner mains. Whether it is roasted chicken or braised beef roast or with some chili, it is always a great side dish. It's also great tossed on top of this kale salad.
What are some of your favorite holiday side dishes? What do you always look forward to having on your holiday table?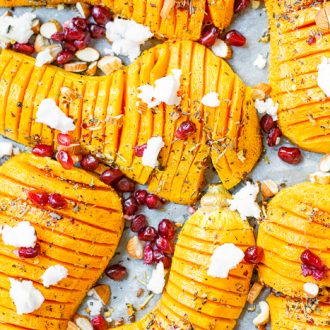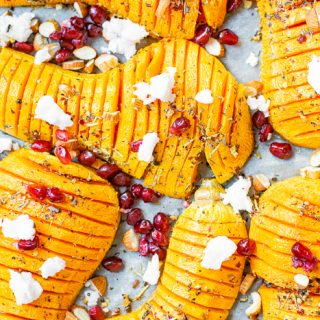 Yield: 6 servings
Roasted Hasselback Butternut Squash
Easy roasted Hasselback butternut squash is a simple holiday side dish.
Ingredients
3 small butternut squash, about 375 g each, cut in half lengthwise, seeds removed and peeled
2 tablespoons extra virgin olive oil
1 tablespoon Italian seasoning
½ tablespoon garlic cloves, minced
1/2 teaspoon red pepper flakes (optional)
½ teaspoon sea salt
¼ teaspoon black pepper
⅓ cup (25 g) almonds, chopped
¼ cup (45 g) pomegranate seeds
¼ cup (45 g) goat cheese
Instructions
Preheat the oven to 425 F / 220 C. Prepare a baking tray with parchment paper.
Place butternut squash on a wooden cutting board and with a sharp knife cut slices by not cutting all the way through. Use the help of 2 wooden spoons by placing them on both sides of the squash to not slice through (refer to picture). Repeat the same with all squash and place on the baking tray.
Mix olive oil, cinnamon, garlic, red pepper flakes, salt, and pepper together. Brush butternut squash with the oil mixture.
Bake for 20 minutes in the middle of the oven.
Remove from the oven and top with pomegranate seeds, goat cheese, and almonds.
Notes
You can toast almonds with butternut squash.
You can also use 2 medium butternut squash instead of small ones.


Recommended Products
As an Amazon Associate and member of other affiliate programs, I earn from qualifying purchases.