Spring Salad with Thai Peanut Dressing
Thank you to The Peanut Institute for sponsoring this spring salad with Thai peanut dressing recipe!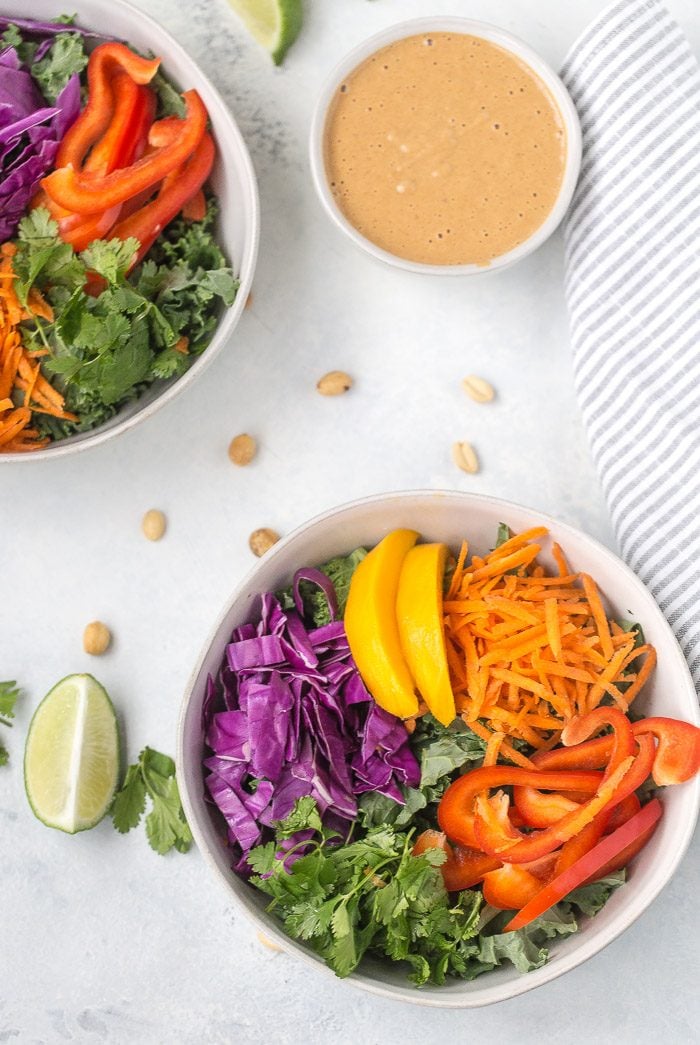 Hi friends! I have a special recipe for you today. As we finally thaw out from what seems to have been the longest winter ever, I'm excited about spring and all the fresh produce it brings with it. I am looking forward to changing our meal plans from cozy comforting soups and stews to lighter fresh meals that come with the season change. So more asparagus, more lemons, and hearty salads. This spring salad is one I'm excited to add to our meal plan rotation as it's full of sweet Thai flavors with crunchy colorful vegetables.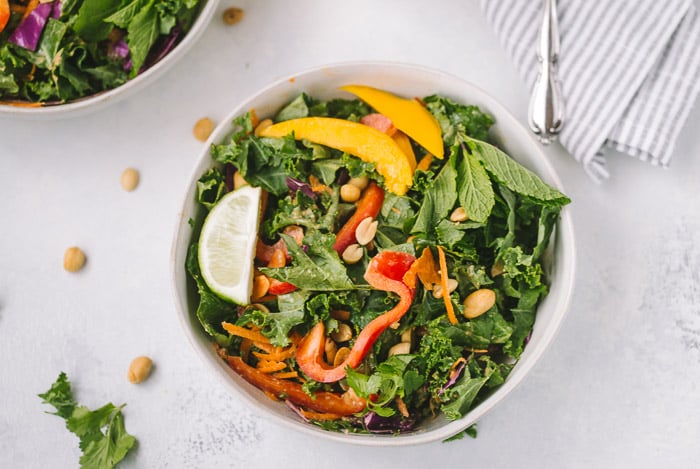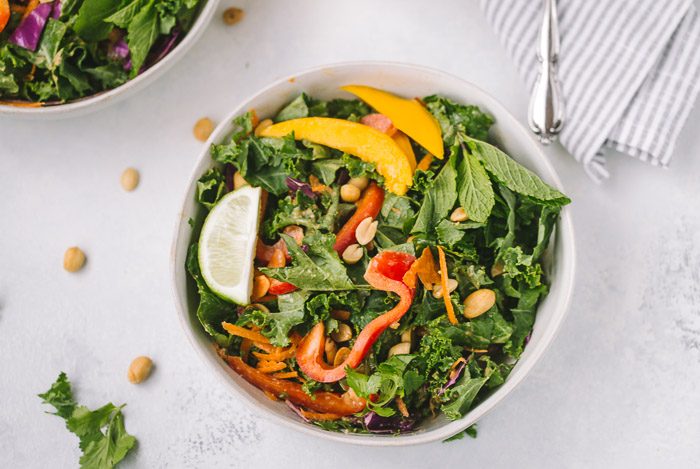 Starting with a base of kale, this salad is loaded with carrots, peppers and crunchy red cabbage. It's topped with an energizing Thai flavored peanut dressing that's so delicious that it would be hard not to eat it by the spoonful. But you must save some for the salad, it's even better with the crunchy vegetables. Guess what? This homemade Thai peanut dressing is also very easy to make. Here are all the ingredients you will need. I am sure you already have most in your pantry.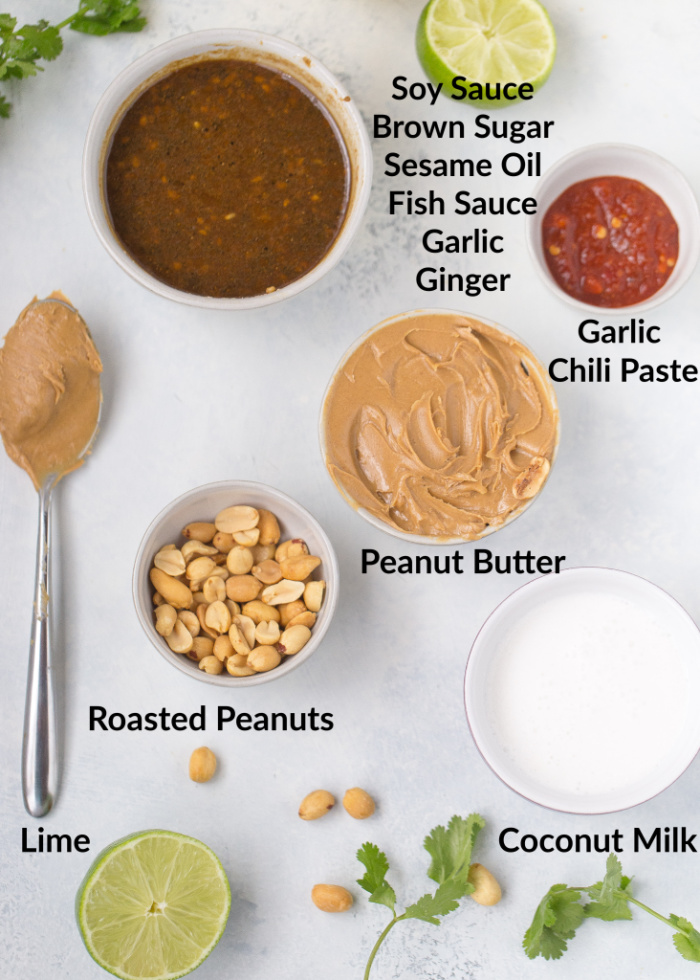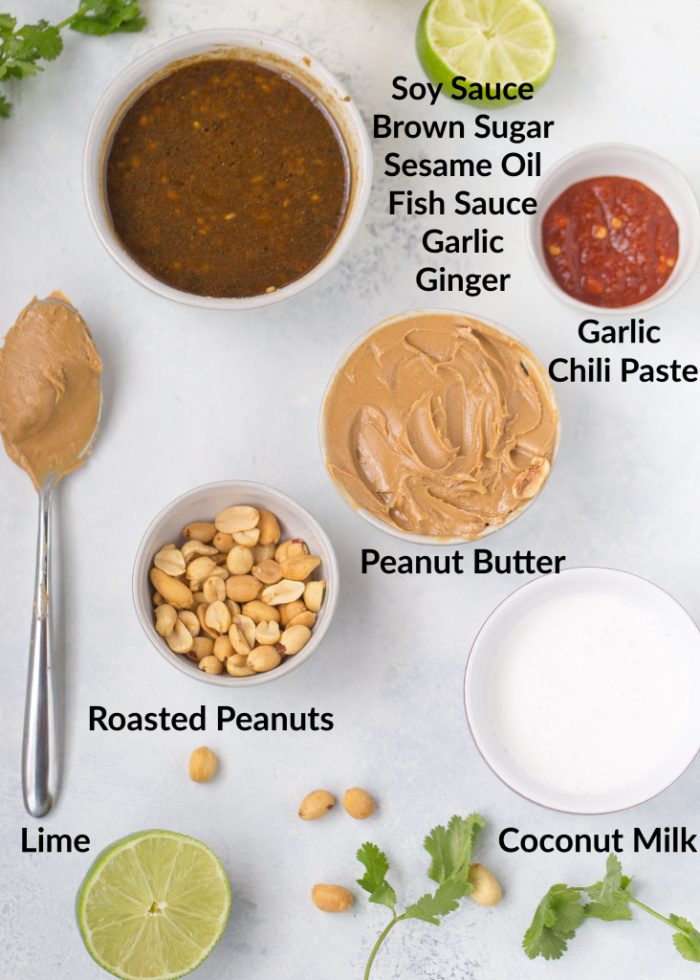 Of course, the star of the sauce is amazing peanut butter and roasted peanuts. This superfood (peanuts) is easily overlooked even though it's so readily available to most people. Packed with 8g of protein in just two tablespoons, it's one of my favorite ways to sneak in protein in my toddler's meals.
Since we can't eat peanut butter and jelly sandwiches every single day, I am always looking for creative ways to sneak peanuts in his meals like in this salad dressing that I use as a dip for his vegetables. This dressing is sweet, salty and slightly spicy which is perfect for all the dipping and for topping salads.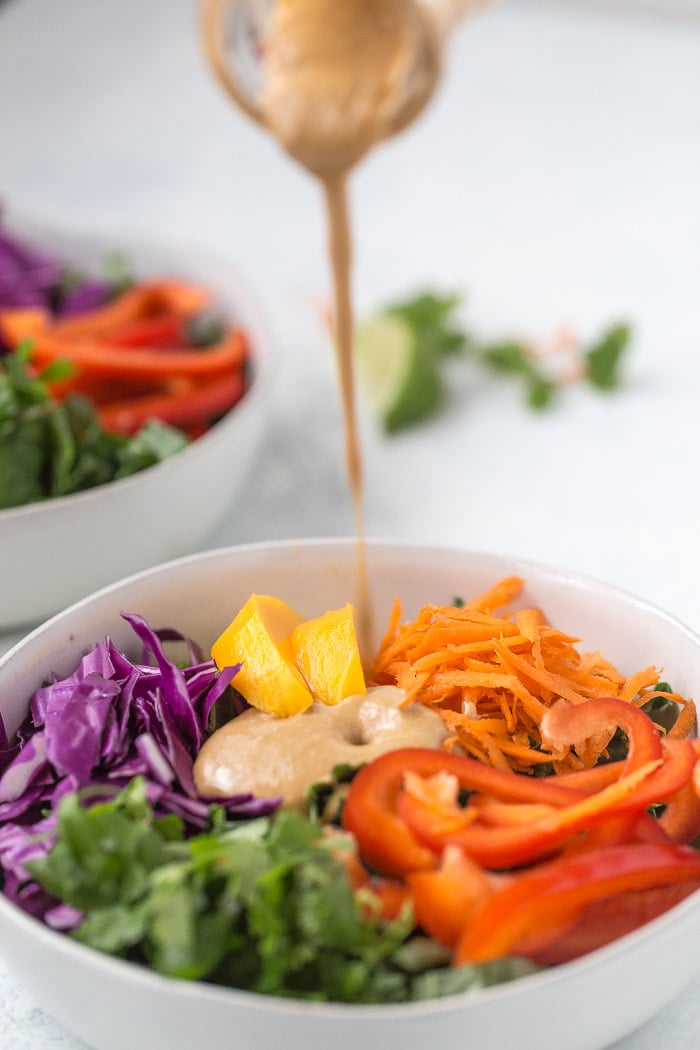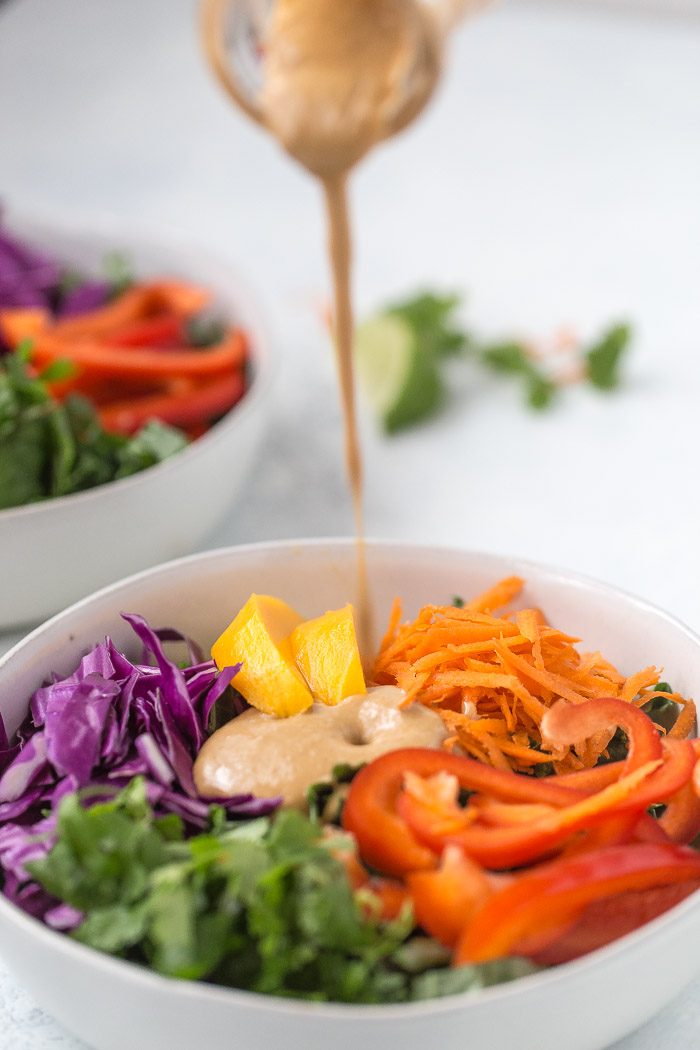 Another thing I love about this spring salad is that you can use any of your favorite vegetables in the salad. If you have picky eaters, this is a great way to customize to their favorites. You can also add your protein of choice. We've enjoyed it with grilled shrimp, baked salmon and I've also added quinoa to the salad too. All very good additions to make this salad hearty, filling and remarkable. Just be sure to save the extra peanut sauce you get from the recipe below for all your dipping purposes. It's so gooooood!!
For more information about the power of peanuts and benefits of including peanuts in your diet, visit The Peanut Institute.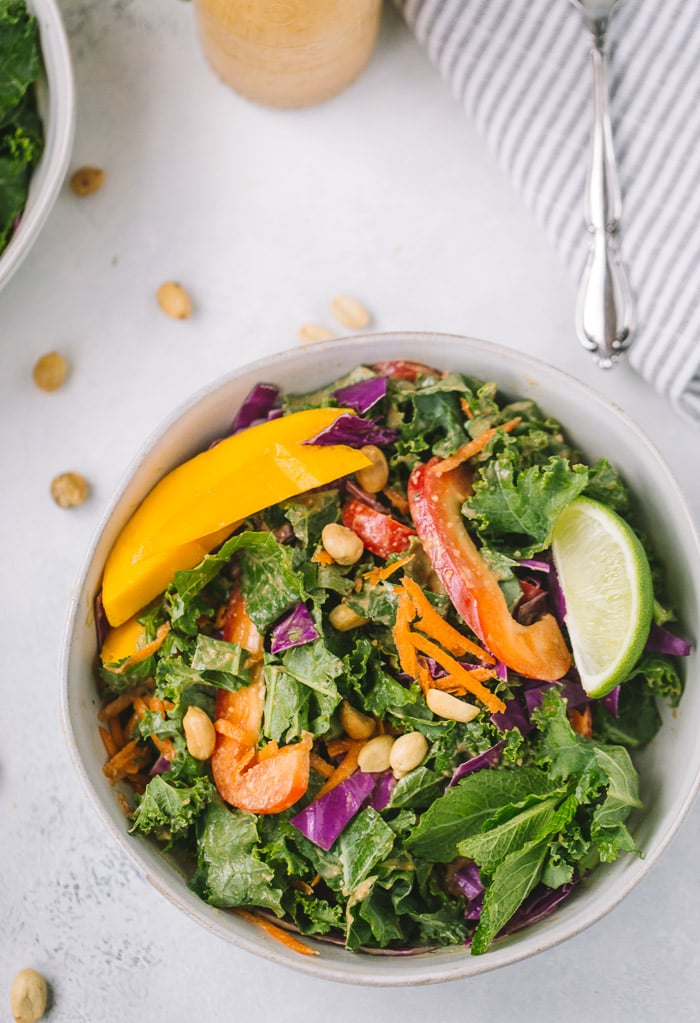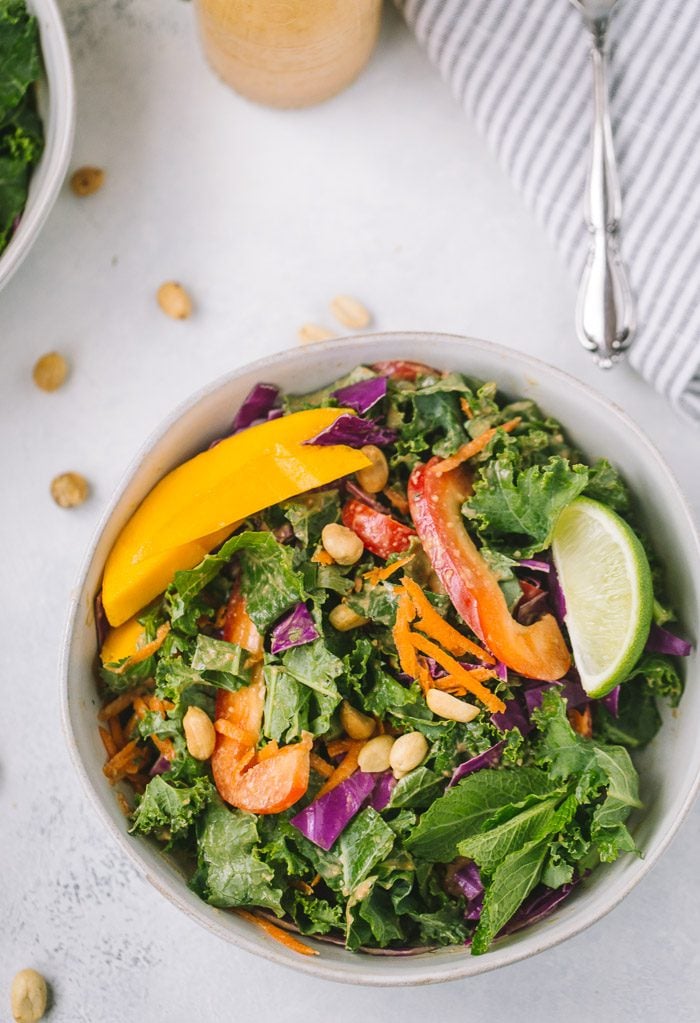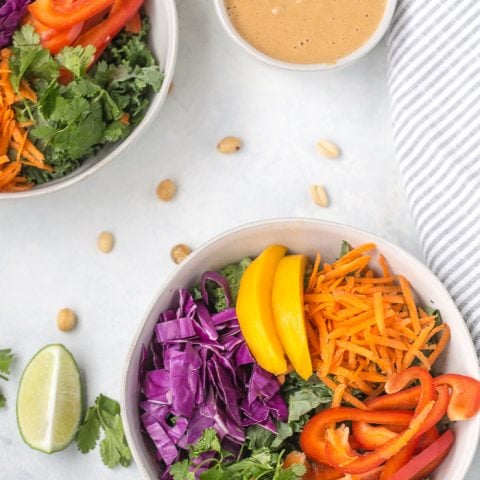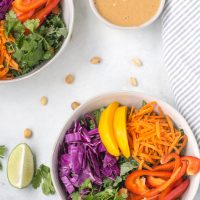 Yield: 3 servings
Spring Salad with Thai Peanut Dressing
This refreshing Spring Salad with Thai Peanut Dressing is bursting with sweet, salty and spicy flavors that make this salad a real treat.
Ingredients
Thai Peanut Dressing:
1/2 cup peanut butter
2 tablespoons low sodium soy sauce
1 tablespoon rice vinegar
1 tablespoon brown sugar
2 teaspoons chili garlic sauce (or more to taste)
1 teaspoon sesame oil
1 teaspoon fish sauce
Juice of 1 fresh lime
3 garlic cloves pressed or grated
1 tablespoon ginger root grated
2 tablespoons roasted peanuts
2-4 tablespoons coconut milk
For the Salad:
2 cups kale, thinly sliced, or baby kale
1 1/2 cups red cabbage, thinly sliced
1/2 cup red bell pepper, thinly sliced
1/2 cup carrot, shredded
1 mango, thinly sliced
1/4 cup cilantro, chopped
1/4 cup peanuts, roasted, roughly chopped
Instructions
In the bowl of a blender, combine all ingredients except coconut milk. Blend together until smooth. Add the coconut milk one tablespoon at a time, until the desired consistency is reached.
In a large bowl, combine kale, cabbage, pepper, carrot, mango and cilantro. Toss these with the peanut dressing. Serve salad immediately with chopped peanuts.