Strawberry Cinnamon Rolls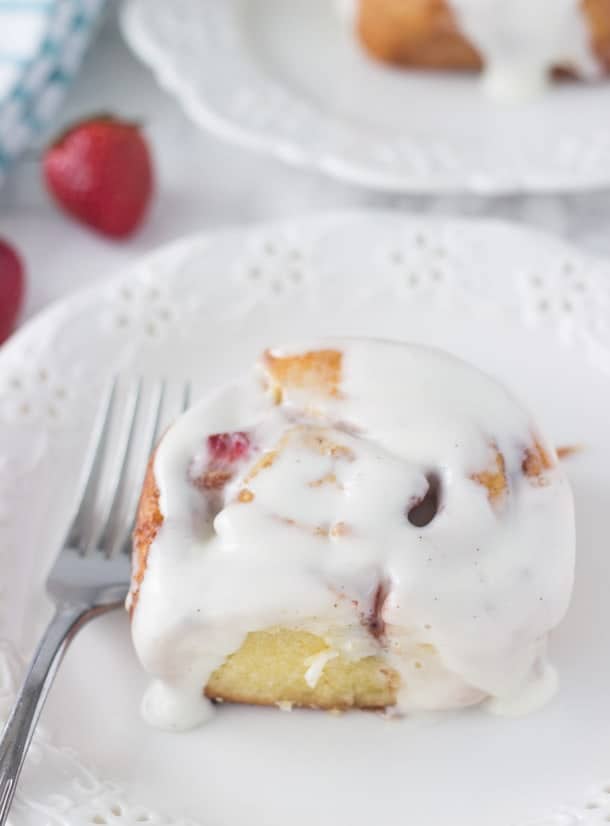 I would be lying if I told you these strawberry cinnamon rolls were meant to inspire your Mother's Day breakfast/brunch menus. They will be perfect for this weekend as you spoil all the mothers in your life but frankly, I forgot to feature some brunch recipes this year between the hectic weeks of moving.
Having just moved into a new house last week, I spent time this weekend testing my new oven in between unpacking the gazillion boxes. It's the best excuse to bake for fun and attend to some of those nagging cravings I've been having 🙂  Homemade cinnamon rolls have been on the brain the past two weeks but since we were in the middle of moving and my kitchen was in boxes, I was unable to satisfy this craving until I made myself these strawberry cinnamon rolls!!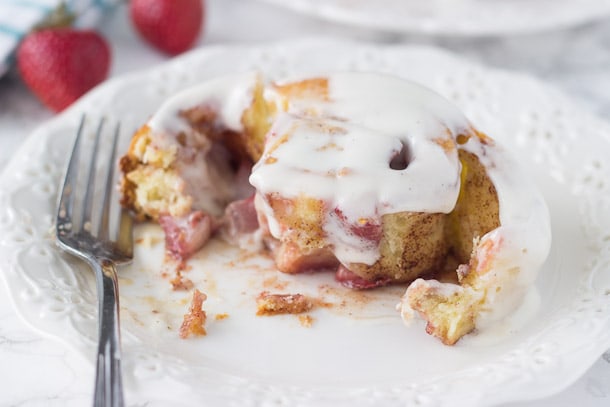 Nothing beats good ole yeasted cinnamon rolls for breakfast. I've tried a few recipes over the years including these caramel apple cinnamon rolls, but I am always looking for new ones to raise the bar. This recipe is adapted from Food52 and even though it seems a little involved, it is freaking amazing (for lack of a better description!). It's worth the wait as the dough rises (and rises!) because once you bite into these fresh strawberry cinnamon rolls, you will just be in heaven. Food heaven!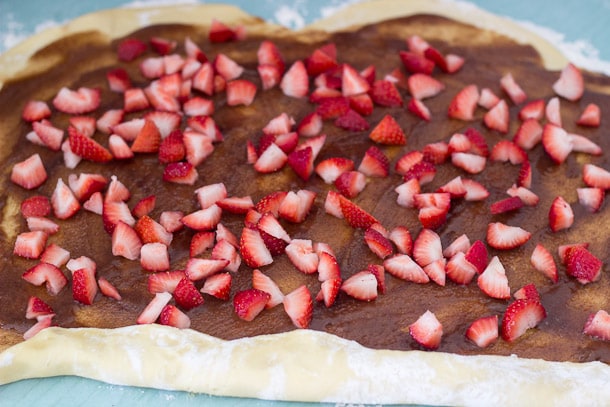 I decided to add some fresh strawberries to the filling because…why not? It's almost strawberry season and we are getting lots of juicy strawberries from you warm country folks right now. Next time for this recipe, I will probably cook down some of the strawberries into a compote and spread along side the cinnamon filling, in addition to the fresh chunks. I suggest you do that when you try these (I added it to the recipe below). Either way, the warm juicy strawberries and buttery cinnamon filling makes for a great combo and a delicious roll!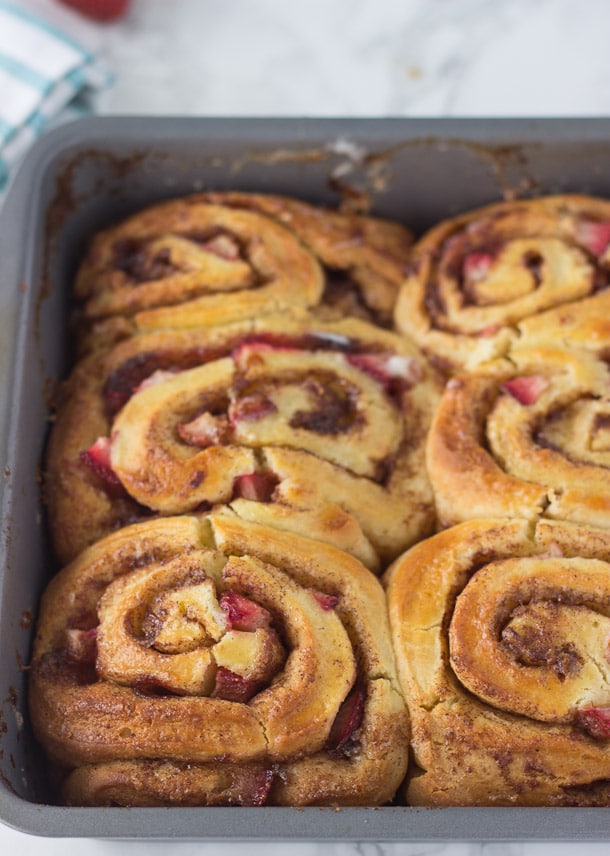 As a final (absolutely necessary) addition, I topped off these babies with a sweet vanilla bean cream cheese frosting. I used Rodelle's vanilla bean paste for a richer and bolder vanilla flavor in the frosting/icing. Don't skip on pouring and drizzling this sweet goodness all over your rolls, preferably while still warm!
This is just the BEST breakfast and brunch recipe I've had in a long time. So you better make these strawberry rolls for your mother/wife/sister this Mother's Day!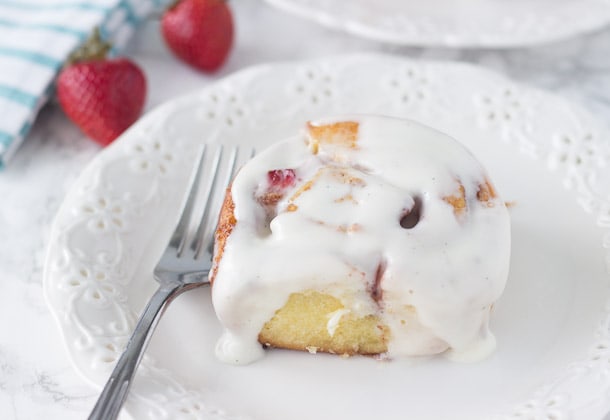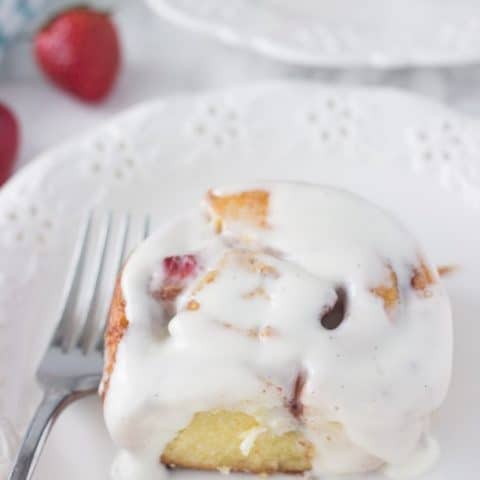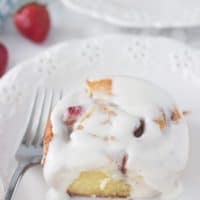 Yield: about 12 rolls
Strawberry Cinnamon Rolls
Ingredients
For the dough:
4 1/2 cups bread flour
½ cup granulated sugar
1 tablespoon instant dry yeast
1 tablespoon salt
4 large eggs + 1 large egg yolk (cold)
1 cup minus 2 tablespoons milk (cold)
1 cup (2 sticks) unsalted butter, softened to room temperature
For the filling:
¾ cup (1 ½ stick) unsalted butter, melted
½ cup brown sugar
¼ cup granulated sugar
1 ½ tablespoons ground cinnamon
1/8 teaspoon freshly grated nutmeg
1/3 cup strawberry compote or jelly (compote can be made from fresh strawberries cooked down with some sugar)
1 cup fresh strawberries, chopped
egg wash
For Vanilla Bean Icing:
4 ounces cream cheese, at room temperature
4 tablespoons unsalted butter, at room temperature
1-2 cups powdered sugar (more or less to taste)
¼ cup heavy cream, plus more as needed.
Instructions
To make dough:
Make the dough the day before you plan on making the cinnamon rolls. In the bowl of an electric mixer fitted with the dough hook, combine the bread flour. Sugar, yeast and salt. In a small bowl, whisk together the eggs + yolk and milk. Add the egg + milk mixture to the dry ingredients and mix on low speed until the mixture forms a ball. Increase the speed to medium and mix until the dough is very smooth, about 5 minutes.
With mixer on medium-low, add in the butter one tablespoon at a time, to the dough and mix until each piece is incorporated before adding the next. Once all the butter is added, continue mixing for additional 3 minutes.
Transfer the dough to a well-greased large bowl and let rise, covered for 1- 1 ½ hours. (Dough is very enriched and might not expand much).
Once risen, transfer the dough to a parchment lined baking sheet. Pat dough into a rectangle with about 1-inch thickness. Cover with plastic wrap directly on dough and refrigerate overnight.
When ready to make cinnamon rolls, make the filling. Combine the melted butter, sugars, cinnamon and nutmeg in a small bowl. Let sit at room temperature while you prepare the dough.
Lightly grease a 9 x 13-inch (or two 9 x 9-inch) baking dish. Remove dough from refrigerator. Transfer to a slightly floured work surface and roll the dough into a rectangle about ½ inch thick.
Spread out the filling evenly all over the dough using a spatula and spreading all the way to the edges of the dough. Dollop the strawberry compote onto top of the cinnamon filling and evenly spread out. Finally topped with fresh chopped strawberries.
To roll up, start with the long side closest to you and begin to roll the dough into a tight spiral. Make sure you keep the roll tight as you go. Use your thumb to release any sticky dough and also to tuck in loose dough. Once rolled, use a serrated knife to slice into 1 ½ inch wide pieces. Transfer pieces to prepared pans, leaving a quarter of an inch between each one. Cover the baking dish with plastic wrap or a towel and let rolls rise in a warm place at room temperature for at least 30 minutes.
Preheat oven to 350 degrees F. brush the top of the rolls with the egg wash and bake for 25- 30 minutes or until they are golden and the filling is bubbly and oozing out.
While the rolls bake, make the icing. In a small bowl, beat the cream cheese and butter until smooth. Add in the rest of the ingredients and mix until combined. Add more or less heavy cream to get your desired drizzle consistency.
Once rolls are baked, let cool in pan for 10-15 minutes. Then top with drizzle of icing. Serve warm or immediately.
*Affiliate links included above*