Triple Blog Anniversary $250 Amazon Card Giveaway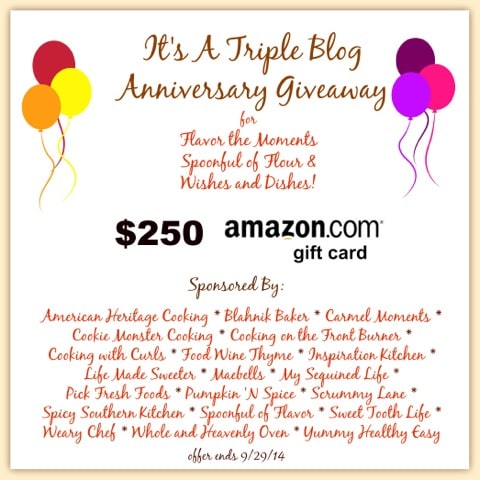 Today is all about celebrating some dear friends!! Three of my blogger friends are celebrating their blog anniversaries and a few of us came together to help them celebrate. We are giving away $250 Amazon.com Giftcard to ONE lucky reader!! (Use the widget below to enter).
Marcie, Meghan and Ashley are celebrating their blog birthdays today and if you have not checked out their blogs yet, please do so!! Marcie of Flavor the Moments always has the most creative recipes and her love for cooking is just addicting!! You will love her recipes. Meghan from Spoonful of Flour and I have a slight cupcake obsession which we bonded over a few months ago when I was in Boston and met up with her. She is a great baker and her creations are always so amazing. I just started reading Wishes and Dishes by Ashley and I am an avid follower. She has delicious easy dinner recipes that are will make your weeknights preps easy.
Join us in celebrating these wonderful ladies AND enter for a chance to win a $250 Amazon.com Giftcard!