Vanilla Cupcakes with Nutella Frosting
A rich vanilla bean cupcake topped with whipped nutella buttercream is a classic recipe everyone should have in their recipe box!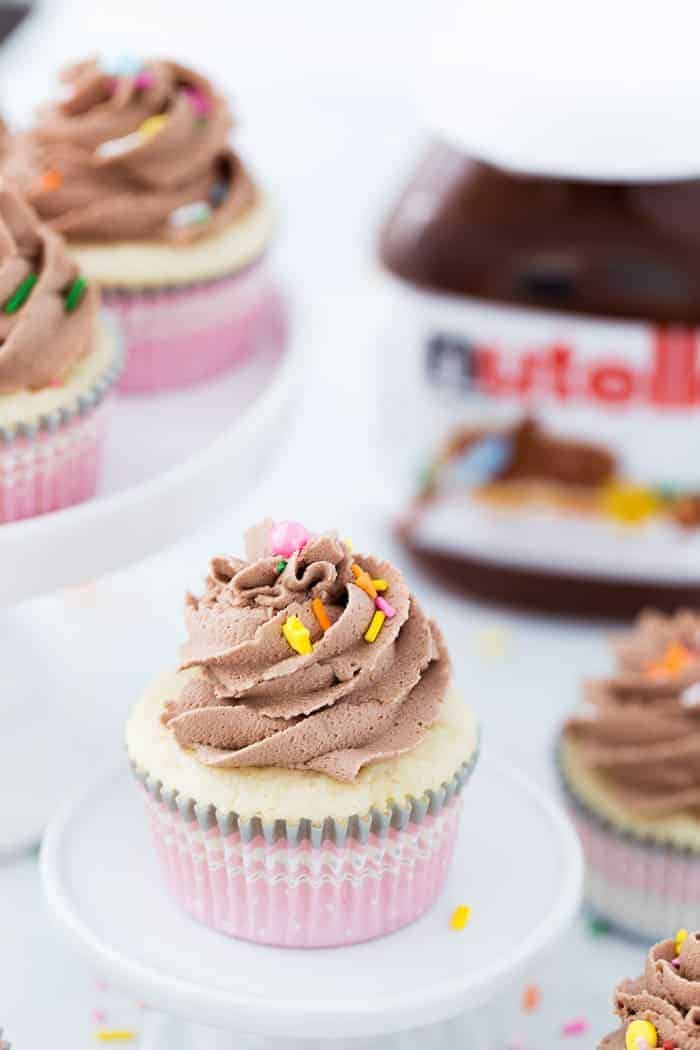 I've been making these cupcakes in my head for a long time. Thanks to winter storm stella recently, I was home with the baby for two days and felt cooped up. I had to bake something new and these vanilla cupcakes with nutella frosting were it.
A rich vanilla bean cupcake topped with whipped nutella buttercream is a classic everyone should have in their arsenal. A nutty addition to airy vanilla goodness. These cupcakes are exactly that. Starting with the vanilla bean cupcakes. They are soft, moist, light and airy with hints of nutty almonds and rich vanilla flavor thanks to the vanilla bean paste.
The cupcakes uses one of my favorite vanilla cupcake bases, seen in these vanilla anise cupcakes, using the reverse creaming technique (adding the butter to the dry ingredients before the wet ingredients). This technique always yields a moist crumbly cupcake (or cake!) and it was the base for these cupcakes.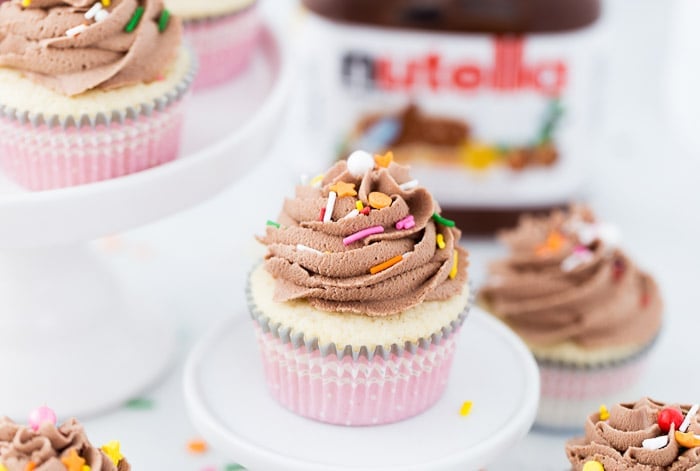 The cupcakes are topped with an equally important and delicious whipped nutella buttercream. It's the nutty complement to these vanilla cupcakes and would be a delight for any nutella fan. I am not usually a nutella fan (I have exactly ONE recipe with it on this blog) but these cupcakes have just the perfect touch of the hazelnut spread.
If you have a birthday party, dinner party or shower and you just can't decide on what dessert to serve, these cupcakes are for you. They will be loved by vanilla lovers, chocolate lovers and all.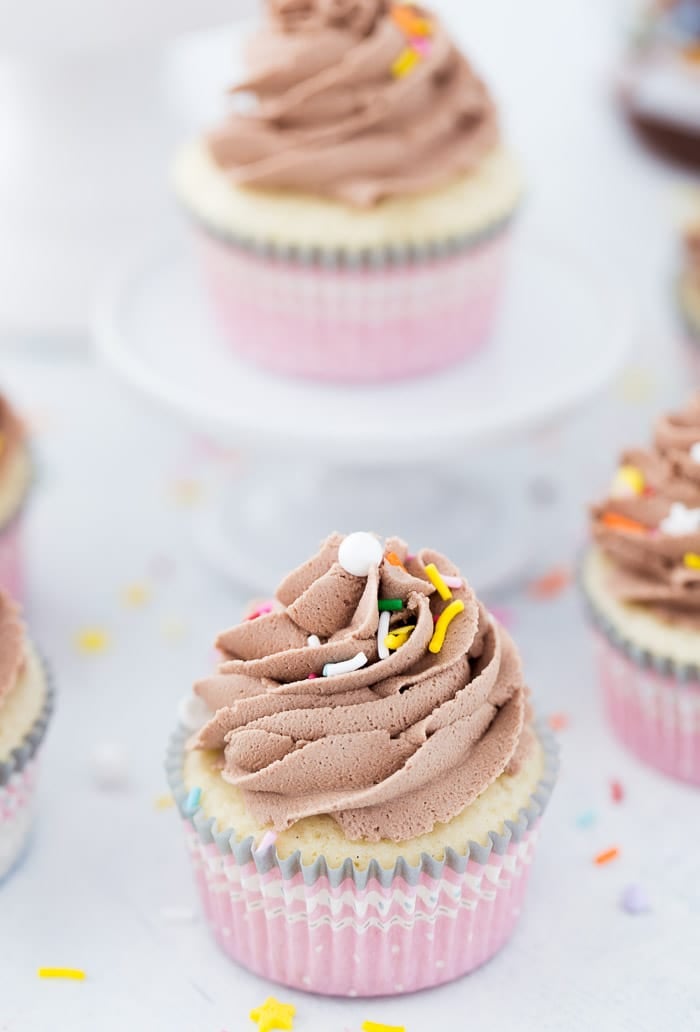 Including chocolate lover kids like mine. Elliott helped make these cupcakes from adding the butter to the flour to adding the sprinkles on top. He was so excited to be 'helping' until it was time to take pictures of them when he lost his patience. He could not wait to take the first bite.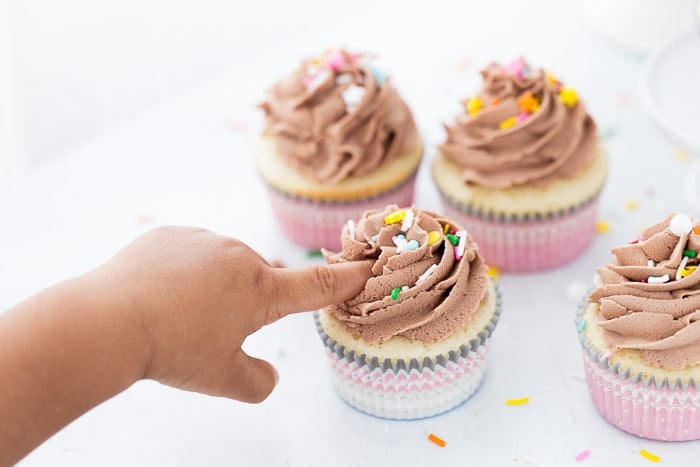 And he approved, of course, once he took a bite.
This picture of him enjoying the result of our afternoon baking session is the reason I started this blog about four years ago. I had to teach myself how to bake so we could make these memories in the future 🙂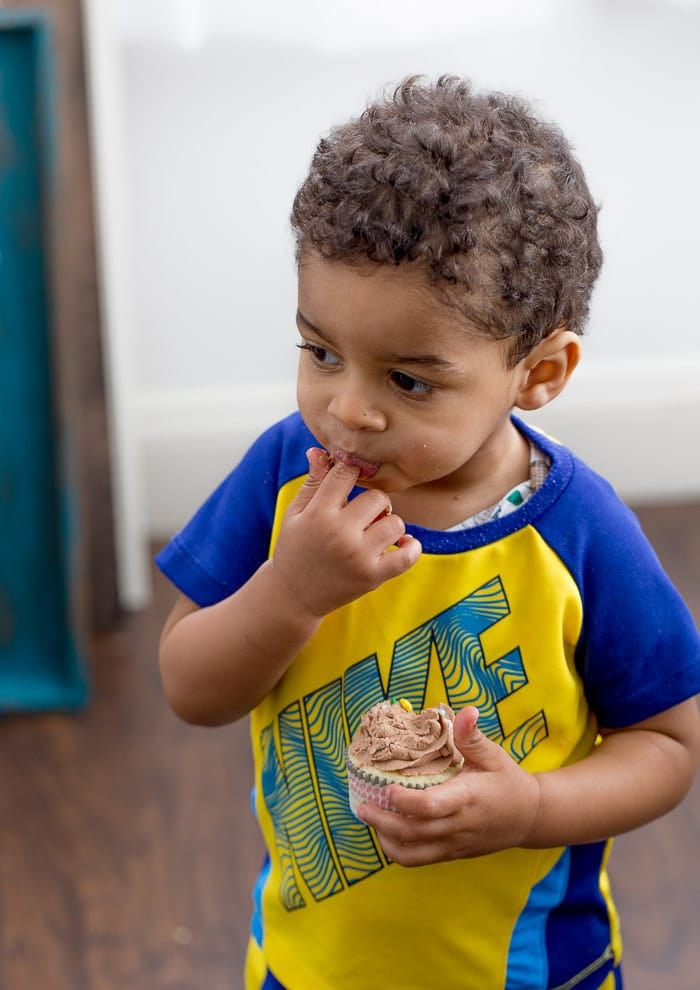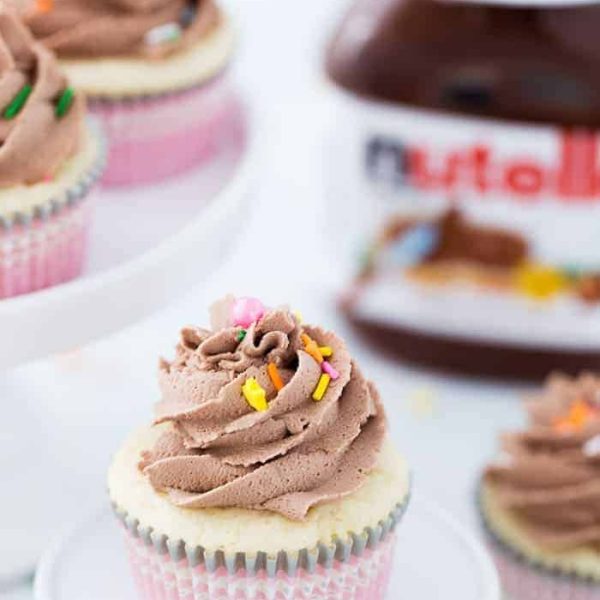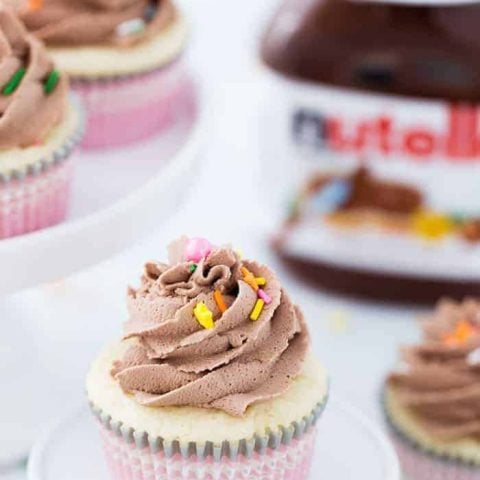 Yield: ~18 cupcakes
Vanilla Cupcakes with Nutella Frosting
These vanilla cupcakes with nutella frosting are moist, nutty and topped with a whipped nutella buttercream that is creamy delicious.
Ingredients
For Cupcakes:
1 cup cake flour
¾ cup all-purpose flour
1 cup granulated sugar
1 ½ teaspoons baking powder
½ teaspoon salt
½ cup (1 stick) unsalted butter cut into 1-inch cubes, room temperature
2 large eggs, at room temperature
½ cup whole milk, at room temperature
½ teaspoon vanilla bean paste
¼ teaspoon pure almond extract
For Frosting:
1 1/2 cups (3 sticks) unsalted butter, softened and cut into cubes
¾ cup Nutella
3 cups confectioners' sugar, sifted
2-3 tablespoons milk
1 teaspoon pure vanilla extract
pinch of salt
Instructions
For Cupcakes
Preheat oven to 325 degrees F. Line muffin tins with cupcake liners and set aside.
In the bowl of an electric mixer, combine the dry ingredients and mix on low-speed until well blended.
Increase speed to medium-low and add the cubes of butter, one at a time mixing each one for a few seconds before adding the next. Mix until there are no large chunks.
Add eggs, one at a time and mix well between each addition. In a small mixing bowl, whisk together the milk, vanilla and almond extract. Increase mixer speed to medium and add in the wet ingredients in 3 parts, mixing until incorporated and scraping down the bowls after each addition. DO NOT over beat otherwise you will end up with dense cupcakes.
Divide batter into prepared cupcake liners, filling each about ⅔ full. Bake cupcakes until a toothpick inserted into the center comes out clean, 17-20 minutes. Remove cupcakes from oven and pan. Let cool on cooling rack completely before frosting.
For Frosting
Whip butter for 8 minutes on medium speed using the paddle attachment of an electric mixer. The butter will become pale and creamy. Beat in the Nutella until combined, about 1 minute.
Add the rest of the ingredients and mix on low-speed for 1minute. Then increase speed to medium and mix for 6 minutes until the frosting is light, creamy and fluffy.
Frost cooled cupcakes and decorate with sprinkles.
Notes
Cupcake recipe adapted from Sweetapolita
Recommended Products
As an Amazon Associate and member of other affiliate programs, I earn from qualifying purchases.