Meyer Lemon Rosemary Cupcakes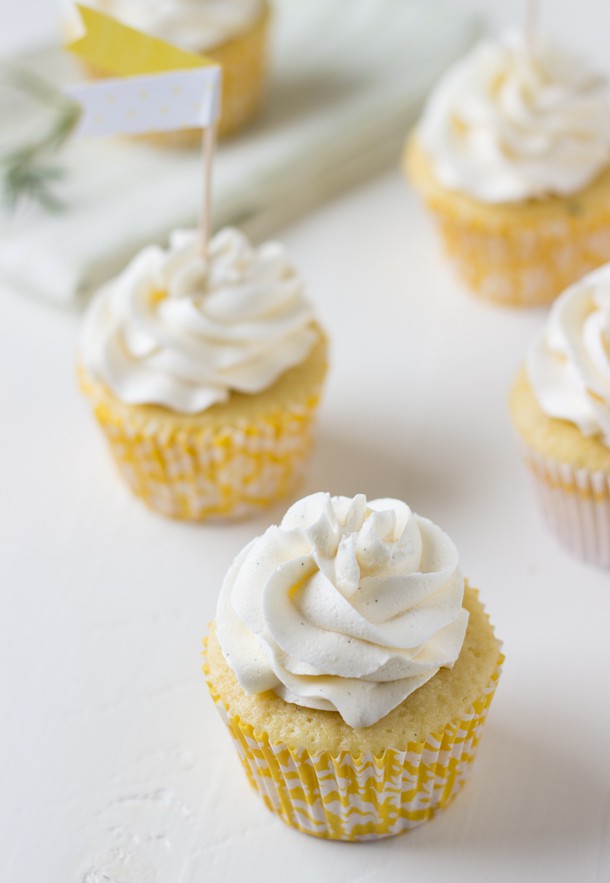 It is looking a lot like Spring guys! Leaving work at 6.30 pm and it's not pitch blackout is very promising and even better when the weather is in the 30s!! That's spring in Upstate NY!!
So to celebrate, I am doing all things lemons. To be specific, Meyer lemons for now until I finish the enormous haul I procured (the story of that is here) recently. I promise I have one last recipe after these Meyer lemon rosemary cupcakes. These cupcakes are just to die for though. I love the combination of sweet-tart lemons and fresh herby aroma of rosemary.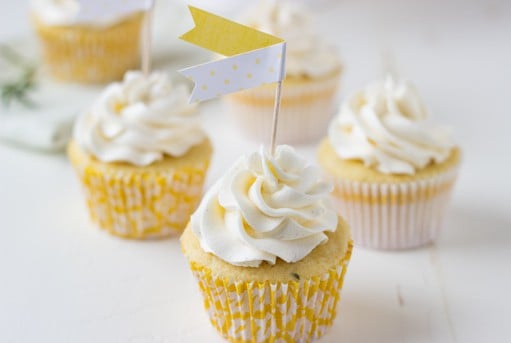 This is my first time creating a dessert recipe with fresh herbs. Now I just want to put them in everything. I started with a fresh lemon cupcake which I infused with rosemary milk and a bit of fresh rosemary in the batter.
The result are cupcakes that are soft, moist, and delicious. I decided to top them with a Meyer lemon buttercream to close the deal. I bet you can't wait to try them! If you are a lemon fan, it does not get better than this! You are going to love these spring cupcakes, trust me!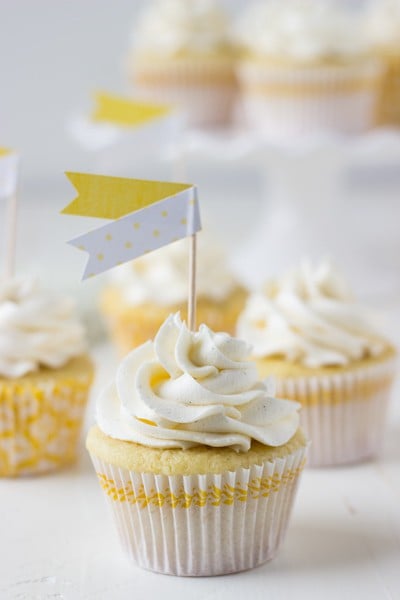 Before I leave, I just wanted to say thank you, friends, for all the wishes on Monday about my presentation. It went great and we are all in agreement for this Fall. Let's keep our fingers crossed that it really does happen because folks I am tired of being in school. For now…let's eat more cupcakes!!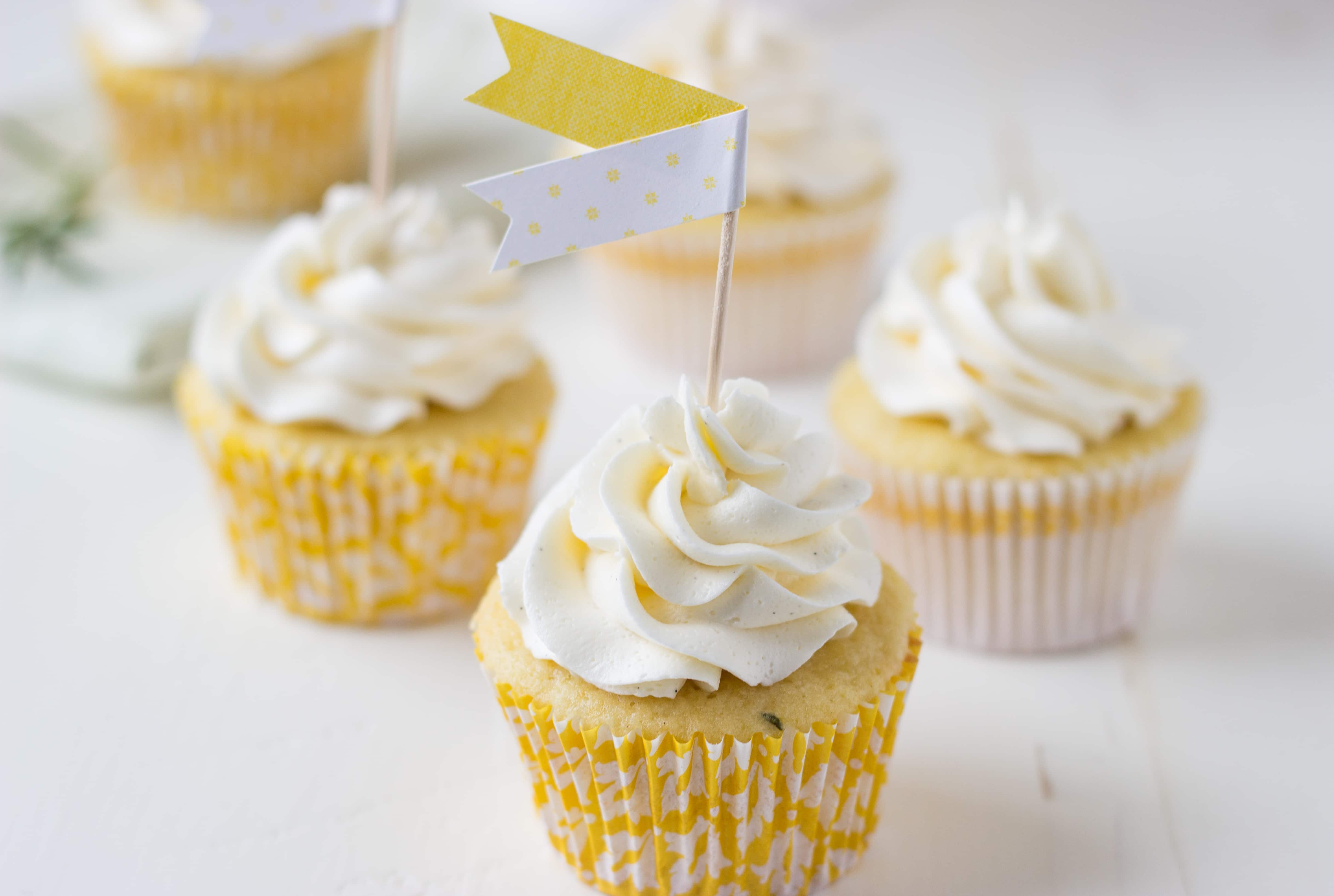 Yield: ~24 cupcakes
Meyer Lemon Rosemary Cupcakes
An herbal infused lemon cupcake is bursting with flavors of springtime.
Ingredients
For the Cupcakes:
1 cup whole milk
1 teaspoon freshly chopped rosemary
2 1/2 cups all-purpose flour
3/4 teaspoon salt
1 1/2 teaspoon baking powder
1/4 teaspoon baking soda
1 cup (2 sticks) unsalted butter, at room temperature
2 cups granulated sugar
Zest and juice of 1 Meyer lemon
1/4 teaspoon freshly chopped rosemary (optional)
3 large eggs, at room temperature
2 teaspoons pure vanilla extract
For the Lemon Frosting
3 1/2 sticks unsalted butter, softened
3-4 cups sifted confectioners' sugar
3 tablespoons milk
1 teaspoon vanilla extract
1 teaspoon lemon extract
1 teaspoon zest of Meyer lemon
Pinch of salt
Instructions
Before making cupcakes, add the freshly chopped rosemary to the milk. Let steep covered in the fridge for at least two hours or overnight. When ready to bake cupcakes, pour milk and rosemary mixture through a fine sieve and collect milk.
For the Cupcakes:
Preheat oven to 350 degrees F. Line two muffin pans with cupcake liners or silicone baking cups.
In a medium bowl sift together flour, salt, baking powder, and baking soda.
In the bowl of a stand mixer, cream butter and sugar until pale and fluffy, about 5 minutes on medium speed. Add the Meyer lemon zest and mix for an additional minute. Add the fresh rosemary at this point if using. Add the eggs one at a time, beating until combined after each addition. Beat in vanilla extract and Meyer lemon juice.
Reduce speed to low and alternatively add the flour and milk, beginning and ending with the flour and mixing after each addition. Beat the batter until just combined. Scrap down the side of the bowl as needed.
Divide batter into prepared cupcake liners. Fill liners about 2/3 full. Bake cupcakes until lightly golden or a toothpick inserted into the center come out clean, about 12-14 minutes.
Remove cupcakes from pan and let cool completely on a wire rack before frosting.
For the Meyer Lemon frosting:
Whip butter for 6-8 minutes on medium speed using an electric mixer. The butter will become pale and creamy.
Add the rest of the ingredients and mix on low speed for 1 minute. Then increase speed to medium and mix for 6 minutes until the frosting is very light, creamy and fluffy.
Frost cooled cupcakes.
Recommended Products
As an Amazon Associate and member of other affiliate programs, I earn from qualifying purchases.