Spiced Apple Cake with Salted Caramel Frosting
Caramel apple in a cake form? Yes! This soft and fluffy Spiced Apple Cake is paired with salted caramel frosting and topped with smoky salted caramel sauce!!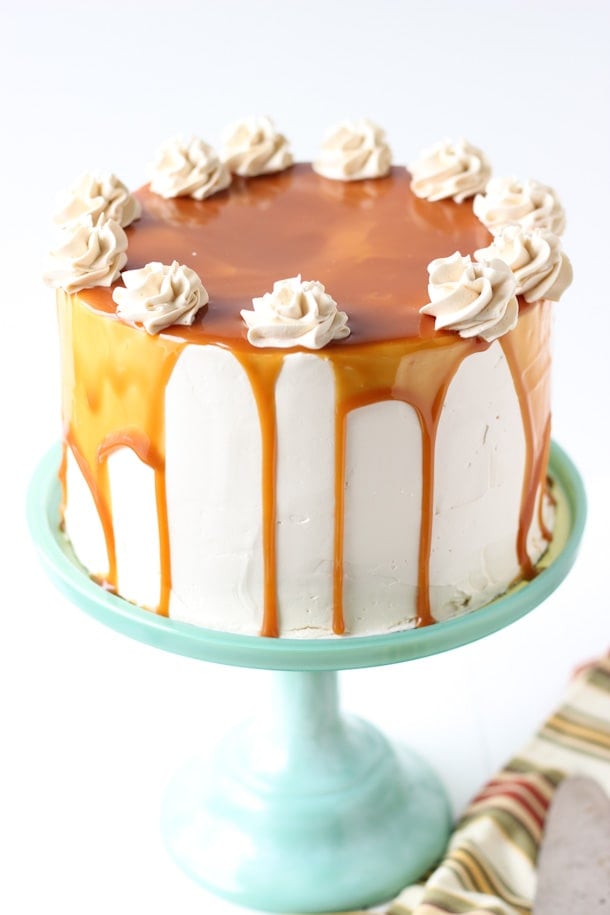 Have you been looking for a new way to enjoy the traditional caramel apple of the fall? Well you don't have to look any further. I've combined the two flavors in a cake for you! This spiced apple cake with salted caramel frosting is your caramel apple in a slice. Seriously, I kid you not. A spiced apple cake, soft and packed with apple chunks, is frosted with a fluffy salted caramel swiss meringue buttercream and topped with a flood of salted caramel. It's glorious!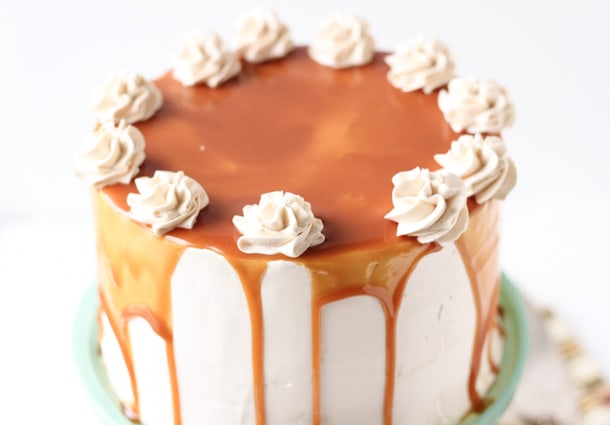 But how can something oozing with salted caramel not be glorious? Impossible, right? I love caramel, especially salted caramel. I've been told I abuse it from time to time as I always have a jar in the fridge. Making salted caramel is pretty easy and one of my favorite things to stock up on for the holidays! Just melt some sugar in a heavy saucepan, whisk in butter and some heavy cream. Tada, smoky bliss.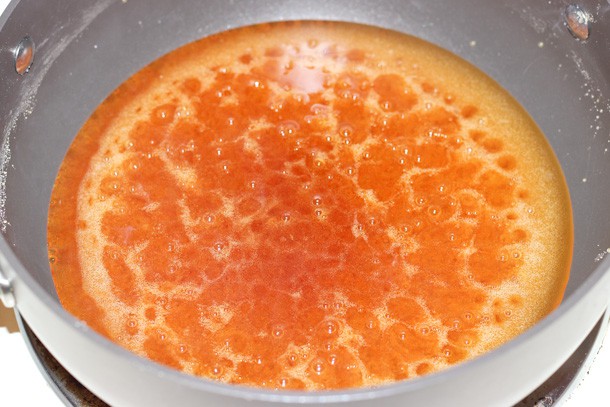 OK fine I shall stop obsessing about the glories of salted caramel and just let you enjoy this three layered apple packed cake! I adapted this recipe from these apple cupcakes because we enjoyed them very much. Pairing the spiced cake with my favorite swiss meringue buttercream and salted caramel was a great combination that has won my heart.
If you make only one cake this season, let it be this one. You will love it too!!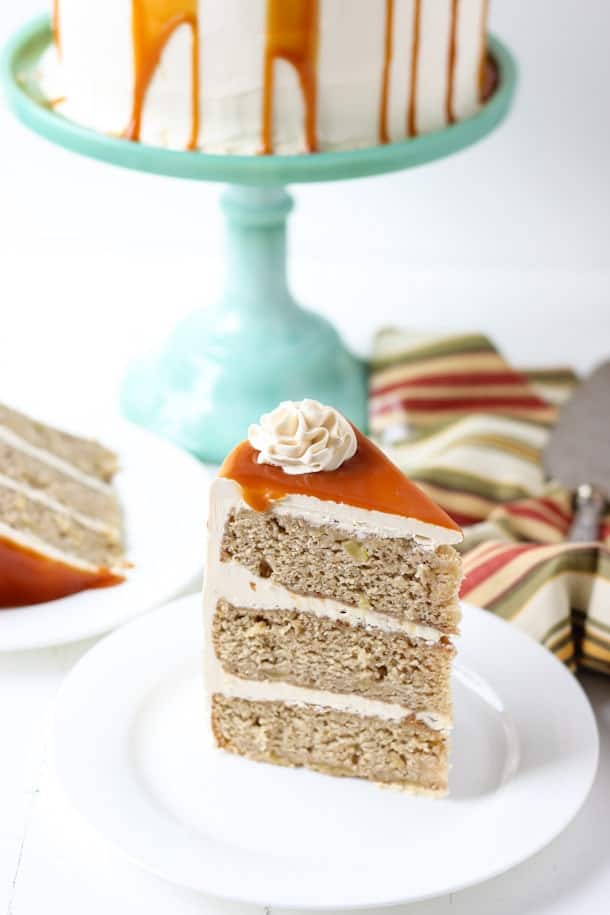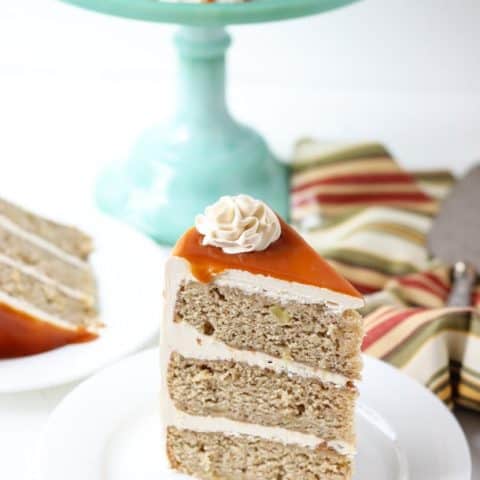 Yield: 1 3-layer 8-inch cake
Spiced Apple Cake with Salted Caramel Frosting
Caramel apple in a cake form? Yes! This soft and fluffy Spiced Apple Cake is paired with salted caramel frosting and topped with smoky salted caramel sauce!! 
Total Time
1 hour
35 minutes
Ingredients
For the Cake:
3 ½ cups all-purpose flour
1 ½ teaspoons baking powder
½ teaspoon baking soda
1 teaspoon salt
1 teaspoon ground ginger
1 teaspoon ground cinnamon
1 teaspoon ground nutmeg
½ teaspoon ground cloves
1 cup (2 sticks) unsalted butter, at room temperature
2 cups granulated sugar
2 large eggs
1 ½ cup whole milk
4 cups chopped apples
For Caramel Sauce:
1 cup granulated sugar
6 tablespoons unsalted butter (cut up into cubes)
½ cup heavy cream
1 teaspoon fine sea salt
For Frosting:
5 large egg whites, room temperature
1¼ cup granulated sugar
1 ½ cup (3 sticks) unsalted butter, room temperature
½ cup homemade salted caramel sauce (recipe above)
2 teaspoons pure vanilla extract
Instructions
For Cakes
Preheat oven to 350 degrees. Butter and flour three 8-inch round cake pans. Line with parchment and grease parchment.
In a medium bowl, whisk together flour, baking powder, baking soda, salt, ginger, cinnamon, nutmeg and cloves.
In the bowl of an electric mixer, beat butter and sugar on medium speed until light and fluffy, about 3-5 minutes. Add in eggs, one at a time, and mix until combined. Add ⅓ of the flour mixture and mix until just combined. Add half of the milk and mix. Add ½ of the remaining flour, then the rest of the milk and the rest of the flour, beating well after each addition. Using a rubber spatula, fold in the apples into the batter until well combined.
Divide the batter into the prepared baking pans. Bake cakes until the center springs back when touched and a tester comes out clean, about 30-35 minutes. Let cakes cool in pan for at least 10 minutes before turning out onto a cooling rack. Let cool completely before frosting.
To make caramel sauce:
In a medium saucepan, melt sugar over medium high heat. When sugar starts melting, whisk until all the sugar melts. Sugar will clump in whisk but keep whisking. Once all the sugar is melted, stop whisking and let sugar get to a deep amber color. You can swirl the pan to mix. Keep your eye on the caramel, as it will easily burn at this stage. Whisk in the butter and mix until completely melted. Remove pan from heat and gradually add in the heavy cream. Whisk until smooth. Whisk in the sea salt until dissolved. Transfer caramel immediately into a glass jar and let cool.
For Salted Caramel Swiss Meringue Buttercream:
Whisk together sugar and egg whites in a heatproof mixing bowl set over (not in) a pan of simmering water. Whisk until warm and sugar is dissolved (mixture should feel completely smooth when rubbed between your fingers), 2 to 3 minutes. Remove from heat.
With an electric mixer on medium speed, whisk egg white mixture 5 minutes (using the whisk attachment). Increase speed to medium-high, and whisk until stiff, glossy peaks form and meringue has cooled (test by feeling bottom of bowl), about 6 minutes.
Reduce speed to medium and switch to the paddle attachment. Add butter, one piece at a time, beating well after each addition. Beat in vanilla. Mix the salted caramel into the buttercream.
Use immediately or store in an airtight container in fridge for up to a week.
Assembly:
Place one layer of cake on a cake stand or serving platter. Spread about ½ cup of frosting over the top using an offset spatula. Top with another layer of cake and repeat with another layer of frosting. Smooth with offset spatula. Top with final layer of cake.
Frost cake with buttercream and refrigerate for at least 30 minutes. Pour about a cup of cooled salted caramel sauce over the top of cake before serving.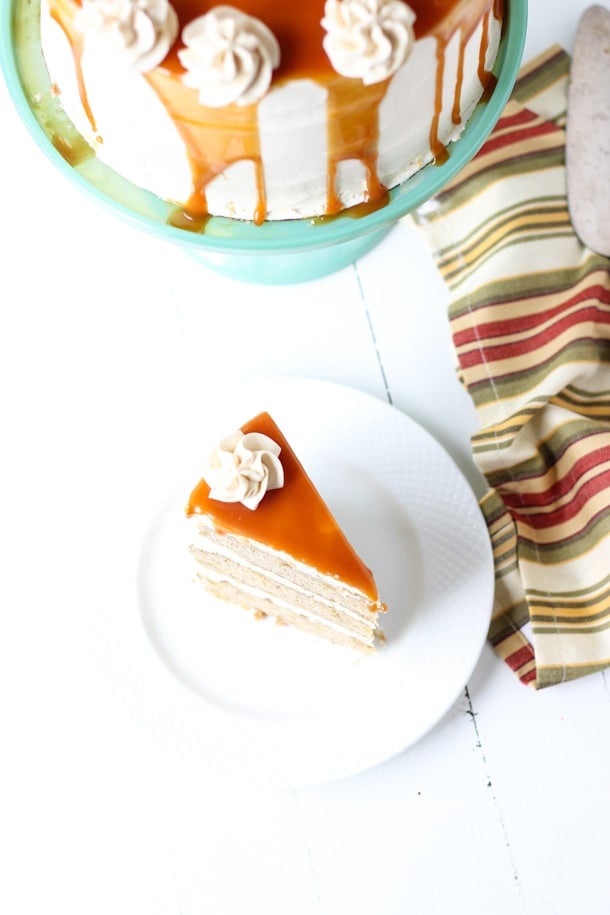 More Salted Caramel Recipes you will love: 
Dark Chocolate Salted Caramel Cupcakes
Pumpkin Pecan Cheesecake with Salted Caramel Sauce