Banana Chocolate Chip Muffins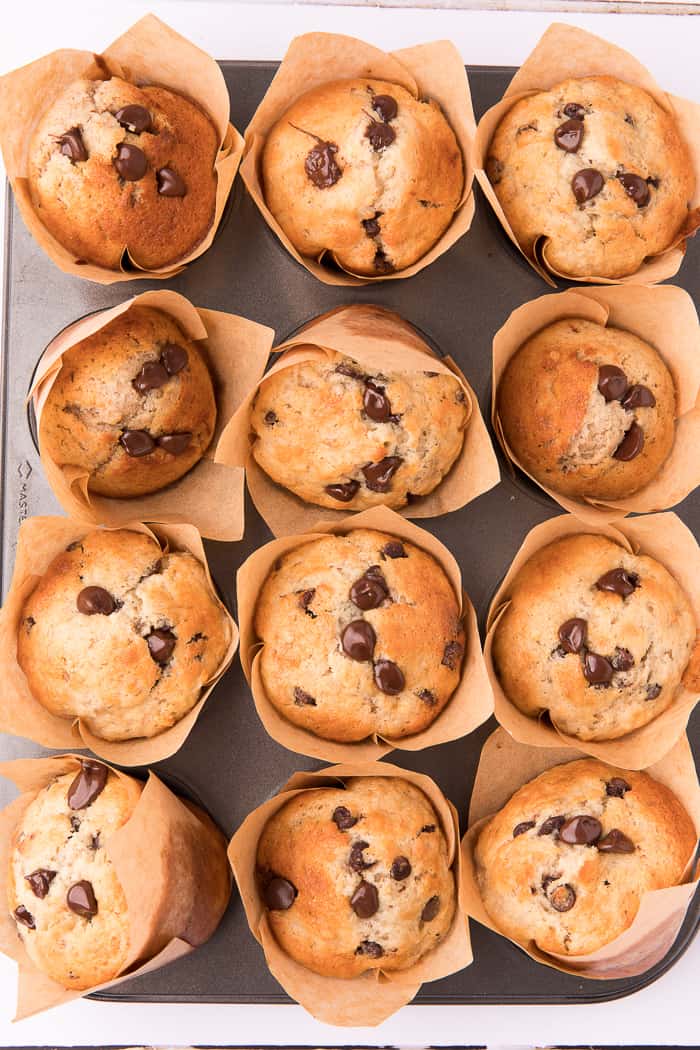 Hi friends! Today's recipe is these Banana Chocolate Chip Muffins. Easy, delicious, and breakfast favorite.
Like many of you, I have zero time to make a healthy breakfast in the mornings. My breakfast is always a grab-and-go between getting the kiddos up, dressed, and fed. That is one of the many reasons why I live for lazy weekends where I can get in the kitchen and take my time making a yummy and wholesome breakfast for the family. Hello, Strawberry Ricotta pancakes!! Even though it might not always be the "healthiest" meal by some standards, it's time we get to slow down and spend our mornings with the kids without rushing out the door.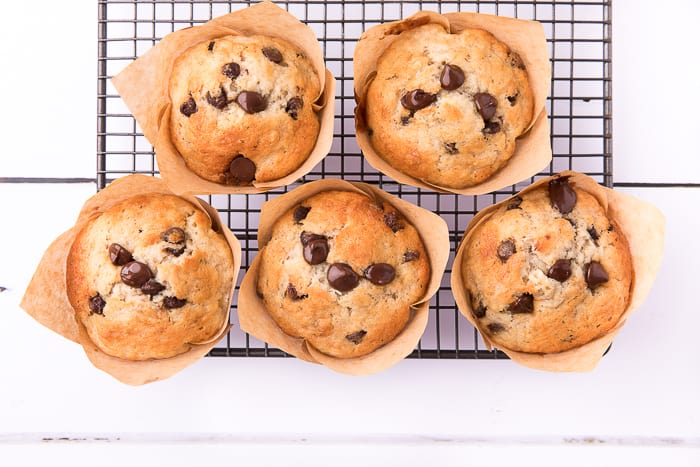 Breakfast is the most important meal of the day for many reasons. The main one being it's the first thing we enjoy after fasting all night to provide our bodies with the needed energy for the busy day. So these Banana Chocolate Chip Muffins are incredible when rushing out the door and trying to get the kids to school and myself to work on time.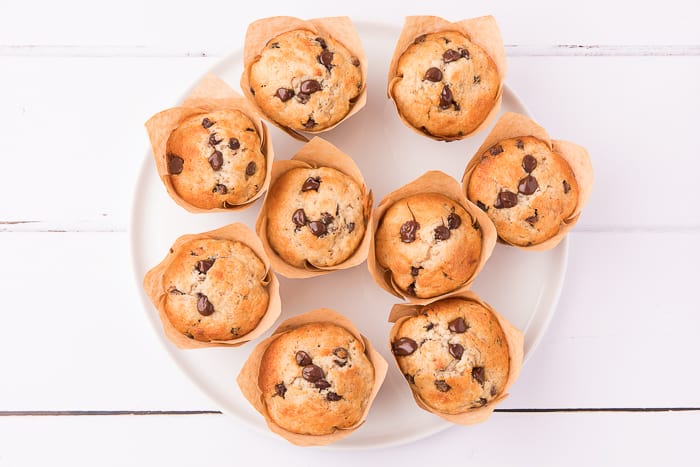 I'm sure most of us have enjoyed chocolate chip muffins at some point in our lives. But let's add the banana, and you have a wonderful combination that is just a delight. These Banana Chocolate Chip Muffins are soft and have the perfect ratio of banana to chocolate chips, so you get the melty chips and smooth banana flavor in each bite. They are also great for brunch or a snack; basically, any time of the day is perfect for these muffins.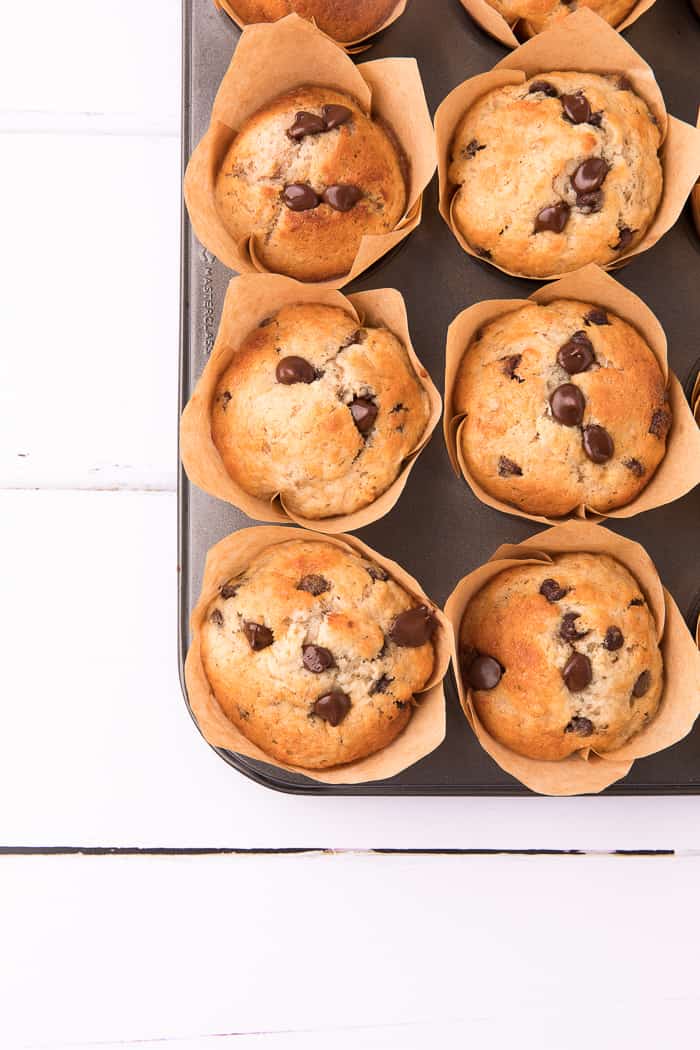 This recipe has ingredients that are probably already in your pantry, so it's super easy to whip up. Let's walk through quickly how to make these.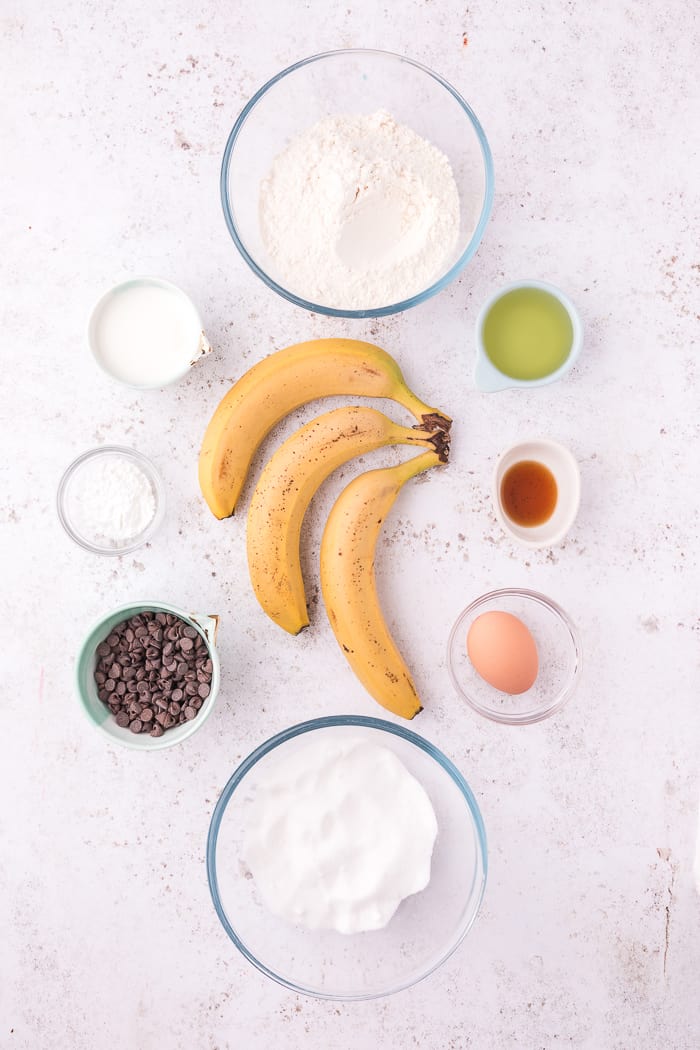 Beat the wet ingredients together until they are combined.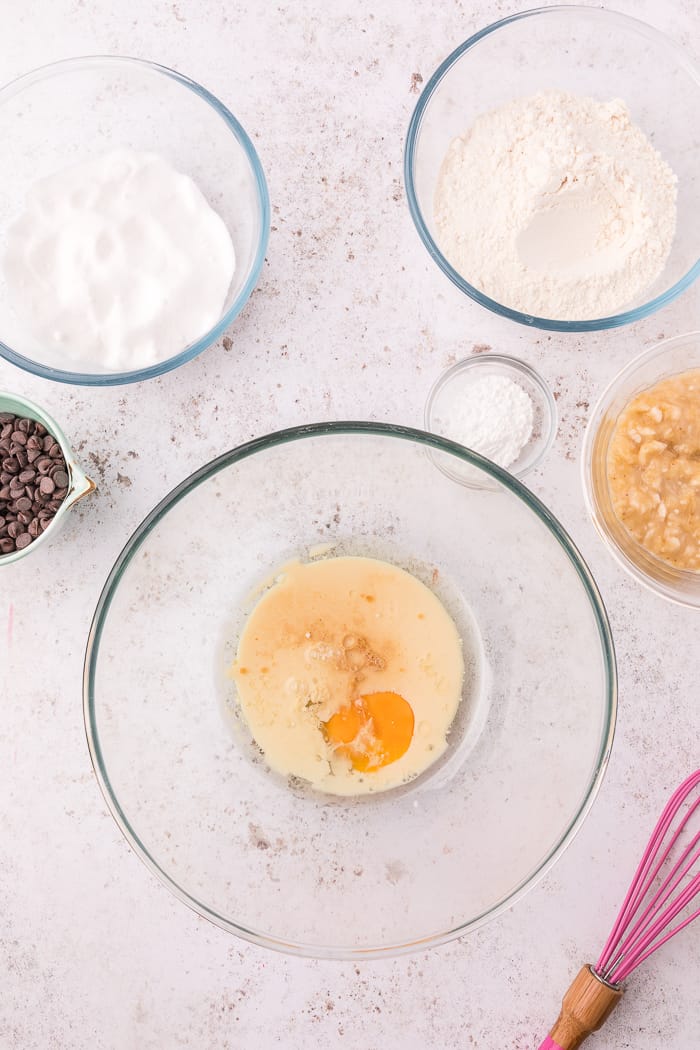 Add in the flour and other dry ingredients. Whisk until combined and make sure the flour is well incorporated.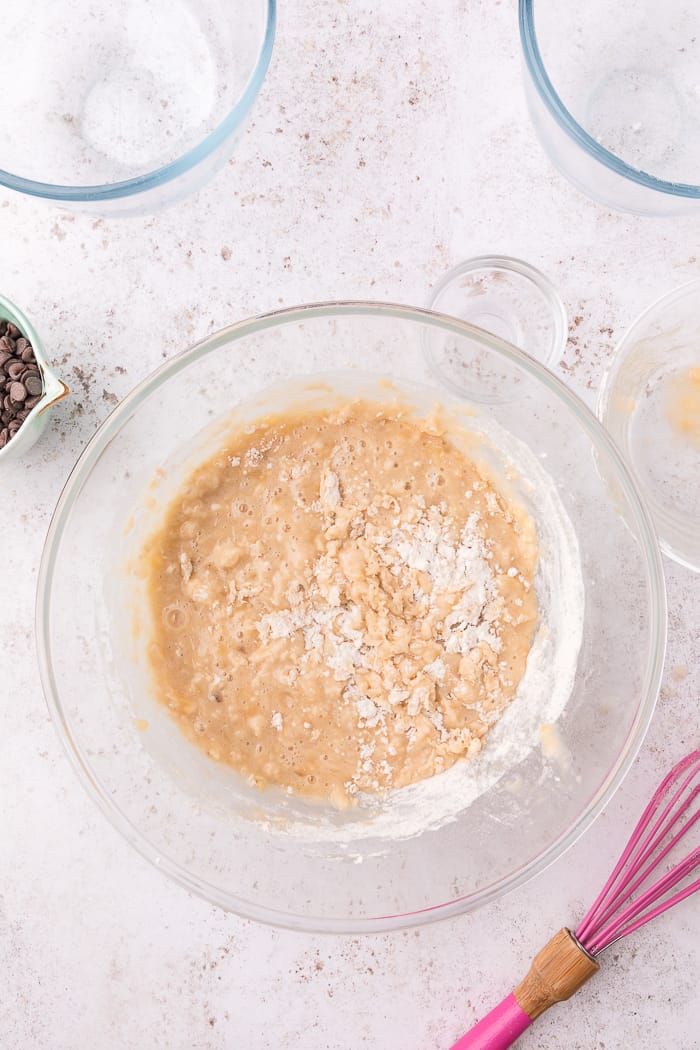 Fold in the chocolate chips! I used a mix of semi-sweet and dark chocolate chips.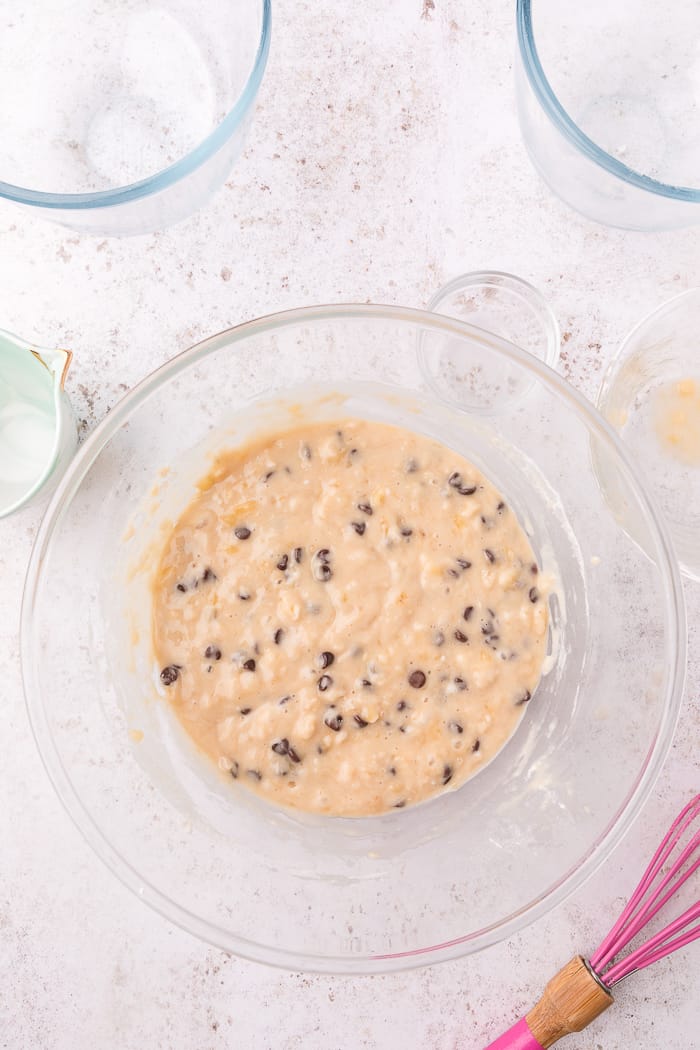 That's it! Portion into liners and bake.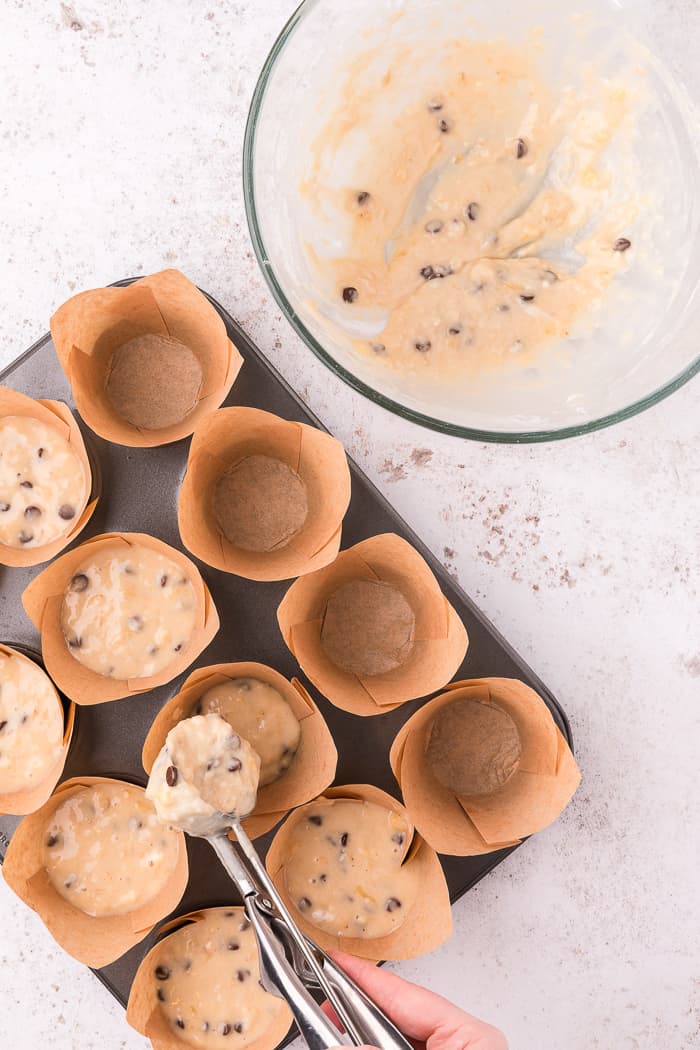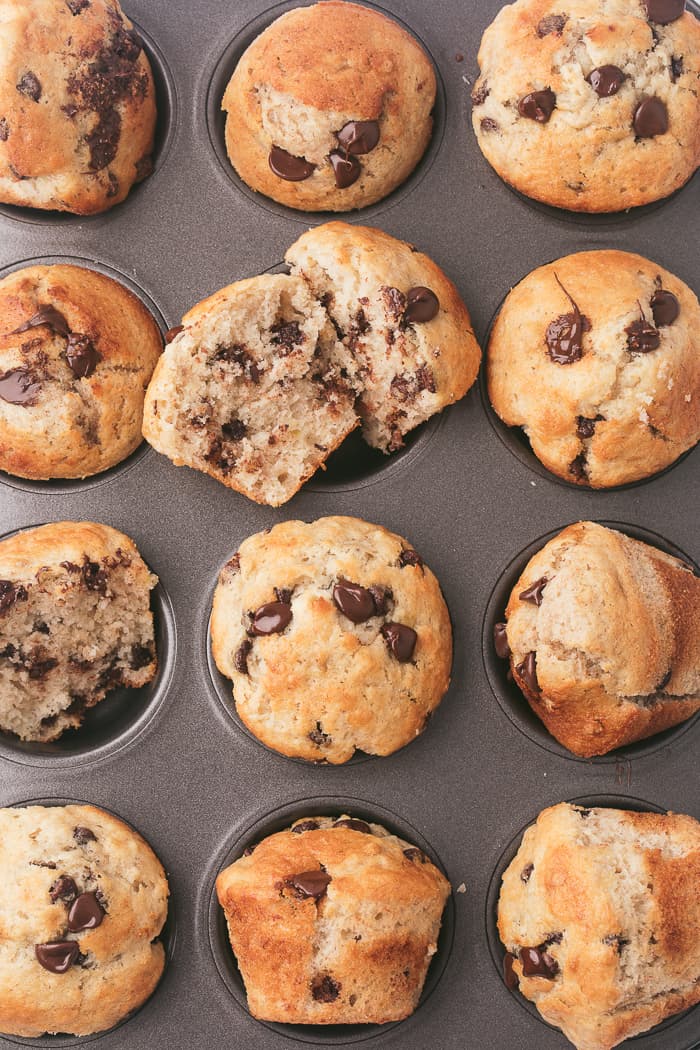 If you want to add another level of flavor, then cut your muffin in half while it is still warm and add a slice of butter or your favorite butter spread (peanut butter, almond butter, or even Nutella).
If you love chocolate and bananas together, then you should check out this Banana Bread Smoothie or the Chocolate Chip Banana Cupcakes with Peanut Butter Frosting.
What did you think of these Banana Chocolate Chip Muffins? Let me know in the comment section below. Did you add any kinds of butter or jams to your muffins? I love hearing how you add your twist to these recipes.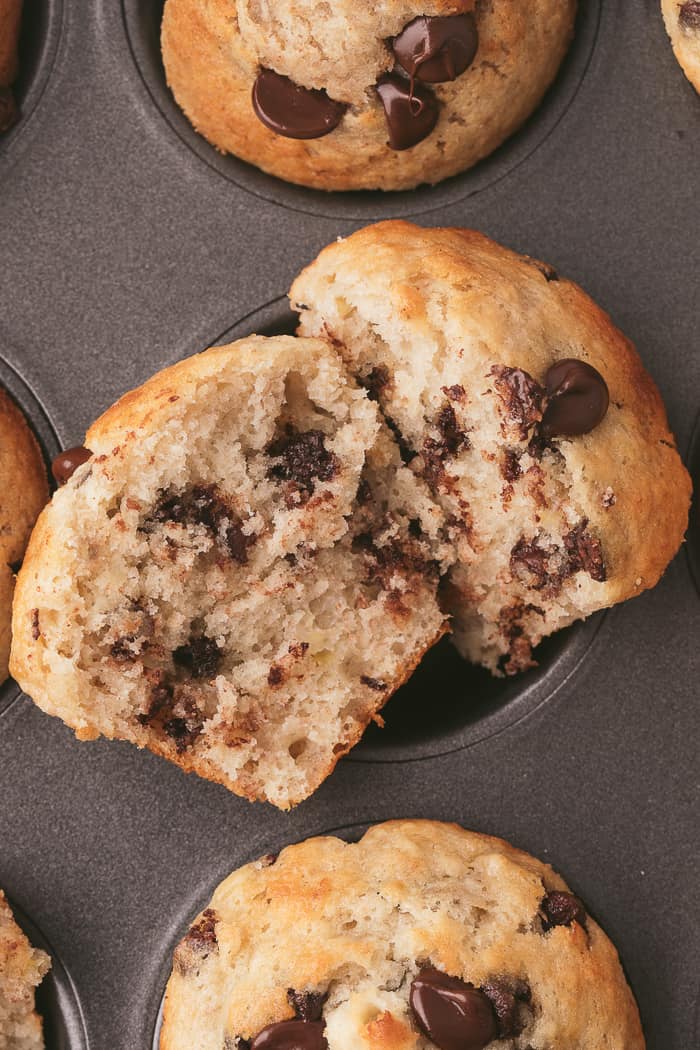 When you share your creations across social media, make sure to tag #aclassictwist, so I can see all your beautiful creations come to life.
As always, Happy Baking, friends!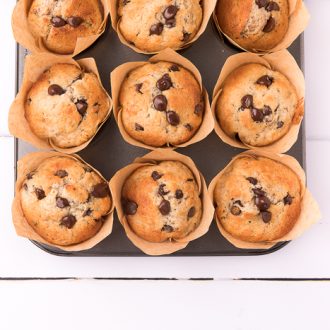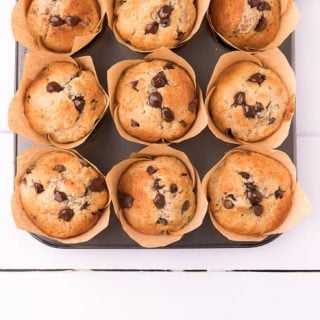 Yield: ~ 18 muffins
Banana Chocolate Chip Muffins
A moist, sweet and easy banana muffin recipe! Warm chocolate chips through it all.
Prep Time 10 minutes
Cook Time 20 minutes
Total Time 30 minutes
Ingredients
3/4 cup whole milk, at room temperature
3/4 cup canola or vegetable oil
2 large eggs, at room temperature
1 1/2 teaspoons pure vanilla extract
3 medium bananas, mashed
3/4 cup granulated sugar
1 3/4 cups all-purpose flour
2 1/2 teaspoons baking powder
1/4 teaspoon kosher salt
1 cup semi-sweet chocolate chips
Instructions
Preheat the oven to 350ºF. Line a muffin tin with 12 liners.
Add the milk, oil, eggs, and vanilla extract to a large mixing bowl and whisk until thoroughly combined. Add in the mashed banana and mix again.
Add the sugar to the mixing bowl and mix very well.
In a separate bowl, whisk together the flour, baking powder, and salt.
Add the flour mixture to the mixing bowl and fold through until almost combined.
Add the chocolate chips and fold everything together until you can no longer see white streaks of flour. Take care not to over mix.
Divide the muffin batter between the muffin liners, about two-thirds full.
Bake for 18 to 20 minutes, or until a toothpick inserted into the center come out almost clean.
Remove and let cool slightly before eating.
Notes
You can replace the all-purpose flour with whole wheat flour however your muffins will not be quite as large.
Choose ripe bananas for the best-tasting muffins.
As with all baked goods, these muffins will taste best the day they are baked, however, they will keep for 2-3 days if stored in an airtight container. 
Recommended Products
As an Amazon Associate and member of other affiliate programs, I earn from qualifying purchases.