Berry Greek Yogurt Breakfast Pops
Thanks to The Dannon Company and The J. M. Smucker's Company for partnering with me to create this recipe. All opinions are my own.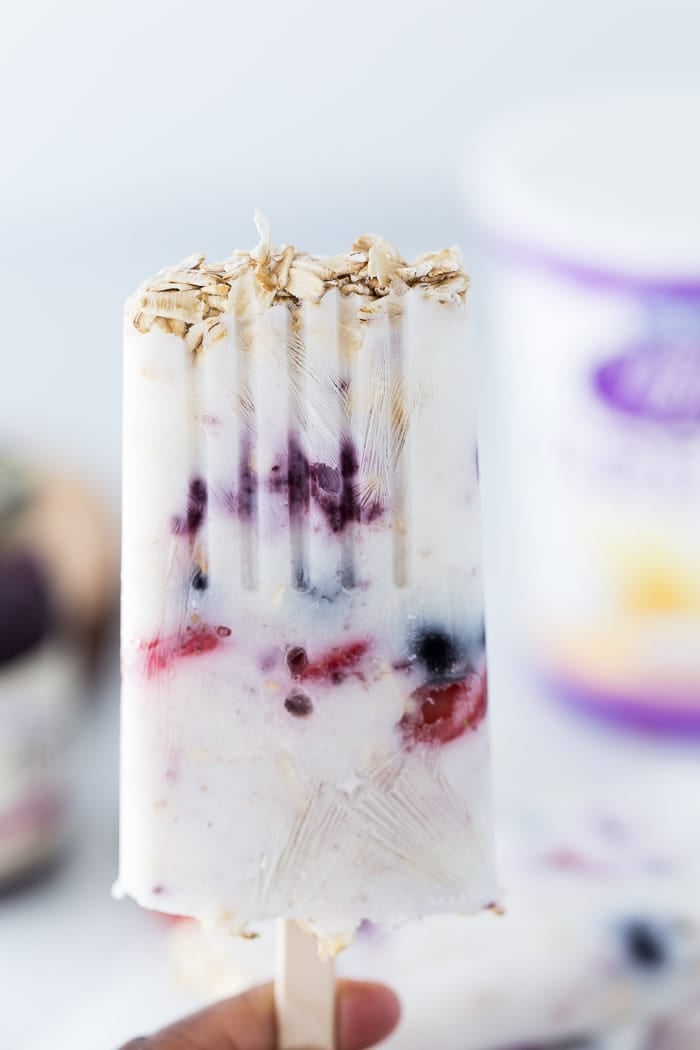 You guys!! It is finally Spring for us here in Upstate NY. I know most of you are already basking in the glory of early spring but we are just getting there with those April showers in full effect. We had a super long winter and now I am ready to embrace Spring and celebrate the upcoming warm weather with homemade ice cream, lemon cake and frozen treats like these berry Greek yogurt breakfast pops.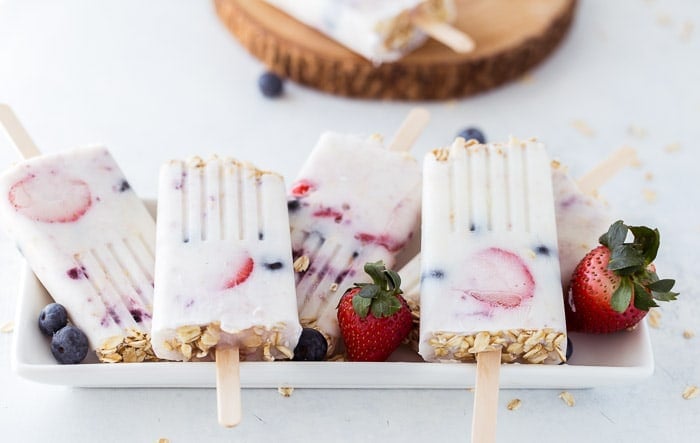 Raise your hand if you struggle with breakfasts and easy snack ideas?? With both my hands in the air, I am always looking for ways to make breakfast easy and that means grab-and-go for myself and the hubs and also healthier snacks for the baby.
These berry Greek yogurt breakfast pops were a recent creation with Dannon Greek Yogurt and the new Smucker's Fruit & Honey Spreads that have made life a little easier in the morning. Filled with protein, fresh fruit and oats for fiber, it is filling and delicious for a grab-and-go breakfast and for an afternoon snack. Who doesn't love a creamy yogurt delight? That's what these are and yet they are full of good-for-you things.
Win win!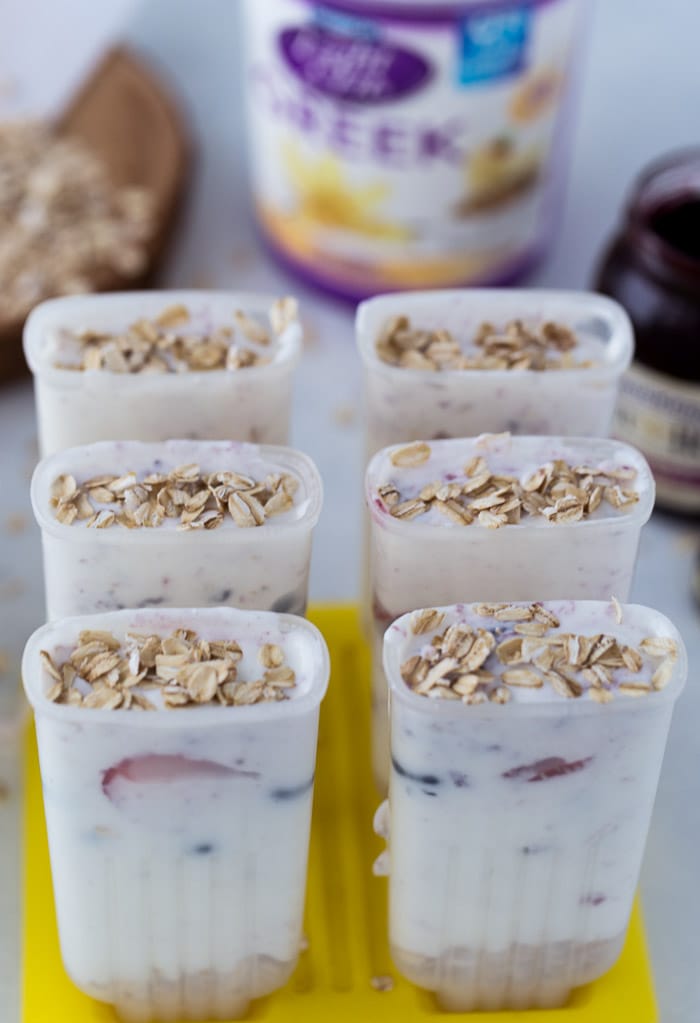 I love making frozen pops at home as you can tell from these past favorites; mango kiwi lemonade popsicles and watermelon mint popsicles. It's so EASY, quick to throw together in a bowl and you know exactly what is in it. Plus of course, the combination of things you can add to your pops are endless.
I made these berry pops with Dannon's Light and Fit Greek Yogurt which has 12g protein per serving but you can easily use your favorite Dannon yogurt. I love using yogurt in frozen pops as it is an easy way to add some nutrition and creamy goodness to any treat.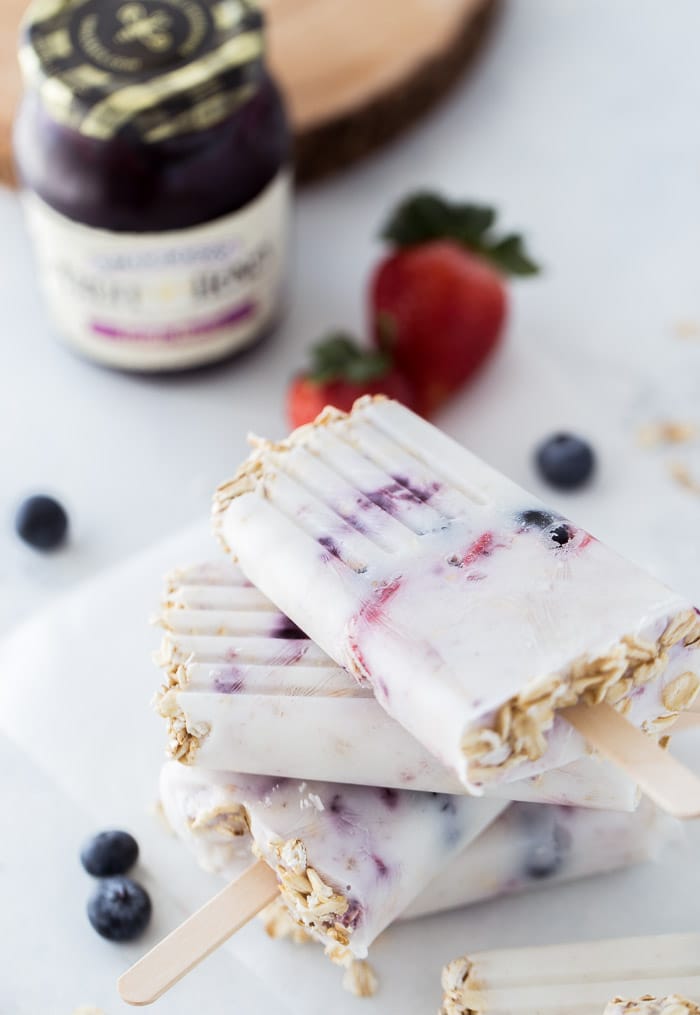 Try adding a few add-ins like old fashioned oats, fresh fruits and a tablespoon of Smucker's Triple Berry Fruit & Honey spread for a touch of sweetness. I've been using the new Fruit & Honey spreads from Smucker's on toasts recently and LOVE that it's all natural with honey as a sweetener. It's also been a great addition to my morning yogurt bowl or parfait. It's a great addition in these pops as a sweetener meaning there is no need for added sugar. Always a win when serving it to my toddler!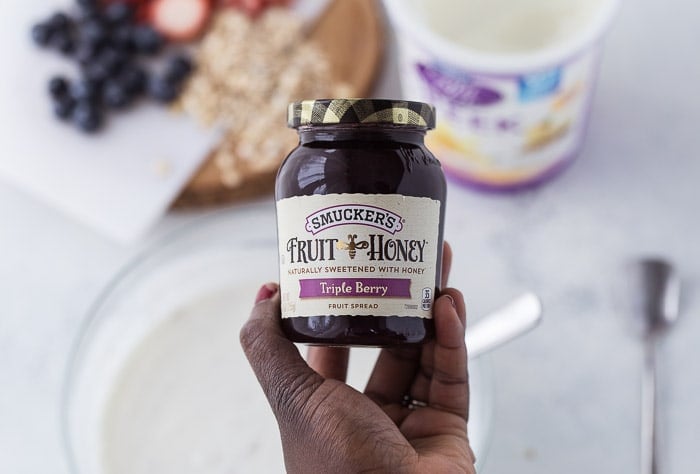 Frozen pops are perfect for the upcoming warm weather so you need to add these berry yogurt ones to your recipe box!! It's time to dust off those popsicle molds and start making frozen treats starting with these creamy, nutritious breakfast pops.
Be sure to first grab your favorite Dannon Greek Yogurt and Smucker's Fruit & Honey spread at your local Kroger Store. Download this coupon to your Kroger card and save $1.75 on Dannon and Smucker's products!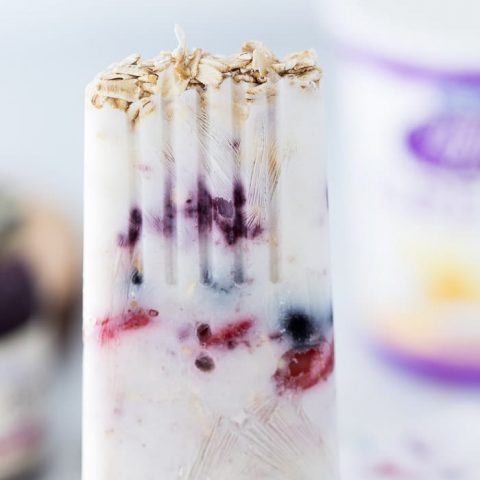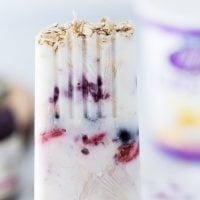 Yield: ~8 pops
Berry Greek Yogurt Breakfast Pops
Ingredients
1 cup Dannon Light Greek Yogurt
½ cup whole milk (or milk of your choice)
½ cup old-fashioned oats, and more for topping (you can also use granola)
2 tablespoons Smucker's Berry Fruit & Honey Spread
1/3 cup fresh fruits of your choice (I used strawberries and blueberries)
Instructions
In a medium bowl, whisk together the yogurt and milk until smooth. Add ¼ cup of the oats in and whisk to combine. Add the Smucker's Berry fruit and honey spread and gently swirl in the mixture. You do not want to mix it in completely.
Equally, divide the remaining oats into the bottom of popsicle molds. Fill half of the mold with the yogurt mixture. Add the fresh fruit to each of the molds. Finish filling molds with the rest of the yogurt mixture. Top with oats if desired. Insert a popsicle stick in the middle of the mold. Freeze for at least 6 hours or overnight.
When ready to serve, release the yogurt pops from the mold. Enjoy!
Notes
Note:
I like releasing all the yogurt pops from the molds and store frozen in individual freezing bags. It's easier to grab-and-go during the week.
You can use homemade granola instead of  old-fashioned oats.