Birthday Ice Cream Cake
A classic birthday ice cream cake with three layers of ice cream sandwiched between fluffy vanilla cake. (Pictures updated February 2021)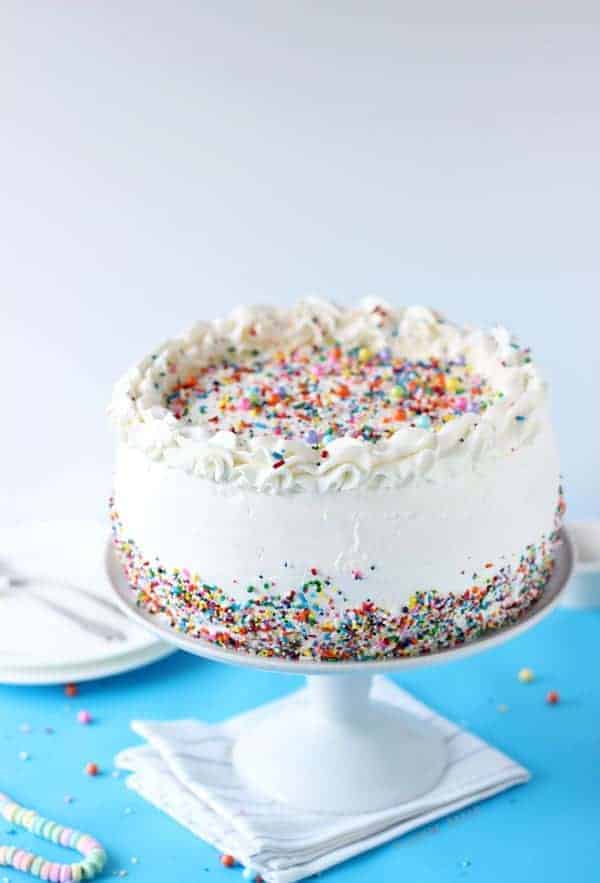 This is thirty!!
Who doesn't want a slice of birthday ice cream cake on their 30th birthday? That's what I thought, NO ONE.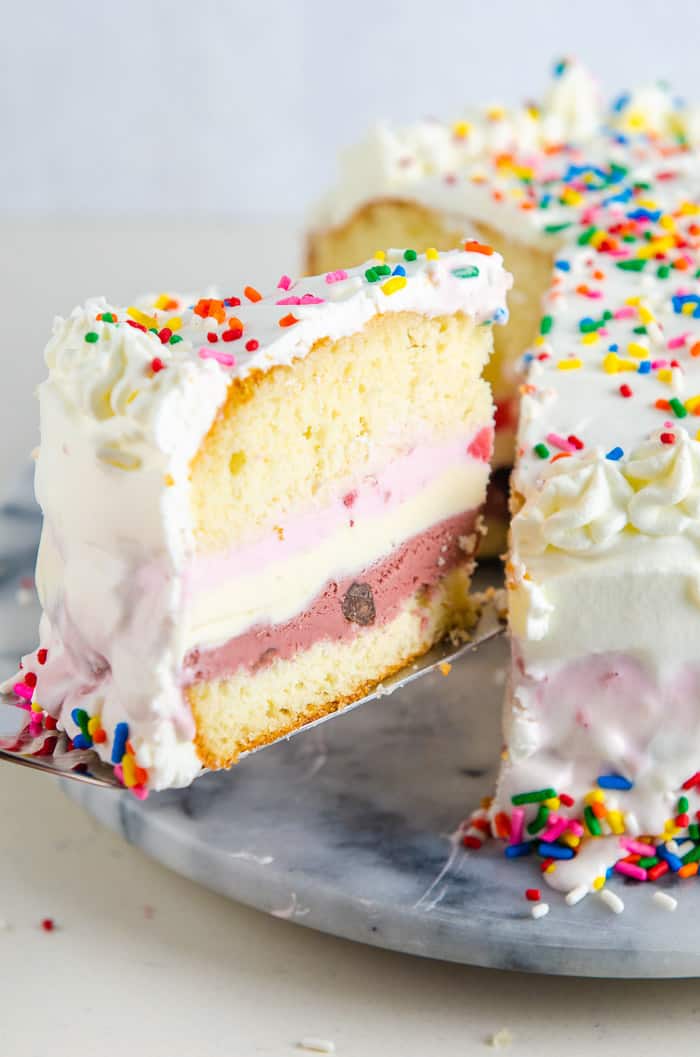 But before we talk about cake, let's talk about this whole turning THREE ZERO thing. To be honest I don't know how I feel about it. Scared? Happy? Excited? Way back in my teen years, I remember talking to my then high school sweetheart in Sierra Leone about where we would be at 30; you know the usual married, kids, house, etc. I remember thinking "Gosh, that is so old" and now that it is here, I wish I felt a little older but this thing called graduate school is not helping me feel exactly completely 'grown-up'.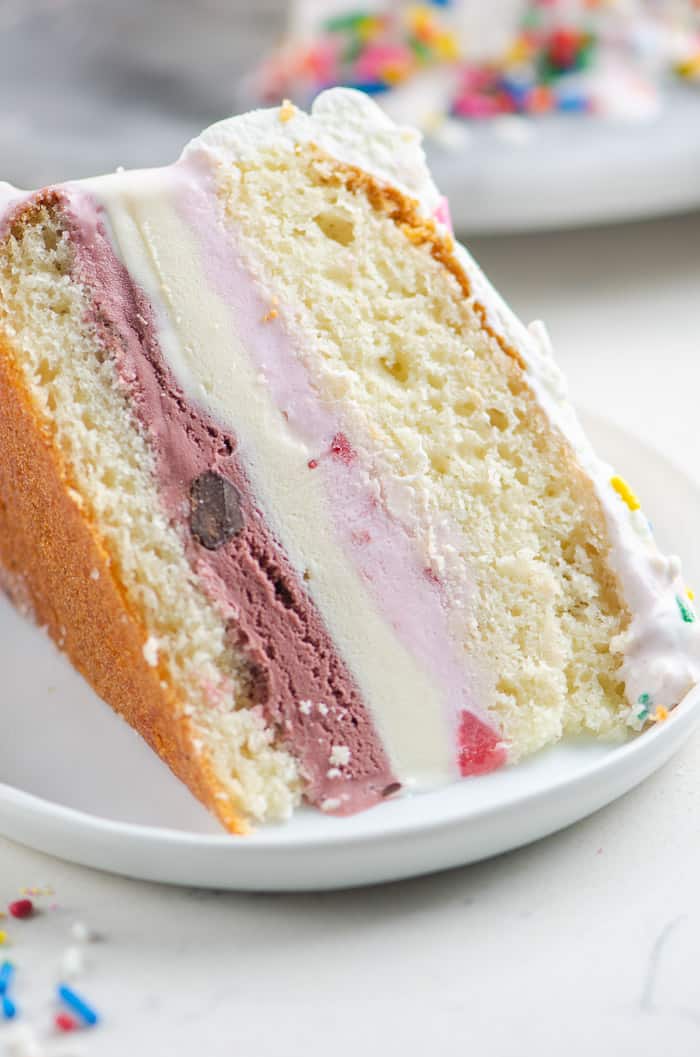 With the start of a new decade, it is inevitable to take a ride down memory lane and reminisce of the past. The last decade I dare say was the hardest and best years yet! It was in these years I moved to the US permanently, met my best girlfriends, had my first drink and hangover (let's not do that again!), graduated from college, met the man of my dreams, learned how to drive a car and bought my first car, lost my favorite man (dad), got married, made new lifelong friends, developed a passion for baking, started a blog, and made new friends online.
So much has happened in my 20s that it will be impossible to just forget these years and why I understand my not-too-ecstatic celebration of the end of that era. But I am looking forward to the next phase, whatever it may hold!!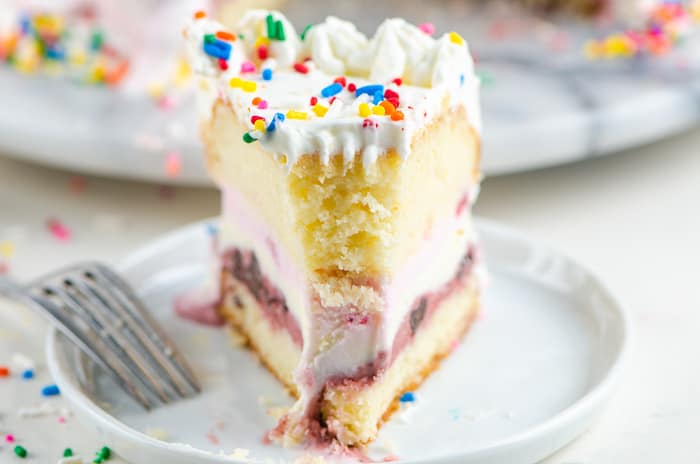 Anyhoo, let's talk about this cake! I always make my own birthday cake and I love experimenting at this time of the year. I love using this time to make a cake that I want to make but you know my picky family doesn't really care for it because it is all chocolate with them. Last year, I made this Strawberry Lavender Cake and I loved it. However, this year I was not sure what I wanted to make. I even asked you guys on Facebook and you gave me so many great ideas. Ala's suggestion of ice cream cake struck a chord with me as I had never made an ice cream cake before, so I decided to make one for my birthday!! Well funny enough, my grandma-in-law called a few days later and said she wanted an ice cream cake for our joint birthday celebration making it impossible to say no!!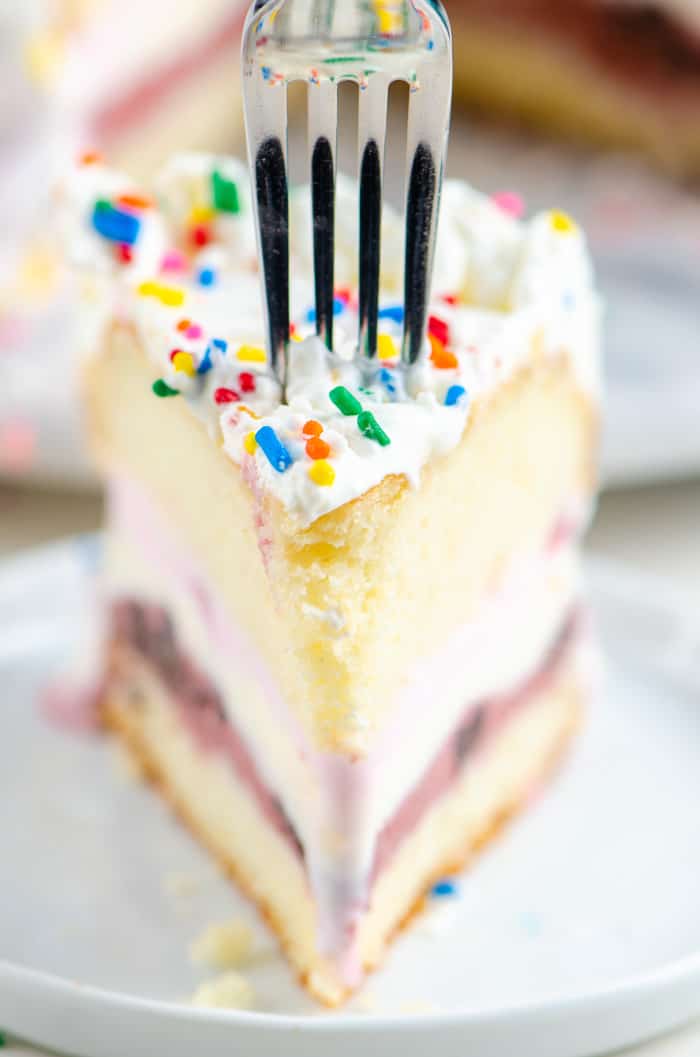 I'm convinced I really need to make them more often because they are so easy to make and the flavor possibilities are endless. I am already thinking I need a cookies and cream version before the summer ends but that's for another day, let's focus on what's inside this cake?
I made my favorite vanilla cake and used two homemade berry ice creams; this Coconut Raspberry Rhubarb Ice Cream and a Strawberry Ice Cream based on this recipe and a pint of vanilla ice cream. That is it!! All the ingredients you need to make this beauty. Of course, you can see how easy it is to customize to what you like. Use chocolate cake instead of vanilla, your favorite ice cream flavors (chocolate, cookie dough, mint chocolate, whatever), and just sandwich all in a beautiful presentation to WOW your birthday girl or boy! I used these sprinkles I got from Sprinkle Bakes new online store and I may have gone a little sprinkle crazy. Love the pearls!!
If you love fun cakes check out my step-by-step guide on how to make a makeup cake.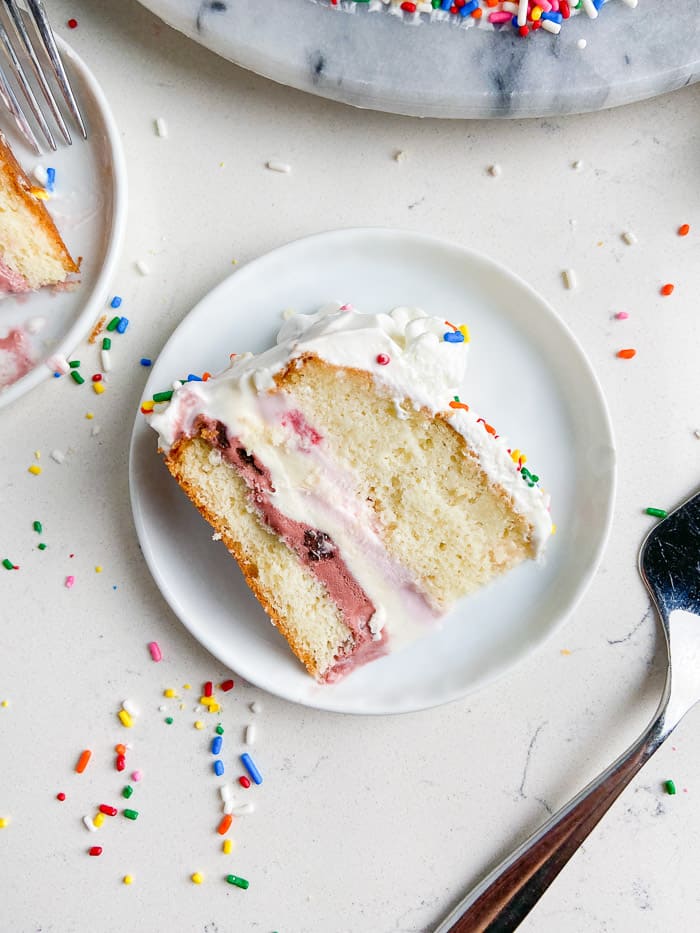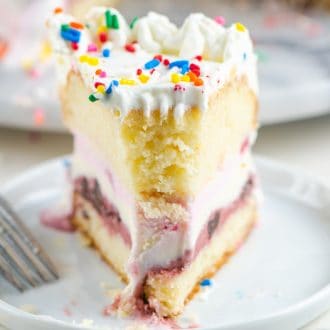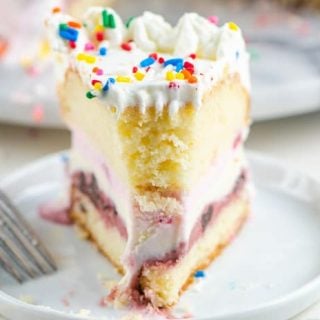 Yield: 8-10
Birthday Ice Cream Cake
A classic birthday ice cream cake with three layers of ice cream sandwiched between fluffy vanilla cake.
Ingredients
1 pint Coconut Raspberry Ice Cream (or ice cream of your choice)
1 pint Strawberry Ice Cream (or another flavor ice cream of your choice)
1 pint Vanilla Ice Cream
1½ cups heavy whipping cream
½ cup powdered sugar
Instructions
Prepare your vanilla cake as your recipe or box instructs. You need just one round 9-inch cake. Let cool completely, slice horizontally in half and freeze.
A day before serving, assemble the cake. Spray a 9-inch springform pan with cooking spray. Line with parchment. Spray parchment. Line the inside of the pan with plastic wrap, leaving an overhang on all sides. Smooth out the plastic very carefully. Place the prepared pan in the freezer for at least an hour.
Remove the first pint of ice cream from the freezer and let sit at room temperature for at least 15 minutes to soften. Use a spoon and mix the ice cream until spreadable. Place one half of the cake at the bottom of the springform pan. Top with first pint of ice cream and spread evenly. Transfer to freezer and let firm up for at least an hour.
Repeat with the other two pints of ice cream freezing each layer before adding the next. After the last layer of ice cream, top with the cake layer before freezing. Press firmly into the ice cream and make sure it sticks. Wrap cake top with plastic wrap and freeze until firm, at least 3-4 hours but preferably overnight.
On the day of serving, unmold cake from pan by passing a sharp knife around the edges before loosening the springform pan. Remove plastic wrap and move cake to a cake board or stand. Return to freezer.
Using an electric mixer, in a medium bowl whip the heavy cream and powdered sugar until stiff peaks form. Do not overbeat until grainy.
Remove cake from freezer and frost as you would normally with whipped cream. Decorate with sprinkles if desired. Freeze cake for another hour.
To serve, remove from freezer about 30 mins before serving. Cut with a sharp knife.
Notes
You can use any cake flavor you like for the cake. Chocolate, vanilla, buttermilk, funfetti etc.
Similarly, feel free to use your favorite ice cream flavors.
Recommended Products
As an Amazon Associate and member of other affiliate programs, I earn from qualifying purchases.