Classic Vanilla Bean White Layer Cake with hints of Lavender
This Classic Vanilla Bean White Layer Cake is a fluffy, soft and reliable cake recipe you need in your recipe box!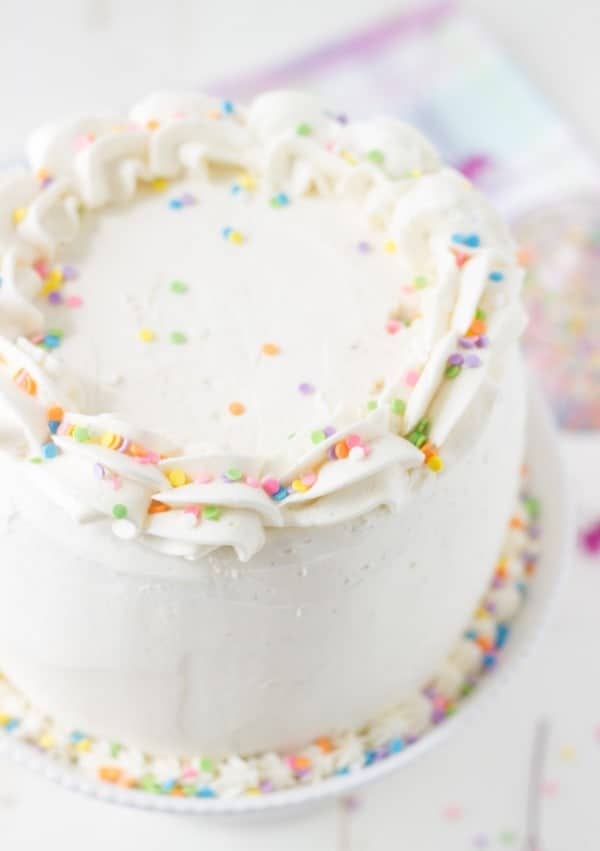 Happy Monday!! I have another one of my favorite classic recipes for you today! There is a reason why a vanilla birthday cake never goes out of style. It's everything you want in a birthday cake; soft, fluffy, sweet and filled with sprinkles!! It's is a timeless classic and every home baker needs a good recipe to call upon.
This one here today is my go-to for a vanilla bean white layer cake! Despite the fact that half of my family always asks for chocolate cake for their birthdays, I make this for most other occasions. It is easy to whip up, add on seasonal flavors (lemon, coconut, mint, eggnog etc) and even decorate.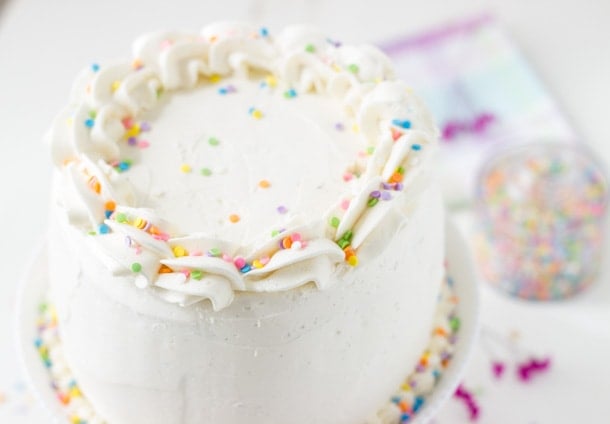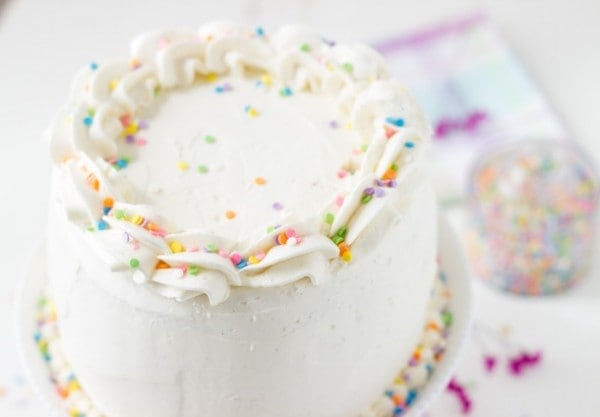 The key to a good classic vanilla cake is the quality of the ingredients you use and the method you use to combine these ingredients. I love the reverse-creaming method for a soft, fluffy white cake. Instead of creaming butter + sugar to start, you mix the dry ingredients and add the butter to start. The butter gets cut into small pieces and is aerated. Using egg whites and cake flour also makes this cake one of the lightest you will enjoy. Beyond these, the vanilla extract you use is also important. A great vanilla extract makes a big different in the flavor of your cake.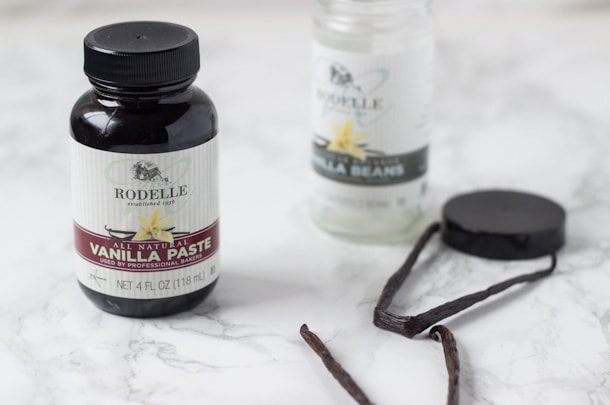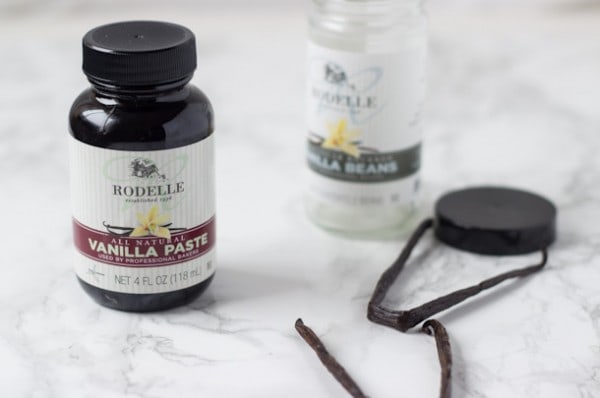 A few months ago I went to a blogger conference in Orlando, Food Blog Forum, where I was gifted a small bottle of Rodelle Pure Madagascar Bourbon Vanilla Extract in my goodie bag. I was excited to try it out as I am a snob when it comes to vanilla extract and butter in making a good cake. I tested Rodelle's vanilla extract immediately when I got home in this Irish Cream Cheesecake and I could instantly taste the difference the vanilla extract made in the recipe.
Naturally, I wanted more than my sample bottle so I reached out to the good folks at Rodelle who were happy to send me a few other samples of their products. The rest is history as I am not baking any cakes without them! I used their all-natural Vanilla Bean Paste
to enhance the vanilla flavor in this cake and I just love the vanilla speckles that dote the cake.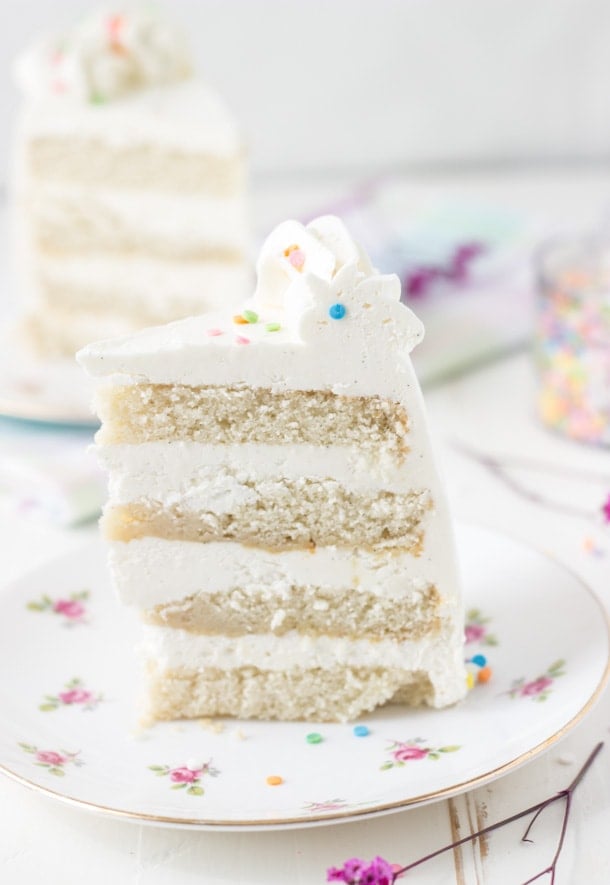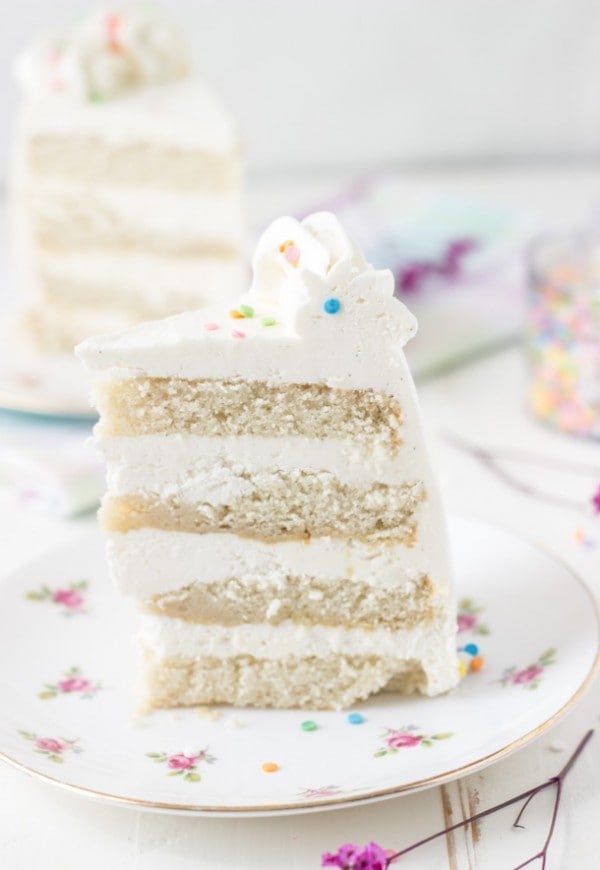 So my friends, if you are looking for a classic vanilla bean white layer cake for your recipe arsenal, look no further than this cake!! I did add some hints of floral lavender in the recipe below, just because it's spring but feel free to leave that out.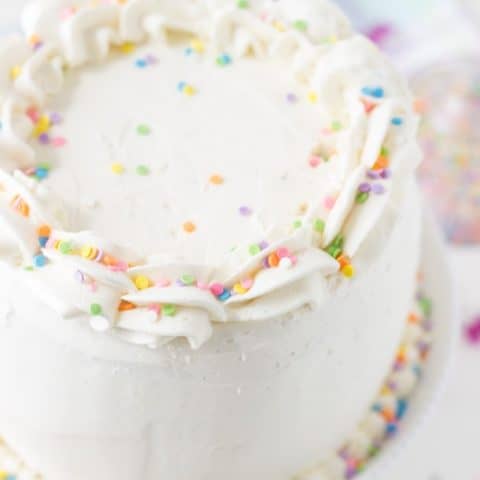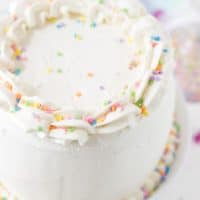 Yield: 1 9-inch cake
Classic Vanilla Bean White Layer Cake with hints of Lavender
Ingredients
For Cake:
1 cup milk, at room temperature
2 teaspoons dried lavender flowers (optional)
6 large egg whites, at room temperature
2 teaspoons almond extract
1 tablespoon Rodelle Vanilla Bean Paste
2 ¼ cups cake flour
1 ¾ cups granulated sugar
4 teaspoons baking powder
1 teaspoon salt
12 tablespoons unsalted butter, room temperature and cut into pieces
For the Frosting:
2 cups (4 sticks) unsalted butter, softened to room temperature
4-5 cups powdered sugar
a pinch of salt
2-3 tablespoons heavy cream
2 teaspoons Rodelle Pure Vanilla Extract
Instructions
To make cake:
Combine the milk and lavender in a measuring cup. Let the lavender steep for an hour or two (or overnight). Strain out the lavender before use.
Preheat oven to 350 degrees. Butter and flour two 9-inch round cake pans. Line with parchment and grease parchment.
In a medium bowl, whisk together the milk, egg whites, almond extract, and vanilla bean paste.
In the bowl of an electric mixer, stir the cake flour, sugar, baking powder and salt together. With the mixer on low, add in the butter, 1 piece at a time and mix until only pea-size pieces remain, about 1 minute.
Add ½ of the milk mixture and mix until combined. Increase speed to medium-high and beat batter until light and fluffy, about 1 minute, Reduce speed to medium-low and add in the rest of the milk mixture and beat until just combined, about 30 seconds. Give the batter a final stir by hand using a rubber spatula to make sure all the flour is incorporated.
Divide batter evenly into the prepared pans. Gently tap the pans on counter to evenly distribute.
Bake cakes until a cake tester inserted into the center comes out clean or with a few crumbs, about 23-25 minutes. Make sure to rotate pans halfway through baking.
Let cakes cool in pan for 10 minutes, then turn out cakes and let cool completely on a wire rack.
To make frosting:
Whip the butter for 6 minutes on medium speed using the paddle attachment of an electric mixer. The butter will become pale and creamy. Add the rest of the ingredients and mix on low speed for 1 minute until combined. Then increase speed to medium-high and whip for 6 minutes until the frosting is very light, creamy and fluffy. (Optional: color the frosting with one or two drops of food coloring).
To assemble:
Remove the dome off cakes using a serrated knife (Optional: you can use a serrated knife to cut each cake in half to make a 4 layered cake). Place one layer of cooled cake on a cake plate. Spread about ½ cup to a cup of frosting on top of the first layer. Place another cake layer on top of frosting. Top with more frosting and spread evenly. (If you have 4 layers, continue stacking until the last layer). Spread frosting over the top and sides of the cake. Smooth frosting and decorate as desired. I used Wilton tip 1M to make the borders in this cake.
Notes
The lavender is optional, so feel free to leave it out of the recipe. You can cut the recipe in half for a 6-inch cake. Make sure you adjust the baking times accordingly if you do. Cake recipe adapted from Test Kitchen.
In case you missed it on Friday, I have an awesome giveaway going on that I would love for you to enter. You could win the new Lenovo YOGA 3 Pro computer (worth $1400)! Enter here: 
https://aclassictwist.com/the-new-lenovo-yoga-3-pro-giveaway/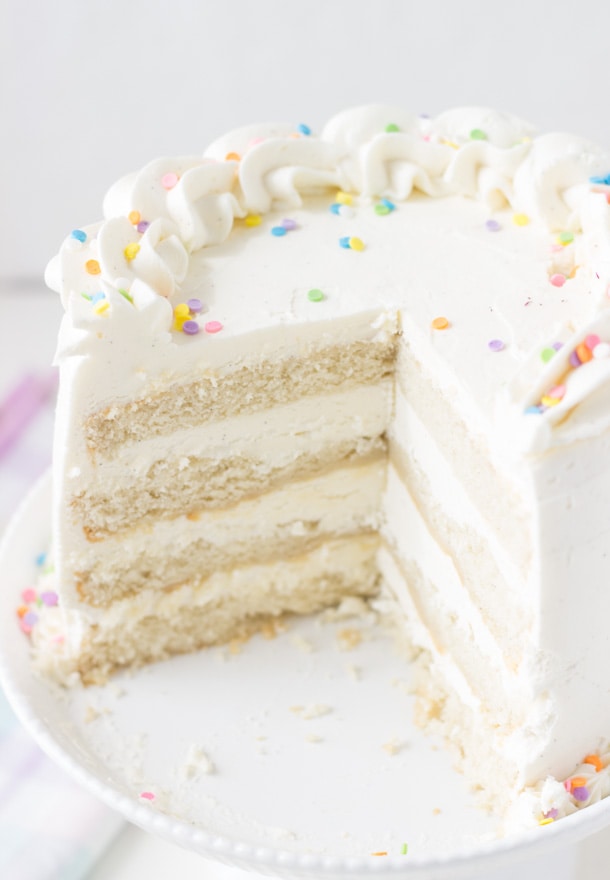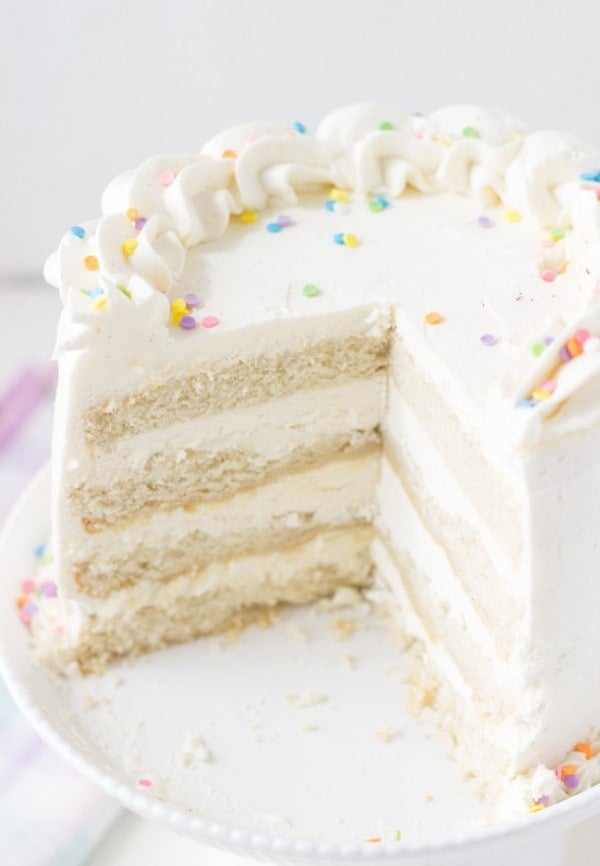 PRODUCTS USED IN THIS RECIPE
(may contain affiliate links)