Blackberry Lime Mojito Cakes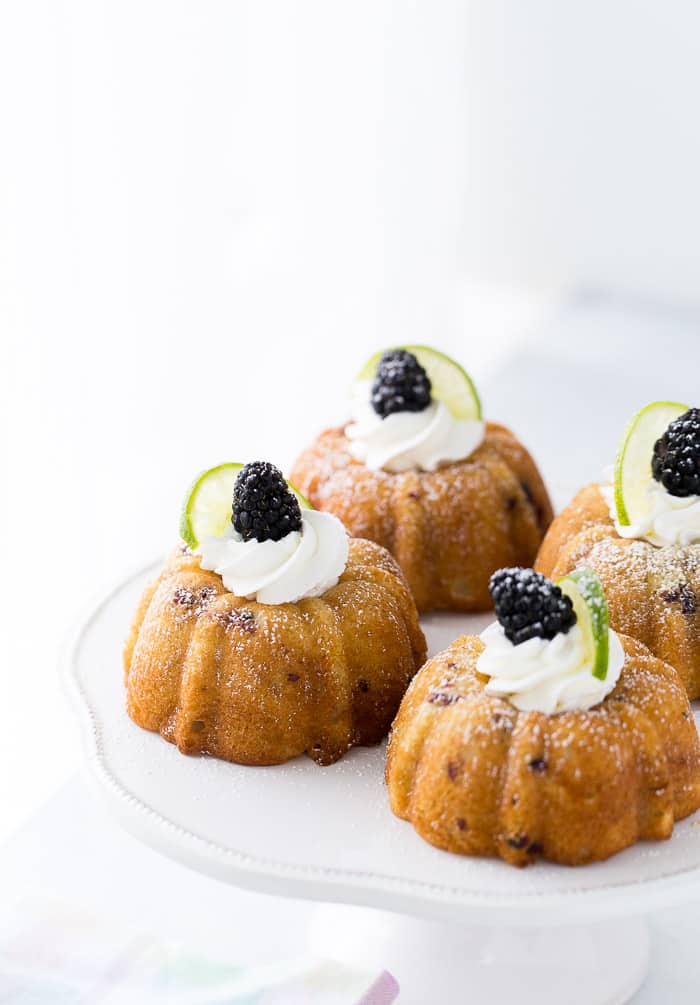 Happy Friday friends! I don't have a cocktail for you today but I have the next best thing to enter the weekend with. Blackberry Lime Mojito Cakes!! Your mojito in a cake form.
These mini delights are inspired by one of the most popular recipes on the blog, these blackberry lime mojitos. I don't blame you all because they are refreshing and perfect for summer gatherings. I am bringing you the same great flavors in a mini cake form. These blackberry lime mojito cakes are filled with fresh blackberries, rum, lime and topped with fresh whipped cream.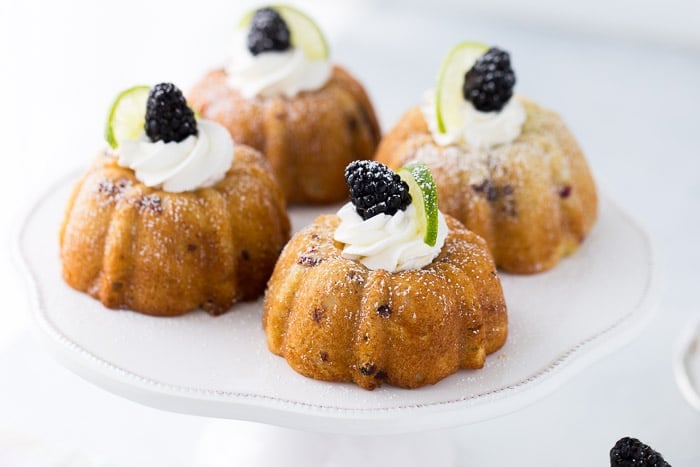 By the way, I love mini bundt cakes. They are so cute, easy to make (they don't bake for an hour!!) and present well on dessert tables. If you don't already have a mini bundt pan, RUN and get one now. Here's the one I use and love > mini bundt pan (<— affiliate link). I've had my pan for three years now and you've seen it in action in these mini pineapple mojito cakes and these mini red velvet bundt cakes.
Okay, back to the recipe. These mini bundts start with a vanilla pound cake base that is infused with fresh lime zest and dark rum. The rum is optional if you would rather keep it non-alcoholic. The batter is then swirled with a sweet blackberry compote before baking. This  add the blackberry flavor in every bite.
Once baked, I kept the topping very simple. Just fresh whipped cream and a dusting of confectioner's sugar. You could top yours with a lime or rum glaze if you like, however, the whipped cream with the perfect touch of sweet for tender, soft cake.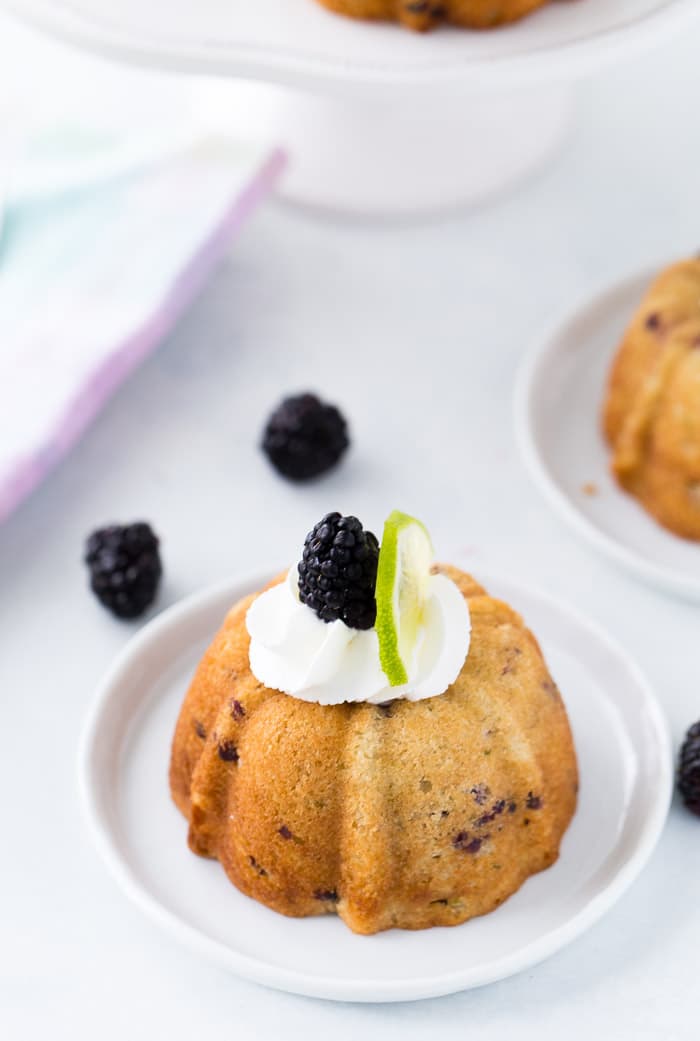 These blackberry lime mojito cakes are a must this summer and you HAVE to try them. Bring them to summer gatherings and your friends will LOVE you. Cheers!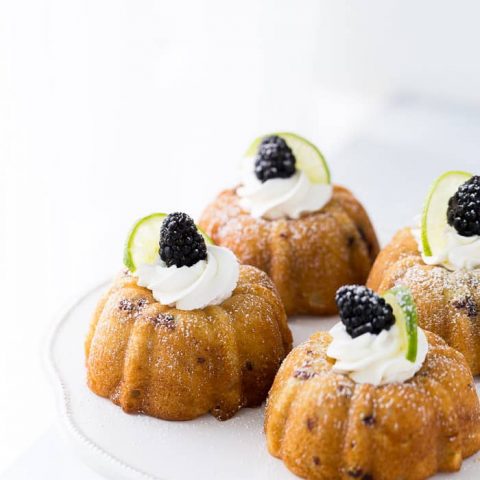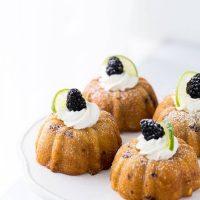 Yield: 6-8 mini bundt cakes
Blackberry Lime Mojito Cakes
Total Time
1 hour
5 minutes
Ingredients
For the Blackberry Compote:
1 cup blackberries, chopped
2 tablespoons granulated sugar
zest and juice of half a lime
For the Cake:
1 ½ cups all-purpose flour
1 ¼ teaspoons baking powder
1 teaspoons salt
⅓ cup buttermilk, room temperature
1 tablespoon rum (optional)
¾ cup granulated sugar
2 tablespoons vegetable oil
½ cup (1 stick) unsalted butter, room temperature
1 teaspoon lime zest
2 large eggs, room temperature
1 teaspoon pure vanilla extract
Toppings:
1 cup heavy cream, whipped
1 tablespoon rum
blackberries for topping
powdered sugar for topping (optional)
Instructions
In a medium saucepan set over medium heat, combine the blackberries, lime juice and zest and sugar. Bring to a simmer and cook, stirring occasionally, until mixture thickens and blackberries break down.
Remove from heat and transfer to a small bowl to cool completely.
Preheat oven to 350 degrees F. Grease 6 mini bundt pans with baking spray. In a medium bowl, whisk together flour, baking powder and salt. In a small bowl, whisk the buttermilk with the rum if using.
In the bowl of an electric mixer, beat together the sugar, oil and butter on medium-high speed until fluffy, about 5 minutes. Add in the lime zest and beat for additional minute. Scrape down the sides of the bowl as needed. Add in the eggs, one at a time and beating until combined. Beat in vanilla extract.
Add in a third of the flour mixture and half of the buttermilk. Mix until just combined. Then add another third of flour and the rest of the buttermilk. Mix again until just combined. Scrape down the side of the bowl as needed. Add the rest of the flour and mix for 30 seconds. Finish incorporating the flour into the batter by hand with a rubber spatula to avoid over mixing.
Spoon batter into individual mini bundt pans, filling halfway. Dollop 1-2 tablespoons of the blackberry compote over the batter and swirl in. Then top until two-third full. Smooth the top. Repeat for each mini bundt.
Bake until cakes are golden brown and a toothpick inserted into the center comes out clean, about 20-25 minutes. Transfer to a cooling rack and allow cake to cool in pan for at least 10 minutes. Using a small sharp knife, run it around the edge of the pan to loosen the cake and then invert the cake onto a cooling rack (lined with parchment paper) to cool completely.
When ready to serve, combine the heavy cream with rum in a medium bowl and whip until stiff peaks form using an electric mixer.
Top the cooled cakes with the whipped cream. Sprinkle the blackberries and dust with confectioner's sugar if desired.