S'mores Cookie Bars
This classic S'mores Cookie Bars recipe was originally published in 2013. I am updating the pictures, recipes and bringing it back to live for new readers. It's a must have this summer!!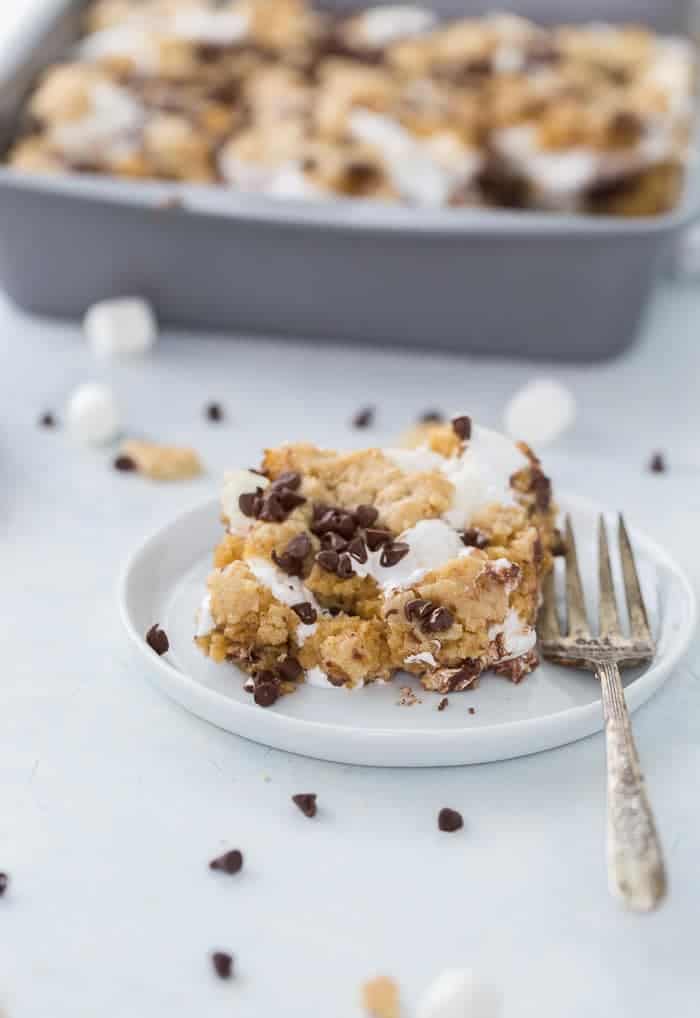 Hello friends! Do you ever get fixated on one thing? Like an intense craving for something and that's all you can think about for days? This happened to me recently with S'mores and the results of that craving were these s'mores cookie bars.
I've been craving s'mores for well over two weeks. We visited my in-laws at their camping site for a day and the kids put together a fire pit and there was roasting of marshmallows and making of good ole s'mores. But unfortunately for me on that day, I was fasting (as it was Ramadan) and was unable to indulge in the festivities. Bummer right? That's how my fixation with s'mores started and last weekend I settled the score with these bars and boy just looking at them satisfied my s'mores craving.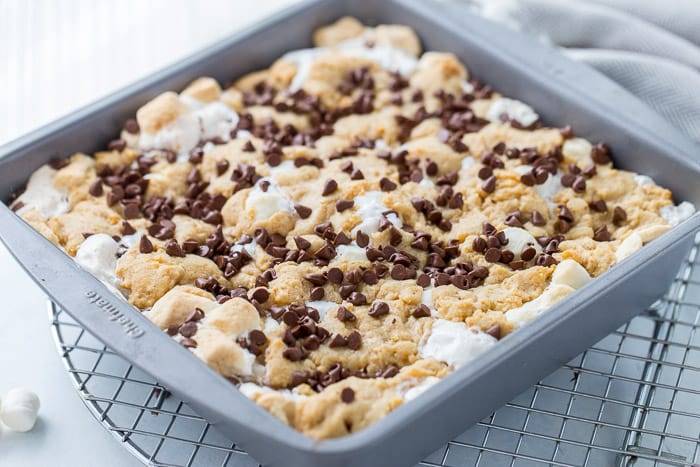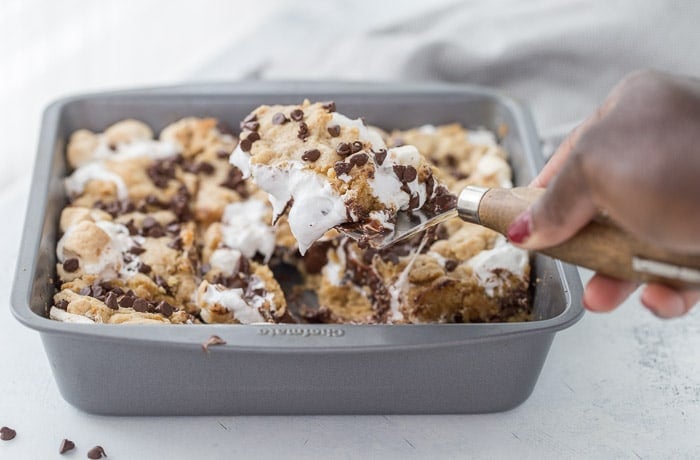 This is an incredibly quick and easy recipe. You can even make it in a cast iron skillet if you are actually camping.
The recipe starts with a graham cracker cookie dough that is topped with a layer of  marshmallow fluff. The marshmallow layer is topped with chocolate squares and then add another layer of mini marshmallows. Finally, the remaining graham cracker dough is spread over the marshmallows to seal it all together. End with some mini chocolate chips on top just because one can never have too much chocolate. After it's baked, the result is just amazing!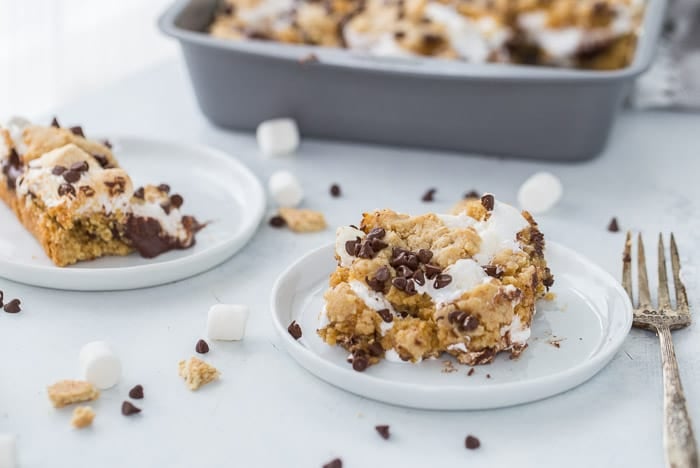 You get a soft, chewy graham cracker cookie bar that is filled with ooey gooey melted chocolate and marshmallow and is everything a s'mores should be! A lot better in my opinion than the traditional s'mores but you can be your own judge. Since I am not a fan of camping, I got my campfire treat in my living room without the dragon flies!! If it wasn't so hot outside, I would have turned on the fireplace to set the mood 🙂 (Hmmm, I just might make this again in the winter!)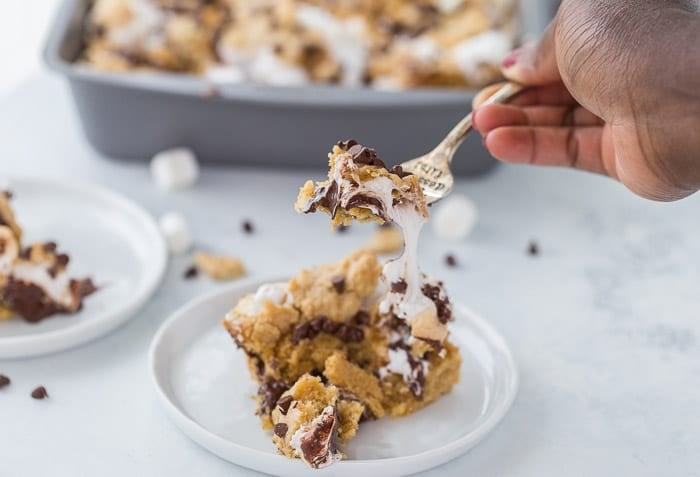 Whether you are heading up to camp or just a family BBQ, these s'mores cookie bars will be a great hit! Bring them along. Just try not to taste them before the party starts because I can't promise how many might make it!
For more S'mores recipe, check out these favorites:
S'mores Cupcakes – these are your classic s'mores in cupcake form. Chocolate cupcakes with marshmallow frosting and graham cracker crumbs.
S'mores Macarons – these macarons have a graham cracker cookie shell and are filled with chocolate and marshmallows!
S'mores Martini – a little summer soiree fun with this martini!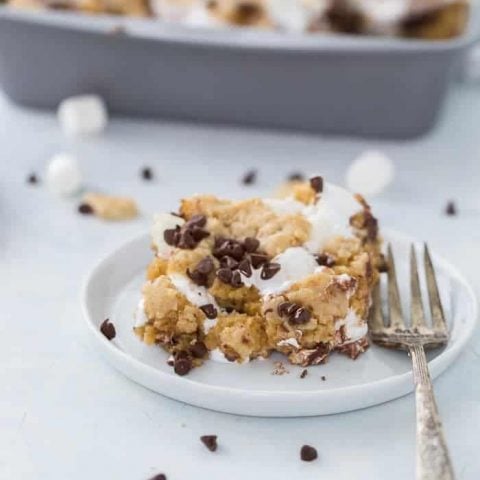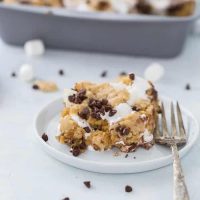 Yield: 1 8x8-inch pan
S'mores Cookie Bars
These classic s'mores cookie bars are ooey-gooey perfection with a graham cracker cookie dough crust filled with marshmallow fluff and chocolate squares. 
Ingredients
½ cup (1 stick) unsalted butter, room temperature
½ cup granulated sugar
1 large egg, room temperature
1 teaspoon pure vanilla extract
1 cup all-purpose flour
1 cup graham cracker crumbs
1 teaspoon baking powder
7 ounces jar of Marshmallow fluff
6 (1.55 oz Bars) Hershey's Chocolate bars, unwrapped and cut in squares
1 cup mini marshmallows
¼ cup mini chocolate chips
Instructions
Preheat oven to 350 degrees F. Grease an 8 x 8" square baking pan with baking spray and set aside.
In the bowl of an electric mixer, cream together the butter and sugar until well combined, about 3 minutes on medium speed. Add egg and vanilla extract and beat until combined.
Reduce speed to low and stir in flour, graham cracker crumbs and baking powder until just combined.
Divide the dough in half and spread half at the bottom of the pan. Smooth with a rubber spatula. Evenly spread the marshmallow creme over the dough and smooth. Place chocolate squares on top of marshmallow creme. Top chocolate with the cup of mini marshmallows. Top with the remaining half of the dough. Spread with a rubber spatula. It is OK if you can still see the marshmallows. Sprinkle the chocolate chips over the cookie dough.
Bake for 20 minutes or until lightly browned. Allow cookie bars to cool COMPLETELY in pan before cutting. Otherwise you may end up with some oozy marshmallows (it's not the end of the world).
Notes
NOTES: If you are baking these in a glass dish, please adjust the bake time accordingly.