Coconut Mango Mousse Cups
This tropical coconut mango mousse will take you to the tropics with the creamy coconut mousse and sweet mango infusion.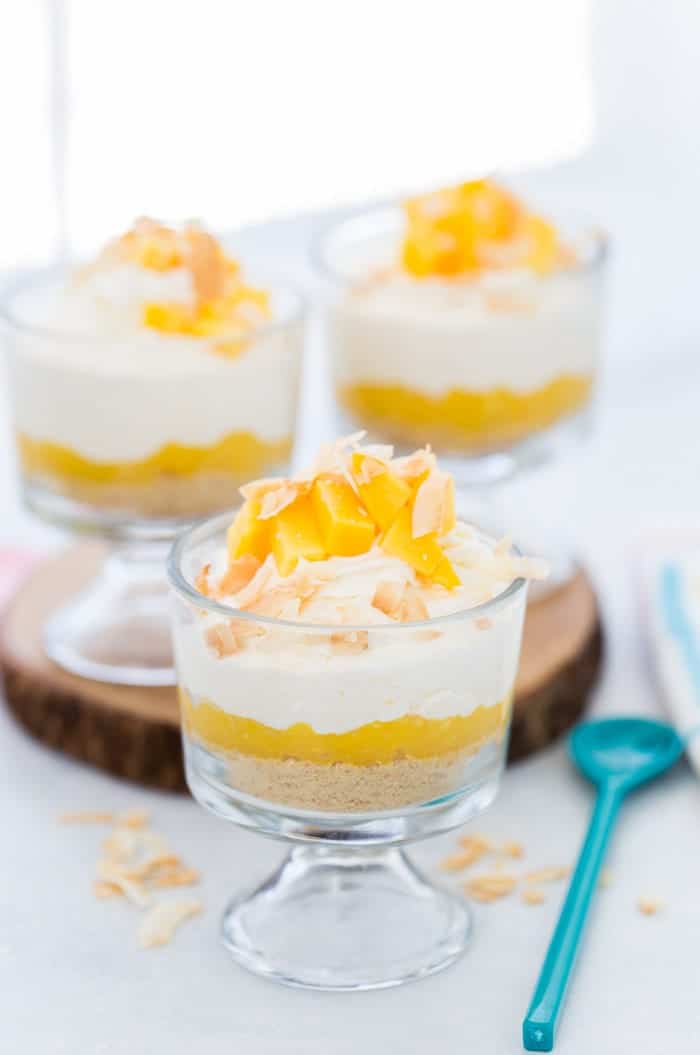 Happy Monday friends! I have a tropical recipe for you today. I am excited!! These coconut mango mousse cups are an easy no-bake dessert for your summer and they are SO easy to whip up. Filled with a cream cheese sweet coconut mousse, it is infused with fresh mango puree. It's pure magical and filled with tropical flavors.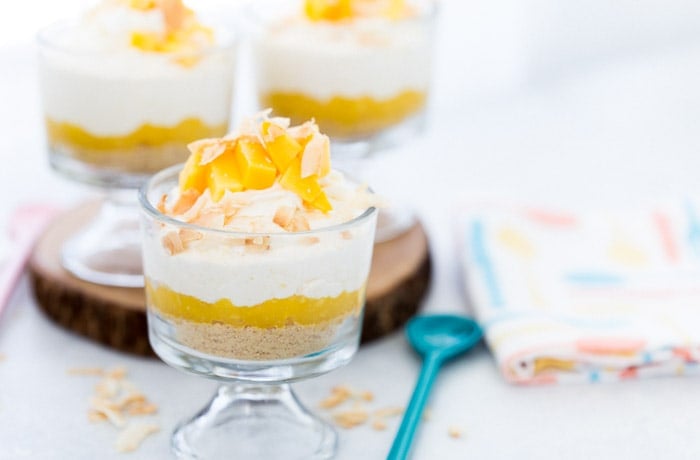 Even though we are not having the warmest summer, I love no bake mousse desserts. They are perfect for the summer gatherings that are always on the go. They always feed a crowd and easy to transport. My favorites so far have been this white chocolate raspberry mousse, mango kiwi mousse and coconut mascarpone mousse. Although, I am thinking this tropical coconut mango mousse is blowing them out of the window.
I added cream cheese to the mousse this time around and it makes the mousse creamier and adds a tangy flavor.  The mousse is infused with fresh mango puree and coconut cream. It's important you use ripe sweet mangoes to make your puree, otherwise you will be adding a little sour-tangy  taste that could throw off the recipe.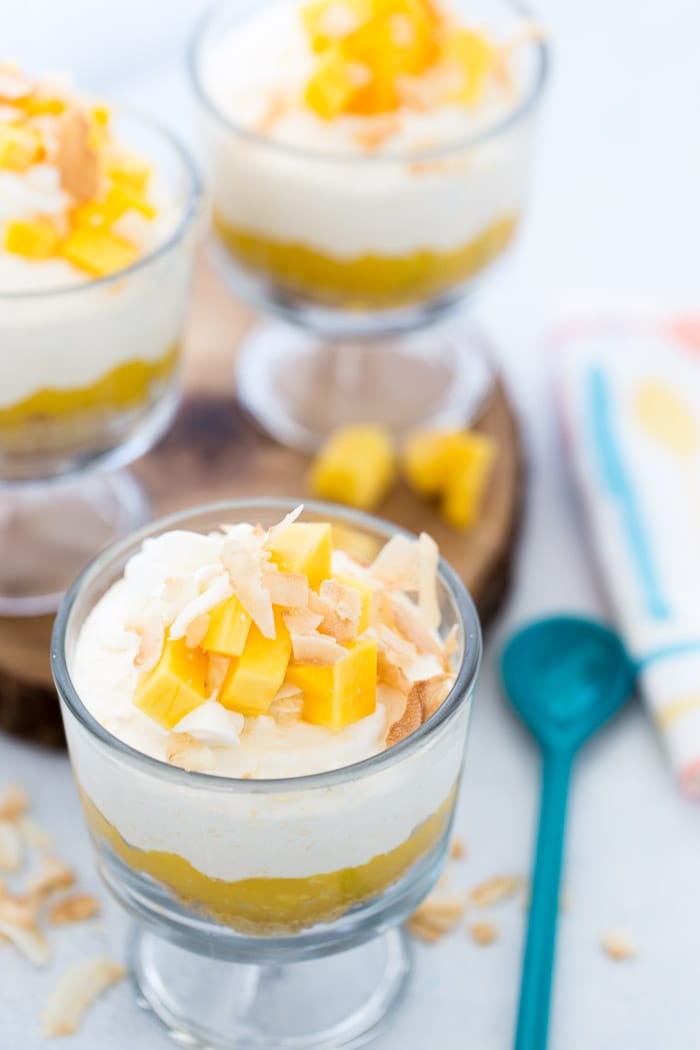 I'm keeping it short today as it is a long holiday weekend. But if you need a last minute dessert for the holiday, whip up this mousse today. All you need is 30 minutes 🙂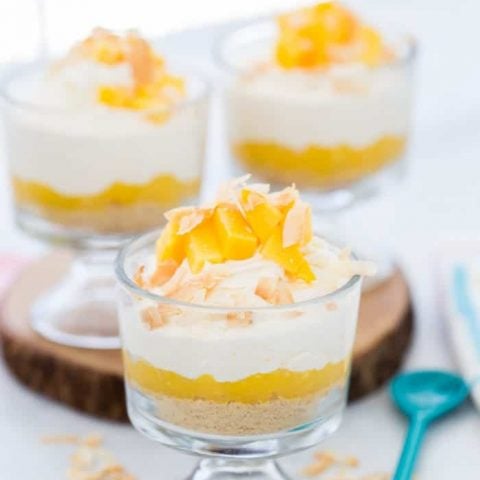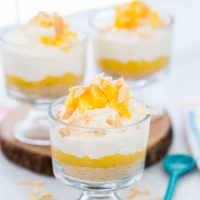 Yield: 3 servings
Coconut Mango Mousse
This tropical coconut mango mousse will take you to the tropics with the creamy coconut mousse and sweet mango infusion. 
Ingredients
1/3 cup mango purée (see recipe below)
4 ounces cream cheese, softened at room temperature
1 cup heavy cream or whipping cream, cold
1/4 cup coconut cream (NOT COCONUT MILK), cold
1 teaspoon coconut extract
1/4 cup powdered sugar
1/2 teaspoon unflavored gelatin
¼ cup toasted coconut flakes
1/2 cup shortbread cookies, crushed
Instructions
To make mango purée, peel and chop tow medium mangoes. Use a blender to purée the mangoes, until smooth.
Using an electric mixer on low speed, beat the cream cheese until smooth in a medium bowl. Add in the heavy cream, coconut cream, coconut extract, sugar and gelatin. Mix on low speed for about a minute to combine then increase the mixer speed to medium-high and beat the mixture until it thickens and soft peaks form. Fold in 1/3 cup of the mango puree and coconut flakes into the whipped cream mixture. Chill for at least 2 hours before serving.
To serve, assemble the layers in small serving cups or ramekins. Start with a layer of crumble shortbread cookies, then top with whipped cream mixture followed by the remaining mango puree and finally more of the shortbread cookies. Top with fresh mangoes and toasted coconut flakes. Serve immediately.
Notes
NOTES:
Use graham cracker crumbs for the base if you don't have shortbread cookies.
You can assemble the cup the night before serving, however, the shortbread layer might be soggy. It's best to assemble same day as serving.