Blueberry Lemon Pound Cake
Thank you Krusteaz for sponsoring the Blueberry Lemon Pound Cake recipe! All opinions are mine. Thank you for supporting the brands I love and use every day in my kitchen.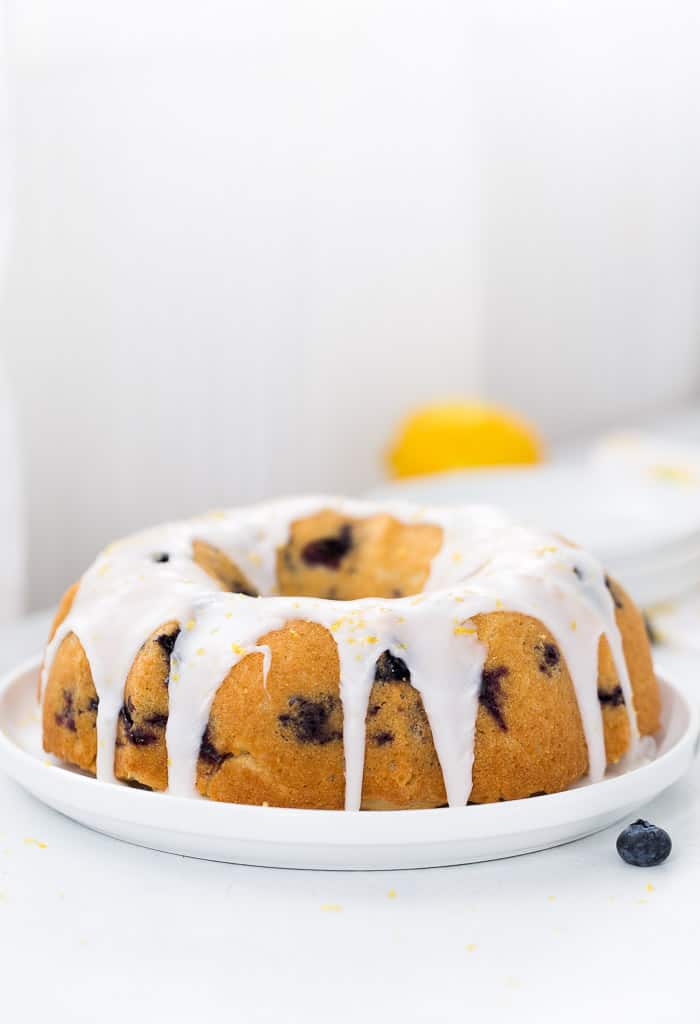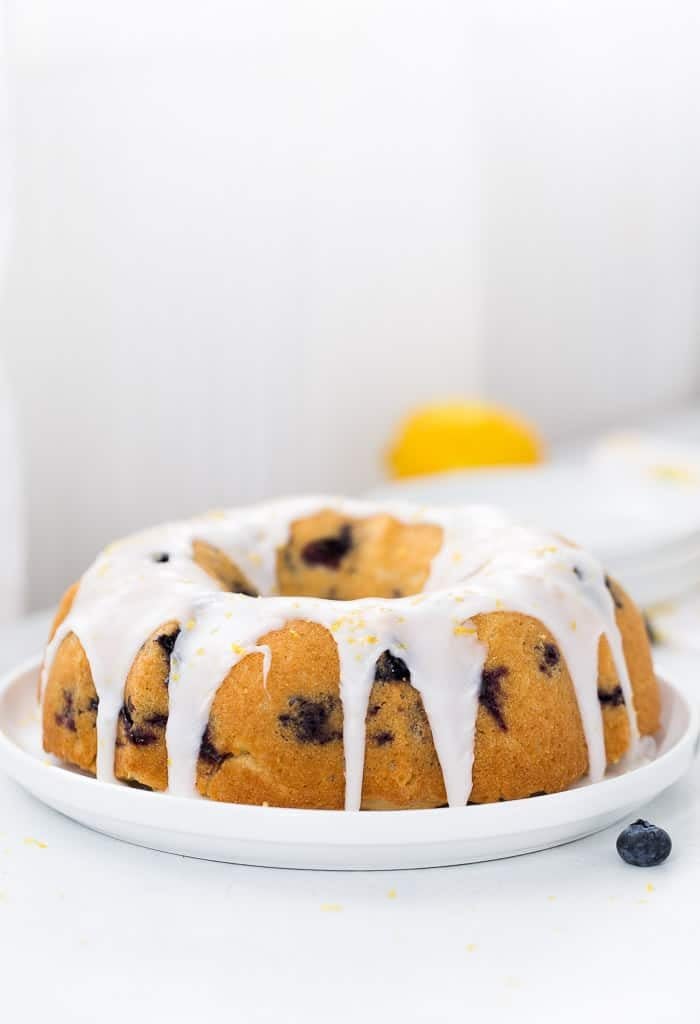 Happy Monday friends! According to the calendar, Spring is here tomorrow. Also, according to the forecast for the week, another 8-10 inches of snow is coming our way this week. Clearly, we are not getting spring this week or anytime soon. But that is not going to stop me from enjoying spring flavors in my kitchen like this blueberry lemon pound cake and wishing it was warm again. I know it will be here soon but in the meantime, I will make all the lemon desserts.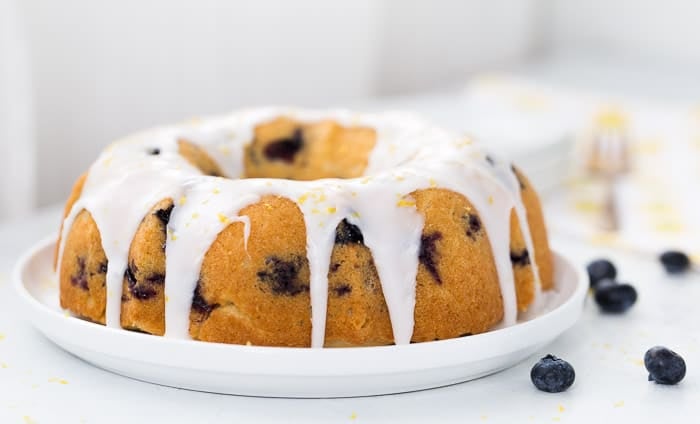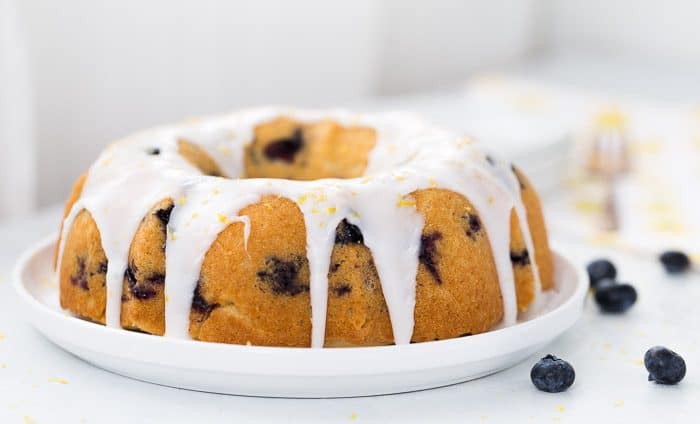 Blueberry and lemons are the quintessential spring flavors as they remind us of the summer months to come. With Easter just around the corner, I'm excited to enjoy more lemon desserts like lemon macarons and blueberry treats like blueberry coconut ice cream pie. But of course, this cake will be front and center on my table this Easter. My brand new moist and delicious blueberry lemon pound cake is Easter perfect and is made with my favorite Krusteaz Meyer Lemon Pound Cake mix.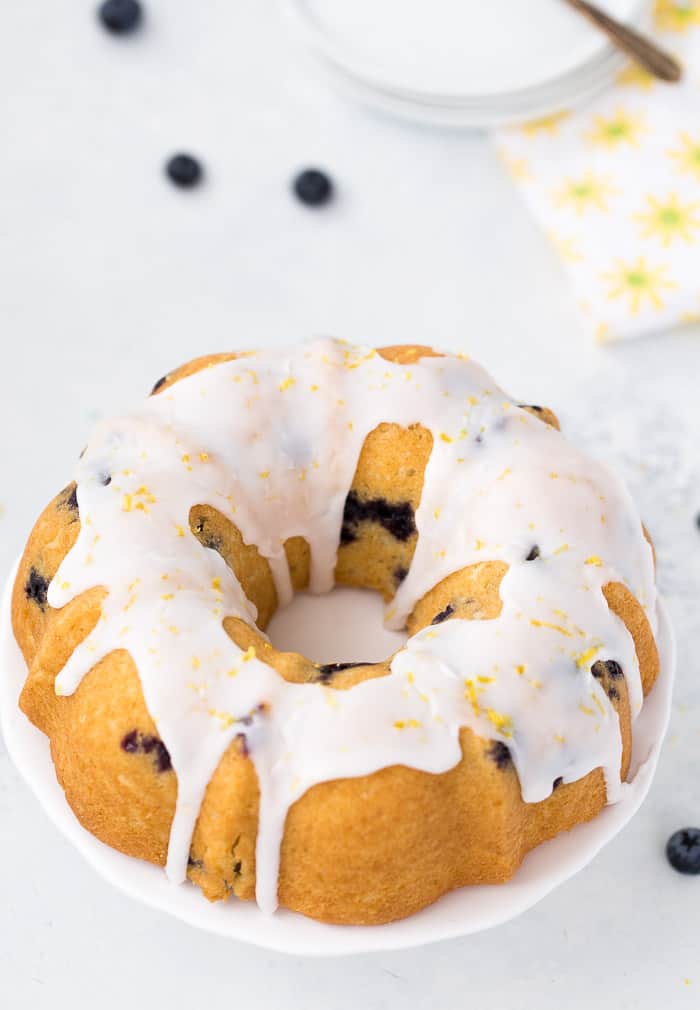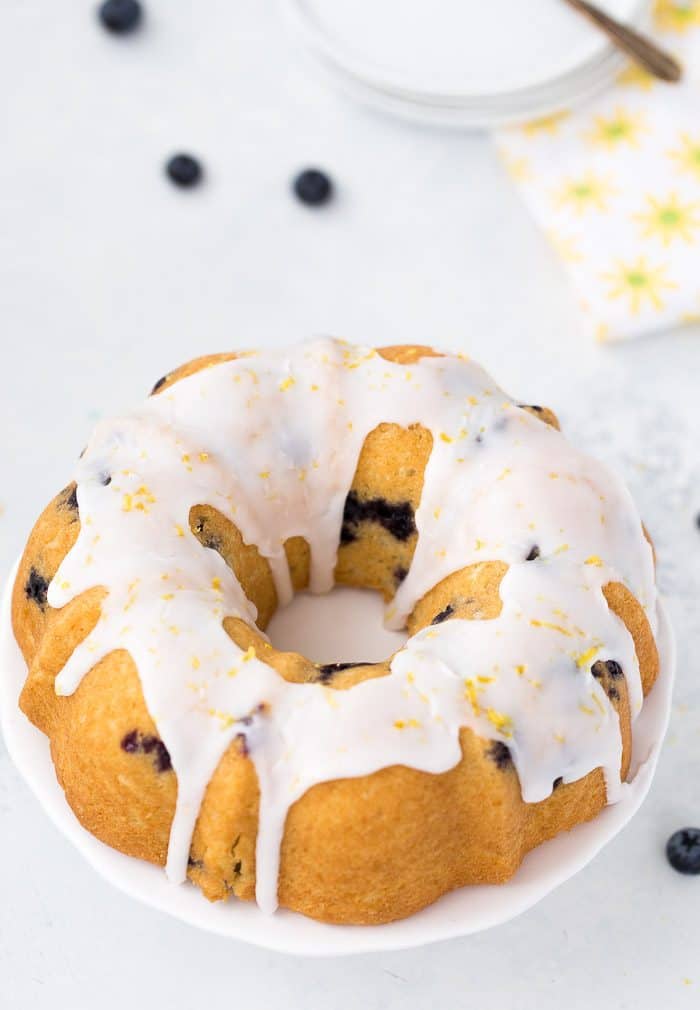 This cake doesn't get any easier. Grab a box of the sweet Meyer lemon pound cake mix, add some nutty browned butter (because why not?) and some fresh blueberries. The result is a perfectly crumbed cake bursting with lemon and fresh blueberries. Each slice is a spring delight. We devoured the whole cake in just one weekend.
The recipe below makes a small bundt cake (baked in a 6-inch bundt pan). For more servings, feel free to double the recipe. This would be great for any spring gatherings or even summer parties.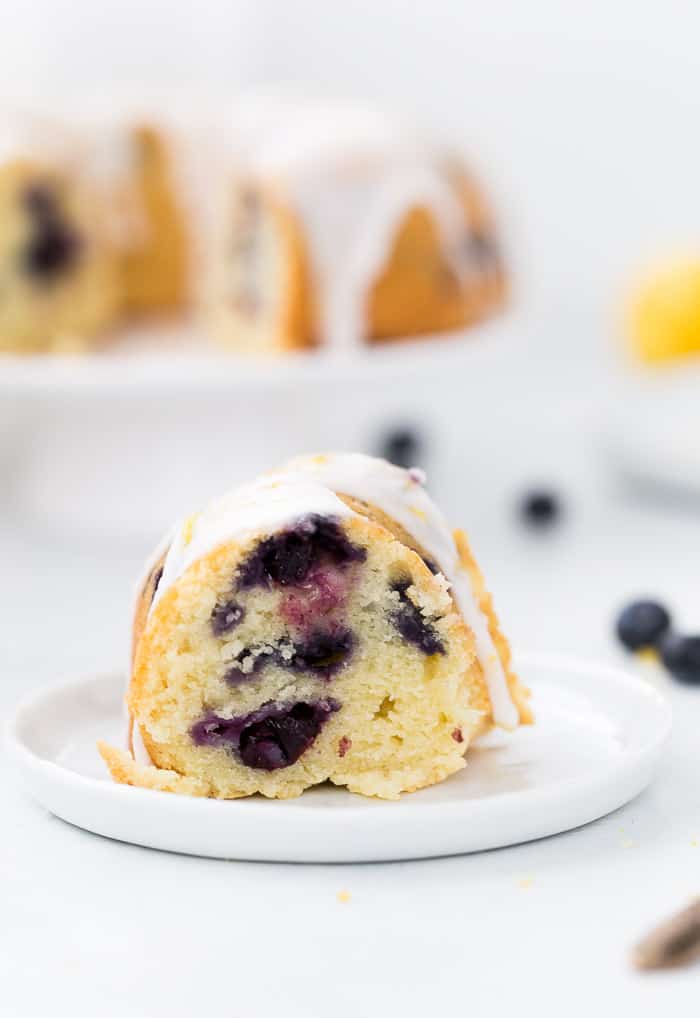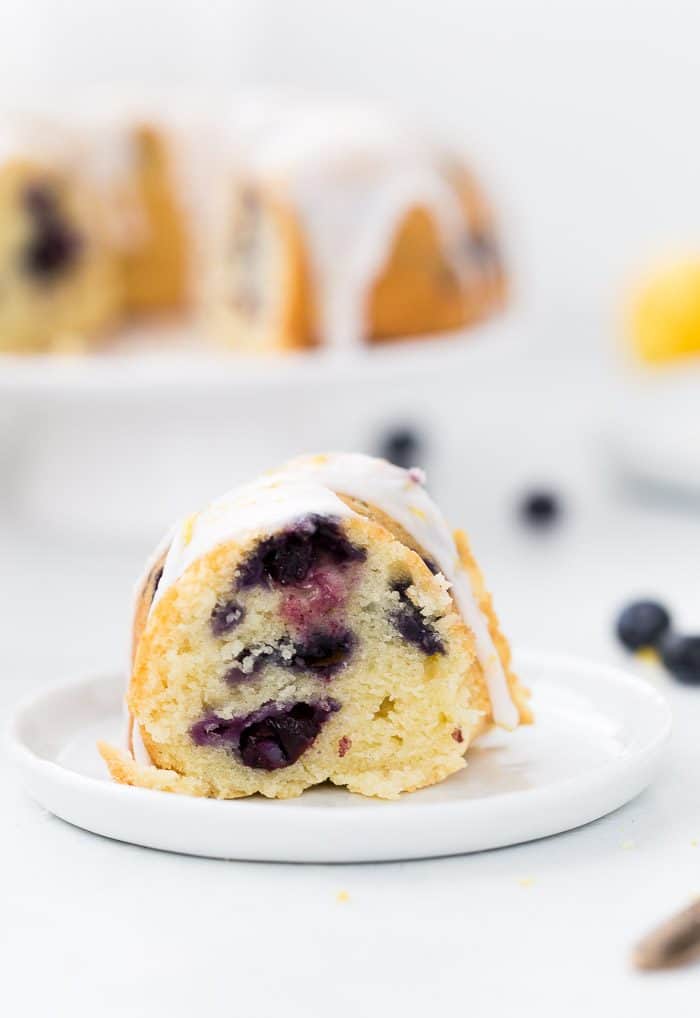 As we all wait for Spring, be sure to grab the recipe and directions for this blueberry lemon pound cake over on Krusteaz.com where I am sharing it with their readers too! I know you will love it just as much as we did.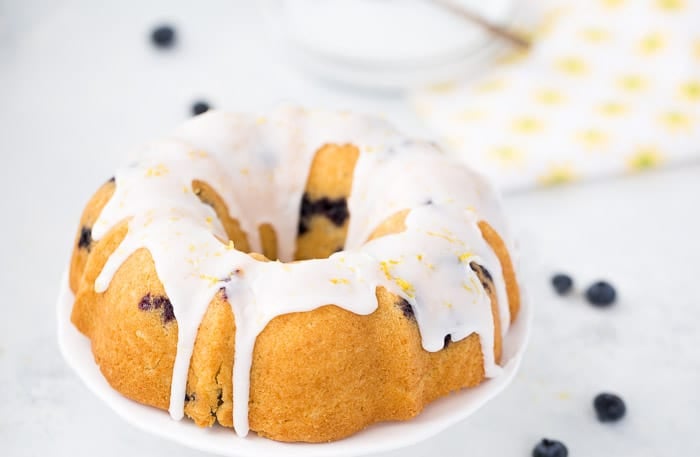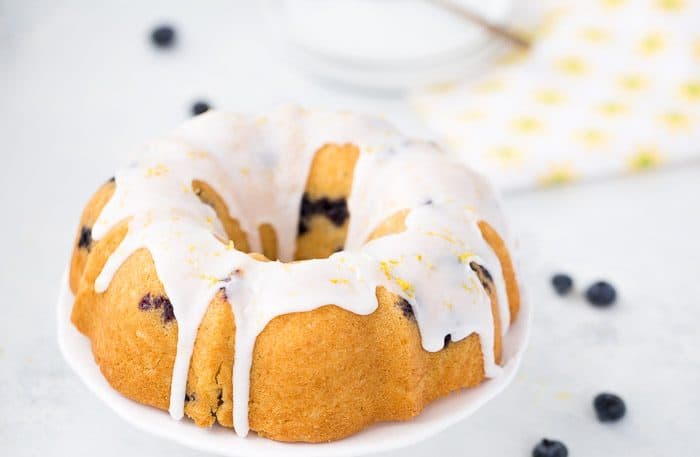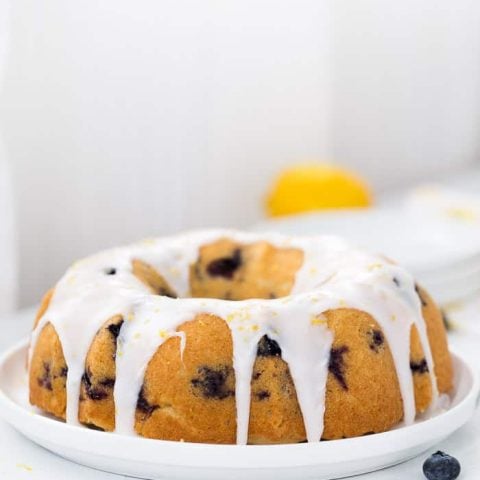 Yield: 1 6-inch bundt cake
Blueberry Lemon Pound Cake
This blueberry lemon pound cake is a moist and perfectly crumbed cake bursting with lemon and fresh blueberries. Each slice is a spring delight.
Prep Time 10 minutes
Cook Time 45 minutes
Total Time 55 minutes
Ingredients
For the cake:
1 package Krusteaz Meyer Lemon Pound Cake Mix
1 large egg
¾ cup water
10 tablespoons butter, melted and browned
1 cup fresh blueberries
2 tablespoons all-purpose flour
For the glaze: 
Lemon glaze mix (included in the package)
1-2 tablespoons water
Instructions
Preheat the oven to 350 degrees F. Grease a small bundt pan (6-cup bundt pan) with baking spray.
In a large bowl, whisk together the egg, water, and melted butter. Add in the cake mix and mix until just combined.
In a small bowl, toss the fresh blueberries with the flour.
Fold the blueberries into the batter.
Spoon the batter into the prepared pan.
Bake for 35-40 minutes or until a toothpick inserted into the center comes out clean. Let cool for 5 minutes and then gently loosen and remove from pan.
Cool the cake completely before drizzling with lemon glaze.
To make the lemon glaze, combine the glaze mix with water.
Drizzle over the cooled cake.
Recommended Products
As an Amazon Associate and member of other affiliate programs, I earn from qualifying purchases.