Browned Butter Eggnog Cookie Bars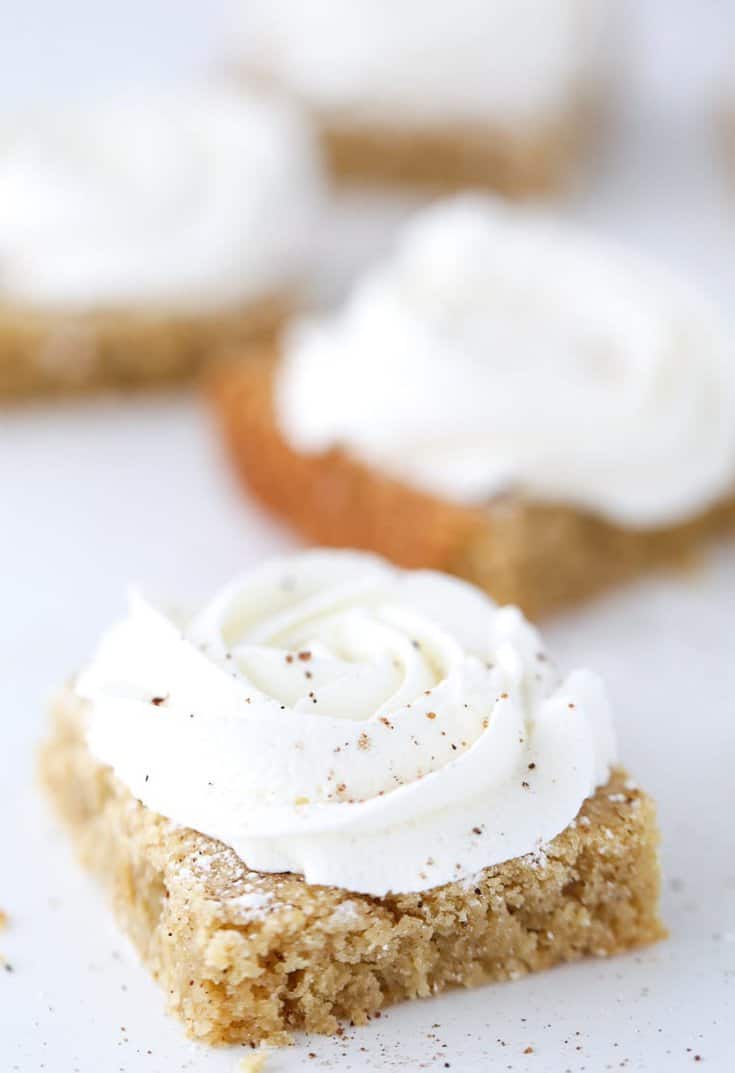 It's only appropriate to end the week with another eggnog recipe, right? These eggnog cookie bars are goey, soft and flavorful and will be a great weekend holiday baking project!
Wait, can you tell I got all up eggnog last weekend? Don't worry, I was playing with gingerbread as well and those recipes will come your way next week. I had to work a little ahead on blog recipes because this weekend, I am baking dozens of holiday cookies to send to friends and family. My annual holiday cookie baking bash is always fun!! When do you do your cookie exchange baking? Since most of my friends are across the country, I try to send them at least a week or two before the holidays.
So far, I've settled on these cranberry orange vanilla cookies, soft ginger molasses cookies and eggnog cookies (recipe coming!) for my cookie boxes. Oh, I am doing homemade peppermint marshmallows as well! What is in your cookie jars this year?? I need one more cookie recipe to add to mine so please share your favorites with me!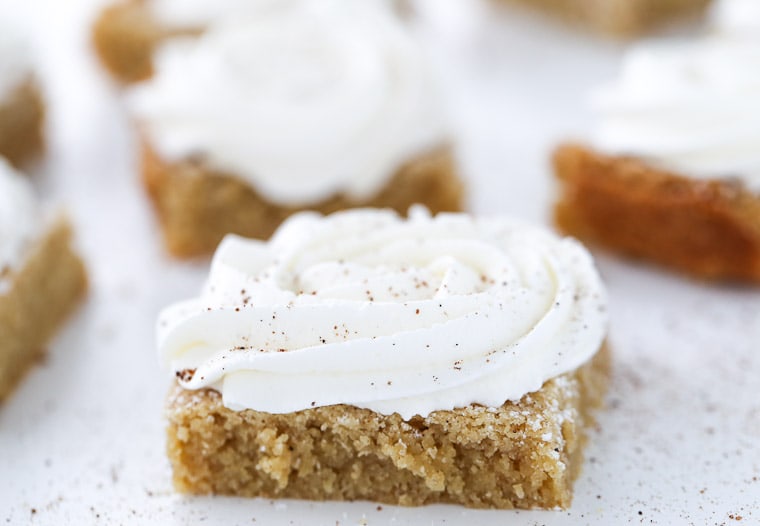 As for these gooey good browned butter eggnog cookie bars, they are nothing short of amazing with a sweet rum buttercream. Yup… I added a tablespoon of rum to the topping. I saw the eggnog cookie bar recipe in the current issue of the Food Network Magazine and I immediately wanted to try it. But with all things I make, it's hard for me to follow a recipe to script. I alway get ideas as I go along and experiment. I made a few minor changes for these bars; their recipe called for melted butter but in my world, if I am going to go through the trouble of melting butter, I might as well just brown it. It does nothing but amp up the butter flavor. And instead of topping the cookie bars with a dusting of powdered sugar and nutmeg as they suggest (which I'm sure is delicious!), I whipped up a quick buttercream and added some rum to it. Both great changes that took these eggnog cookie bars to a whole other level of delicious holiday treat. Trust me, you won't regret the extra 5 minutes it took to make the frosting.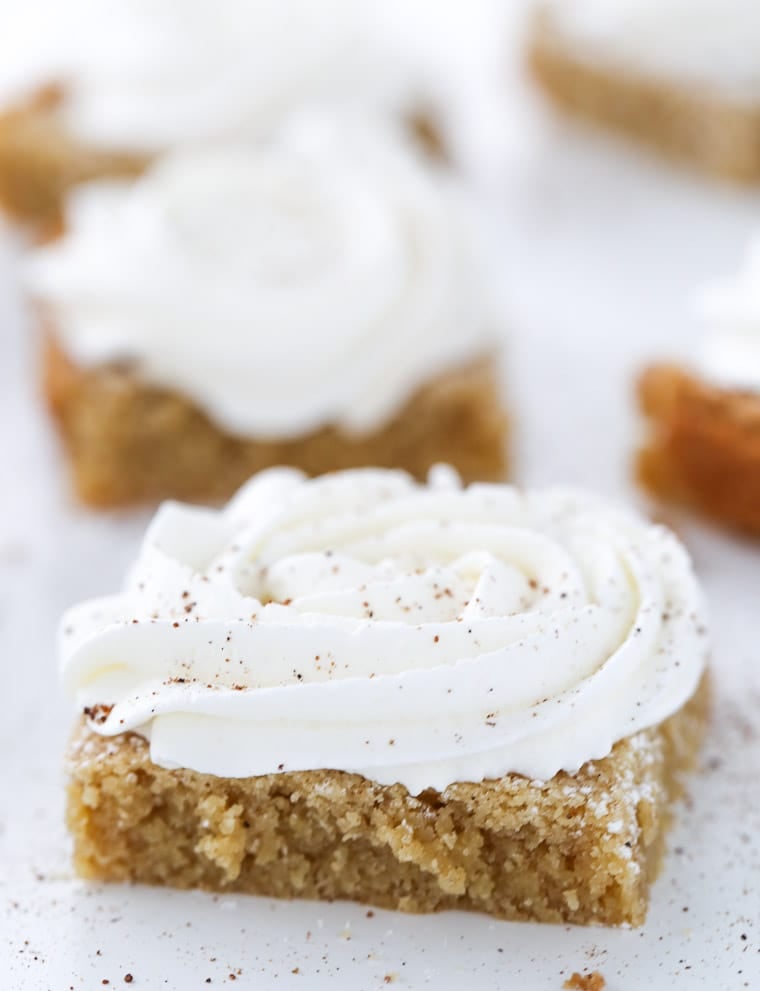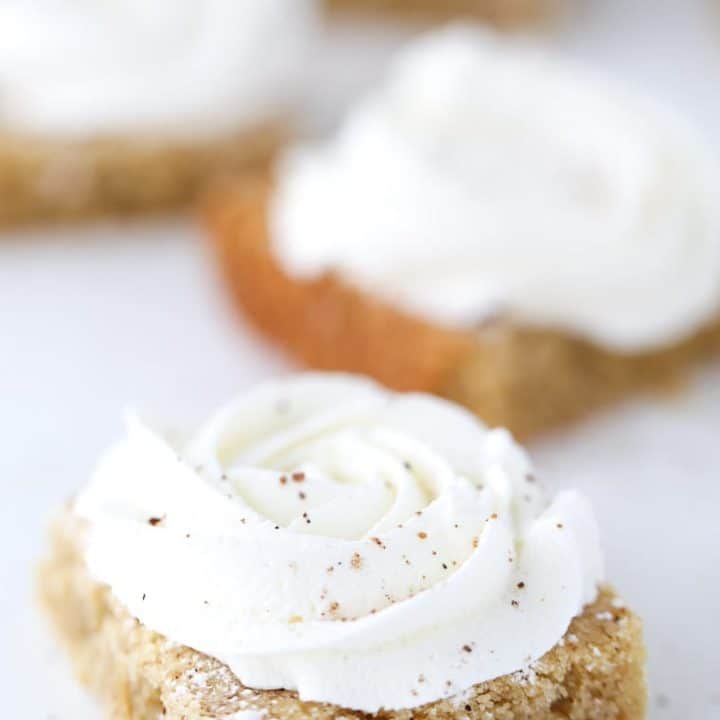 Yield: 12 bars
Browned Butter Eggnog Cookie Bars
Ingredients
1 ¼ cups all-purpose flour
½ teaspoon freshly grated nutmeg
¼ teaspoon salt
¾ cup unsalted butter, melted and browned
1 cup granulated sugar
1 large egg plus 2 egg yolks
2 teaspoons vanilla extract
1 tablespoon bourbon or brandy (optional)
Frosting:
½ cup unsalted butter, softened at room temperature
2 cups powdered sugar
1-2 tablespoons heavy cream
1-2 tablespoons dark rum
a dash of nutmeg
Instructions
Heat oven to 350 degrees F. Line a 8-by-8-inch baking pan with foil, leaving an overhang on the sides. Grease with baking spray.
In a medium bowl, whisk together the flour, nutmeg and salt.
In a large bowl, whisk together the browned butter, sugar, egg and egg yolks, vanilla extract and bourbon (if using).
Add the dry ingredients into the wet and mix until well-combined and there are no streaks of flour.
Pour the batter into the prepared pan. Spread evenly
Bake until the top is shiny and slightly cracked, about 25 minutes.
Let it cool in plan completely.
Meanwhile prepare the frosting by combining all the ingredients in a large bowl. Beat until light and fluffy.
Once cooled, remove the bar from the pan using the overhangs. Top with the frosting and slice into squares.
I hope you enjoy this treat and have a great weekend!