Browned Butter Pumpkin Spice Muffins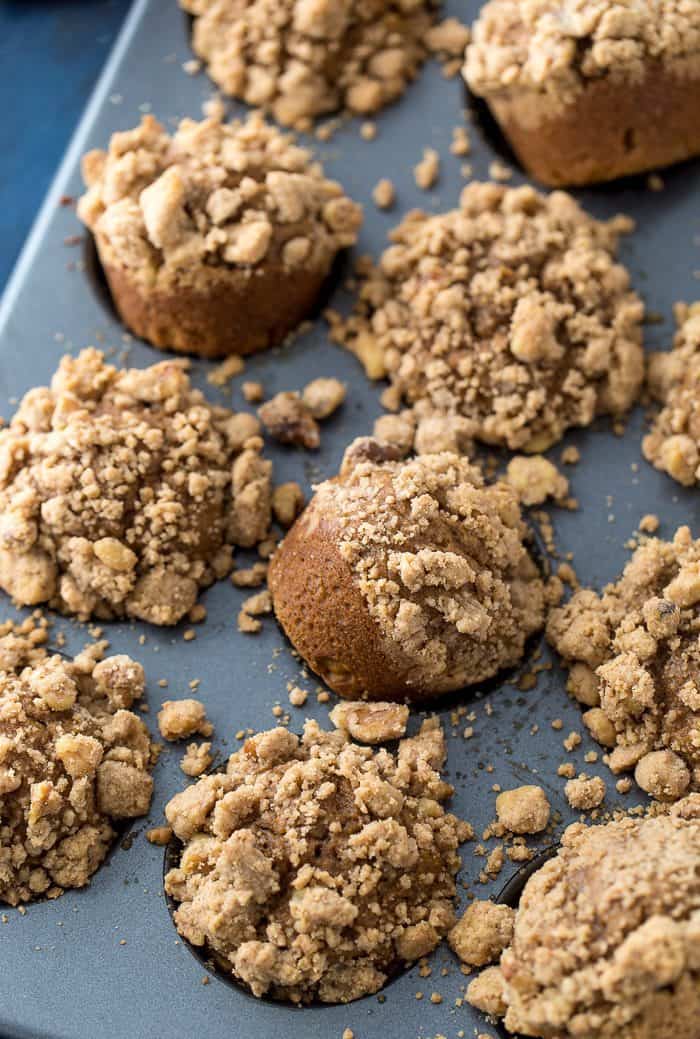 Happy October friends!! It's pumpkin season and I am excited to share with you these browned butter pumpkin spice muffins. You gotta start your breakfast on the right note right? A moist and flavorful pumpkin spice muffin with a spiced streusel topping paired with a good cup of coffee (pumpkin spice coffee!) sounds about perfect to me. If you agree, then let's add these muffins to your must-bake list this fall.
Yes yes, I know the whole pumpkin spice thing is controversial in this day and age. But I am a believer in letting others enjoy what they enjoy as long as it is not harming you. What is wrong if someone wants to have their pumpkin spice latte in August? To each, their own is one of my favorite philosophies.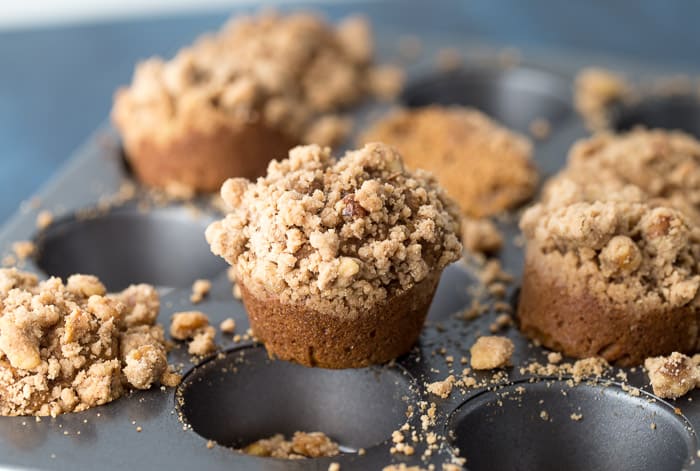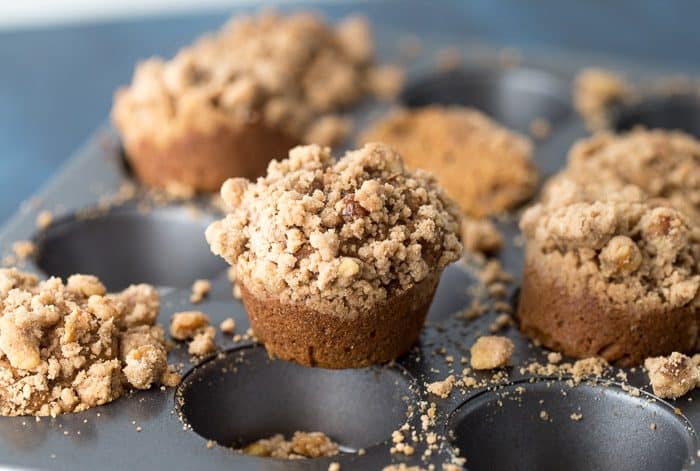 However, personally, I think the seasons for each flavor are much too short so I focus on enjoying them while in season. I'd like to eat my peach in August when it is the prime peach season and I can make this peach raspberry galette. For that reason, and the fact that I pick 15lbs of apple every September, I am usually eating and baking with apple the first few weeks of September and October. Case in point, last week's buttermilk applesauce cake! I don't usually get into pumpkin spice until we are in October. But that is just me!
Back to the muffins. These browned butter pumpkin muffins were my first pumpkin spice of the season. Actually wait…I did have a pumpkin spice latte but that doesn't count. These muffins were my first pumpkin bake of the season..ha!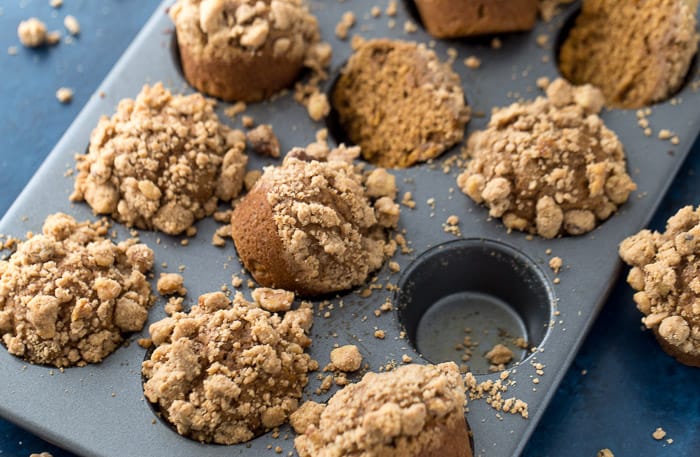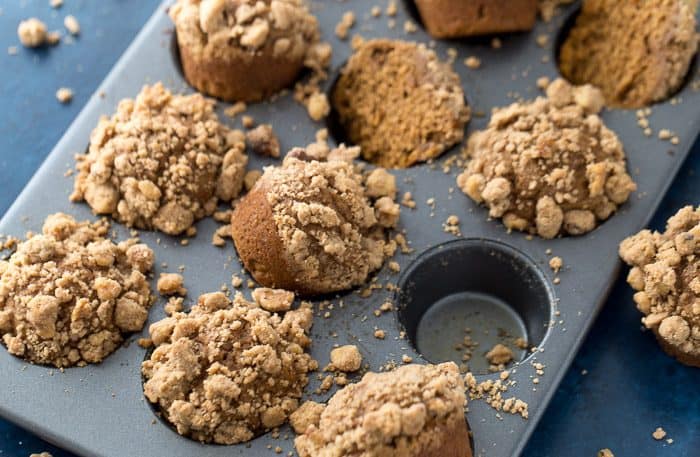 They are very easy to make and you don't even need your mixer. Any recipe that starts with melted butter has me excited because I know I can take it up a notch by browning said butter for an even bolder and richer nutty flavor. The batter for these muffins includes browned butter, canned pumpkin, lots of earthy fall spices and whole milk for moistness. It is all whipped in one bowl.
The streusel topping is to die for as well. Again I browned my butter (instead of leaving it cold as I normally would) and again spiced it up. It's all to all an incredible muffin that's great for those cozy fall mornings. I had a few of my muffins with a pumpkin roast coffee and it was a match made in heaven. Add this recipe to your list, my friends!!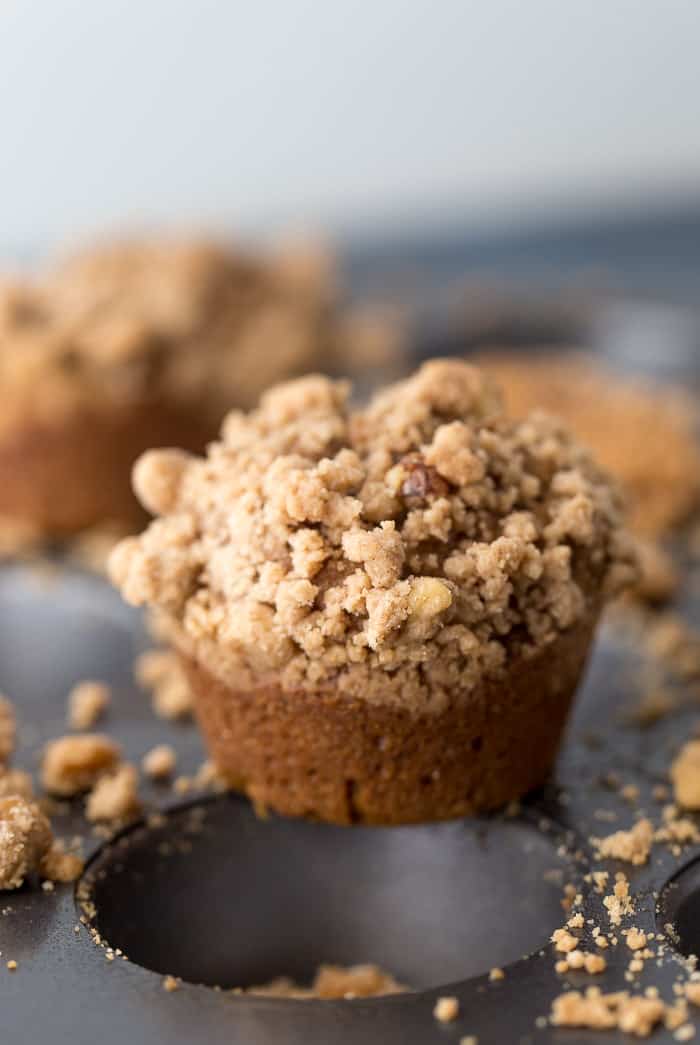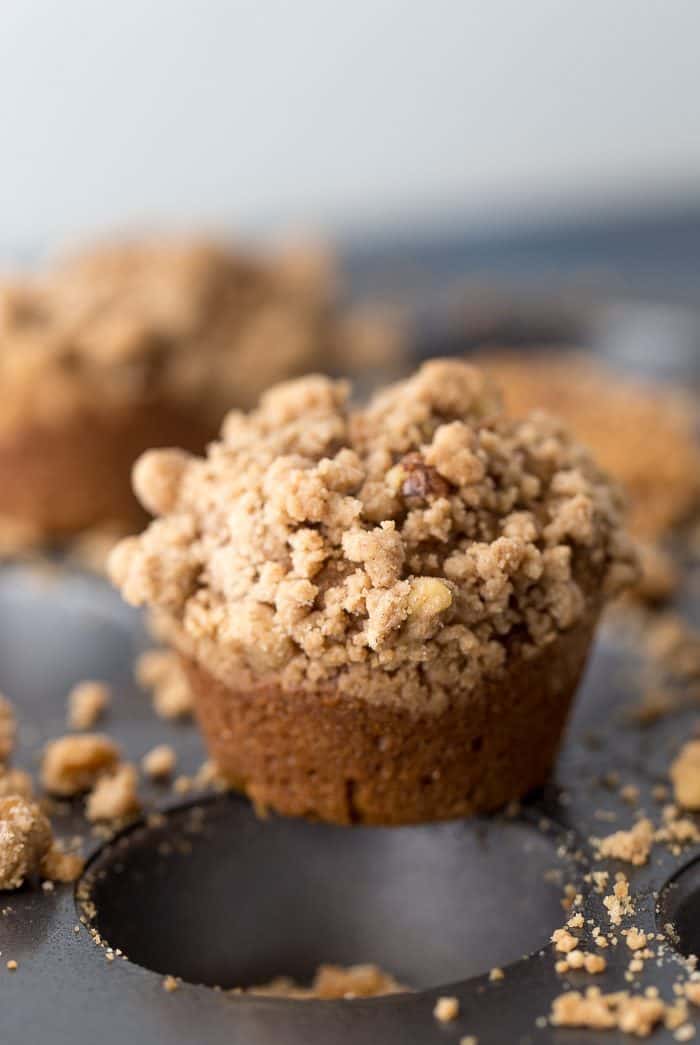 By the way, the recipe for these muffins is adapted from Bake from Scratch, my favorite baking inspiration magazine lately. It seems to be the only publication that pulls me out of my baking rut and inspires me to jump into my kitchen. I must get out of this baking funk soon and get inspired to create new recipes for you! If you haven't subscribed to Bake from Scratch, you must do so now. (Ps: I am not paid to promote them, I just love their beautiful magazine and their ability to be the only one of my 5 food magazine subscriptions that pulls me off the couch to bake.)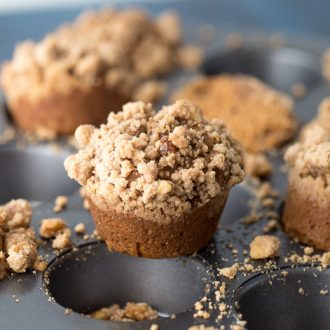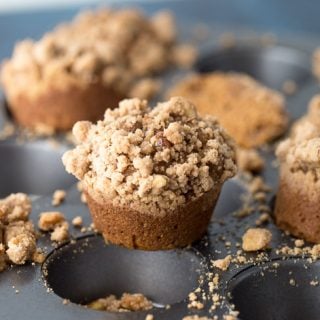 Yield: 12 muffins
Browned Butter Pumpkin Spice Muffins
Hearty pumpkin spice muffins that's moist, tender and nutty with a sweet streusel.
Ingredients
2 cups all-purpose flour
1 teaspoon baking soda
¾ teaspoon salt
1 teaspoon ground cinnamon
½ teaspoon ground ginger
¼ teaspoon ground allspice
¼ teaspoon ground nutmeg
1 cup light brown sugar
1 cup canned pumpkin puree
½ cup (1 stick) unsalted butter, melted and browned
2 large eggs, at room temperature
1/3 cup whole milk
For the Streusel:
¼ cup unsalted butter, melted and browned
¼ cup light brown sugar
½ cup all-purpose flour
½ cup chopped walnuts
½ teaspoon ground cinnamon
¼ teaspoon ground ginger
¼ teaspoon salt
A pinch of ground nutmeg
Instructions
Preheat oven to 350 degrees F. Using a baking spray, coat a 12-cup muffin.
In a large bowl, whisk together the flour, brown sugar, pumpkin spice, baking soda, and salt. In a separate small bowl, whisk together the pumpkin puree, melted butter, eggs, and whole milk.
Pour the wet ingredients into the dry flour mixture and fold until well mixed.
Spoon the batter into prepared muffin cups filling each three-fourths full. Add 1-2 tablespoons of the streusel on top of the batter in each muffin cup.
Bake muffins until a wooden stick inserted into the middle comes out clean, about 18-22 minutes.
Remove muffins from pan and let cool slightly. Serve warm.