Buttermilk Applesauce Cake
A moist spiced applesauce cake with a tender crumb is topped with a sweet cream cheese frosting.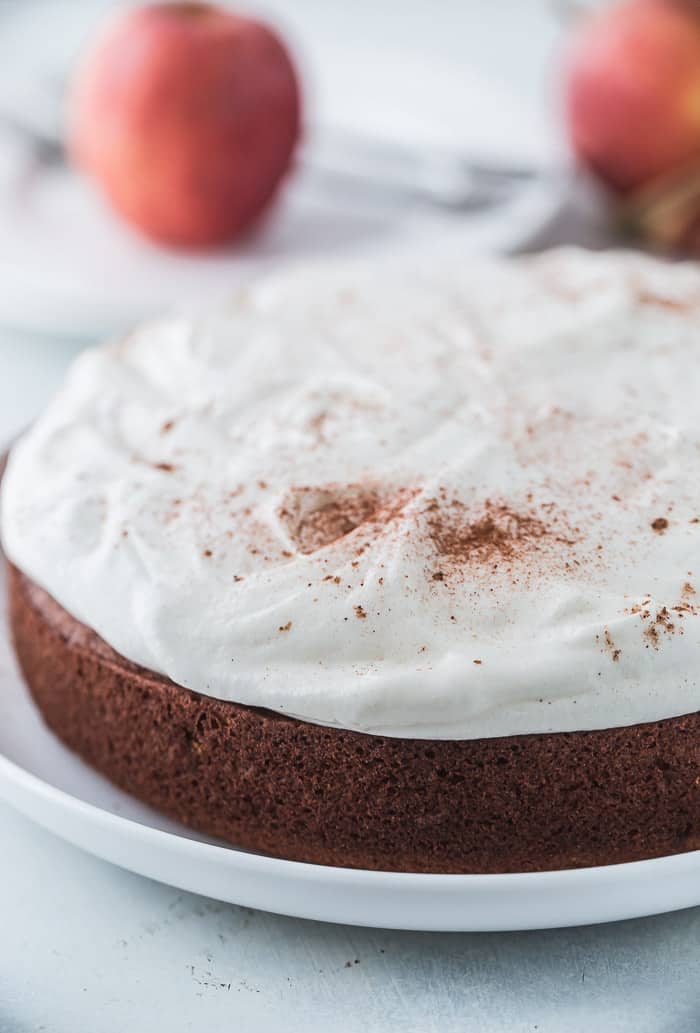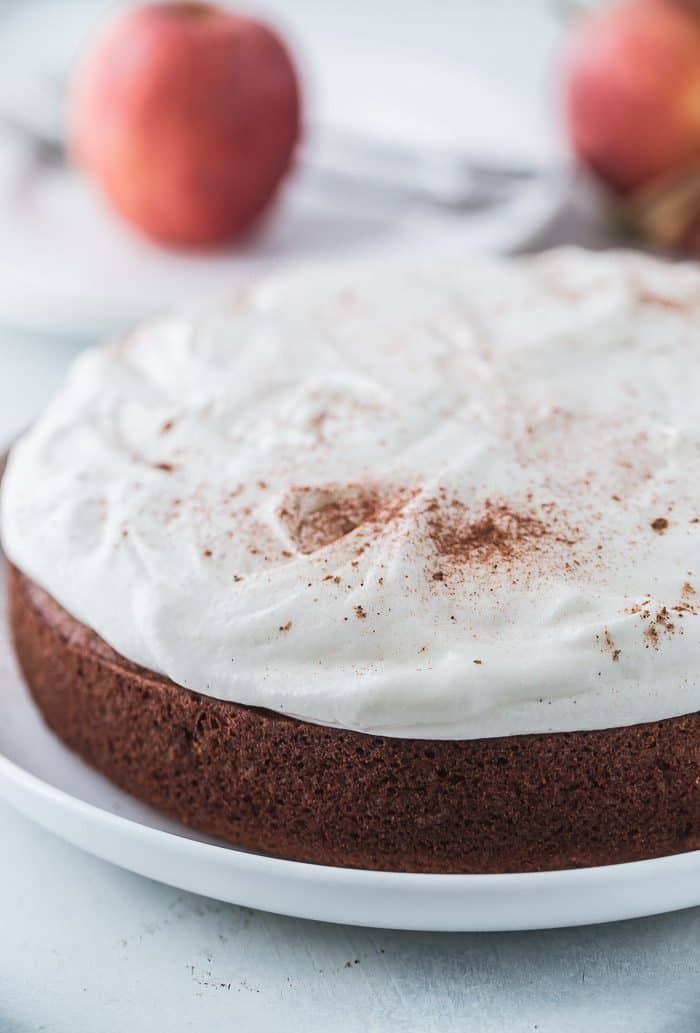 Hello friends! Happy first week of fall! How are you all doing? I hope your fall is off to a great start. Of course, if you have been around here long enough, you know that fall/autumn is my favorite season for so MANY reasons. It brings me so much joy and I have come to embrace that it is just my season. As such, I try to make the most of it and bake to my heart's desire. I started my fall baking with this one-layer rustic buttermilk apple sauce cake.
My first fall tradition is always apple picking. You have to start with the goods. Apple picking has evolved over the years. Before kids, I'd always go to a popular Upstate NY orchard (Beak & Skiff) with girlfriends where our apple picking was coupled with wine tasting in their 1911 brewery. But now with kids, I love going to farms with lots of kid activities to make an afternoon out of apple picking. We love Abbott's farm in Baldwinsville for my New York folks.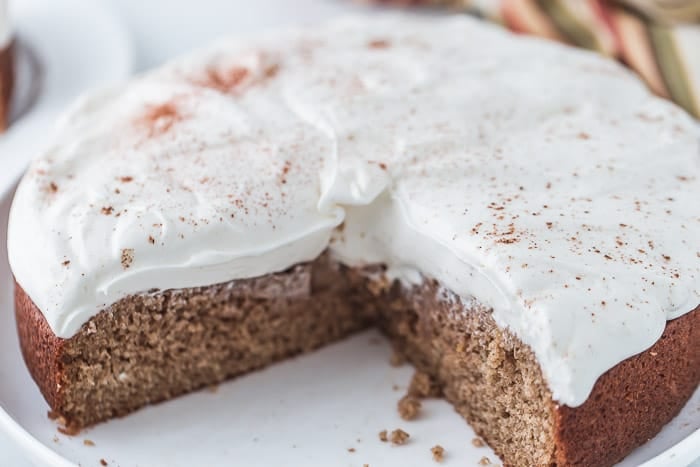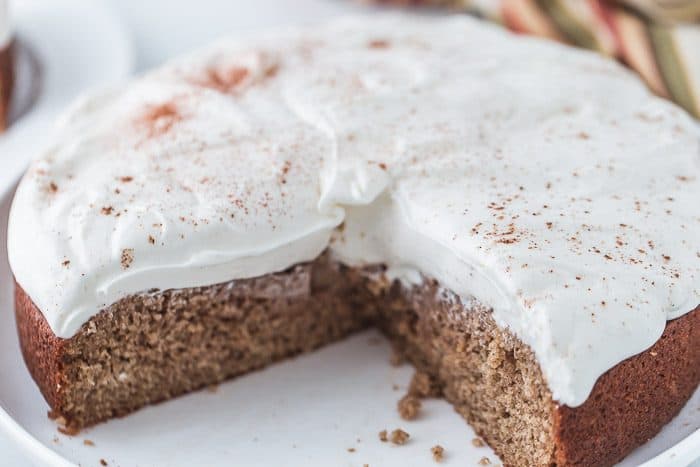 This year, even though we've moved away, we came back to Syracuse for our annual apple picking festivities. My toddler Elliott loves going with his best pal and it has become their annual tradition.
Of course, after you pick 20lbs of apple, you need to now use it. I always make a big batch of apple sauce in the slow cooker and then can the sauce to use over the year. I will have to share with you my slow cooker apple sauce recipe soon as I realized as I type this up, I haven't shared it yet. It's very simple and easy. But once I have my apple sauce out of the way, I usually make my favorite apple pie recipe and some apple hand pies to use up my apple haul.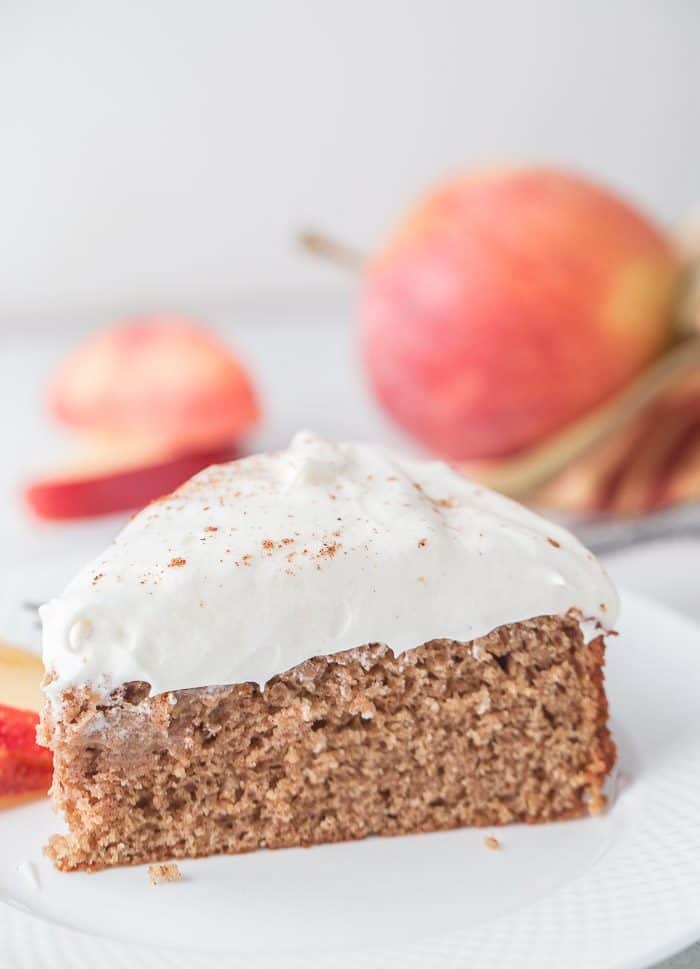 This year, I ran out of jars to can my applesauce and so decided to bake with some. I pinned this apple sauce recipe last year and I've been meaning to come back to it. It's a rustic one layer apple cake made with buttermilk and a hefty dose of applesauce. It's so easy to whip up; you don't even need your mixer for it. This is my kind of cake! Moist, tender crumb and perfectly spiced. Just what your fall baking list needs.
As we go into the new season, remember to slow down and enjoy this period and do the things you love with those you love. For me, baking fall treats make me happy and I intend to do lots of it!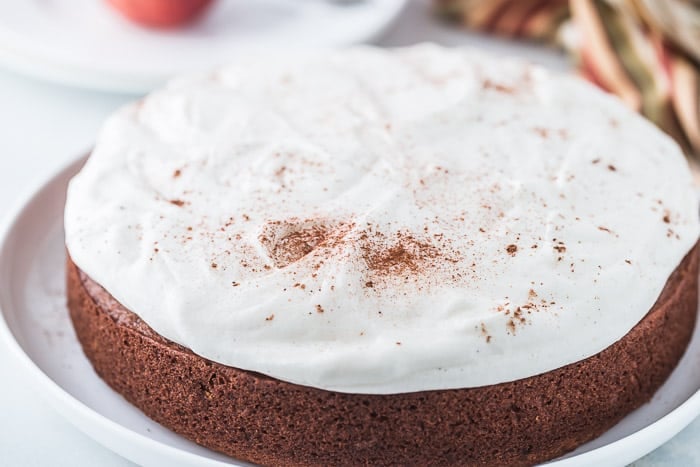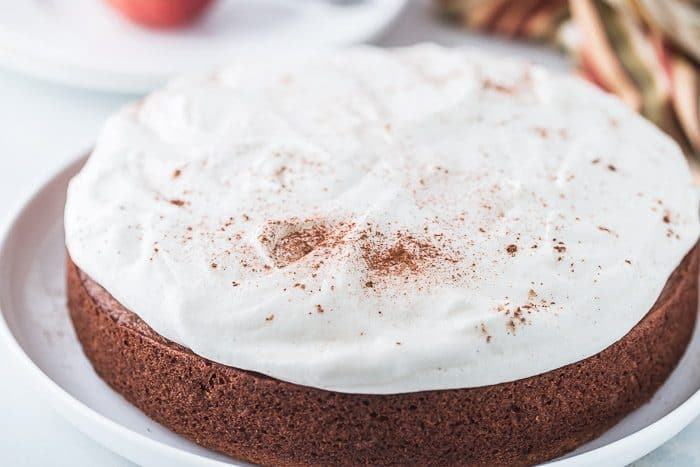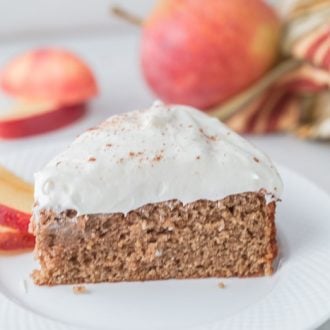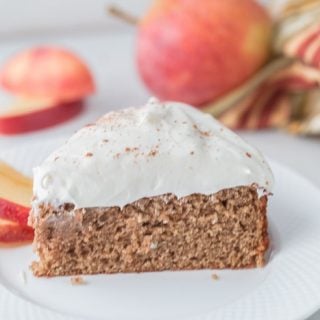 Yield: 1 9-inch cake
Buttermilk Applesauce Cake
This rustic one-layer applesauce cake is moist with a tender crumb.
Total Time
1 hour
20 minutes
Ingredients
For the Cake:
2 cups all-purpose flour
2 teaspoons baking powder
2 teaspoons ground cinnamon
1 teaspoon salt
½ teaspoon baking soda
½ teaspoon ground ginger
¼ teaspoon ground cloves
1 cup light brown sugar
1 cup unsweetened applesauce
½ cup buttermilk
½ cup vegetable oil
2 large eggs, room temperature
1 teaspoon pure vanilla extract
Cinnamon Whipped Frosting
8 ounces cream cheese, at room temperature
½ cup (1 stick) unsalted butter, at room temperature
3-4 cups confectioner's sugar
1 teaspoon ground cinnamon
¼ teaspoon ground nutmeg
Instructions
Preheat oven to 350 degrees F. Line a 9-inch round cake pan with a parchment circle. Grease the parchment and sides of the pan with baking spray.
In a large bowl, whisk together the flour, baking powder,
ground cinnamon, salt, baking soda, ginger, and cloves. In another bowl, whisk the brown sugar, applesauce, buttermilk, oil, eggs and vanilla extract. Mix until well combined.
Pour the wet ingredients into the dry and stir until just
combined. Be sure there are no flour streaks.
Pour batter into prepared pan. Smooth the top with an offset spatula. Bake cake until a toothpick inserted into the center comes out clean, about 35-40 minutes.
Let cake cool in the pan for 10 minutes before inverting onto a cooling rack to cool completely.
To make the frosting, using an electric mixer, beat the
cream cheese and butter for 2-3 minutes until smooth. Add in the rest of the ingredients and beat until combined. Increase mixer speed to medium-high and beat frosting for 4-5 minutes, until whipped and light.
Spread the frosting over the cooled cake.