Caramel Apple Popcorn Bars
Looking to step up your movie night? You need to try these caramel apple popcorn bars!! Oooey, gooey cinnamon apple flavor mixed with coconut flakes and some caramel.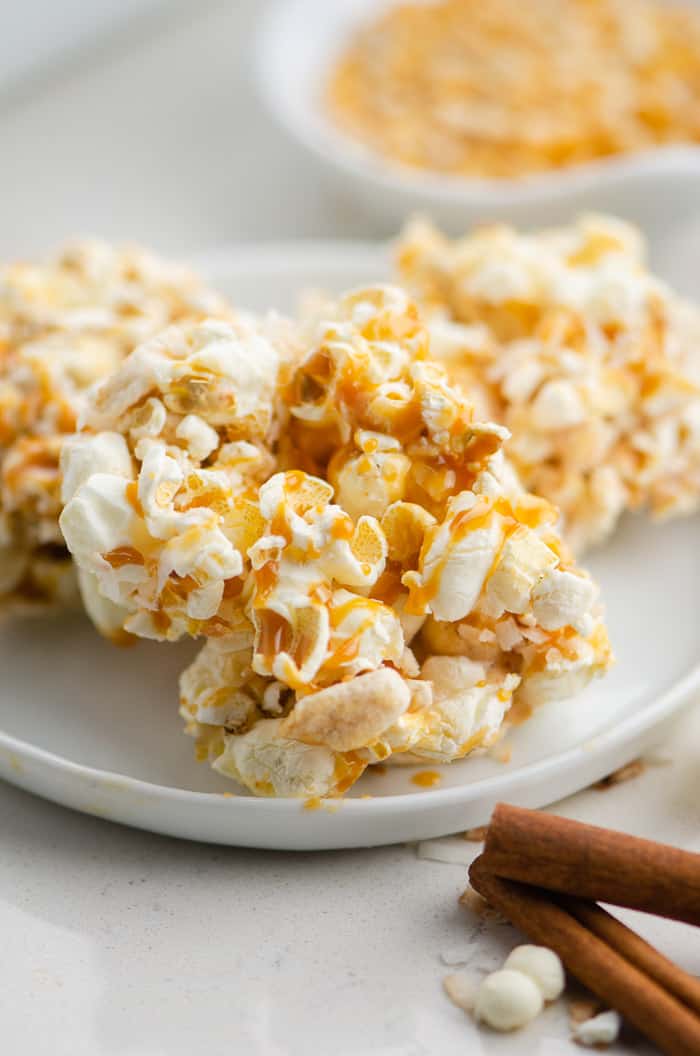 This recipe is sponsored by The Popcorn Board
Hey there! I have a new fun recipe for you today. These caramel apple popcorn bars are a treat for all you movie lovers. Heck, they are a treat for anyone who loves popcorn.
Who else misses movie nights at the movie theatre?? We just got our oldest started on this wonderful experience and then covid hit. Now, we try to do movie nights regularly at home to enjoy the experience. It is usually full of sweet and buttery treats and you can always see the smile on my kid's faces when we take our seats and dive into the popcorn.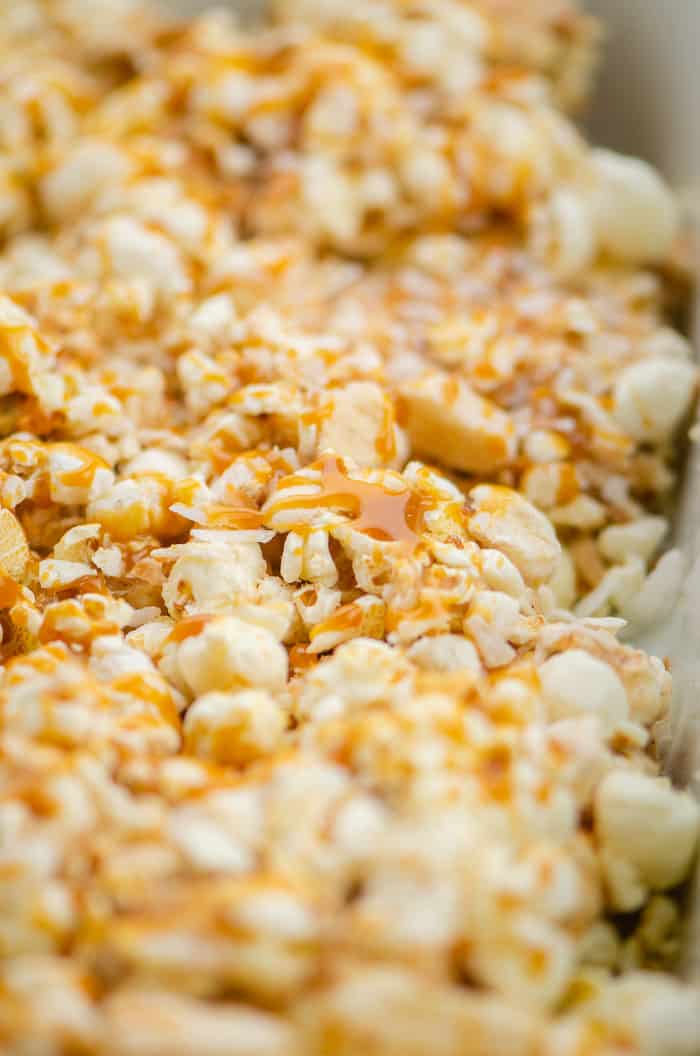 With all the new apps and streaming services out there, we can make a fun movie night right in our own living room. I am not sure I will be back in theatres after the experience of the past year. The comfort of my own couch, my own homemade treat, and the ability to pause as needed? The perks are too many! Oh, of course, the homemade treats too. These Caramel Apple Popcorn Bars are my latest.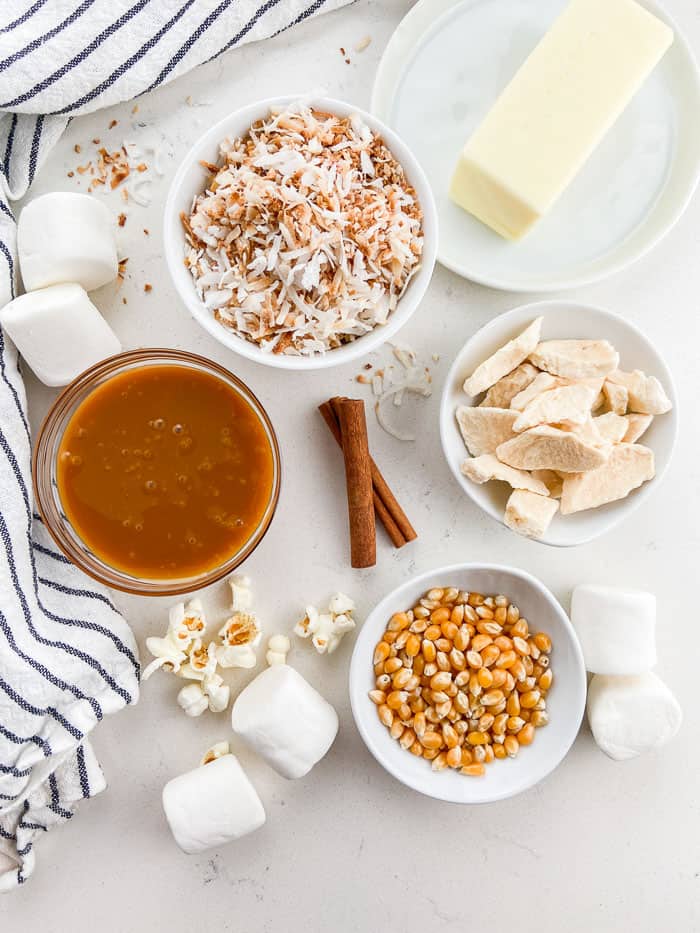 It's the perfect snack to create with the family because it's fun and you don't have to be super precise so you can really allow the kids to get creative. There is no baking involved but just mix, form, chill, and eat. The depth of texture in this recipe appeals to adults and the ingredients used are favorites among most kids.
Popcorn for movie nights is a staple in our home because it is a nutritious and whole-grain snack everyone can enjoy. Lately, I've been playing around with how to spice it up. Whether it's with some seasonings or seasonal flavors like these caramel apple bars, it is always a treat we all look forward to.
These bars are made with freeze-dried apples, coconut flakes, and a healthy drizzle of caramel! Some of my favorite flavors all together in an easy treat!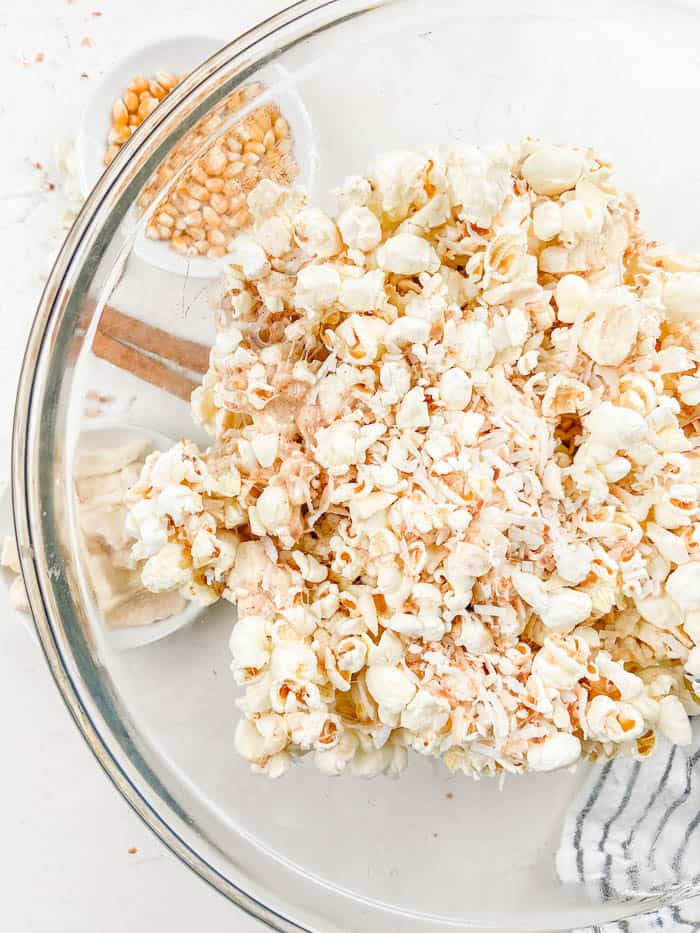 Dried apples and cinnamon go hand in hand and balance out the sweetness from the marshmallows, caramel sauce, and coconut flakes. You can use any type of freeze-dried apples you prefer.
Pouring your marshmallow mixture over the popcorn mixture and watching the dry ingredients absorb all that sweet and spicy goodness is my favorite part (but also the trickiest). Make sure you mix in the melted marshmallows well so that when you cut it into bars each one is being held together by that sticky and buttery glue.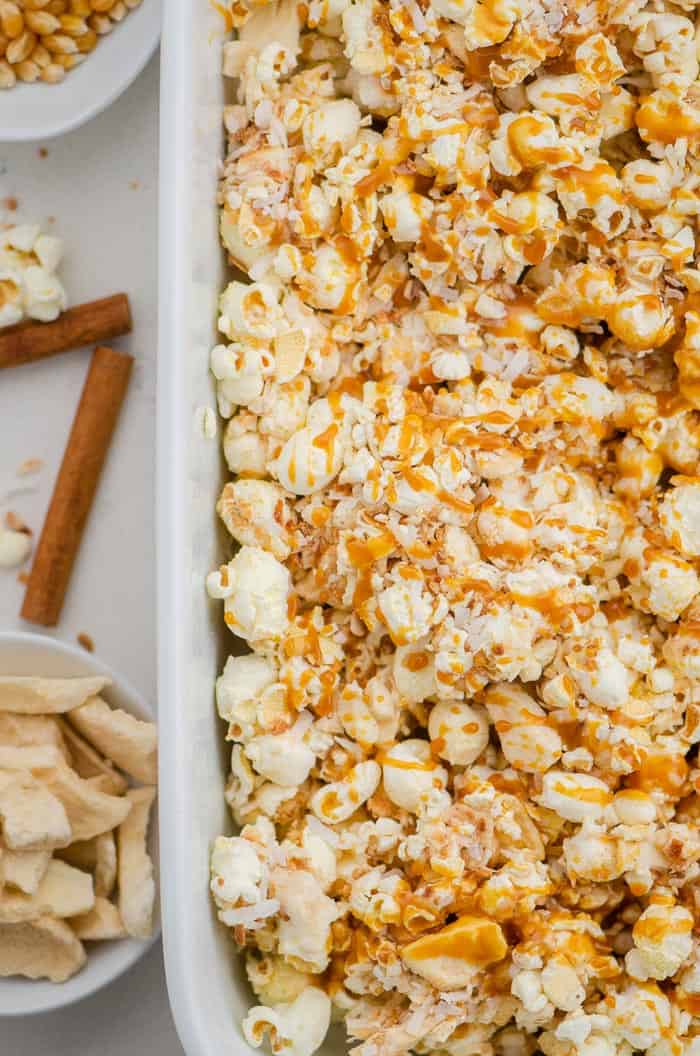 It really doesn't take long to make these. We usually make the Caramel Apple Popcorn Bars before dinner and by the time we are done cleaning up and ready to start the movie our homemade movie theatre treats are ready to cut and be devoured. This recipe makes about 8-10 bars so if you think you may need more just double the ingredient amounts and use a larger baking pan to chill your popcorn mixture in. Even if you don't have a large family I still recommend making more because once your family tastes these they are going to need backups ready.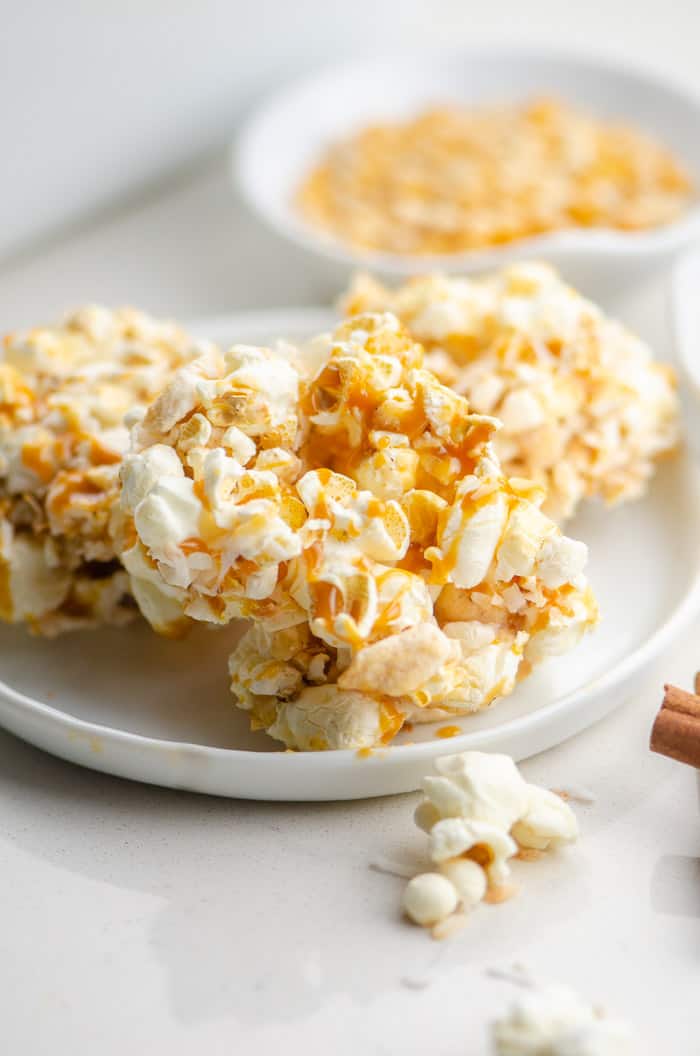 Caramel Apple Popcorn Bars are also great for kids' school lunches or just a midday snack. I hope your family enjoys these just as much as mine does. What do you think? Let me know in the comment section below. If you do make them and share them across social media make sure to tag #aclassictwist so I can see your beautiful creation. I hope you all have an amazing week and until next time, enjoy these super yummy Caramel Apple Popcorn Bars :-).
Here are some similar recipes on the blog are Apple Crumble Cheesecake Bars, and Spiced Apple Cupcakes With Maple Marshmallow Frosting.
Reminder: While Popcorn is a healthful and delicious snacking choice when prepared with low-fat ingredients, it is never recommended for infants or toddlers, as the kernels pose a choking threat to their safety.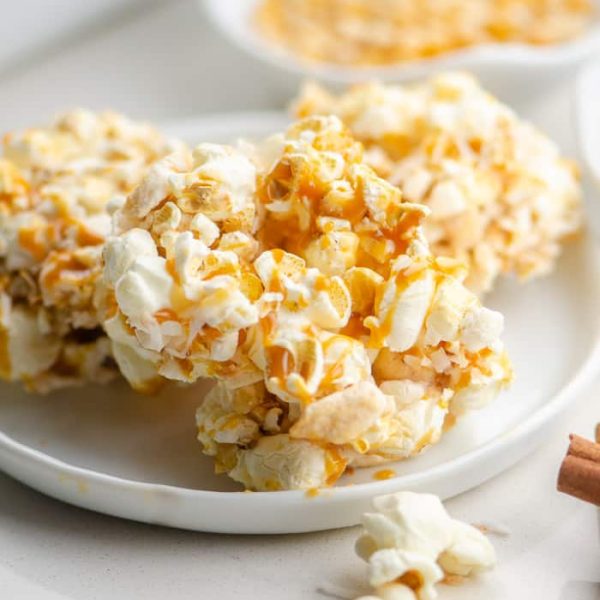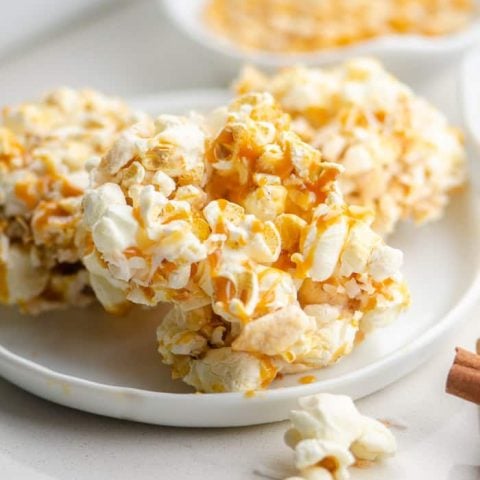 Yield: 8-10 servings
Caramel Apple Popcorn Bars
Ingredients
2 1/2 quarts popped popcorn
1 cup freeze dried apples, crumbled
1 cup coconut flakes, toasted
2 tablespoons unsalted butter
20 large marshmallows
½ teaspoon ground cinnamon
½ cup salted caramel sauce
Instructions
Using a baking spray, grease a 9 x 13-inch baking pan.
In a large bowl combine the popcorn, apples, and toasted coconut flakes.
In a small saucepan set over low heat, melt the butter and the marshmallows, stirring until the marshmallows are melted. Remove from heat and mix in the cinnamon.
Pour the marshmallow mixture over the popcorn and mix well.
Using a buttered spatula or greased hands, spread half of the popcorn mixture to the bottom of the prepared pan. Press down to fill up the space in the pan and pack down the popcorn.
Drizzle about ¼ cup of caramel sauce over the popcorn layer.
Spread the remaining popcorn mixture over the caramel layer. Try to spread the mixture as much as possible with well-greased hands or spatula.
Drizzle the remaining caramel sauce over the popcorn mixture. Let cool and then cut into bars.
Enjoy!
Recommended Products
As an Amazon Associate and member of other affiliate programs, I earn from qualifying purchases.