Caramelized Dark Chocolate Tart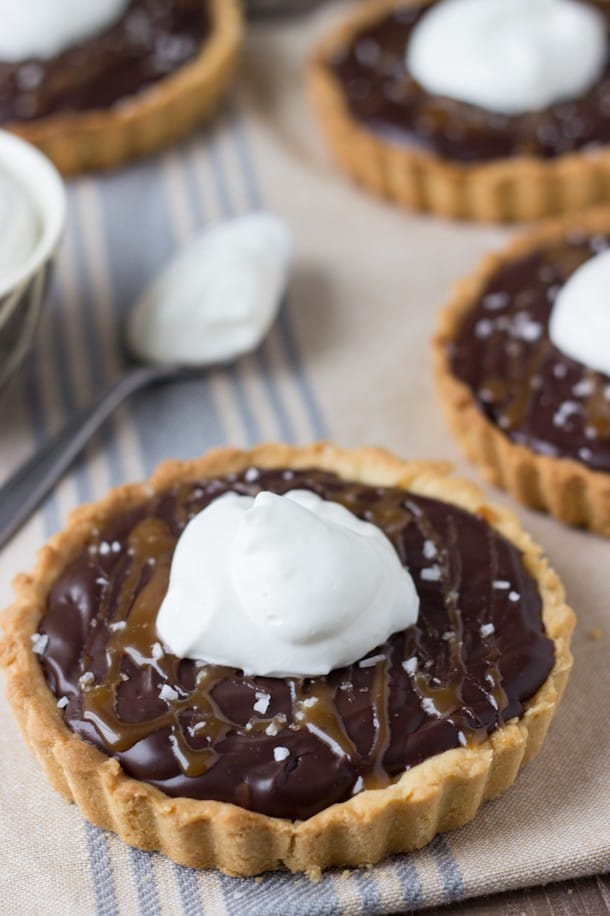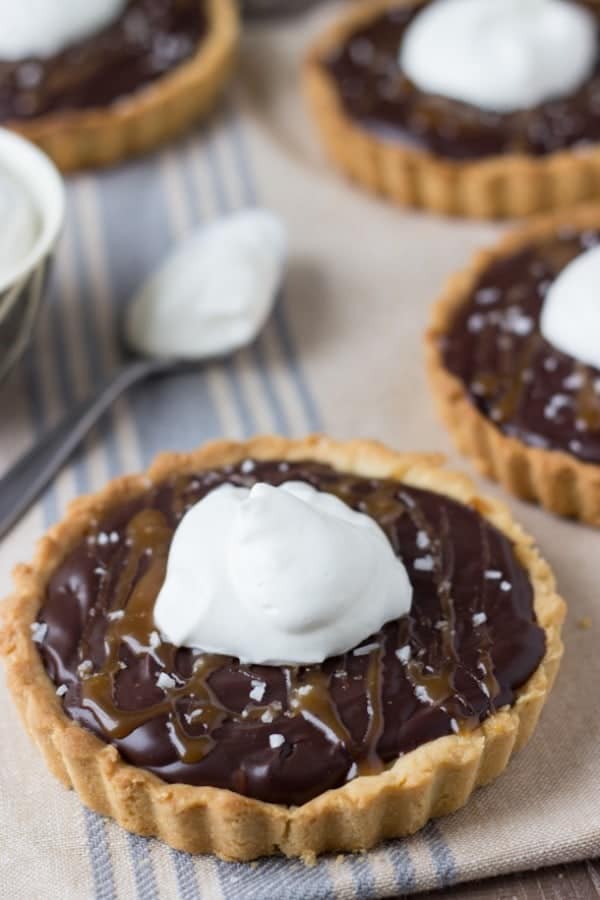 It seems as if I am all about the chocolate these days. I am not usually a chocolate person and will gladly choose vanilla anything over chocolate but sometimes I just want to make all the things chocolate like this chocolate pavlova earlier this week. Continuing in decadent chocolate dessert land are these caramelized dark chocolate tarts with salted caramel sauce and sea salt.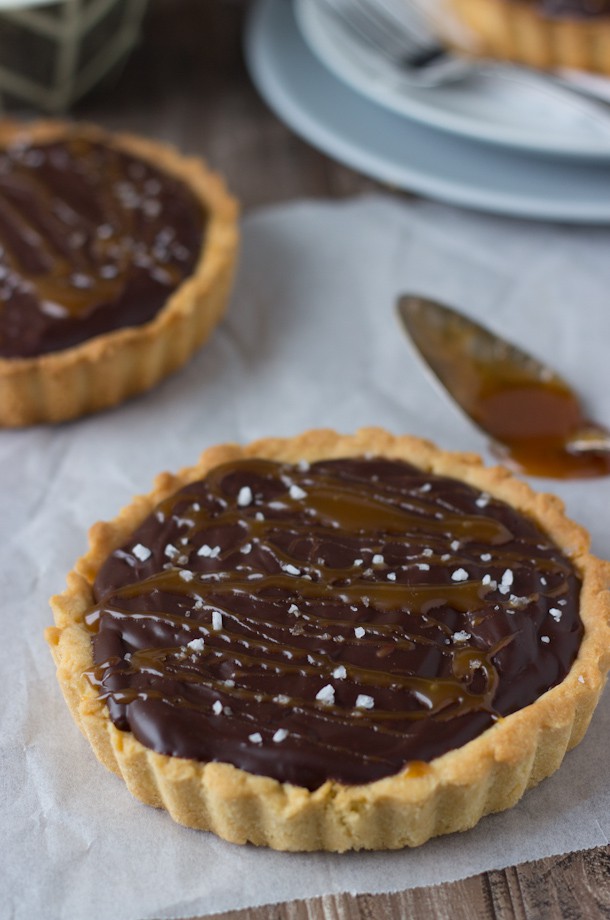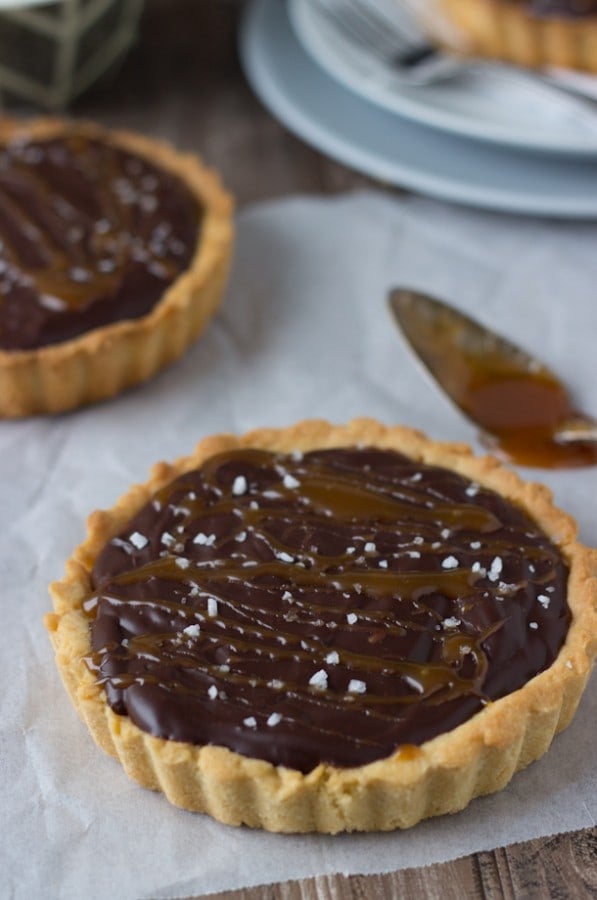 These little heartbreakers are from a new-to-me cookbook, Dorie Greenspan's Baking Chez Moi: Recipes from My Paris Home to Your Home Anywhere
. It graced my collection a few weeks ago and I have not been able to put it down. It's been a while since I got excited about a cookbook and just want to make all of the recipes. Usually, I just admire the pictures and move on (sad, I know) but this book has me inspired to bake classic French desserts. The secret of Dorie's book is that she makes everything simple and approachable even macarons and bubble eclairs. Whether you are a novice or advanced baker, you will learn something here. OK onto these lovely tarts.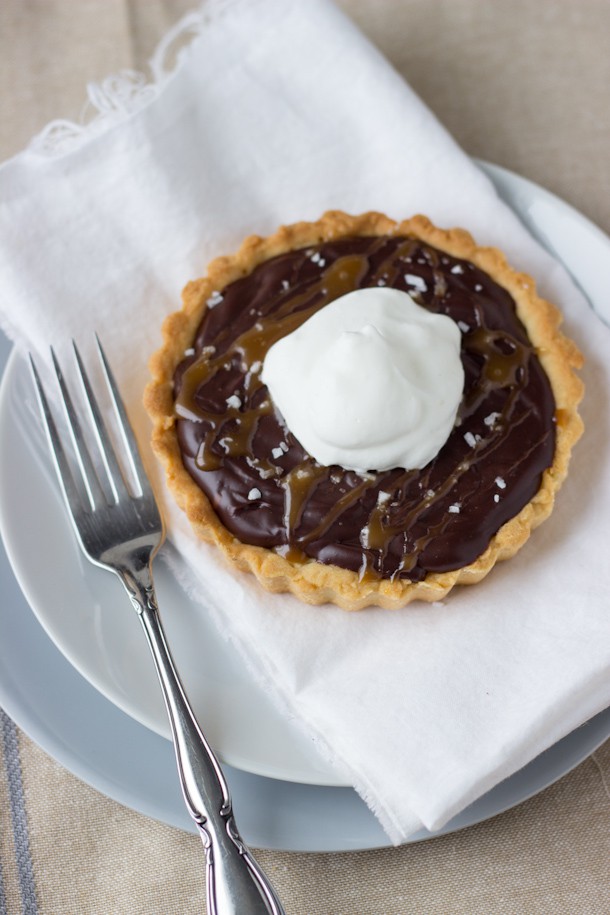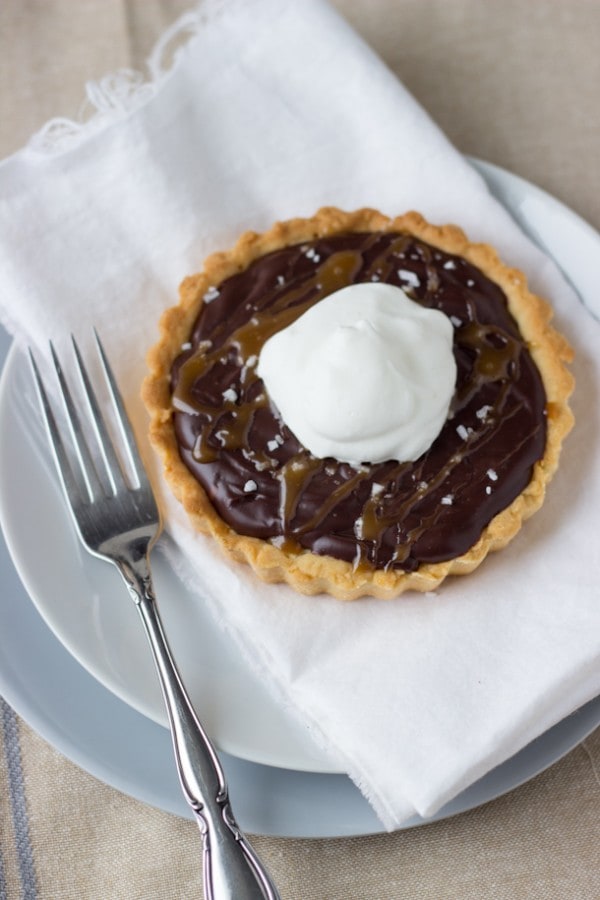 One of the first things I made from Baking Chez Moi
were these caramelized dark chocolate tarts. The texture of these tarts is outstanding – smooth and creamy. But it goes beyond that because the slight bitter flavor of the dark chocolate is enhanced with caramelized sugar and caramelized cinnamon. Hold on you said what?… yeah caramelized sugar and cinnamon is steeped in hot cream and that is then used to make the ganache filling. It is really as good as it sounds! I topped the tarts with homemade salted caramel sauce, whipped cream and a touch of sea salt to heighten the chocolate and caramel flavor.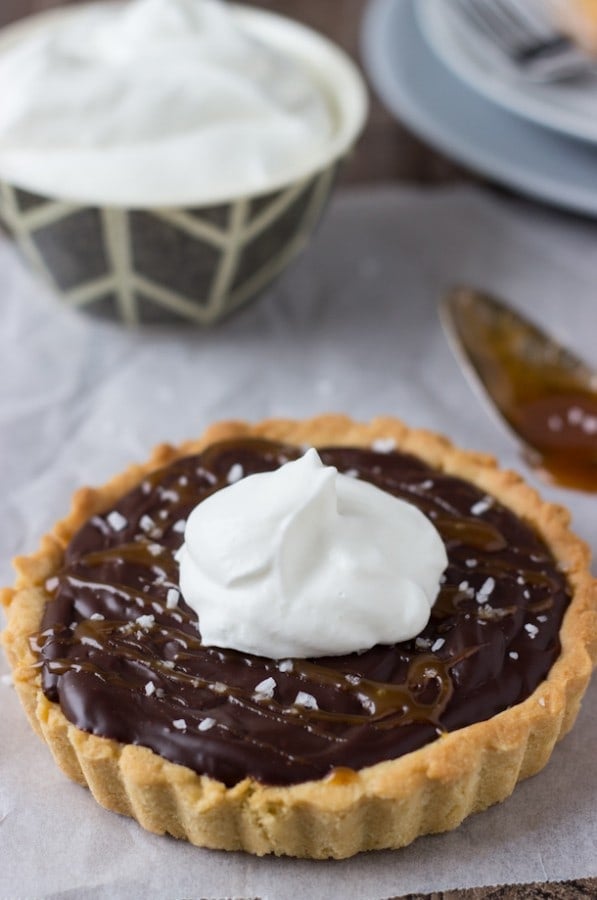 You seriously don't need another chocolate tart recipe in your life. This is it!! You can make the recipe in a regular 9-inch tart pan or do minis as I did. You can also use milk chocolate if you are not a fan of bittersweet chocolate. All I ask is that you make sure you use good quality chocolate for this recipe (I used Ghirardelli Bittersweet baking chips) otherwise you will miss on the decadence and no one wants that.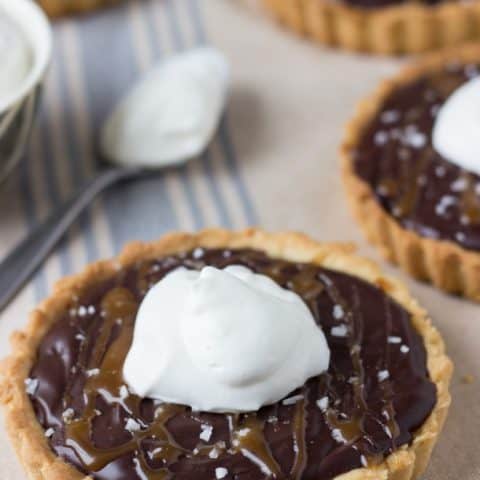 Yield: 4 mini tarts
Caramelized Dark Chocolate Tart
Total Time
1 hour
5 minutes
Ingredients
For Tart Crust:
1 ½ cups all-purpose flour
½ cup confectioner's sugar
¼ teaspoon fine sea salt
9 tablespoons unsalted butter, very cold, and cut into small pieces
1 large egg yolk, whisked
For Chocolate Ganache Filling:
1 ½ cups heavy cream
¼ cup granulated sugar
1 cinnamon stick
10 ounces good-quality bittersweet chocolate, finely chopped (I used Ghirardelli Bittersweet)
Toppings
Homemade salted caramel sauce
Homemade whipped cream
Sea salt flakes
Instructions
To Make the Crust:
In the bowl of a food processor, pulse the flour, sugar, and sea salt together. Add in the butter pieces and pulse until the butter is cut into pea-sized pieces. Add in the egg yolk a little at a time, pulsing in between. Once egg yolk is incorporated, pulse for longer periods until the dough starts to clump. Turn the dough out onto a lightly floured surface and use the heel of your hand to smear pieces together. Butter 4 mini tart pans (or 1 9-inch tart pan). Press the dough evenly over the bottom and up the sides of the pan. Prick the dough with a fork all over and freeze for 30 minutes.
When ready to bake, preheat the oven to 400 degrees. Bake the crust for 25 minutes or until firm and golden brown. Transfer to a cooling rack and let cool completely.
To Make Filling:
In a medium sauce man, bring cream to a boil. Remove from heat and keep close to the stove.
In another medium saucepan, sprinkle the sugar in an even layer. Toss in the cinnamon stick. Turn heat to medium-high heat. When the sugar starts to melt around the edges, use a spatula to whisk in circles. Work your way around the pan as more sugar melts and you move toward the center. Keep whisking until sugar is caramelized and is a light brown color (almost rust-like).
Remove from heat and slowly pour in the hot cream. It will bubble vigorously so be careful. Once that subsides, stir to blend the cream. Let the mixture steep for 45 minutes.
Strain into a measuring cup and discard cinnamon sticks. If the mixture is less than 1 ¼ cup, then bring up with heavy cream to 1 ½ cup.
Transfer the cream to a medium saucepan again and bring to a boil. Place the chopped chocolate into the heatproof bowl.
Pour the hot cream mixture over the chocolate. Let sit for 2 minutes before stirring the cream into the chocolate until smooth.
Pour the ganache into the prepared crust. Refrigerate until the ganache is set, about 2 hours.
Serve with drizzles of salted caramel sauce, a dollop of whipped cream, and a sprinkle of sea salt.
Notes
The filling can be used in a 9-inch tart crust too.
You can substitute 7 ounces of milk chocolate + 3 ounces of bittersweet chocolate for the chocolate above.
Recipe from Baking Chez Moi
Recommended Products
As an Amazon Associate and member of other affiliate programs, I earn from qualifying purchases.