Coconut Banana Cream Pie
I'm taking some time off the next few weeks to enjoy time with our little bundle of joy. While I'm away, I've scheduled some recipes here and there to share with you like this Coconut Banana Cream Pie today.
Thank you ALDI for sponsoring this recipe. As usual, all my opinions are 100% mine and I love sharing with you products/companies I use and enjoy in my kitchen.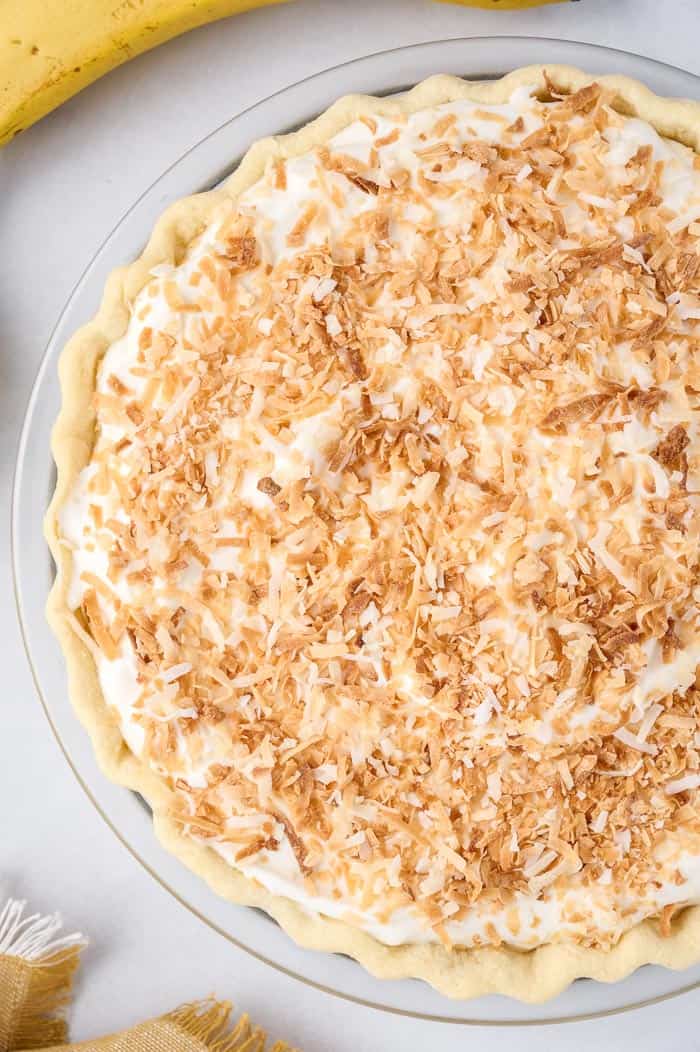 **This recipe was originally published on August 5, 2015. It was long overdue for an update, so I revisited the recipe and added a few step-by-step pictures for you. I hope you enjoy it as much as we do!**
It's unbelievable how humid it's been here these past few weeks but one thing that never changes is that we all still need our desserts. Especially cold summer pies like this coconut banana cream pie. No-bake desserts are the way to go on those HOT summer days and why I am loving this pie. It's your classic banana cream pie made with coconut milk and topped with toasted coconut. Why? Because around here we love our coconut with almost everything.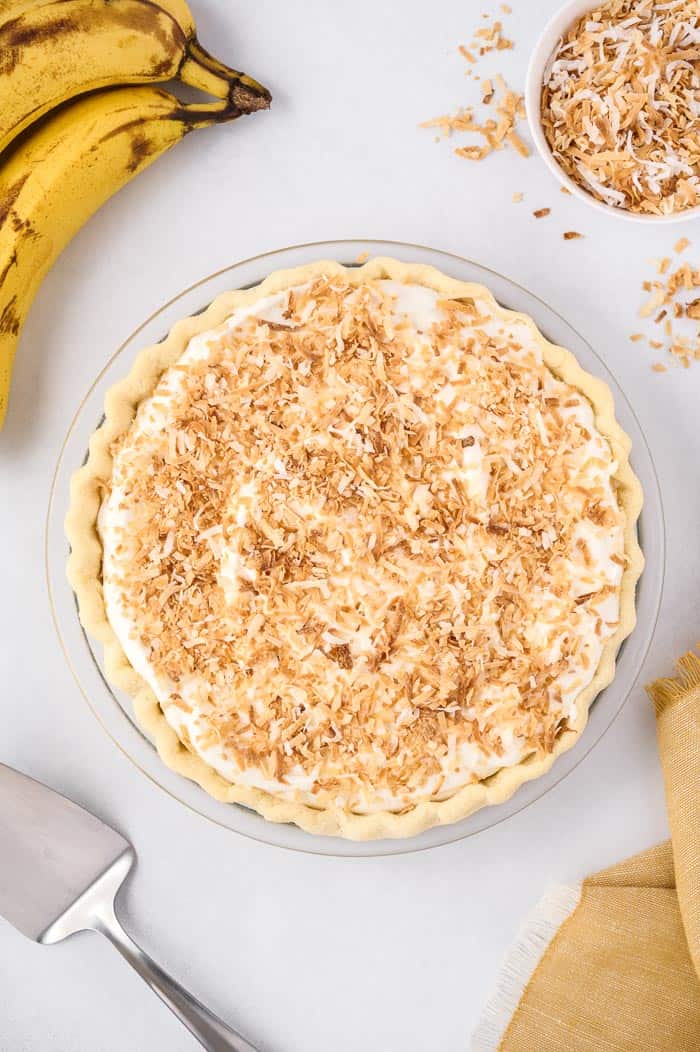 I've always wanted to make a classic banana cream pie and this summer I tried a few recipes to get my hands on the best banana cream pie. After picking up my pie ingredients at Aldi (I love their prices on basic baking essentials) and trying a few recipes, I felt like they were all missing something.
Despite being delicious, they felt a little too ordinary for my taste. So I decided to do what I do best, add a little bit of a twist to a classic recipe. This coconut banana cream pie takes your favorite classic up a notch. Starting with a coconut crust, it boasts of a banana cream filling that is sweet, silky smooth with hints of coconut milk and is then topped with fresh whipped cream and toasted coconut. Sounds good right??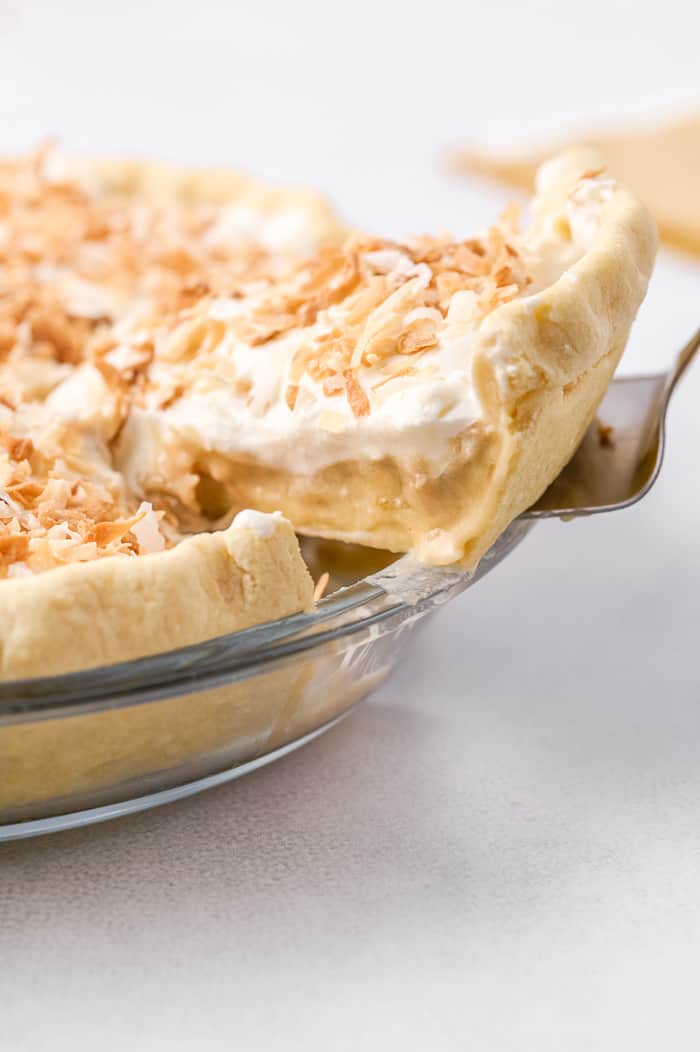 If you want to bring something to your next barbecue or picnic that will stand out, this is the pie for you. Luckily the coconut flavor is mild (but present) and will be a hit with your guests.
(OK so maybe I may have gone overboard with the whipped cream here (don't judge!) but I promise there is a whopping serving of that custard creamy banana filling under there).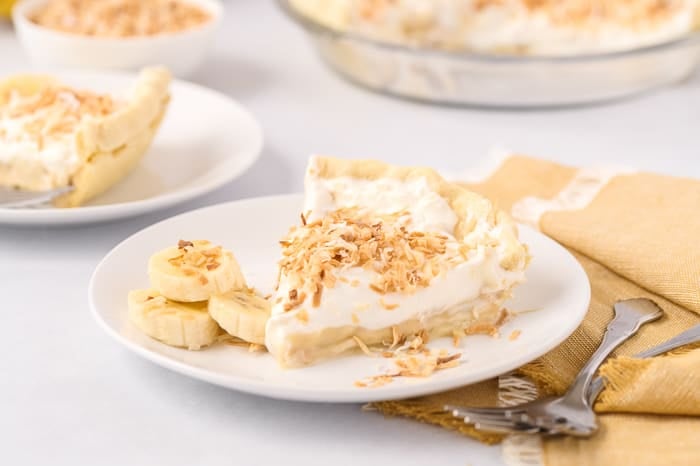 Let's walk through how to make this coconut banana cream pie. If you are not interested in the step-by-step picture tutorial, feel free to scroll to the end for the recipe.
Let's start with making the pie crust.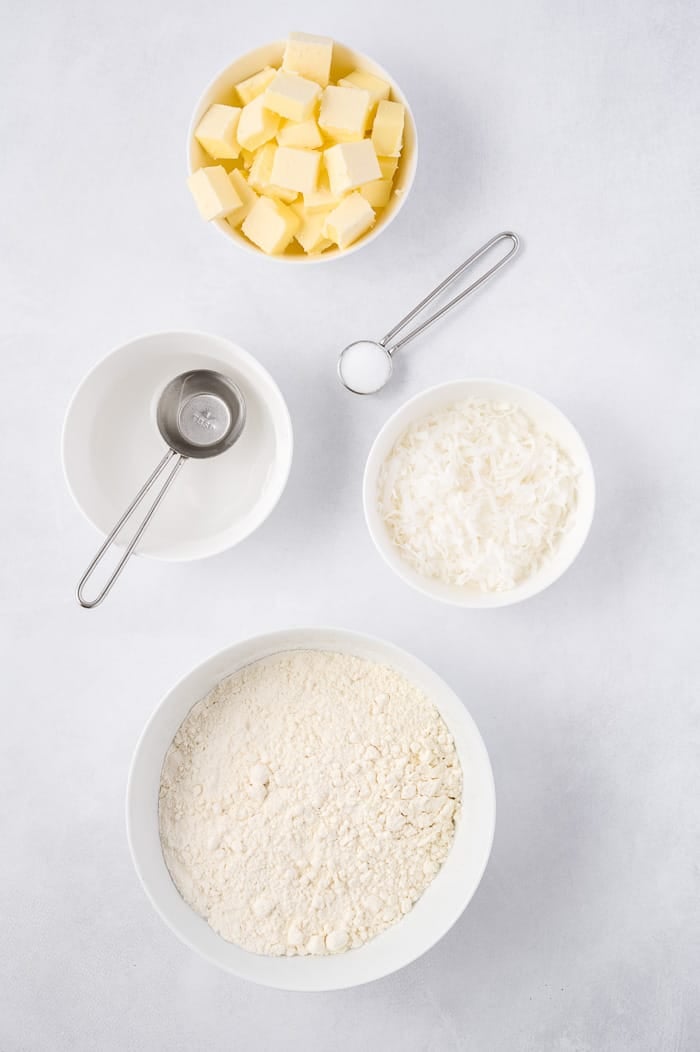 The pie crust is a simple one but I sneak in some coconut flakes in it to start with coconut flavor from the start.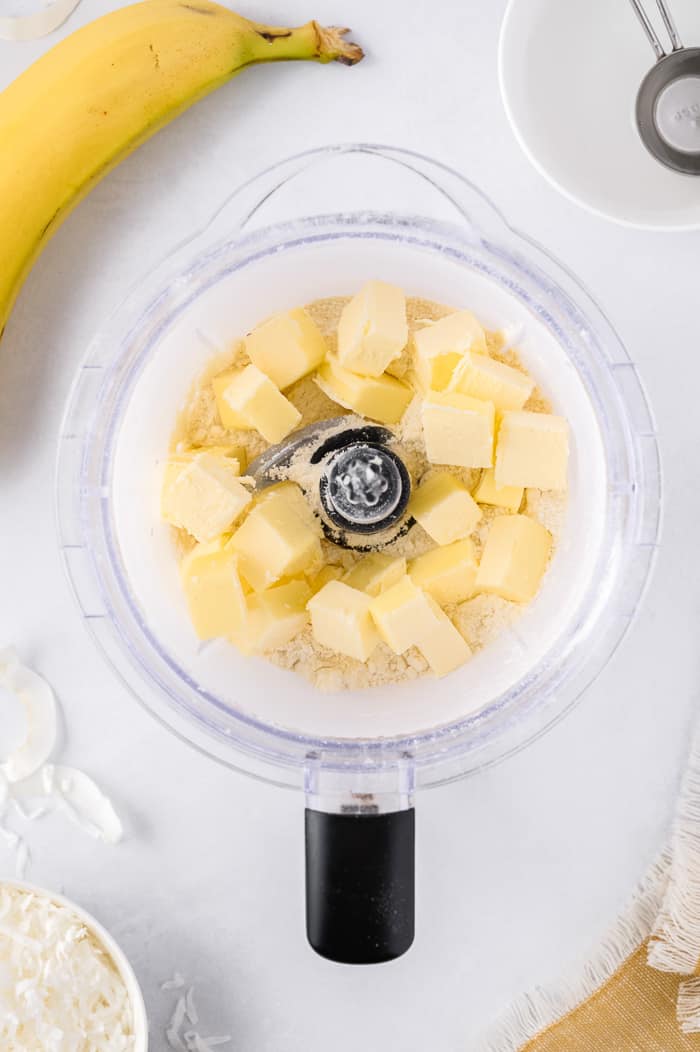 I love making my pie crust in a food processor, but you can also use your hands to incorporate the ingredients and cut in the butter into pea sizes.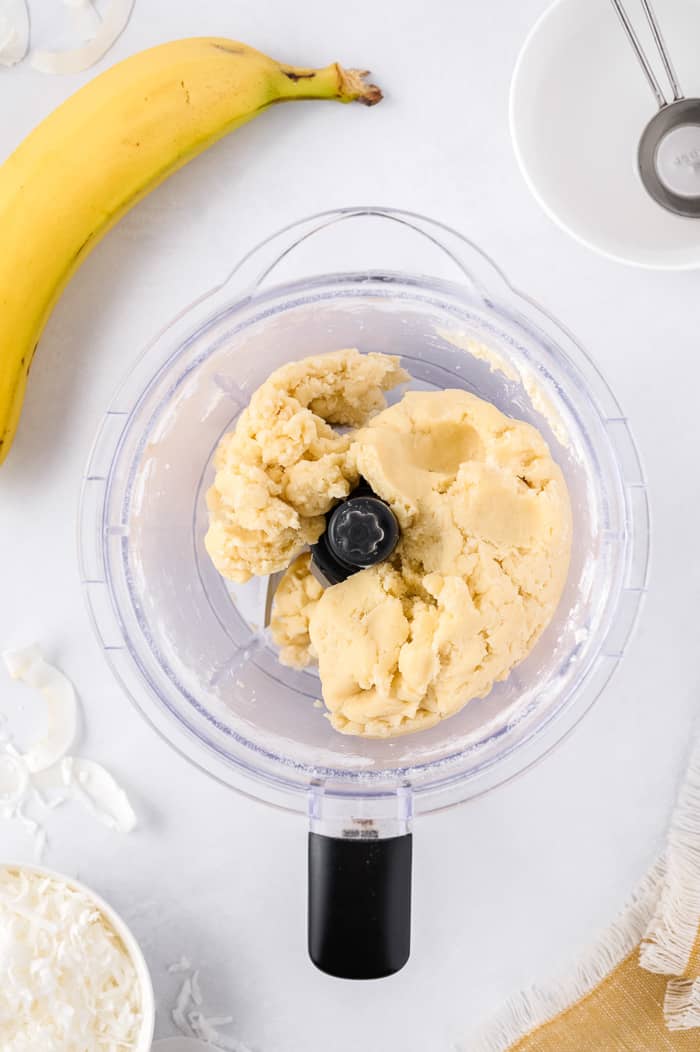 If using the food processor, pulse until ingredients are just combined. Then roll out on a lightly floured surface.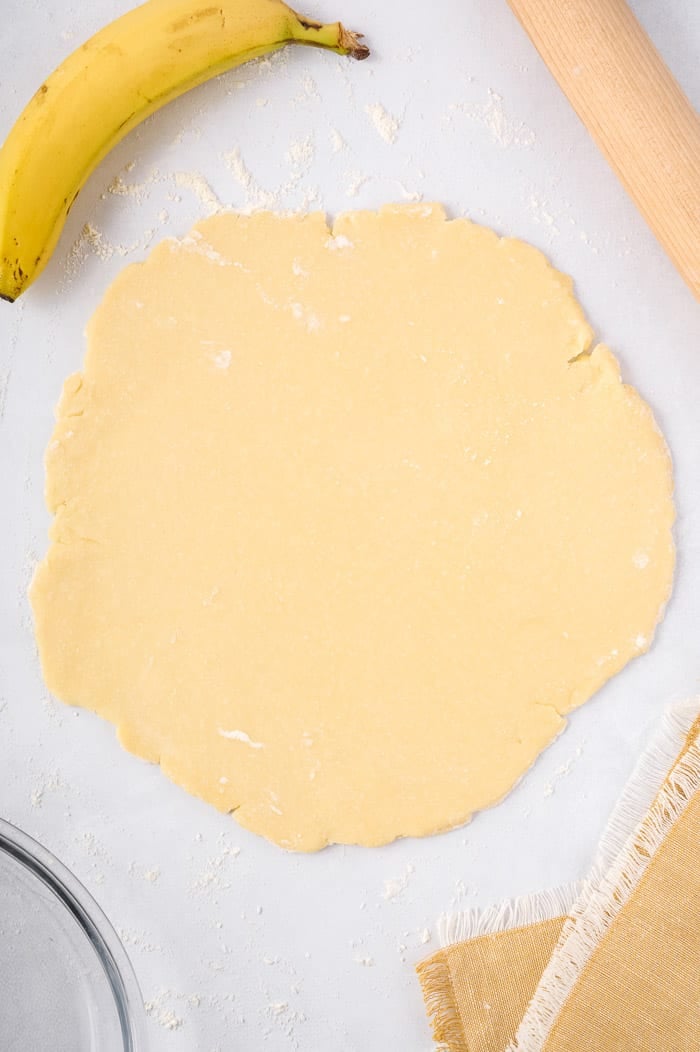 Transfer the pie crust to a pie dish and crimp as desired. Bake the crust as directed.
Now let's make that pudding filling.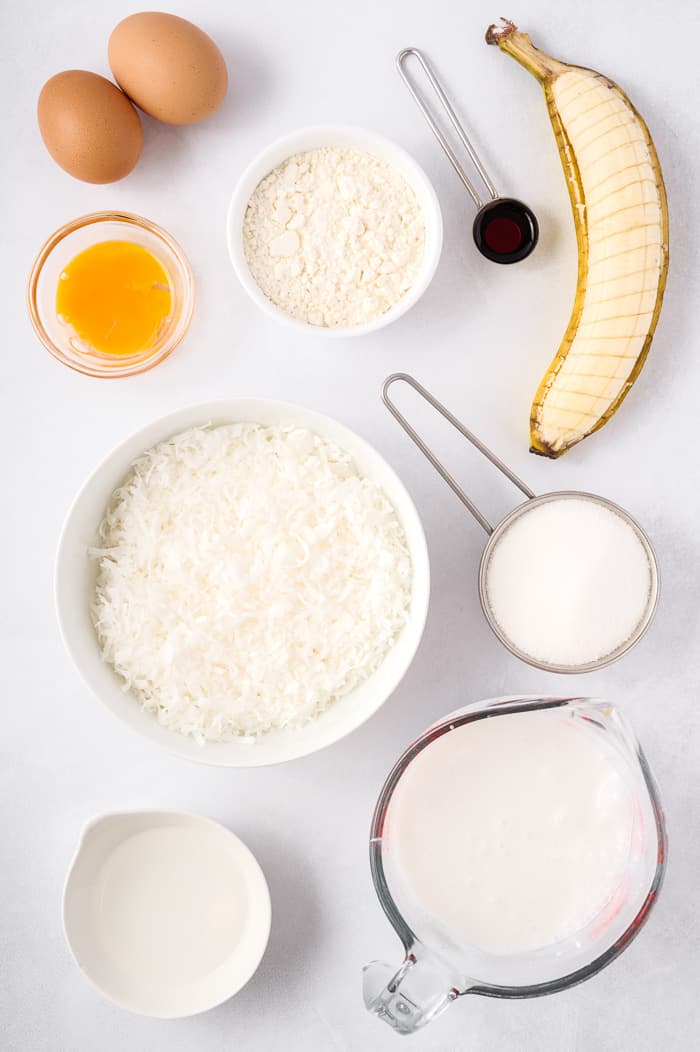 The ingredients are simple and I am sure you already have them in your pantry or fridge.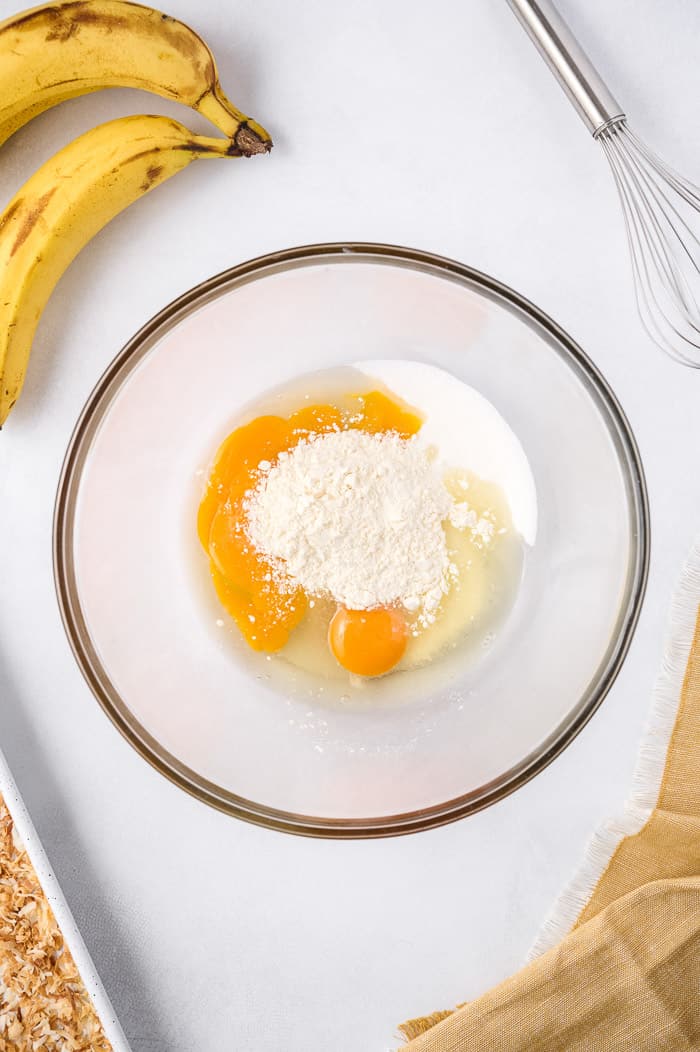 Whisk together your eggs, sugar, and flour. Cook this mixture over low heat, adding in the rest of the ingredients, until it thickens to a pudding-like consistency.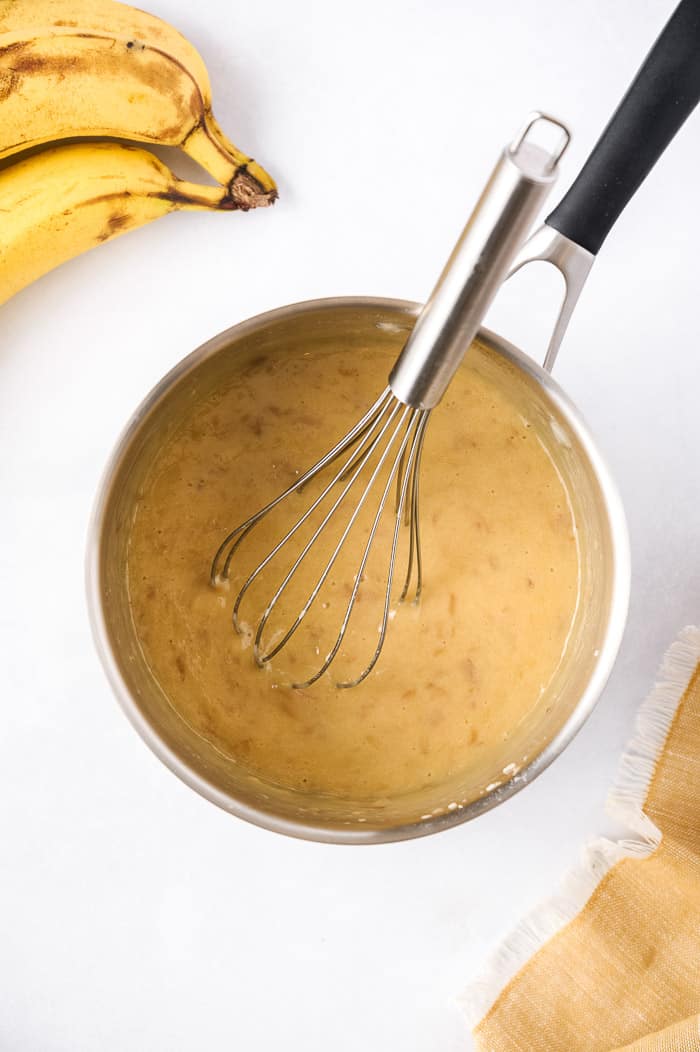 Transfer the pastry cream to a banana-lined crust.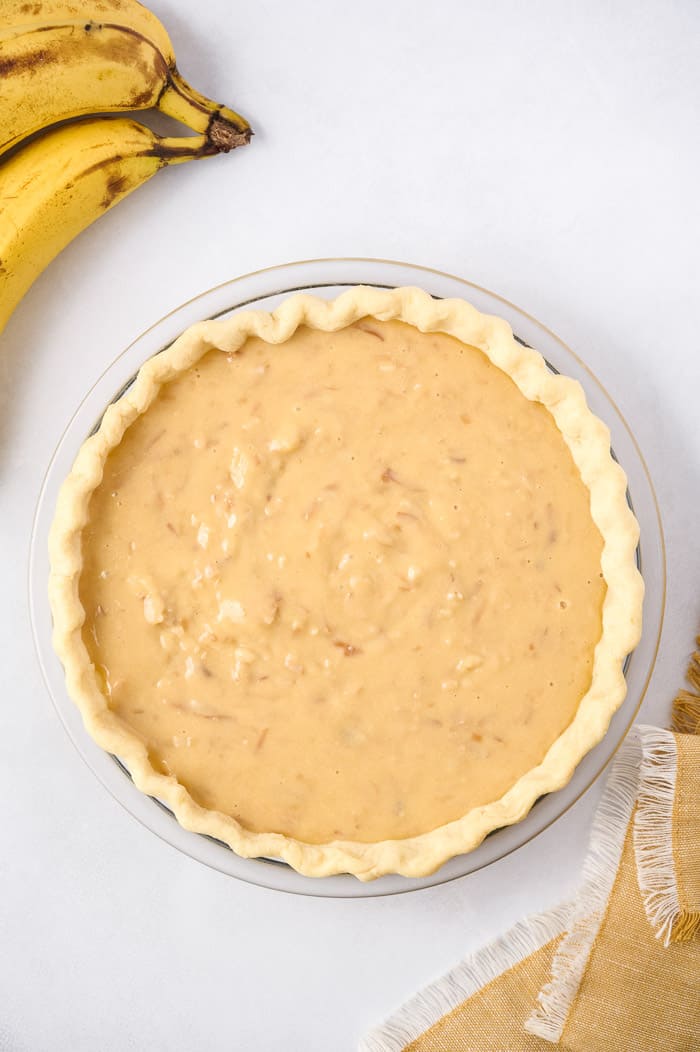 Give this a good chill overnight and then you are almost done!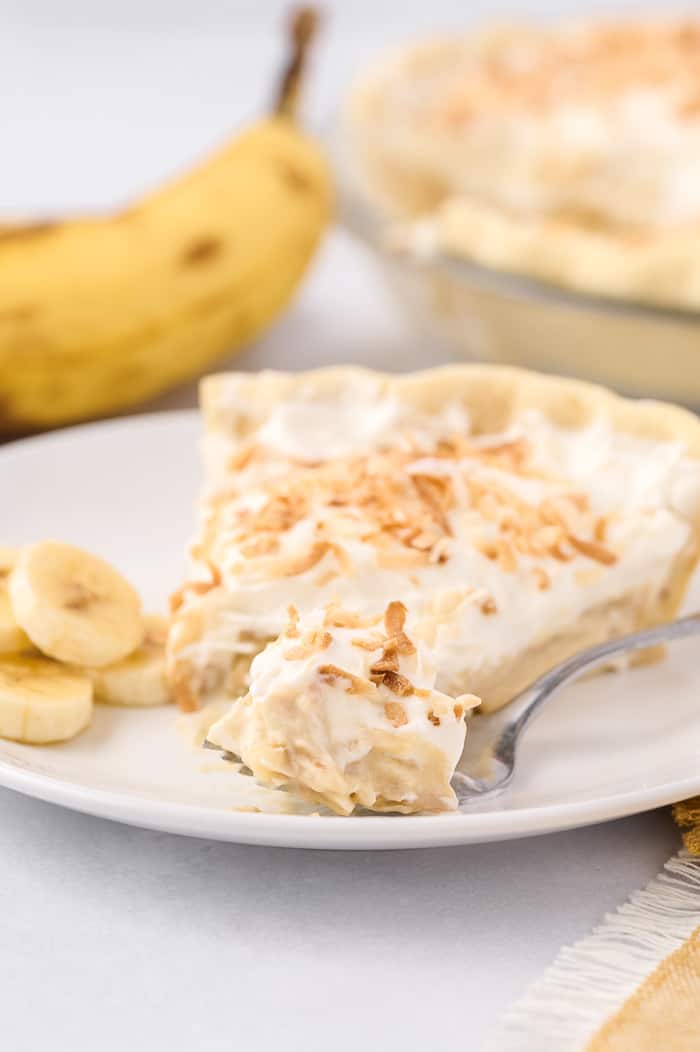 To serve top with whipped cream and toasted coconut flakes!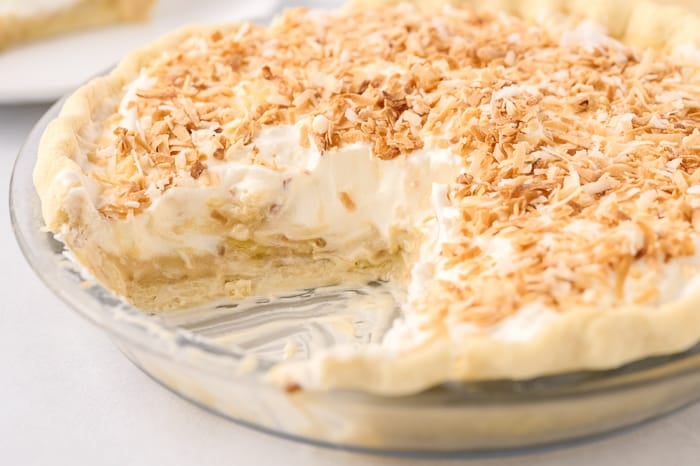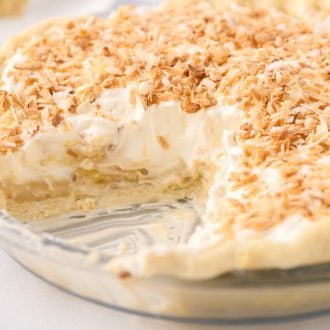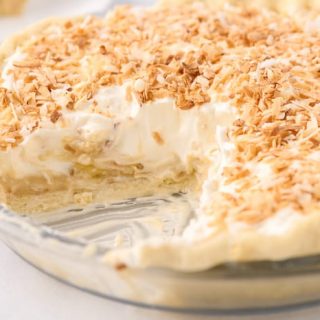 Yield: 1 9-inch pie
Coconut Banana Cream Pie
Your classic banana cream pie infused with coconut flavors in the crust, pudding, and cream!!
Total Time
9 hours
5 minutes
Ingredients
For Coconut Crust:
1/3 cup sweetened coconut flakes
1 ¼ cup all-purpose flour
½ teaspoon salt
½ cup unsalted butter, chilled and cut into pieces
4 tablespoons ice cold water OR iced cold coconut rum
For Banana Coconut Cream Pie:
1 ½ cup shredded sweetened coconut
½ cup granulated sugar
2 large eggs
1 large egg yolk
3 tablespoons all-purpose flour
1 can (13.5oz) coconut milk (use full-fat)
2 tablespoons banana liqueur OR 1 tablespoon banana extract
1 teaspoon vanilla extract
1 large banana, sliced
For coconut whipped cream
1 cup heavy whipping cream, chilled
¼ cup coconut milk (reserved from above), chilled
2 tablespoons granulated sugar
1 teaspoon vanilla extract
Instructions
For Coconut Crust:
In the bowl of a food processor, process the sweetened coconut flakes until fine. Add in the flour and salt. Pulse a few times to combine.
Add in the cold butter and pulse until the mixture looks like a coarse meal. Sprinkle 3-4 tablespoons of cold water (or cold rum) over the mixture and pulse until the dough comes together in clumps. If dry, add a little bit more water (1 tablespoon at a time) until dough comes together. Remove dough from processor and pat into a disk.
Wrap in plastic wrap and chill for at least an hour or overnight. The dough can be made up to 3 days ahead. Keep chilled. Let stand at room temperature a few minutes before rolling out.
Preheat oven to 350 degrees F. Roll out dough on a lightly floured surface into a large circle (about 12-inches). Fit into an ungreased 9-inch pie dish, trim the edges leaving an inch or two overhang. Gently cover the crust with foil and fill in with pie weights. Bake crust for 15 minutes and then remove the weights and foil. Bake for an additional 10-15 minutes until the crust is lightly golden brown. Remove pie from the oven and let cool completely.
For the pie filling:
Preheat oven to 350 degrees. Spread the shredded coconut onto a rimmed baking sheet and toast for 2-3 minutes. Toss and bake for another 2-3 minutes. Keep a close eye on the coconut because it burns easily. Remove from oven and let cool.
In a medium bowl, whisk together the sugar, eggs, egg yolk and all-purpose flour until light and pale in color. In a medium saucepan, set over medium heat, bring 1 ½ cups of coconut milk with 1 cup toasted sweetened coconut to a simmer. While whisking constantly, pour the hot milk mixture into the eggs and whisk until combine.
Return everything to the saucepan and cook over medium heat until thickens, stirring constantly. Remove from heat and whisk in the liqueur and vanilla extract. Layer the cooled crust with the slices of banana. Pour the pastry cream into the cooled crust. Cover with plastic wrap pressed directly onto the surface. Chill for at least 2 hours or overnight.
Topping:
In the bowl of an electric mixer, combine all the ingredients and beat until peaks form. Top the pie with the whipped cream. Sprinkle the rest of the toasted shredded coconut over the pie. Cover and chill until ready to serve.
Thank you for supporting the companies that make it possible for me to continue to create great recipes for you. For more information and recipe ideas, visit ALDI on Facebook, Twitter and Pinterest.