Grandpa's Scalloped Potatoes
This recipe for Grandpa's Scalloped Potatoes is sponsored by Cabot Cheese Creamery. Thank you for supporting the occasional sponsored content from brands I love.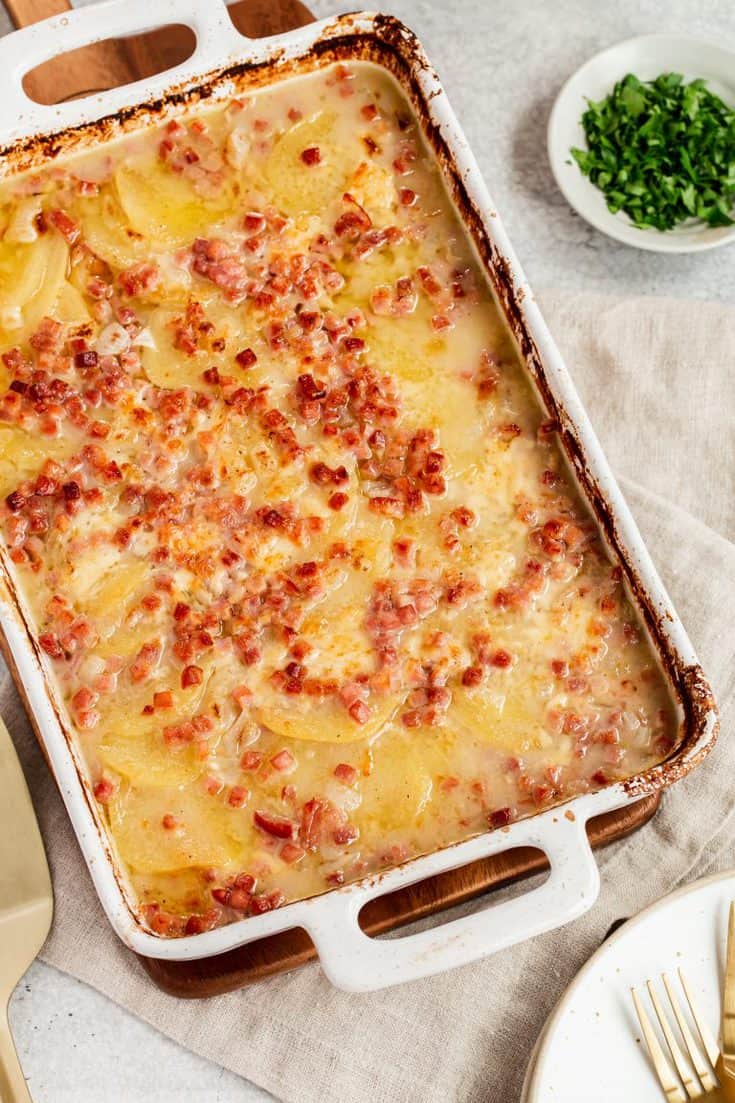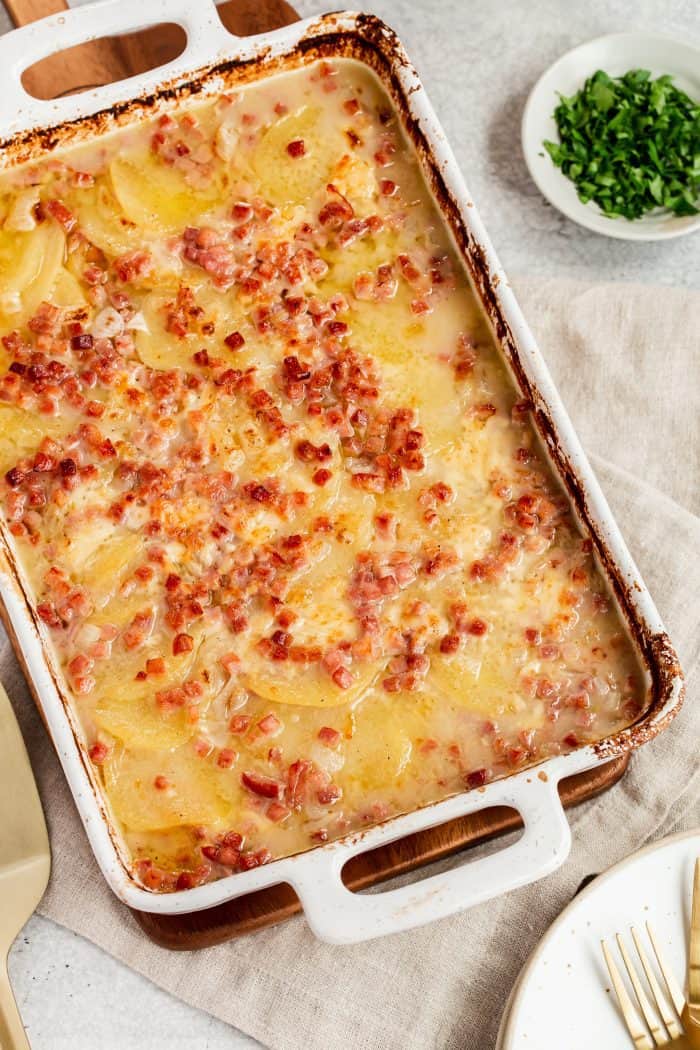 Hi friends!! I hope you are all doing well and staying well. This holiday season is going to look different for most of us. Smaller gatherings, long-distance family missing, and most of us cooking holiday meals for smaller groups. That's one of the reasons I decided to get my kid's Grandpa's Scalloped Potatoes recipe on deck before the holiday hits. It is a holiday staple for my husband and frankly, mine too.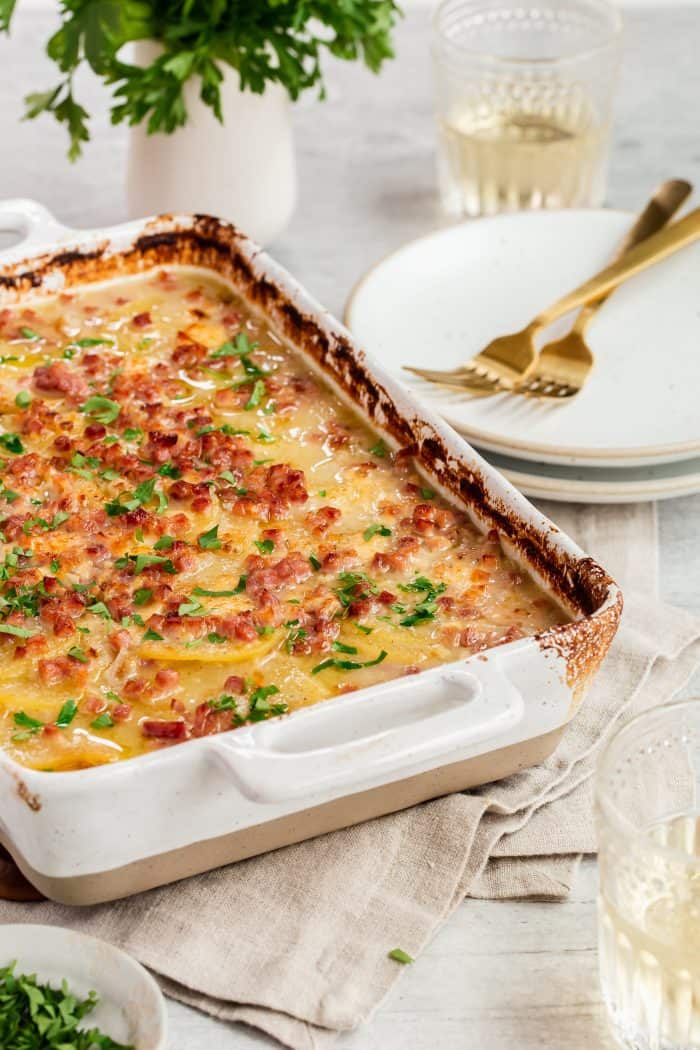 Like many families, we live 6 hours away from my husband's family. While on lockdown, we have managed to stay connected and celebrate milestones from afar. This summer, while things were slightly better in each of our states, we made the trip to see the grandparents knowing the winter months may be impossible. While there, I decided to have my father-in-law teach me how to make his infamous scalloped potatoes! These are a family favorite and I needed to know the secret to this comfort dish.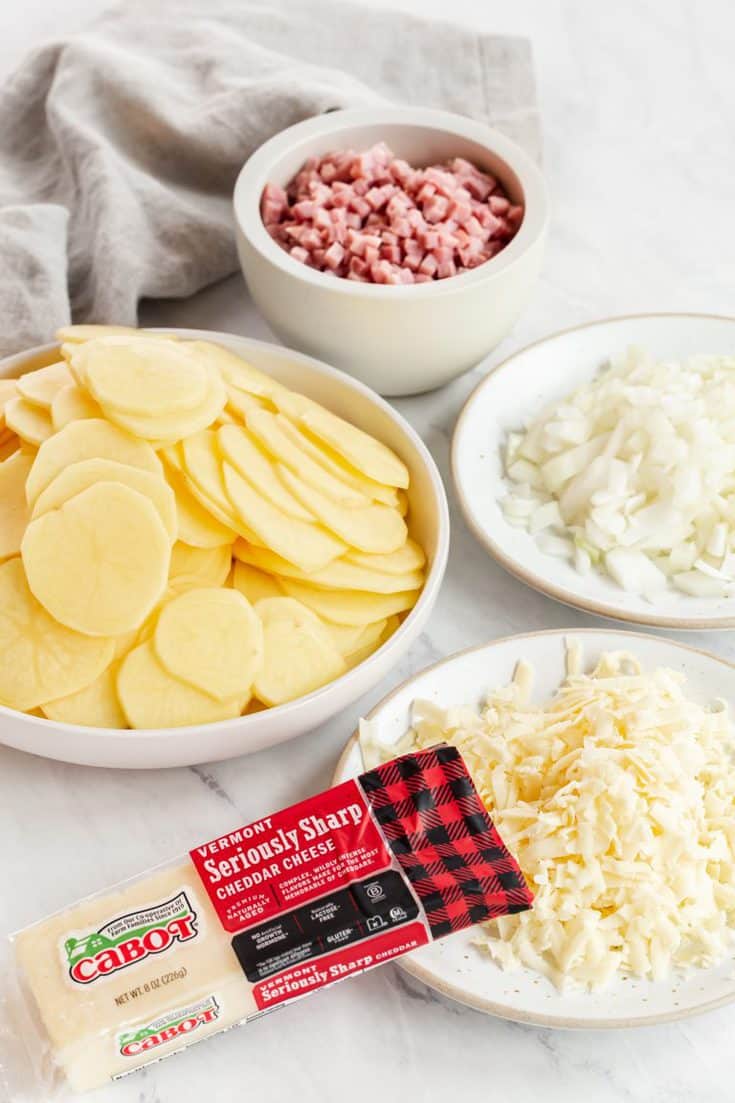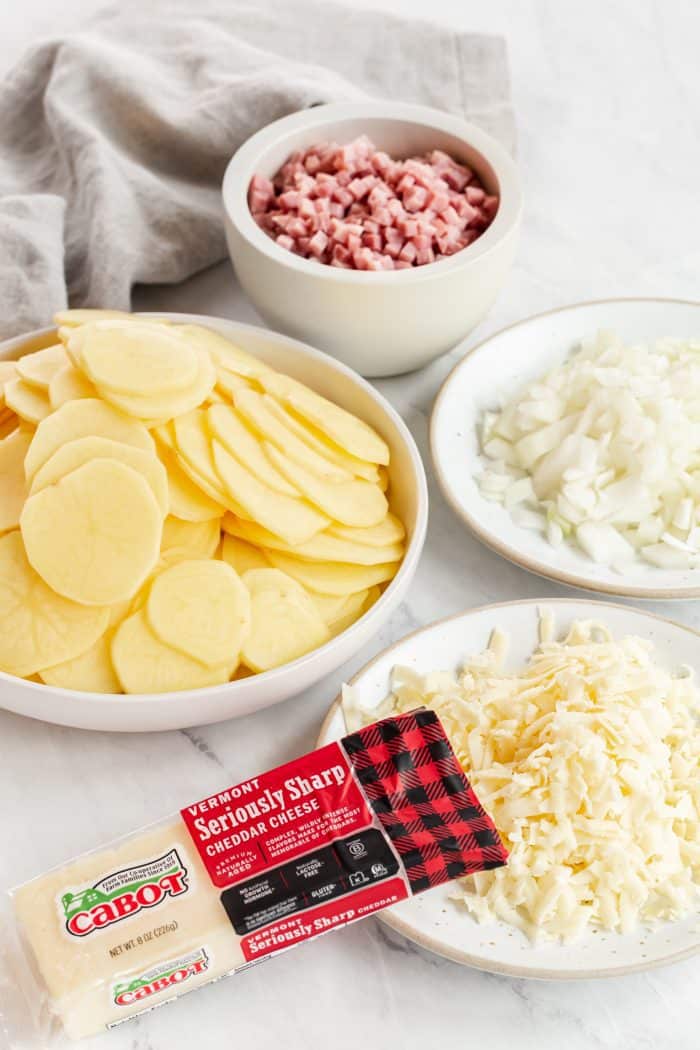 What's one thing that most comfort foods have in common? Cheese of course! In our house, that means Cabot Cheese! Our favorite cheddar and the only one we use in our house. Luckily, I converted my father-in-law as well and he had the Cabot seriously sharp cheddar cheese on hand for these scalloped potatoes. By the way, Cabot Cheese cheddars have been featured around here a lot because we love them. From using it in these Bacon Cheddar Cheeseburger to making a cheese board for easy entertaining to this easy asparagus cheese tart, it is a staple in our home.
Scalloped potatoes are a rich bake of thinly sliced potatoes, filled with a creamy base and a cheesy topping. My FIL loves to start this dish by creating a flavorful rich base roux. Butter, flour, cheese, and some spices. He swears by using a dollop of mayonnaise and ranch seasoning. I found that's his secret weapon. He also uses chicken broth instead of cream for the base to lighten it up a little.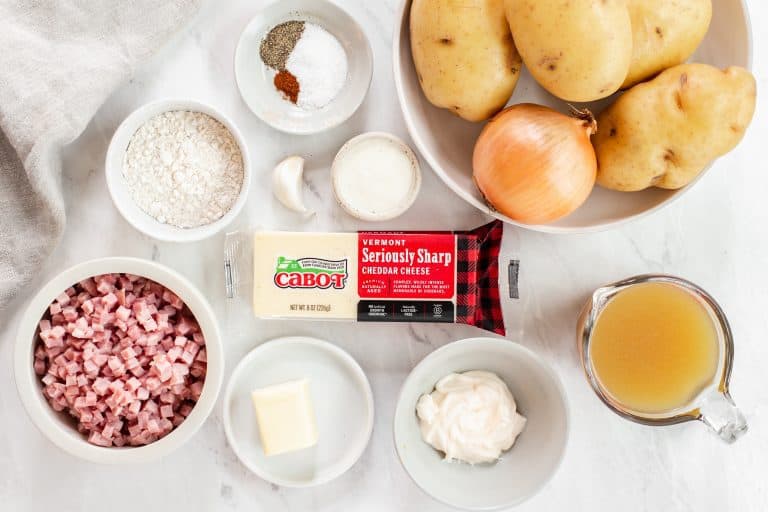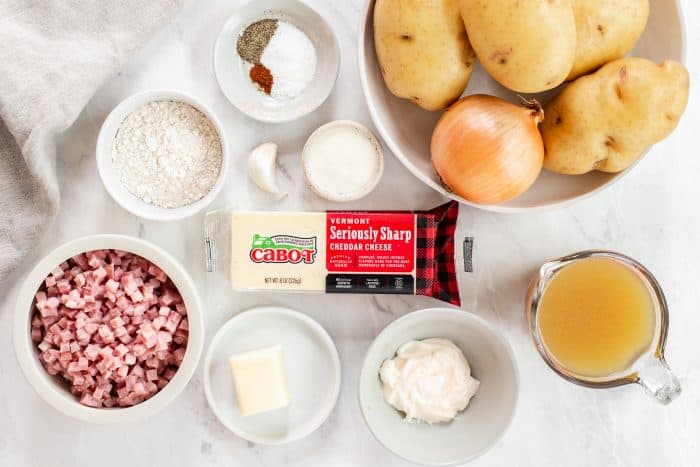 Now this scalloped potatoes recipe can use ham but it is optional. We have tried it without ham and with turkey ham (I don't eat pork so my FIL accommodates this). Regardless of your ham views, this recipe will work!
The potatoes are tender, crisp on the outside, baked in a creamy and cheesy base. The ooey-gooey results are as comforting as a cheesy carb bake should be. As we gather for the holiday season and crave comforting food, do try my kids Grandpa's Scalloped Potatoes recipe. It will not disappoint.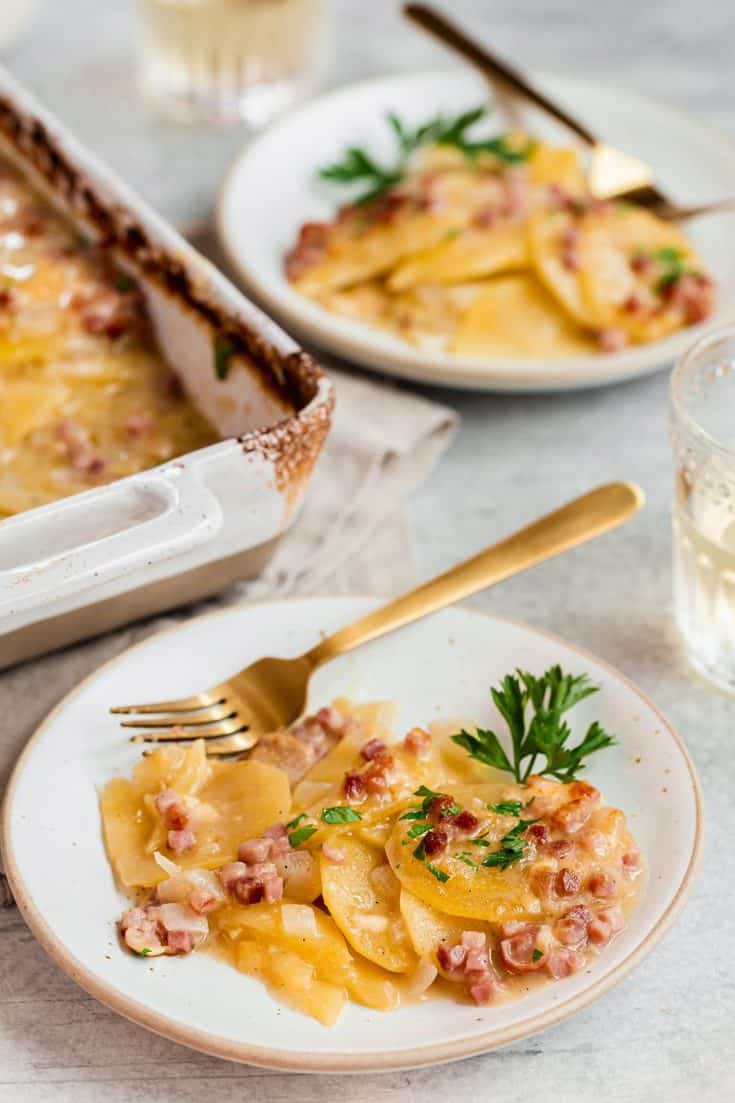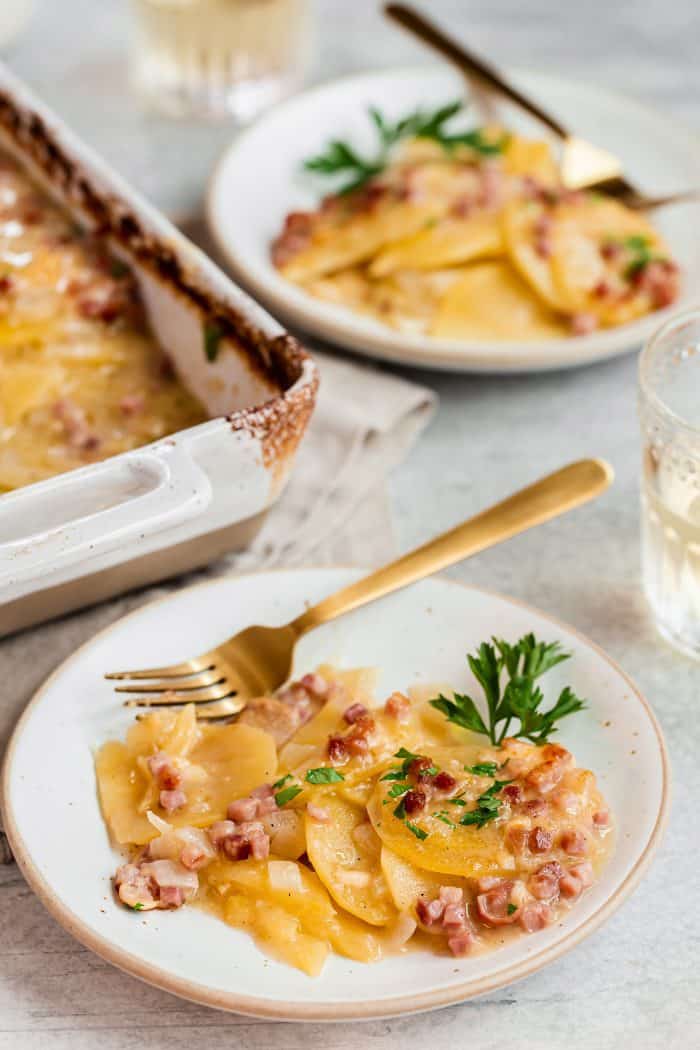 I am glad I was able to learn how to make this recipe from my FIL, recreate it for my family, and see all the memories it brought for my husband. Plus my kids actually asked for seconds, so in my books, that's a HUGE win.
Happy Baking!
For more recipe ideas and inspiration, visit Cabot Cheese and follow them on social media (Facebook, Twitter, and Instagram).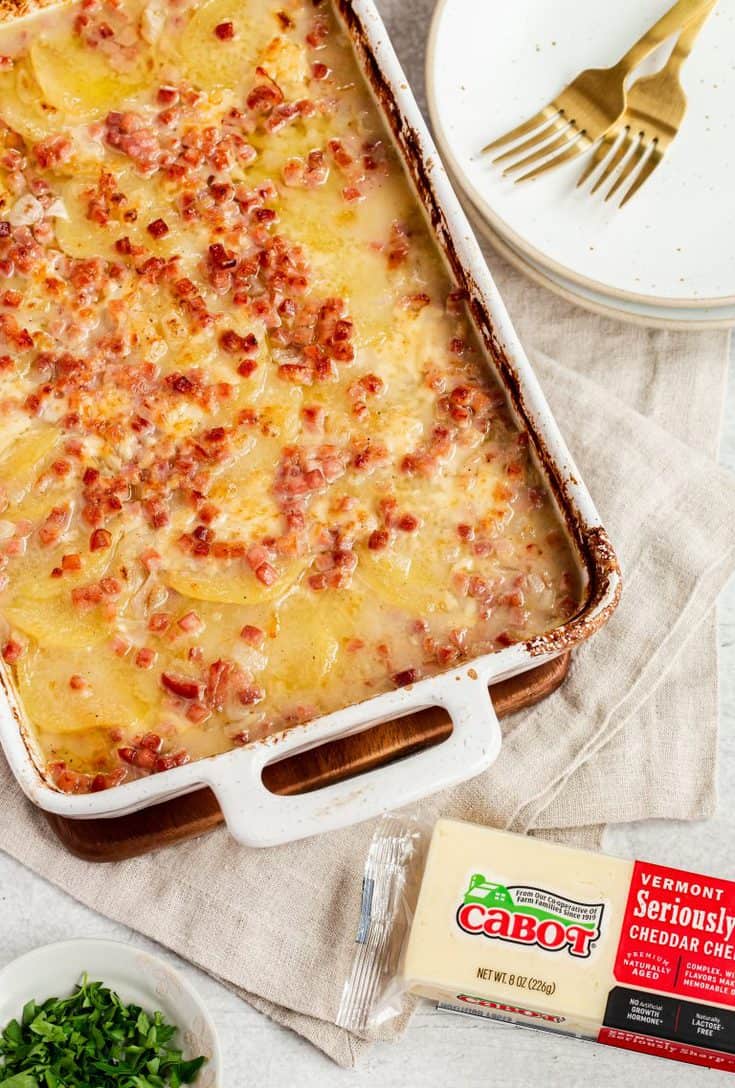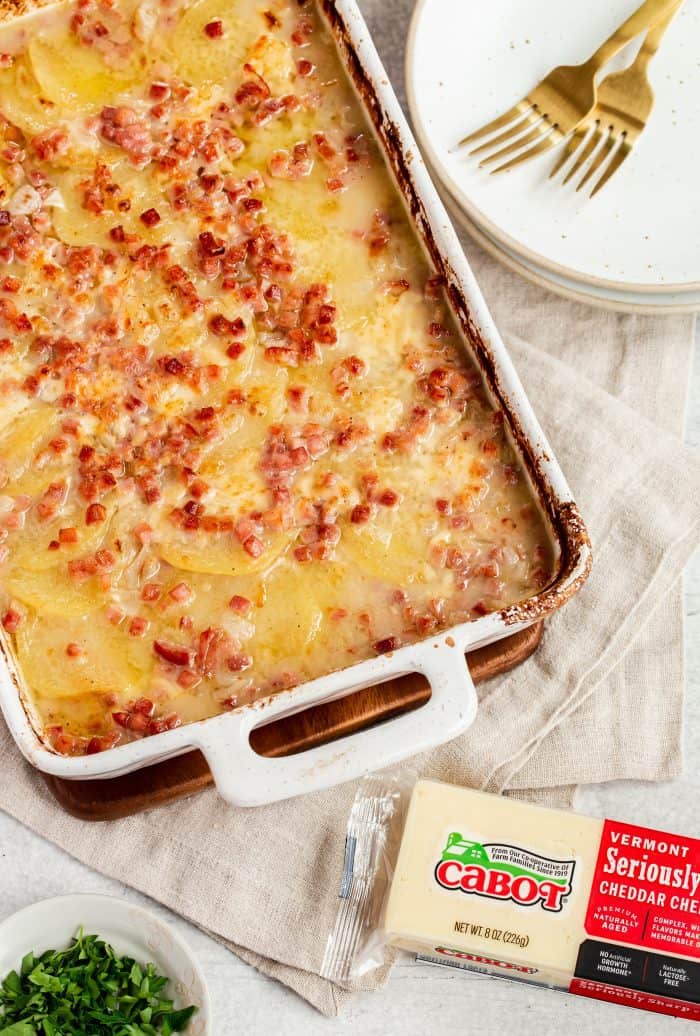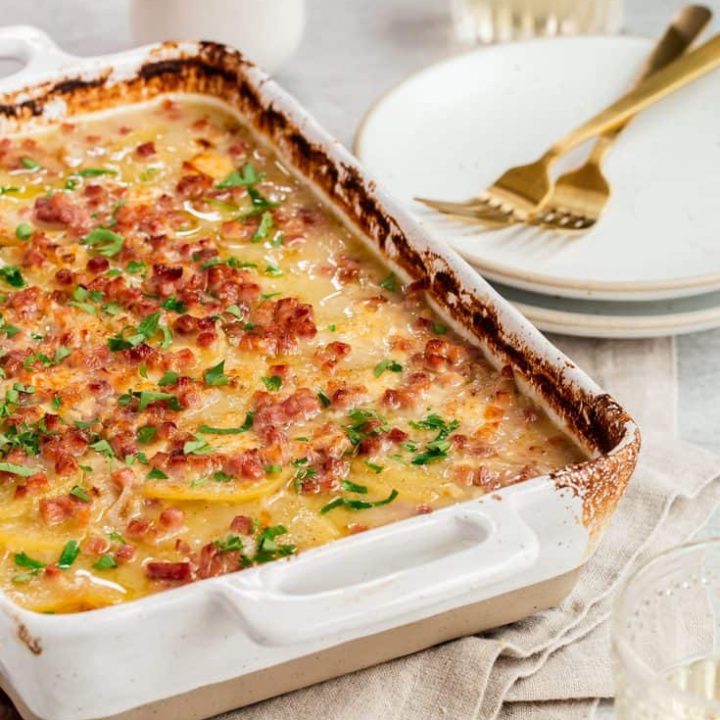 Yield: 4-6 servings
Grandpa's Scalloped Potatoes
Our family's favorite comfort food is Grandpa's Scalloped Potatoes that are tender, crispy, and cheesy goodness.
Total Time
2 hours
30 minutes
Ingredients
6 large potatoes, peeled and thinly sliced
1 large onion, diced
1/2 cup shredded Cabot cheddar cheese, and more for sprinkling
2 cups diced ham (optional, you can use turkey ham too)
3 tablespoon unsalted butter
¼ cup all-purpose flour
1 ¾ cups broth (vegetable or chicken)
2 garlic cloves, minced
2 tablespoons mayonnaise
2 tablespoons ranch dressing
¾ teaspoon kosher salt
¼ teaspoon black pepper
A pinch of smoked paprika
Instructions
Preheat oven to 325 degrees F.
In a greased 2 ½ quarts baking dish, layer the potato slices, then onions, ham (if using), and cheese. Repeat until you use all the slices of potatoes.
In a small saucepan set over medium heat, melt the butter. Stir in the flour into the melted butter and stir until smooth.
Gradually add in the broth, garlic, mayonnaise, ranch dressing, salt, and pepper. Stir to combine. Simmer over medium heat, stirring for two minutes or until thick and bubbly.
Pour mixture over the potatoes. Sprinkle with paprika and more cheese. You can also sprinkle on more ham at this point.
Cover with foil and bake for about 2 hours or until potatoes are tender and bubbling. Remove foil cover for the last 20 minutes to brown the surface, if desired. You can also broil for 2 minutes.
Let cool for at least 10 minutes before serving.
Recommended Products
As an Amazon Associate and member of other affiliate programs, I earn from qualifying purchases.