Passionfruit Coconut Cupcakes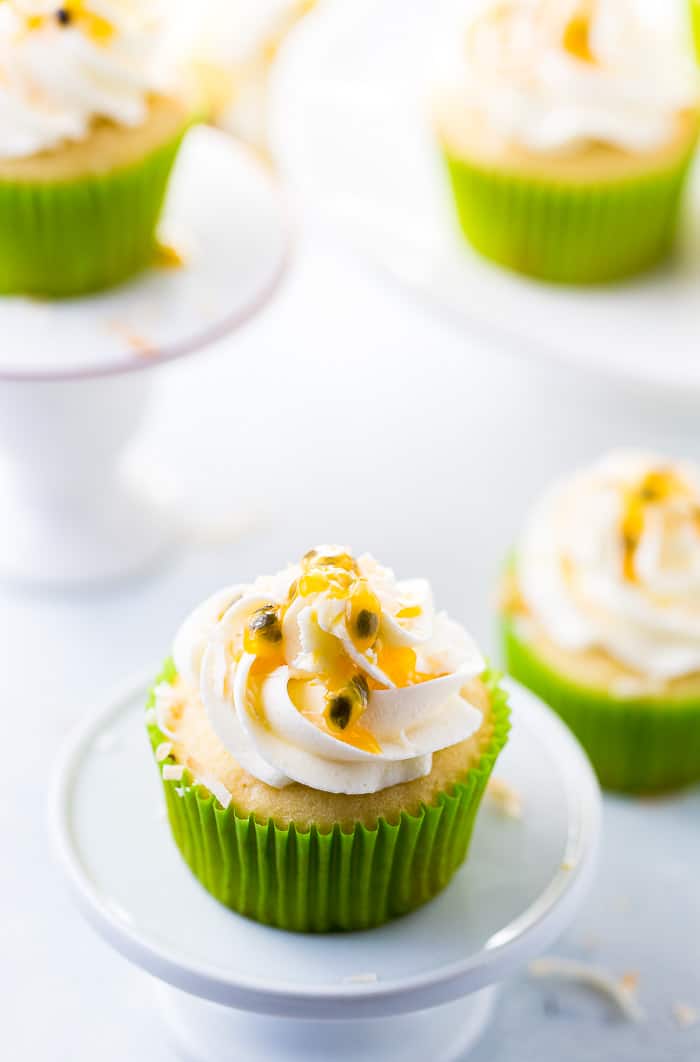 Happy Monday friends! Happy March. I have another new cupcake recipe for you today to celebrate Cupcake Mondays. If you follow me on Instagram (@aclassictwistblog), you know I like to share a cupcake recipe with you on Mondays. Nothing brings me more joy than a delicious cupcake and what better way to start a new week. These passionfruit coconut cupcakes are a new favorite.
While things have been difficult and hard over the past year, I am trying to find the joy in the simplest things. Cupcakes bring me comfort. From the baking, to the photographing and to the eating. It is my happy place and I love sharing it with you in the event it would bring you an ounce of joy during these times.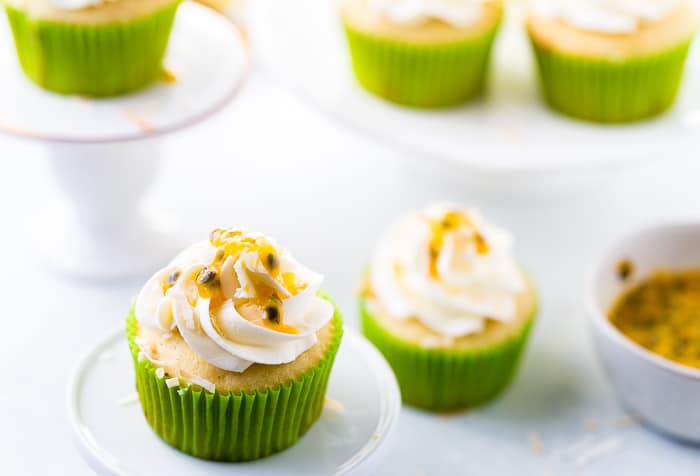 The combination of flavors in these passionfruit coconut cupcakes is not new. I shared with you my passionfruit coconut layer cake a few weeks ago. These cupcakes are derivatives of that wonderful cake. One of the most frequent questions I get asked when I post a layer cake recipe is whether you can make cupcakes from the recipe. The answer is always yes, with some easy modifications.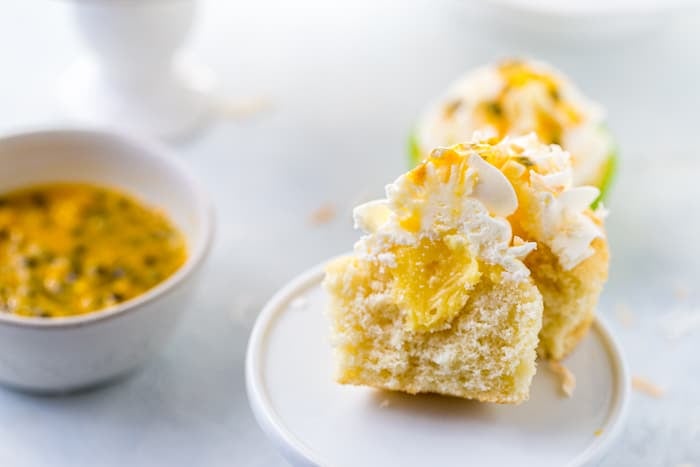 To make it easy for you, I typed up a cupcake-specific recipe for you. As the name suggests, these cupcakes start with a flavorful coconut base. I like using cream of coconut or coconut cream for my coconut cake batters as it is a more intense flavor. Coconut milk is a milder flavor and for the coconut fan in me, I need more. So these cupcakes use cream of coconut instead of coconut milk.
Once baked, the cupcakes are filled with a sweet and tart passionfruit curd. I decided to use passionfruit in a filling instead of the batter. This way, the flavor doesn't get lost in the cupcake. I love curd fillings because it helps me bring in flavors in cakes and cupcakes. This curd is one of my go-to recipes modified for passionfruit. It's similar to my grapefruit curd recipe.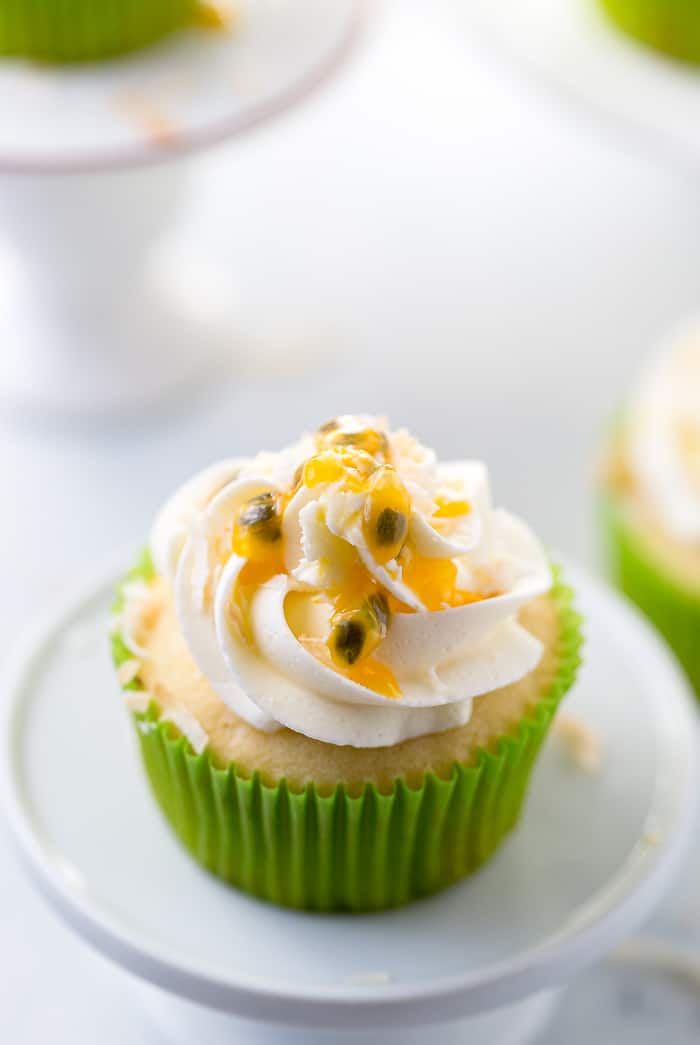 The cupcakes are finally topped with a fluffy coconut Swiss meringue buttercream. You can use a traditional American buttercream if you prefer. I love swiss meringue because it is less sweet and pairs great with a sweeter cake and filling.
The two tropical flavors of coconut and passionfruit are great together in these cupcakes. Sweet and tart perfectly married together for a delightful cupcake.
If you are looking to up your cupcake game this spring, these coconut cupcakes will be great for you! Add some tropics to your week as we hold on to the last few weeks of winter.
Happy Baking friends!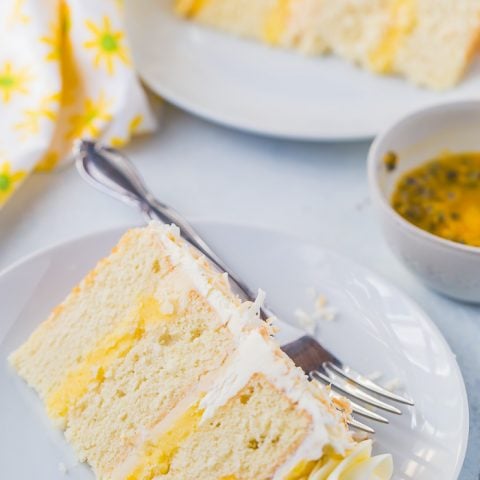 Yield: about ~2 cups
Homemade Passionfruit Curd
Total Time
4 hours
10 minutes
Ingredients
¾ cup granulated sugar
3 tablespoons cornstarch
1 ½ cups passionfruit pulp juice (or passionfruit concentrate or cocktail)
3 egg yolks, whisked in a small bowl
6 tablespoons butter, cut into pieces
Instructions
In a medium saucepan set over medium heat, combine the sugar with the cornstarch and add in the juice.
Cook, stirring, until thickened and bubbly. Gradually whisk in half of the hot mixture into the egg yolks to temper the eggs.
Return the egg mixture to the saucepan and cook, stirring constantly, until the mixture thickens, about 2-3 minutes. Cook for another 1-2 minutes, stirring.
Remove from heat and add in the butter pieces. Whisk until melted.
Pour the mixture into a small bowl and cover with plastic wrap pressed against the top. Chill for at least 4 hours, preferably overnight until set.
Notes
I linked a few options of passionfruit below.
You can also use fresh passionfruit pulp if available to you. You will need about 8-10 medium-sized ones.
Recommended Products
As an Amazon Associate and member of other affiliate programs, I earn from qualifying purchases.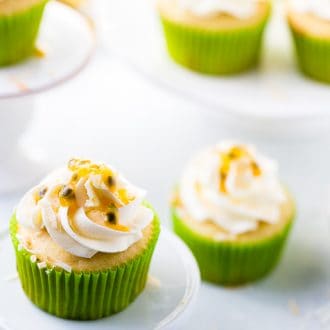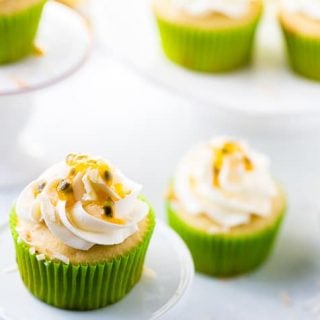 Yield: ~24 cupcakes
Passionfruit Coconut Cupcakes
These cupcakes are bursting with tropical coconut flavors and tart passionfruit.
Total Time
1 hour
15 minutes
Ingredients
For Coconut Cupcakes:
2 large eggs, at room temperature
4 large egg whites, at room temperature (save the yolks for the curd filling!)
1/4 cup water
1 teaspoon pure vanilla extract
1 teaspoon coconut extract
2 1/4 cup cake flour, sifted
1 cup granulated sugar
1 tablespoon baking powder
1 teaspoon kosher salt
12 tablespoons (3/4 cup) unsalted butter, softened at room temperature cut into pieces
For Swiss Meringue Coconut Frosting:
5 large egg whites
1 cup granulated sugar
a pinch of salt
1 ½ cups (3 sticks) unsalted butter, softened to room temperature, and cut into pieces
2 tablespoons cream of coconut
½ teaspoon coconut extract
½ teaspoon vanilla extract
For Filling and Topping
Passionfruit Curd Recipe (above)
Toasted coconut flakes
Instructions
For Coconut Cupcakes:
Preheat oven to 350 degrees F. Line two muffin tins with cupcake liners.
In a medium bowl, whisk together the egg and egg whites. Whisk in the coconut cream, water, and vanilla, and coconut extracts into the egg mixture. Set aside.
In a large bowl, combine the cake flour, sugar, baking powder, zest of lemon, and salt. Using an electric mixer, mix on low for one minute. With the mixer on low, add in butter, one piece at a time, and mix until only pea-size pieces remain about 1 minute. Do not over mix.
Add in half of the wet ingredients, increase speed to medium-high, and beat until light and fluffy, about 1 minute. Reduce speed to low and add in the remaining wet ingredients. Mix on low until combined, about 30 seconds. Stir batter once by hand with a rubber spatula (Do not over mix cake batter otherwise you will end up with a dense cake).
Divide batter evenly into prepared liners. Bake cupcakes until a toothpick inserted in centers come out clean, about 12-15 mins.
Transfer cupcakes to cool completely on a wire rack. Meanwhile, prepare the frosting.
For Swiss Meringue Coconut Frosting:
Whisk together egg whites, sugar, and salt in a heatproof mixing bowl set over (not in) a pan of simmering water. Whisk until warm and sugar are dissolved (mixture should feel completely smooth when rubbed between your fingers), about 3 minutes. Remove from heat.
With an electric mixer with the whisk attachment, whip egg white and sugar mixture for 5 minutes over medium speed. Increase speed to medium-high, and whip until stiff, glossy peaks form and meringue has cooled (test by the feeling of the bottom of the bowl), about 6 minutes.
Switch to the paddle attachment. With the mixer on medium speed, add butter, one piece at a time, beating well after each addition. The frosting might look separated at first but keep beating until it comes together. Be patient and it will come together (as long as you dissolved all the sugar in the previous step and your meringue was cool before adding in the butter).
Once the buttercream is smooth and silky (and not before), beat in the coconut cream, coconut extract, and vanilla until combined, an additional one minute.
To Assemble Cupcakes:
Using a cupcake corer or a small spoon, remove the core from cupcakes.
Add in a little bit of the passionfruit curd into the middle of each cupcake.
Frost each cupcake with the frosting. Top with toasted coconuts and passionfruit pulp.
Notes
Please use coconut cream OR cream of coconut. I am linking to two options on Amazon. https://amzn.to/38eZvfL https://amzn.to/38Y3YTu
Be very careful not to OVER MIX or OVER BAKE the cake. It will be dense. Also, wrap your cake in plastic wrap as it cools to maximize moistness.
The Swiss meringue frosting is not as sweet as the traditional American buttercream but it's a great match for this cake. If this is your first time making it, please be patient with it. It comes together after a good amount of beating with an electric mixer. If using a hand mixer, this will take up to 10 minutes. 
For a traditional buttercream, here's my favorite. Feel free to use it for this cake instead of the swiss meringue.
Cake recipe adapted from Sweetapolita
Recommended Products
As an Amazon Associate and member of other affiliate programs, I earn from qualifying purchases.