Pink Champagne Cheesecake
No need to go out for New Years' when you can make this Pink Champagne Cheesecake to celebrate at home! It's rich, creamy, and perfectly sweet.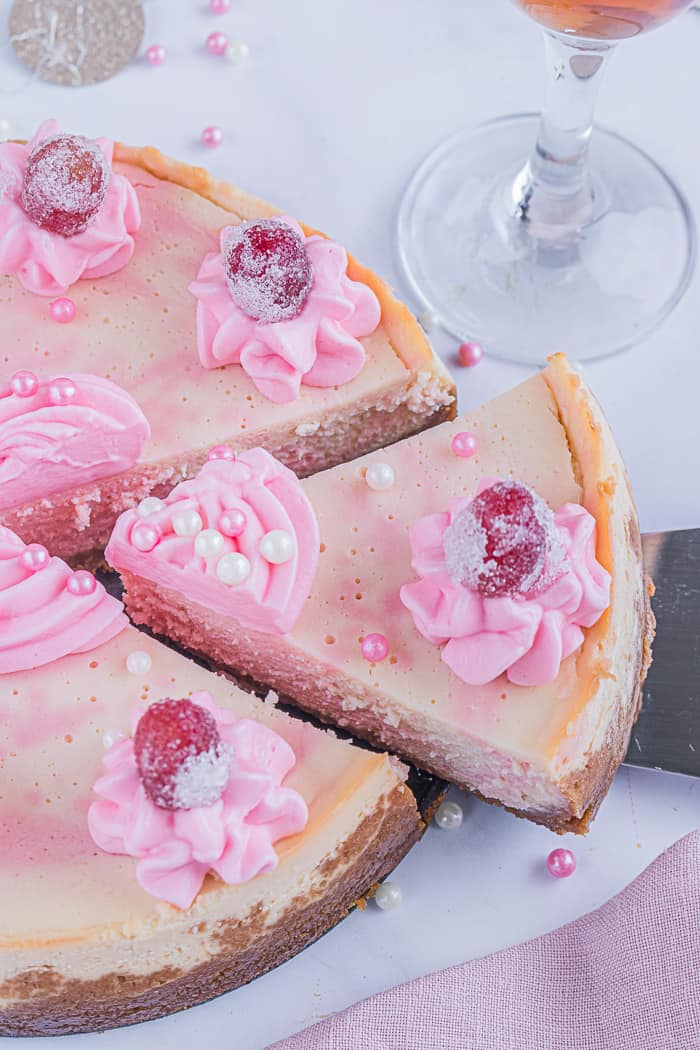 Hi friends! I can't believe the new year is already here. After the year we've all had though, I say good riddance and bring on 2021! It sure has been a doozy, and I know that our celebrations will probably look a little different than they usually do. But that doesn't mean we can't celebrate at home with yummy treats!
I don't know about you, but I love good pink champagne. It is a little sweeter (and obviously more fun and colorful!) than the regular variety. And not only that, but it also tastes great when baked into a cake or cheesecake!
So why bake with champagne you might ask? It makes for light and airy cakes that are incredibly moist and crumbly at the same time! This Pink Champagne Cheesecake recipe is what celebrations should be about!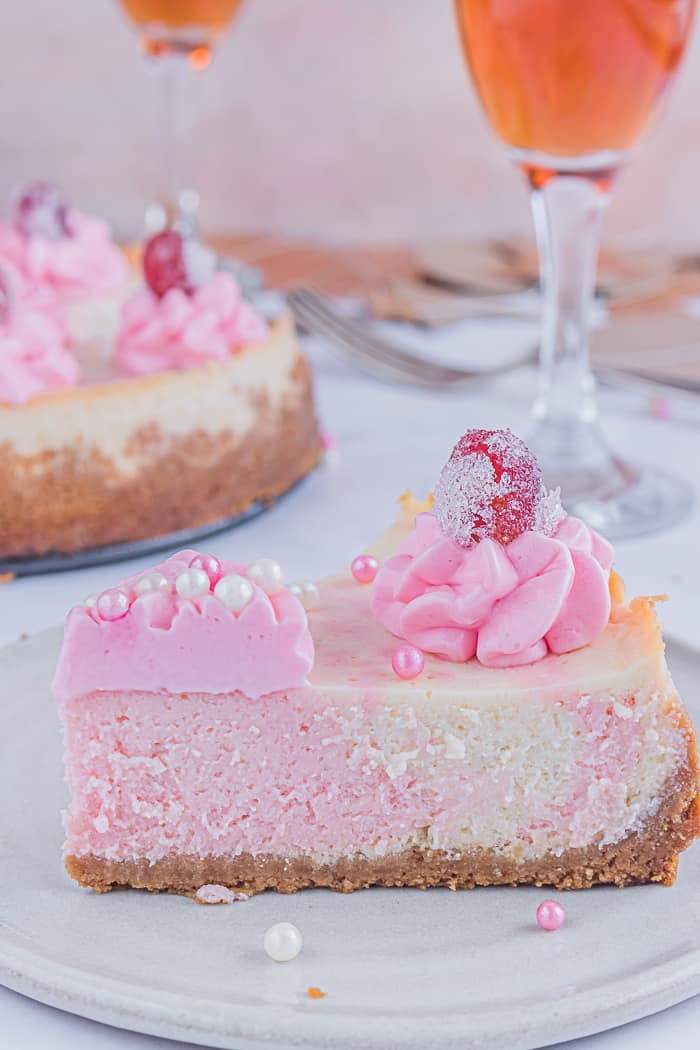 How to Make Pink Champagne Cheesecake
Start by making a basic graham cracker crust. I love these crusts because they pair well with just about anything, especially this cheesecake!
Next, you will start on the filling. First, you will cook down the champagne to concentrate the flavor and then allow it to cool to room temperature. Then combine the other ingredients (cream cheese and sugar first, then the flour and salt, and finally the eggs one at a time.) With a spatula, mix in the vanilla extract, sour cream, and reduced champagne.
I wanted to make my cheesecake a little more colorful and festive, so I colored half of the batter pink and left the other half white. If you pour one in at a time, it forms a pretty pattern! This is optional of course but it does help with the presentation.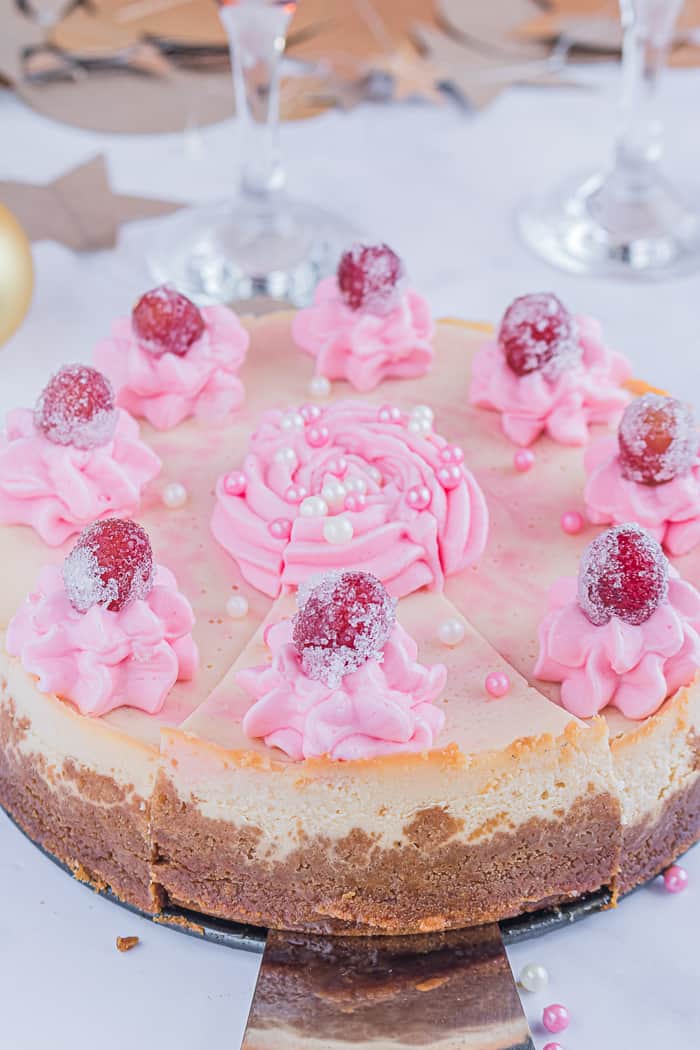 Then you will bake the cheesecake using a hot water bath (see the instructions in the recipe card for detailed instructions on how to do that.) This is my favorite way to make cheesecakes as it is foolproof and my cheesecakes don't crack. Slow and steady wins the race.
Once done, remove the cheesecake from the oven and allow it to reach room temperature. I like using a wire rack for this. Then cover the cheesecake with cling film and refrigerate for at least 6 hours, or overnight preferably.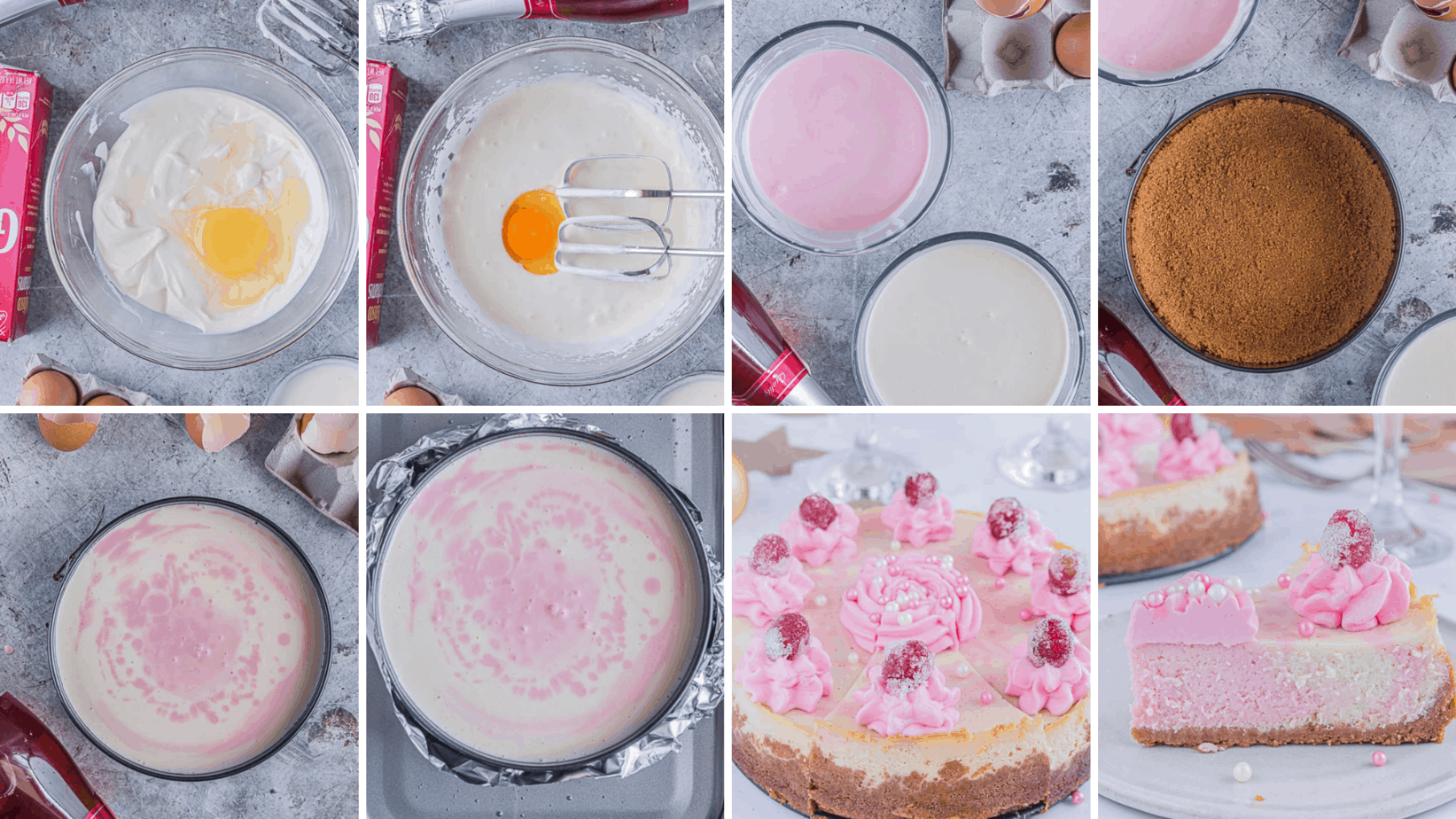 You can serve your cheesecake as is, but I chose to add some pink whipped cream and sugared cranberries. The more festive and beautiful the better in my book!
I hope you have a wonderful New Years' celebration and stay safe. If we don't speak before the new year, Happy New Year!
If you liked this Pink Champagne Cheesecake, check out these other celebratory champagne desserts: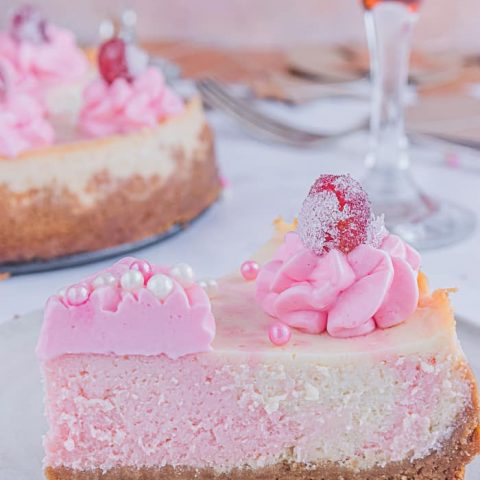 Yield: 1 9-inch cheesecake
Pink Champagne Cheesecake
Ingredients
For the Crust:
1 ¾ cup graham cracker crumbs
6 tablespoons unsalted butter, melted
For the Cheesecake Filling
1 cup pink/rose champagne (any sparkling wine will work too)
24 ounces cream cheese, at room temperature
¾ cup granulated sugar
2 tablespoons all-purpose flour
1/4 teaspoon kosher salt
3 large eggs, room temperature
1 teaspoon pure vanilla extract
1/2 cup sour cream, room temperature
Pink gel coloring (optional)
Instructions
Pre-heat oven to 350°F and lightly spray a 9-inch springform pan with cooking spray.
In a medium bowl, add the melted butter to the graham cracker crumbs and mix until the mixture resembles wet sand.
Pour the mixture into the 9-inch springform pan and press using your fingers or a flat bottomed cup into the bottom and halfway up the sides of the pan.
Bake in the preheated oven for 10 minutes or until golden brown. Remove from the oven and set aside.
To make the cheesecake
Reduce oven temperature to 325°F
Over medium heat, heat the champagne in a saucepan until it reduces to 1/3 cup. Careful to not let it boil. Remove from the heat and allow it to cool to room temperature.
In a large mixing bowl, using an electric hand mixer, beat the cream cheese and sugar together until light and fluffy, about 3 minutes. Add in the flour and salt until combined and fluffy.
Add the eggs, one at a time, and mix just until combined. Do not over mix at this point.
With a spatula, mix in the vanilla extract, sour cream, and reduced champagne.
Divide the batter into two. Add pink gel coloring to one half of the batter to give it a pale pink color. Use a toothpick to add the color a little at a time to avoid adding too much.
Pour the white cheesecake batter first into the pre-baked crust. Then gently pour the pink batter into the middle of the pan, to form a pattern.
Tap the pan gently on the kitchen counter a couple of times to get rid of any air bubbles.
Wrap the cheesecake pan with double foil and place the pan in a large baking pan and add boiling water to the baking pan, about halfway up the sides of the springform pan. (Please don't add hot water to your cheesecake itself!!)
Bake in the preheated oven for about 1 hour, until the edge of the cheesecake, is set with only the center slightly wobbly.
Turn off the oven and let cheesecake remain in the oven for another 45 minutes.
Remove from the oven and cool the cheesecake on a wire rack to room temperature. At this point, remove the cheesecake from the roasting pan and foil wrap.
Cover the cheesecake with cling film and refrigerate for at least 6 hours, or overnight preferably.
Serve as is or decorate with optional pink-colored whipped cream, sugared cranberries, and sprinkles.
Notes
·   You can cook the champagne first before making the crust to give it enough time to cool down before needing it for the batter.