Skinny Vegan Key Lime Pie Bars
An easy recipe for key lime bars – veganized! Incredibly rich and creamy thanks to healthy fats like coconut and avocado: but no one could ever tell thanks to the dominant sweet and tart key lime pie flavor! Drooling yet? If you can't wait, go ahead and skip down to the recipe. I won't judge. 🙂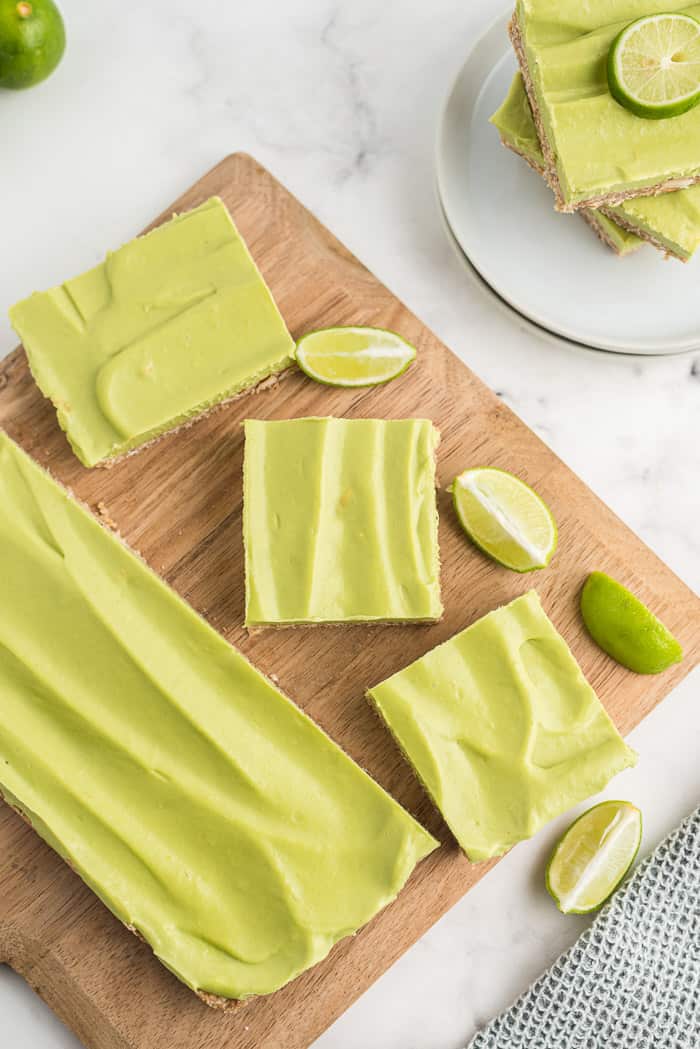 Hey guys! I have one of my favorite blogging friends here today sharing with you yet another mouth-watering recipe. Mary Frances is the lovely, sweet, and cheerful writer of the blog The Sweet Tooth Life. You need to go over and say HI as soon as possible!! She makes healthy treats look so good that you will think they are a myth. But what I admire the most about this Junior in high school (yup she is that young!) is how matured, creative and very considerate she is of others. Truly an amazing young lady that I am happy to call my friend. Here is Mary Frances, with PIE!
******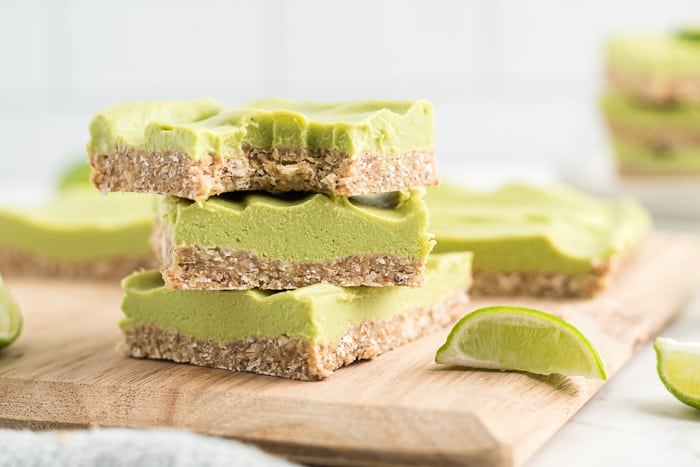 Is it just me or do you ever feel like your kitchen is a complete disaster?
Like, when I am baking, consider yourself in a danger zone. I got the flour flying, the food processor whirring, and a whole bunch of chocolate going on. It can be messy. Sometimes, when I'm time-crunched or distracted, I actually find things like crackers in the refrigerator. Guys, I put wheat thins in the fridge. That should be a sign I need some coffee … or counseling haha!
I really wanted to talk only about how much I love baking and blogging and how dreamy everything is. Believe me, I wouldn't trade blogging for anything else, BUT, blogging can get messy. I had a messy blogging week; when I signed up for blogging, I didn't realize I was signing up for bandwidth problems, file size compressions, redirection failures, and spam lovers. Oh, and the whole Heartbleed thing which I still know nothing about. If I focus on those things, the joy is taken out of blogging like *that* (insert finger snap … special effects)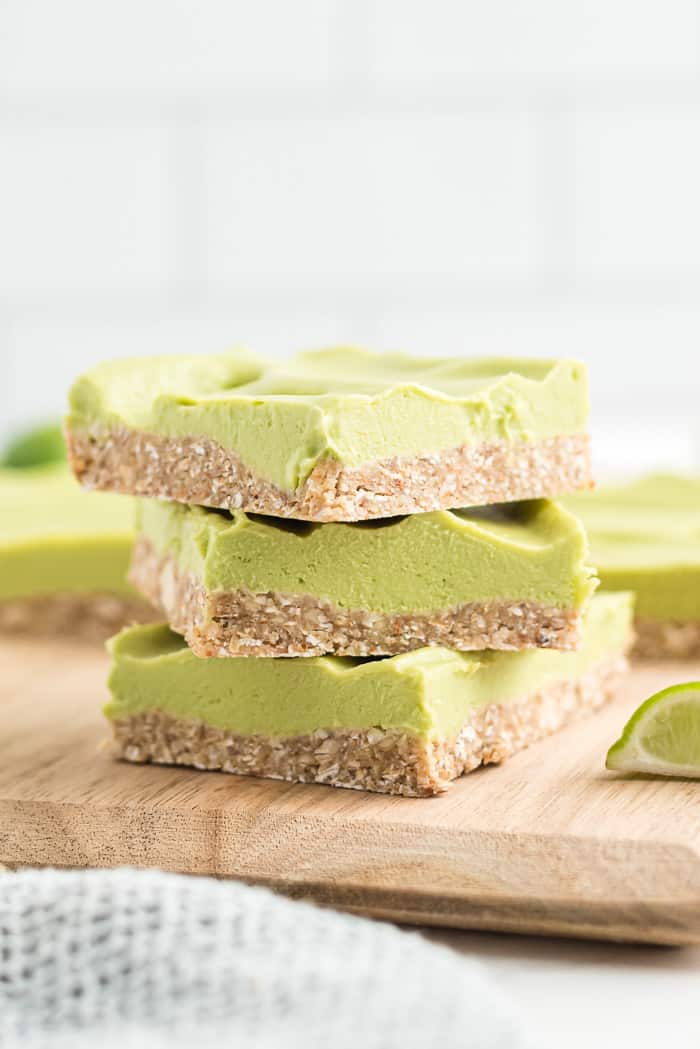 I've realized, through all the messy business of blogging, that I can't clean it all up by myself. I don't like admitting I don't know what I'm doing because I don't want to burden other people. That is one of the reasons I'm honored to guest post on Zainab's blog. This lady is AMAZING; she is a blogger, a student in a field I can't even pronounce, and a wife – and still makes sure to respond to every single one of my questions. It isn't like I'm Oprah Winfrey either. She has never made me feel like I was invading her time or space (she probably was in the middle of some lab experiment when I asked her about bandwidth … but she still messaged me immediately with accurate answers and a whole bunch of smiley emoticons. I love those things. 🙂 Not only that, she invited me to meet other bloggers who are equally supportive. That is the joy in blogging – the people behind the other blogs, who make amazing food and are amazing people. That is why blogging is fun.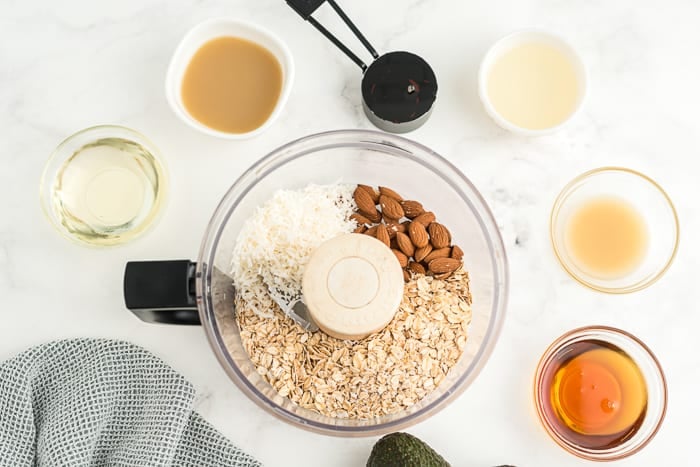 This week has really reminded me to not get caught up in the messes that life naturally gives me to clean up. I'm going to have days where it is just a "wheat thin in the fridge" kind of day. And that's ok. Blogging is more than the stats or the expensive site design (adorable follow me icons, I'm looking at you.) But I forget that. I am incredibly grateful for bloggers like Zainab who make blogging so much fun because they care less about food and stats and more about people. Thank you, Zainab!
So, now if you are just here for the recipe, let me tell ya, you are in for a treat! (Kudos to you if you've been reading the whole post.)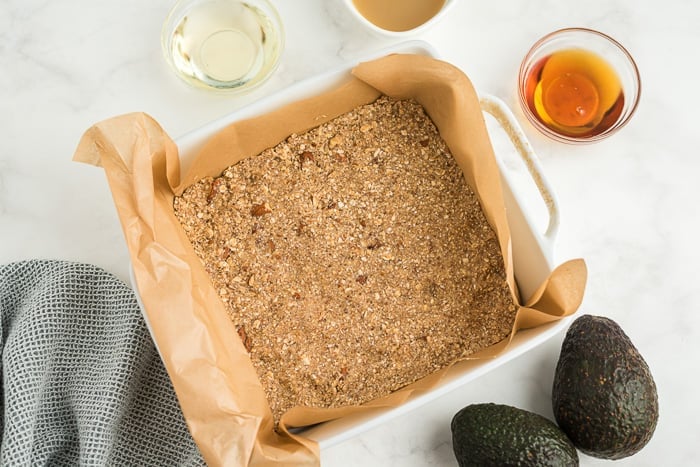 Key lime is the underappreciated citrus – lemon gets a lot of attention! I think lemon compliments more flavors, whereas key lime is better on its own. These bars are truly the perfect balance of tart and sweet. And they are the ultimate level of creamy. Seriously, the closest comparison I can come up with is cheesecake, except these are not quite as heavy.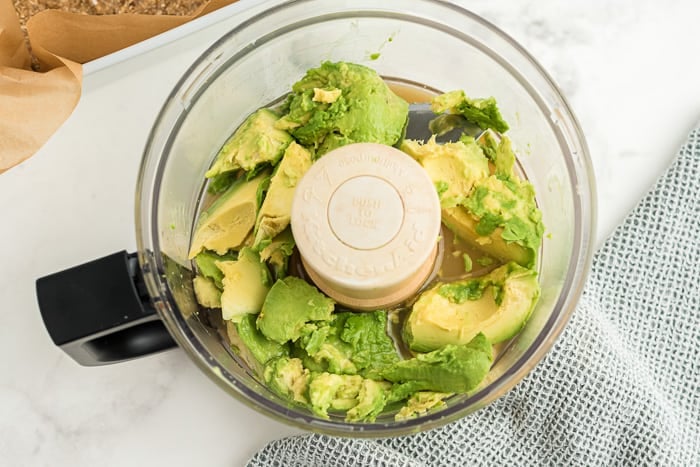 The key to making this vegan? Avocados. Yes, I know, avocados get a little too much hype and yes, they get overused, but I honestly can say this is the best key lime pie anything that I've ever made. You cannot taste the avocado at all, I promise. Instead, the creaminess is the star and the key lime gets to be the dominant flavor.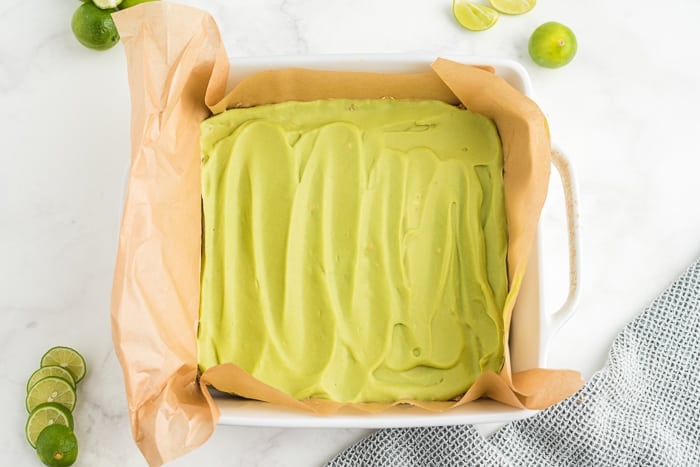 These stay firm in the fridge thanks to coconut oil, avocados, and honey. They cut easily, are transport friendly, and satisfy your sweet tooth in a healthy way. Let's just say I inhaled these. And surprisingly, my family did too. A lot of my healthier desserts do not receive the same amount of love from my family that I give them. But these were different and that is why I thought I would share them with you today. The chewy crust, the creamy filling, and the sweet and tart make these irresistible!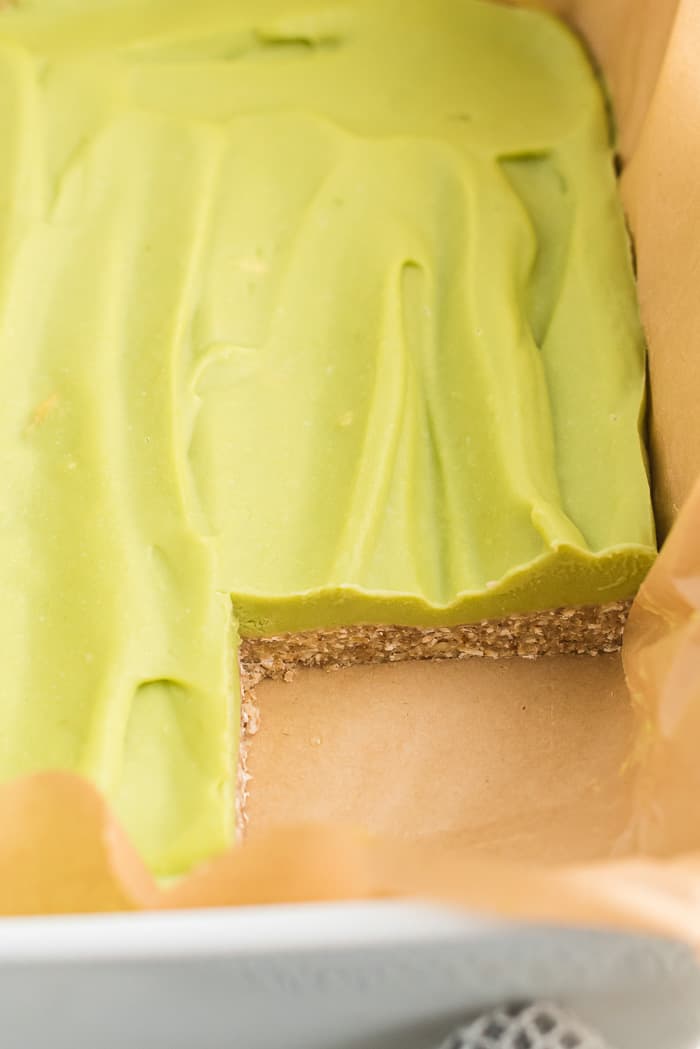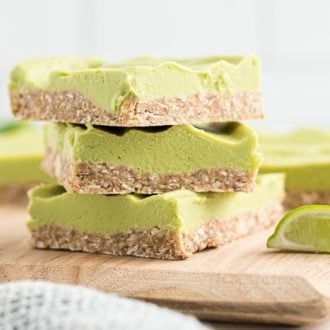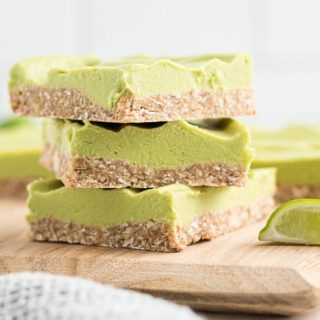 Yield: 12-16 bars
Skinny Vegan Key Lime Pie Bars
An easy recipe for key lime bars – veganized!  Incredibly rich and creamy thanks to healthy fats like coconut and avocado: but no one could ever tell thanks to the dominant sweet and tart key lime pie flavor!  Drooling yet?
Total Time
1 hour
25 minutes
Ingredients
For the Crust:
¾ cup old-fashioned oats
¼ cup unsweetened coconut flakes
¼ cup almonds
¼ cup pure maple syrup, or honey if not strict vegan
2 tablespoons coconut oil, melted
1 tablespoon key lime juice
For the Filling
2 ripe avocados
3 tablespoons coconut oil, melted
3 tablespoons pure maple syrup or honey, if not strict vegan
¼ cup lime juice
Instructions
Line an 8x8 baking pan with foil. Set aside.
In a food processor, pulse oats, coconut flakes, and almonds until finely chopped.
Add maple syrup, coconut oil, and key lime juice. Pulse again until mixture pulls together into a ball.
Press mixture into prepared pan. Set aside.
Wash food processor. Blend all the filling ingredients until smooth.
Pour over crust and smooth until even.
Freeze for an hour before moving to the fridge. Chill for additional 2-3 hours or overnight.
When ready to serve, cut into squares and enjoy!
Notes
Store leftovers in fridge.
Recommended Products
As an Amazon Associate and member of other affiliate programs, I earn from qualifying purchases.
******
Thank you very much Mary Frances for the kind words and great post!! You are too sweet and really flatter me. These bars look incredible. Key Lime is seriously under-appreciated in my neck of the woods and I need to fix that. I hope you guys enjoyed this recipe.
More Vegan Recipes you might enjoy:
Dairy-Free Whole Wheat Banana Walnut Pancakes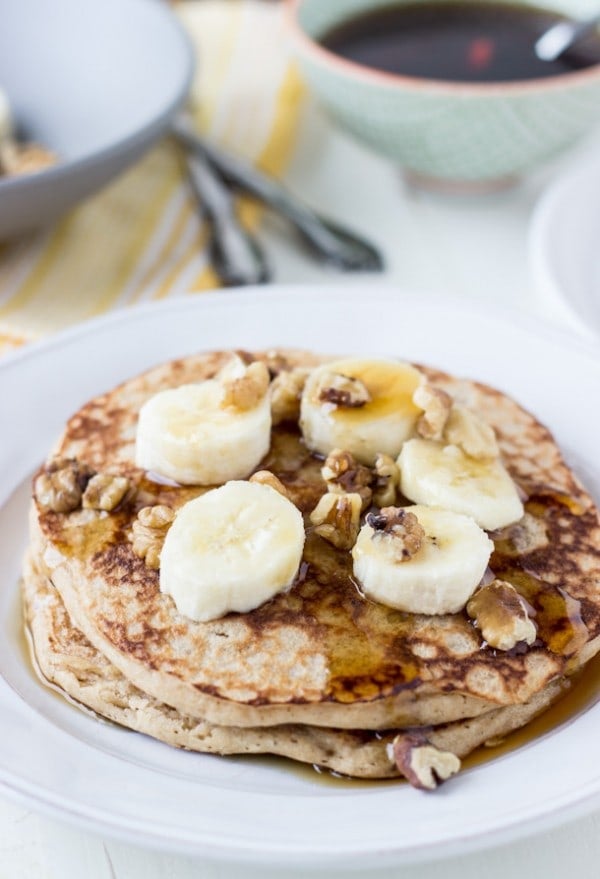 Chocolate Raspberry Coconut Almond Tart