Spinach Bacon Quiche
A classic spinach quiche recipe that starts with a flaky pie crust and is filled with spinach, bacon and goat cheese. Perfect for any weekend brunch table!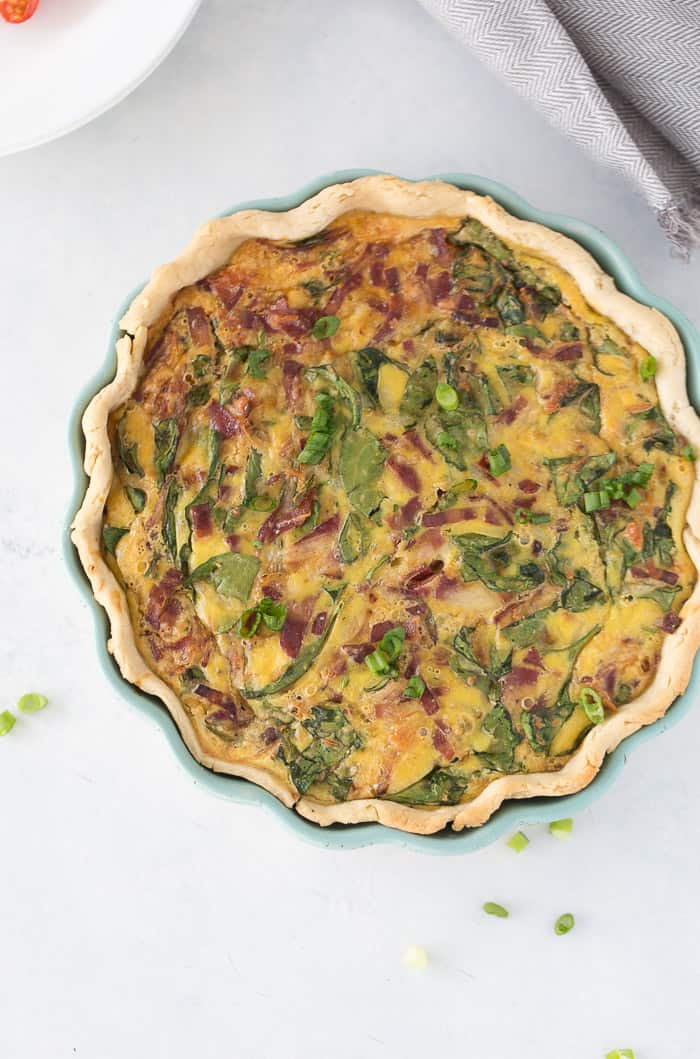 You guys, I am entering into dangerous territory here. Bringing you more savory dishes, as requested and promised but I feel like I am at the bottom of the learning curve on savory food photography. I can't take beautiful pictures of things that don't have sprinkles or fluffy frosting. Take this spinach quiche, for example, it's incredibly filling and delicious but you cannot tell that from the pictures. How do people make yellow/brown food look so good?? Clearly, I need to learn these skills ASAP so I get better at selling these great recipes coming up.
If you can ignore the lack of appeal and creativity in the pictures, then you have to believe me that this is the only quiche recipe you will ever need. It's very easy to make and perfect for your weekend brunches.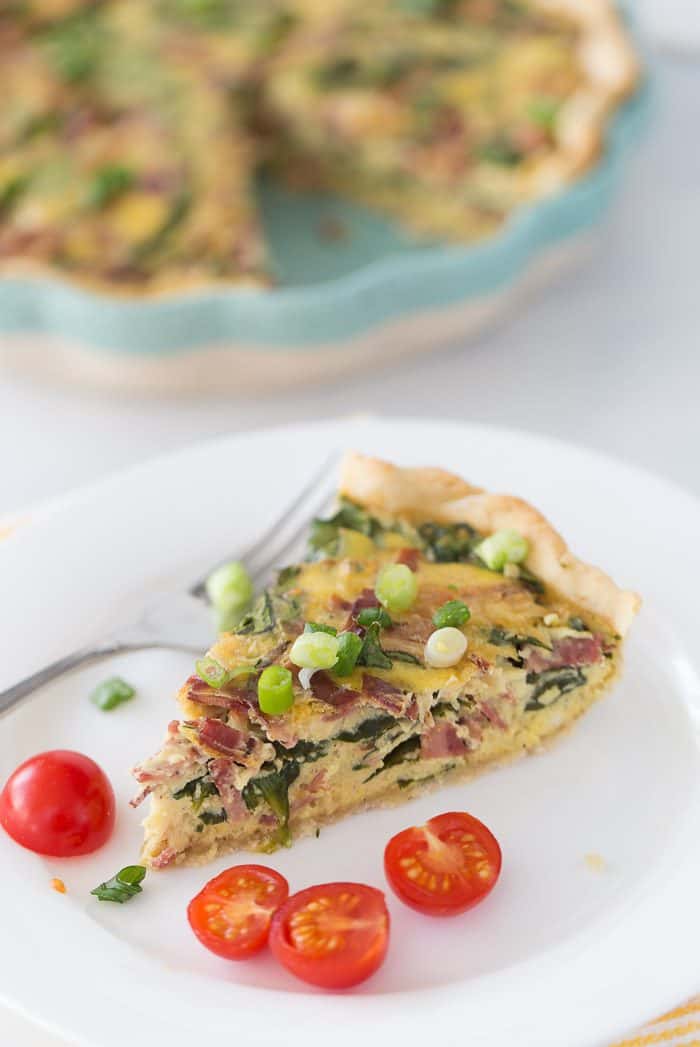 Quiches are my one of my favorite ways to brunch. They are filling, easy to customize and whip up for that mid-morning meal. It's also one of my favorite ways to clean out the fridge and do breakfast-for-dinner. Seriously, it's like having a savory slice of pie for dinner. I like pairing it with a small side salad.
For this spinach quiche recipe, I used a homemade pie crust recipe but you can use a store-bought crust here as well. I used an all shortening crust recipe for a flaky crust and pre-baked the crust. For the filling, you whisk together eggs, cream and sour cream as a base. Next, you will add your vegetables of choice to the egg mixture. This is where you can customize the filling with your favorites or seasonal veggies. I like sauteeing whatever vegetables prior to adding to the egg mixture. Here, I used spinach, green onions, and bacon.
Once your veggies are mixed in, you can add the cheese. I used swiss cheese, mozzarella, and some goat cheese. Again, you can use your family's favorites to customize this recipe. That's what is so great about having a good basic recipe.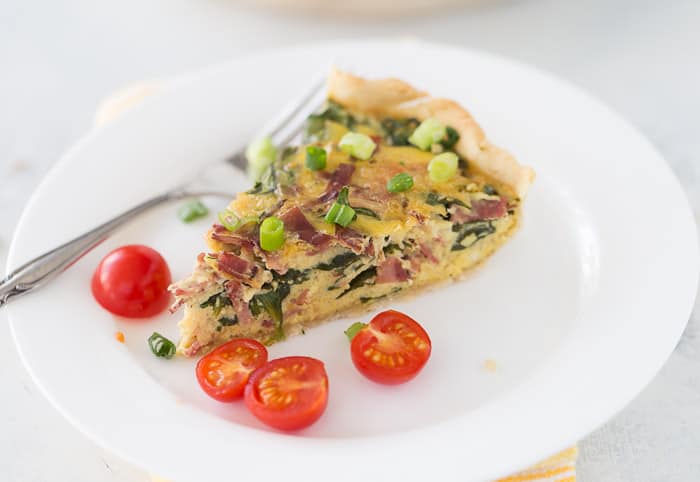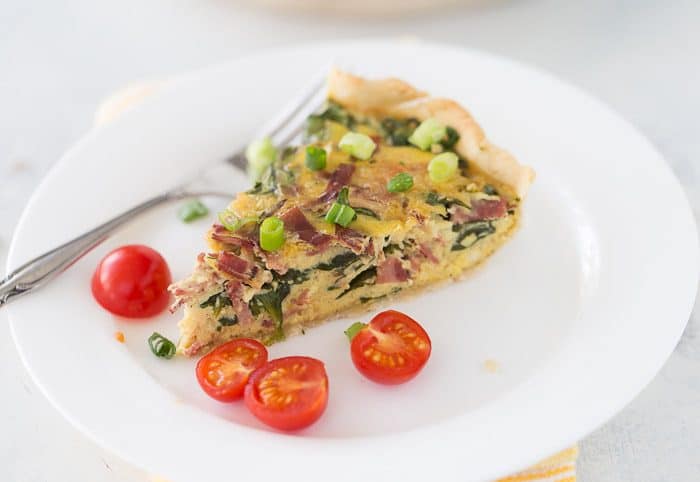 If you are a quiche lover like me, you will love this spinach bacon quiche recipe in your recipe box. It's great for any brunch table (hint hint: like Mother's Day brunch).
If you are more of a sweet brunch lover, check out my lemon blueberry pancakes and classic french toast recipe.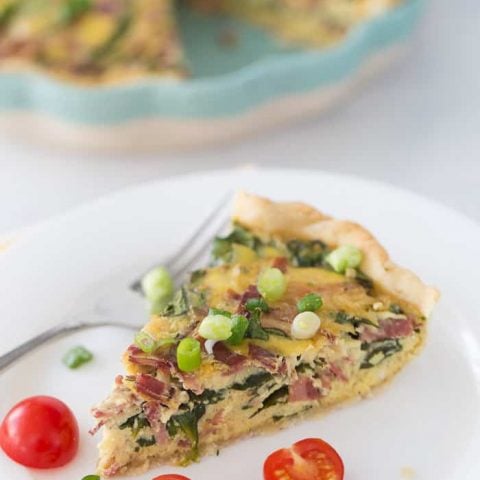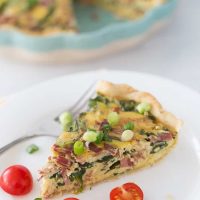 Yield: 1 9-inch pie
Spinach Bacon Quiche
A classic spinach quiche recipe that starts with a flaky pie crust and is filled with spinach, bacon and goat cheese. Perfect for any weekend brunch table!
Ingredients
For the Crust:
1 ¼ cup all-purpose flour
¼ teaspoon salt
1/3 cup shortening
4 to 5 tablespoons cold water
For the Filling:
½ cup chopped onion
2 green onions, sliced
6 slices of bacon, chopped
8 large eggs, beaten
½ cup dairy sour cream
½ cup half and half, light cream or milk
¼ teaspoon salt
¼ teaspoon black pepper
dash of ground nutmeg
3 cups lightly packed chopped fresh spinach
2/3 cup shredded mozzarella cheese
½ cup shredded Swiss cheese
¼ cup goat cheese
Instructions
In a medium bowl, whisk together the flour, salt, and shortening. Use a pastry blender to cut in the shortening until there are pea-size.
Sprinkle 1 tablespoon of the cold water over the flour and gently toss with a fork. Continue to sprinkle water, 1 tablespoon at a time, until the flour mixture is moistened and a dough starts to form.
Transfer dough to a lightly floured surface. Flatten the dough slightly. Roll dough into a 12-inch circle. Transfer to a 9-inch pie plate gently. Trim the dough to a ½ inch edge. Fold the edge under and crimp your crust as desired. Do not prick.
Chill in a refrigerator as the oven preheats.
Preheat oven to 450 degrees F. Line the pie crust with a greased foil.
Bake in the oven for 8 minutes. Remove the foil and continue baking for additional 5 minutes until the crust is set.
Reduce oven temperature to 350 degrees F.
In a large skillet cook onions and bacon until onion is tender and bacon is crisp.
In a large bowl, whisk together the eggs, sour cream, half and half, salt, pepper, and nutmeg. Add the onion mixture, spinach, and cheeses.
Pour the egg mixture into the pie crust. Bake for 45 to 50 minutes or until a knife inserted into the center comes out clean. You may need to cover the edges of the crust with foil to prevent overbrowning.
Let stand for 10 minutes before serving. Garnish with cherry tomatoes.