Blood Orange Chocolate Cupcakes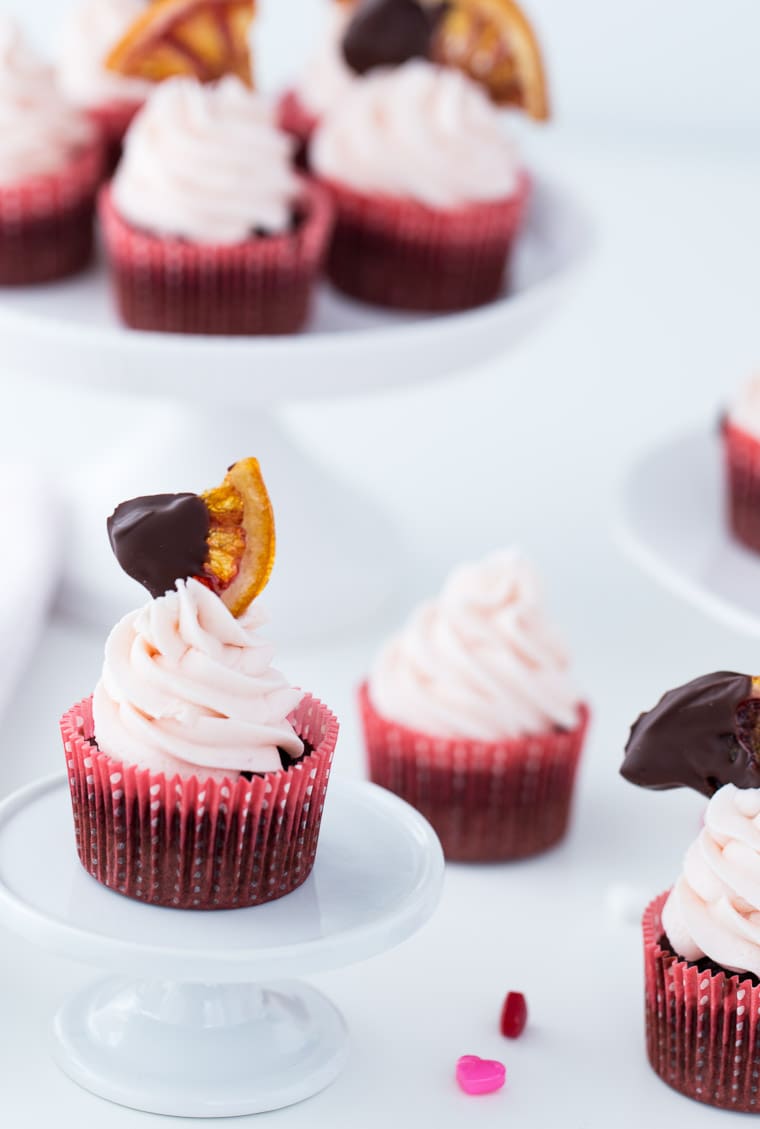 Happy Monday friends! It's been a while since we had cupcakes, let alone cupcake Mondays. So popping in today with a fresh, delicious cupcake in the form of these Blood Orange Chocolate Cupcakes. With Valentine's Day just around the corner, these cupcakes are coming to you just in time to make them for that special someone which includes yourself.
But before we get to the cupcakes, two words: Winter Citrus!! Blood oranges, grapefruits and oh my, meyer lemons. These are some of the reasons we survive cold winter nights. Sadly, I've yet to indulge in any besides blood oranges. But there's grapefruit and Meyer lemons in the cue and I can't wait to share those recipes with you.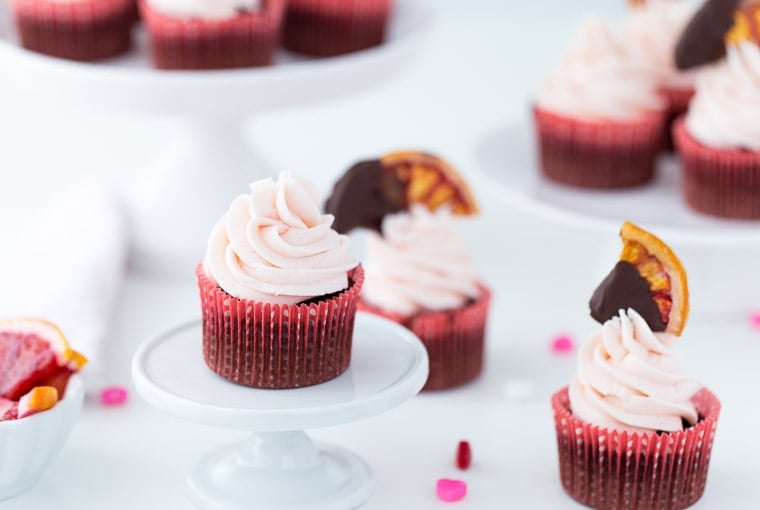 Just to recap our blood orange escapades the past few weeks; there was this blood orange moscow mule (refreshing and brightens your day!), this wonderful blood orange mimosa cake (with a giveaway still going on BTW) and now these blood orange chocolate cupcakes. There's something just wonderful about the bold, sweet flavors of blood oranges. Make sure you grab some before they are out of season and make some baked goods!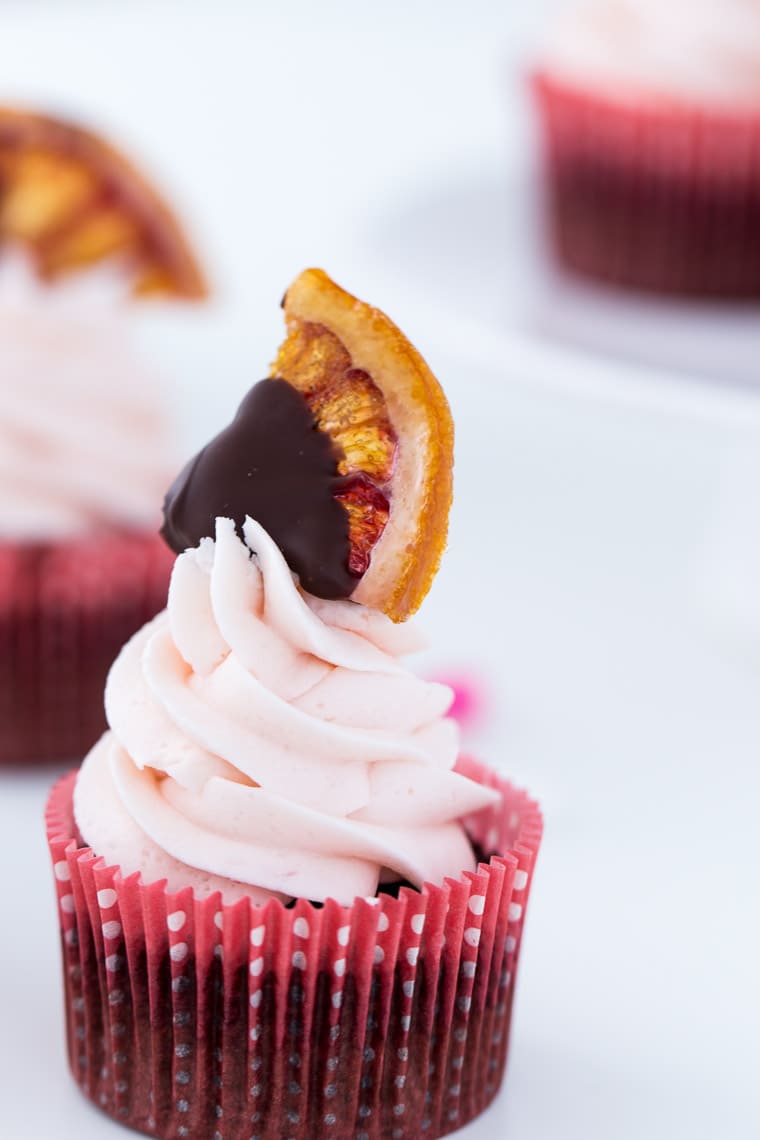 These cupcakes use my favorite chocolate cupcake recipe as a base and it's boasting with sweet orange zest and dark chocolate made richer with a hint of coffee. Topped with a blood orange frosting (isn't the color gorgeous??), they are finished with decorative edible candied blood oranges dipped in chocolate. The little extra touch to make these e perfect for Valentine's Day.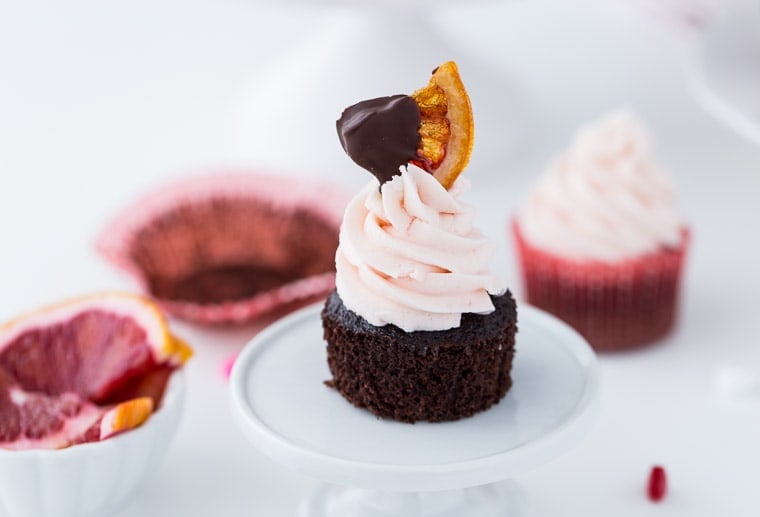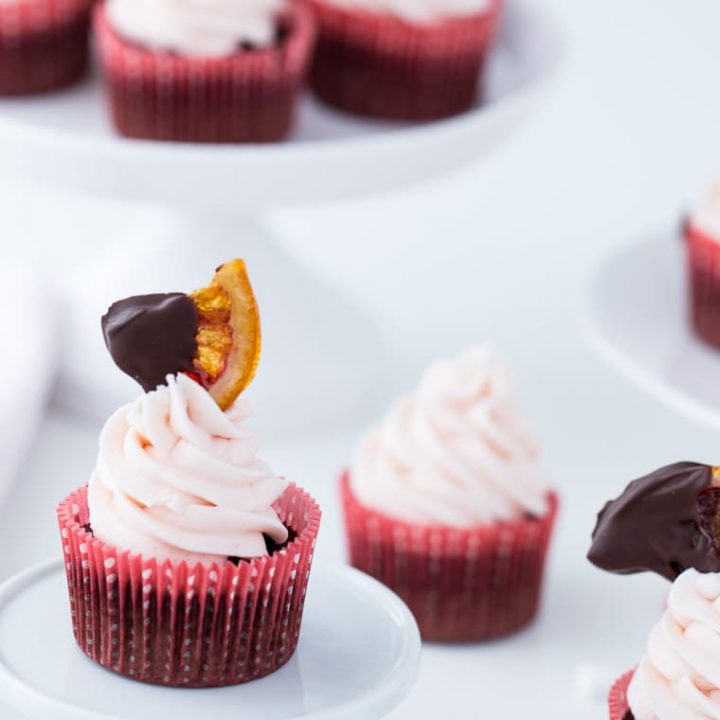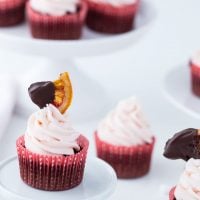 Yield: 12-15 cupcakes
Blood Orange Chocolate Cupcakes
Ingredients
Chocolate Cupcakes
1 cup all purpose flour
1 cup plus 2 tablespoons sugar
⅓ cup plus 2 tablespoons unsweetened Natural Cocoa Powder
½ teaspoon baking soda
¼ teaspoon salt
zest of one blood orange
½ cup (1 stick) unsalted butter, melted and warm
2 large eggs, lightly beaten
½ cup hot coffee
2 tablespoons blood orange juice
1 tablespoon instant coffee (I used Starbucks Via medium roast)
Blood Orange Frosting
2 sticks unsalted butter, softened
3-4 cups confectioners' sugar, sifted
1 teaspoon vanilla extract
2-3 tablespoons milk or heavy cream
2-3 tablespoons blood orange juice
Instructions
Preheat oven to 350degrees F. Line muffin tins with cupcake liners.
Sift together all the dry ingredients in the bowl of an electric mixer. Add the zest.
In a medium bowl, combine all the wet ingredients using a whisk. Add the instant coffee into the wet ingredients.
Mix the dry ingredients on low speed for 1 minute. Stop the mixer and add half of the wet ingredients. Mix for a minute on medium speed and scrape the sides and bottom of bowl. Add the rest of the wet ingredients and mix for additional minute on medium speed. The batter will be thin. Divide evenly among the cupcake liners.
Bake for 12-15 minutes or until a toothpick inserted in the center comes out almost clean.
Cool cupcakes on wire racks completely. Meanwhile you could start on the frosting.
For Frosting:
Whip butter for 8 minutes on medium speed using the paddle attachment of an electric mixer. The butter will become pale and creamy.
Add the rest of the ingredients and mix on low speed for 1 minute. Then increase speed to medium and mix for 6 minutes until the frosting is light, creamy and fluffy.
Frost cooled cupcakes using your favorite decorating tip. I used Wilton Tip 1M for these cupcakes. Top with candied blood orange slices.
(You can find an easy tutorial for the candied blood orange slices
HERE
.)