Boy Birthday Cupcakes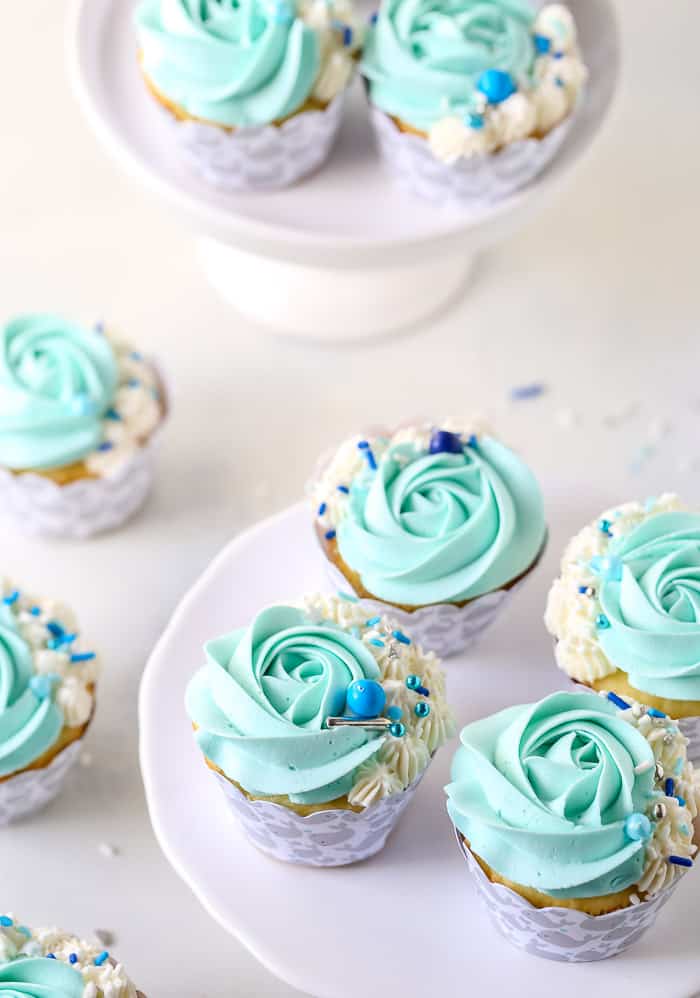 Happy Monday and happy Cupcake Mondays! If you don't know what I'm talking about, you should definitely follow my Instagram page where every Monday I share a scrumptious cupcake recipe. See I have this love affair for cupcakes as they are one of my favorite things to bake. So I share that love with you all over on Instagram to encourage and inspire your cupcake baking addiction. Today's cupcakes are these beautiful boy birthday cupcakes I had the pleasure of making for a sweet boy's birthday recently.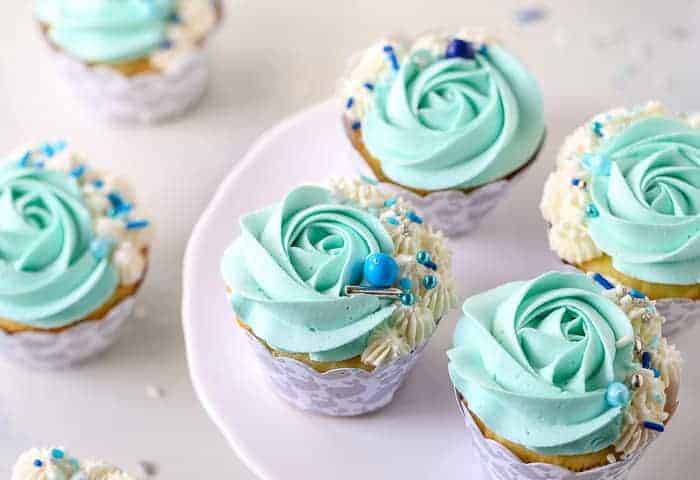 Today's cupcake is not so much a recipe as these birthday cupcakes are touting my favorite vanilla cupcake recipe which I posted below for you in case you haven't tried it yet. These cupcakes are decorating ideas for the next boy baby shower, birthday party or Tiffany's themed party you may have. The idea is simply a fun way to pipe your icing.
I've been obsessed with this trend of cupcake decorating that has been going around on Pinterest but didn't have the opportunity to jump in. You know me and trends by now, I tend to get on them after the fact, like in this decorated sheet cake or the letter or number cakes. Anyway, this cupcake style caught my eye and I've been meaning to give it a try.
One of my girlfriends gave me the opportunity recently when she tasked me with cupcakes for her son's whale themed birthday party. I love when people grant me the creative freedom with their events as it makes it fun for me and this is why I only bake for family and friends 🙂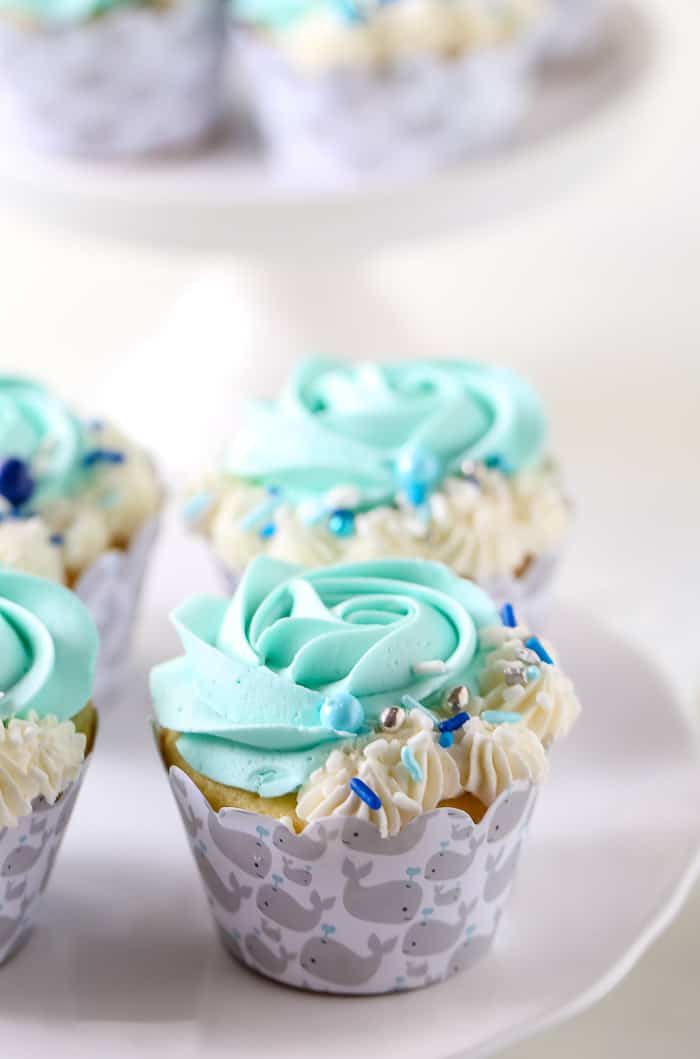 Okay, back to the cupcakes. What this trend entails is basically using several decorating tips to pipe your frosting on your cupcake. The "traditional" one decorating tip gives you the classic swirl on cupcakes. We are all used to that look. However, you can take that up a notch by using multiple tips and playing with different designs on this canvas.
For my first attempt, I limited myself to two decorating tips; Wilton's 1M and Tip 32. You can use three tips if you like more variety in the design. But I will caution to not get carried away as you only have a small surface area to cover. Less is more sometimes.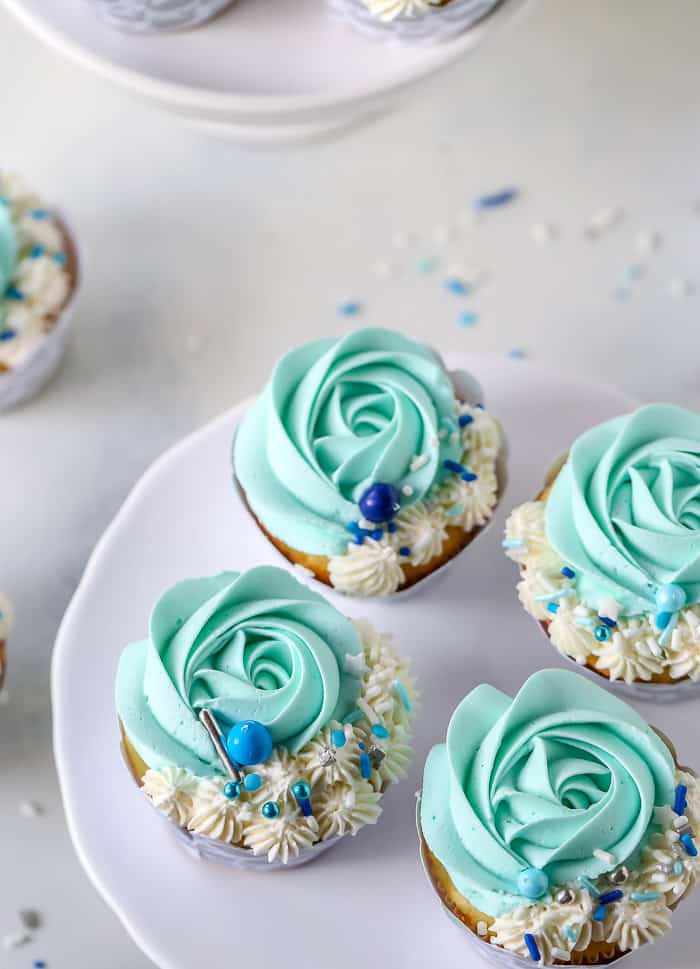 To achieve the pictured look, use tip 1M to pipe a rosette on about 2/3 of the surface of the cupcake. Use tip 4B to pipe little stars on the remaining surface area. It would be more striking to use different frosting colors for the second design as it stands out more. However, you can use one color for both designs.
Viola! That's an easy (new to me) way to decorate your cupcakes and one that will definitely be a great addition to any dessert table for a shower, birthday party or wedding. Be sure to adorn your cupcake designs with matching or complementary sprinkles like I did in these boy birthday cupcakes. Here are the sprinkles I used.
Happy belated birthday Mr. H and thanks for letting me experiment with your birthday cupcakes.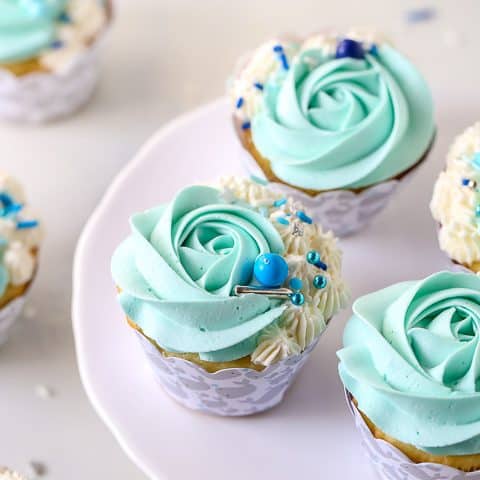 Yield: ~18 cupcakes
Boy Birthday Cupcakes
These vanilla bean buttermilk cupcakes are your go-to classic vanilla cupcakes with a soft crumb, moist cake, and rich vanilla flavor. Decorate them with colored frosting and they are perfect for a boy birthday party,
Ingredients
For the Buttermilk Cupcake:
1 1/2 cups cake flour, sifted
1 cup granulated sugar
2 teaspoons baking powder
1/2 teaspoon salt
1/2 cup (1 stick) cold unsalted butter, cut into pieces
3 whole eggs, room temperature
3/4 cup buttermilk, room temperature
1 teaspoon vanilla bean paste or pure vanilla extract
1/4 teaspoon pure almond extract
For the Whipped Vanilla Frosting:
1 cup (2 sticks) unsalted butter, at room temperature
3-4 cups powdered sugar
2 teaspoons vanilla bean paste (or pure vanilla extract)
Pinch of salt
2-3 tablespoon heavy cream
Instructions
Preheat oven to 350 degrees F. Line two cupcake tins with cupcake wrappers and set aside.
In the bowl of an electric mixer, combine the cake flour, sugar, baking powder and salt and mix on low-speed until well blended.
Increase speed to medium-low and add the cubes of butter, one at a time mixing each one for a few seconds before adding the next. Mix until there are no large chunks.
Add eggs, one at a time and mix well between each addition. In a small mixing bowl, whisk together the buttermilk, vanilla bean paste and almond extract. Increase mixer speed to medium and add in the wet ingredients in 3 parts, mixing until incorporated and scraping down the bowls after each addition. DO NOT over beat otherwise, you will end up with dense cakes.
Divide batter into prepared pan, filling each about ⅔ full. Bake cupcakes until a toothpick inserted into the center come out clean, 12-14 minutes. Transfer cupcakes onto a cooling rack and let cool completely.
To make the frosting, whip butter on medium speed for about 2-3 minutes in the bowl of a stand mixer fitted with the paddle attachment until light and creamy.
Add the powdered sugar, vanilla bean paste or extract, salt, and heavy cream and mix on low for 1 minute until combined.
Increase speed to medium-high and whip for 4-5 minutes until light and fluffy.
Divide frosting into desired amounts based on how many colors you will need. I divided mine to 2/3 (blue) and 1/3 (white(
Using a pastry bag fitted with your decorating tip (I used Wilton 1M for the blue frosting and 32 for the white frosting), frost the cupcakes with the whipped buttercream.
Decorate with sprinkles as desired.
Recommended Products
As an Amazon Associate and member of other affiliate programs, I earn from qualifying purchases.