Brown Butter Pumpkin Coconut Cake
Enjoy a spiced pumpkin cake enriched with nutty brown butter and hints of coconut this holiday season!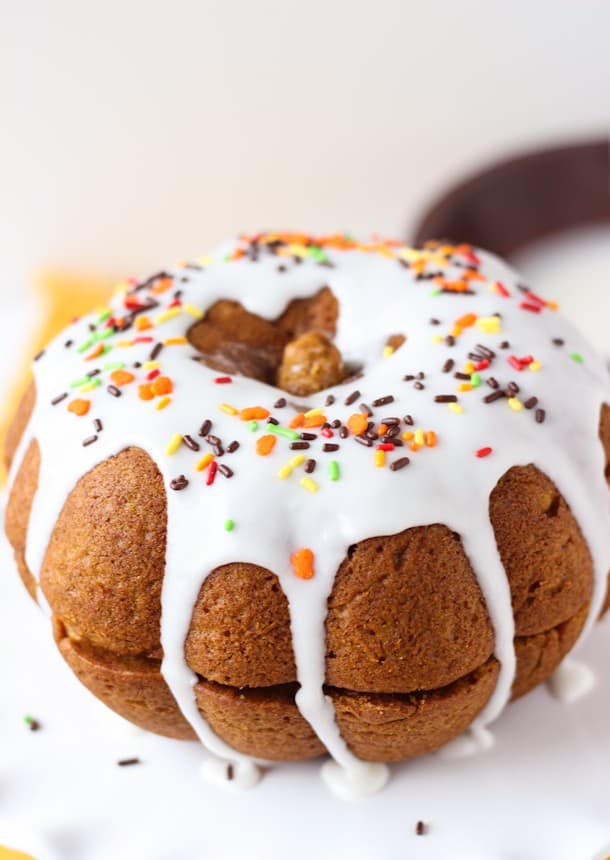 When your husband texts you at work "I have a surprise for you", you know you picked a good boy. Because you are thinking "Oh he got me these shoes I've been stalking for a while?". When you come home and see a pumpkin cake pan, then you REALLY know you picked a great boy. He even went a step further insisting I make a pumpkin cake for you guys well before Thanksgiving so you are equipped with ideas in advance. He gets me and knows how to make me happy. And even knows a bit about blogging. (Still thinking about those shoes, but that's what Christmas is for)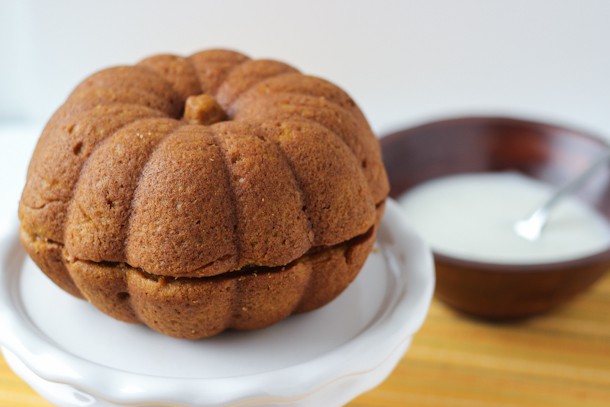 This brown butter pumpkin cake had to happen the next day after he bought the pan because well, when life gives you a pumpkin cake pan, you make a pumpkin cake! A perfectly spiced cake packed with lots of pumpkin flavor and hints of coconut to be exact. Pumpkin and coconut are a great match in case you were worried or concerned. I found out last year when I made this pumpkin coconut pie … creamy and delicious. The coconut flavor in this pumpkin cake is subtle and not overpowering which is perfect because the pumpkin is the star. However, if you are a coconut lover like me, feel free to add coconut extract or even coconut rum to enhance the flavor. Either way you make it, this moist pumpkin cake is delicious and would make a beautiful centerpiece at your Thanksgiving table.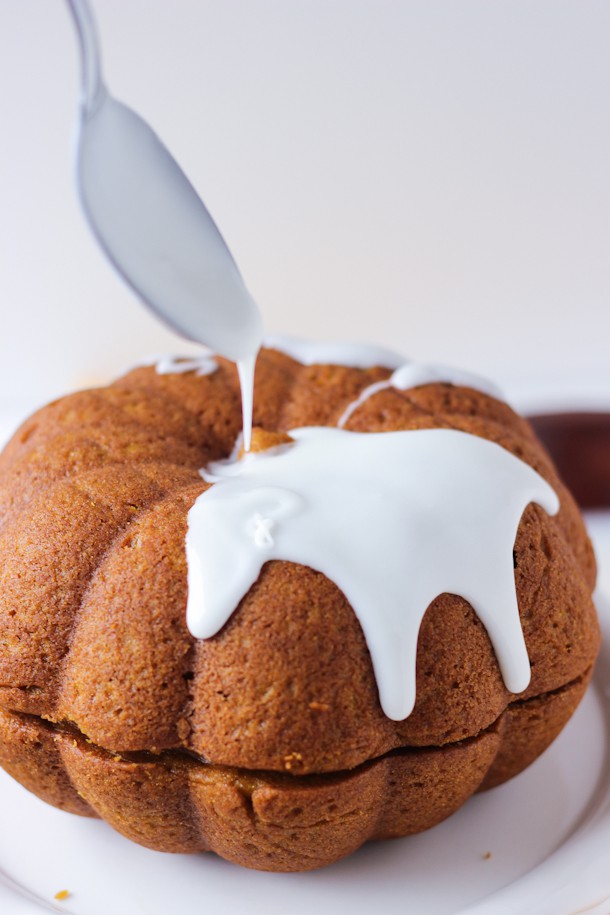 Happy Halloween and last day of October!!

Brown Butter Pumpkin Coconut Cake
Author: Blahnik Baker
Recipe type: Dessert, Cake
INGREDIENTS
½ cup butter
2 cups flour
½ teaspoon baking powder
½ teaspoon baking soda
½ teaspoon salt
1 teaspoon cinnamon
¼ teaspoon nutmeg
¼ teaspoon allspice
¼ teaspoon ginger
1¼ cups brown sugar
¼ cup vegetable oil
2 eggs
1 cup pumpkin puree
1 teaspoon vanilla extract
½ cup coconut milk
For Coconut Glaze (optional):
2 tablespoons coconut milk
1 cup powdered sugar
DIRECTIONS
Preheat oven to 350 degrees F. Grease the pumpkin cake pan with baking spray and set aside.
Start by browning the butter: in a small saucepan set over medium heat, melt butter. Start whisking once melted and butter starts bubbling. Cook until butter starts to brown, whisking continuously. Remove from heat and transfer into a bowl.
In a medium bowl, whisk together the flour, baking powder, baking soda and spices. In a measuring cup, whisk together the coconut and vanilla extract.
In the bowl of an electric mixer, fitted with the paddle attachment, beat the brown sugar, oil and brown butter until light and fluffy about 2-3 minutes on medium speed. Beat in the eggs, one at a time, until combined. Beat in the pumpkin puree and mix for additional minute until smooth. Reduce speed to low and alternate flour mixture with coconut milk. Mix until just combined. Divide the batter equally into the two prepared pans.
Bake until cake is golden brown or a cake tester inserted into the center comes out clean, about 45 minutes. Let cool in pan for 10 minutes. Using a sharp knife, loosen the edges of the cakes and invert onto a cooling rack. Let cool completely.
To make glaze:
Whisk together all both ingredients. Pour over cooled cake. Let glaze set for 10 minutes. Decorate with sprinkles.
Store leftover cake in airtight container at room temperature for 2-3 days.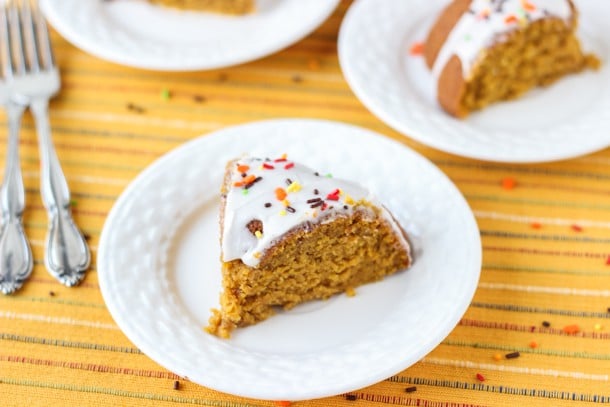 Need more Pumpkin recipes? Check out these favorites:
Pumpkin Spice Cupcakes with Caramel Cream Cheese Frosting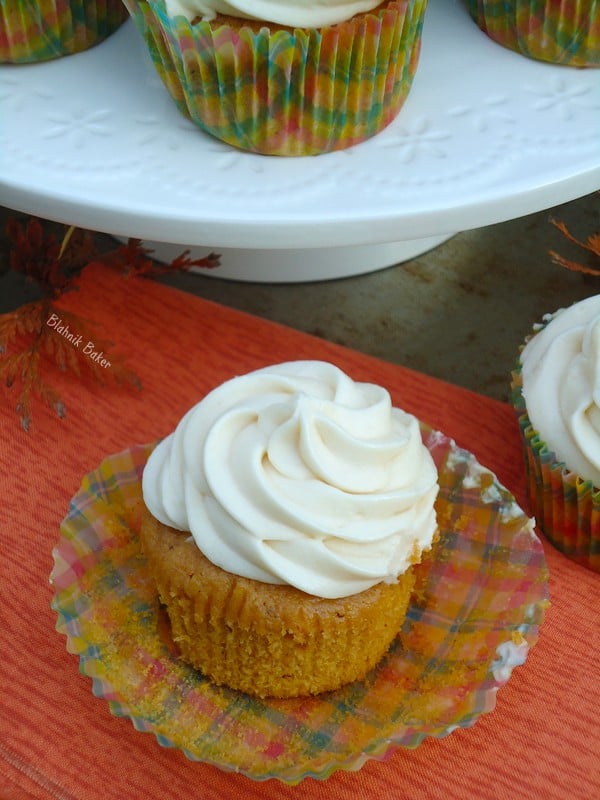 Pumpkin Bundt Cake with Bourbon Cream Cheese Glaze