Chocolate Swiss Roll Cake with Toasted Marshmallow Frosting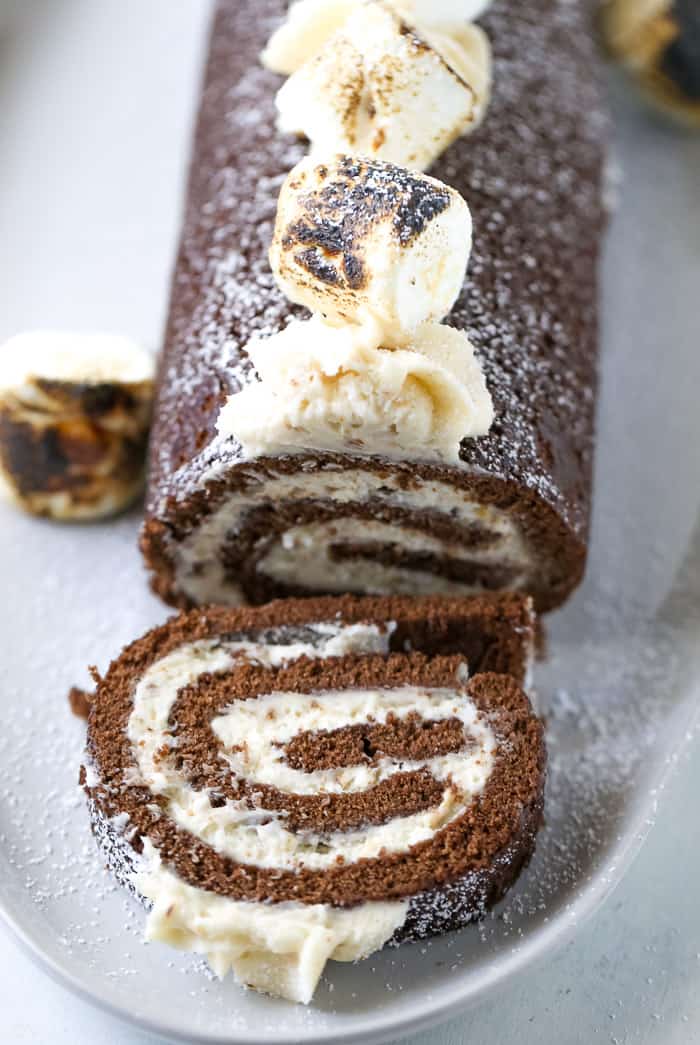 Hello friends! Welcome back to our self-proclaimed S'mores Week! Nothing says we can't declare our own celebration and given the times we are living in, I am all for finding the little things to celebrate. We started the week with this S'mores Rice Krispie treats that you all loved! So glad I am not the only one obsessed with s'mores. We continue our week with this epic cake roll. A chocolate swiss roll cake with toasted marshmallow frosting that's bursting with flavor and gorgeous.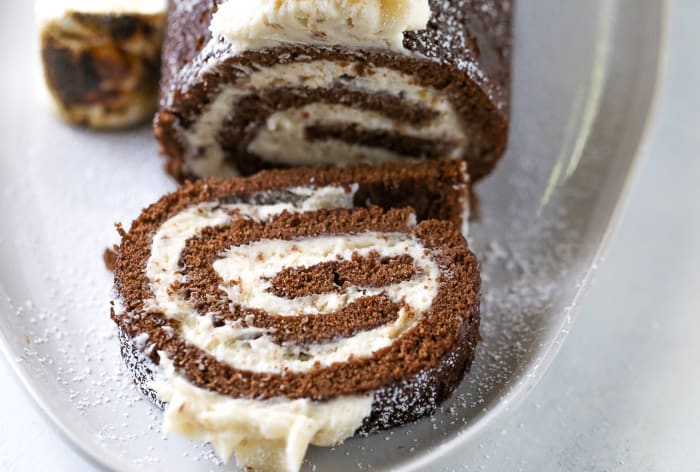 This cake is as good as it sounds. Let me break it down for you.
We start with a soft, light chocolate sponge cake that is infused with graham cracker crumbs. While the graham cracker flavor is overpowered by the chocolate, it is ever so slightly present in the cake.
The cake is then filled with a TOASTED marshmallow filling. That's right, toasted marshmallows. I repurposed the sweet marshmallow filling from this six-layer chocolate marshmallow cake from a few years ago. Because this chocolate roll cake is a light sponge cake, I made the filling on the lighter side to complement the cake.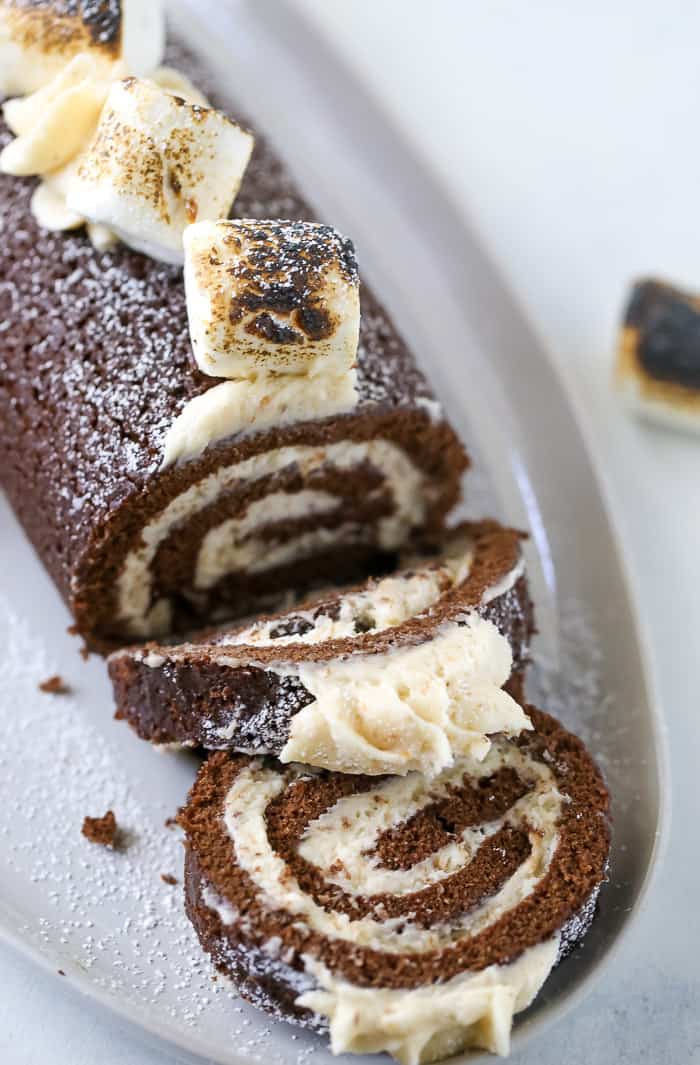 The crunchy toasty marshmallows in the slightly sweet filling complement the decadently rich chocolate flavor of the cake. It is all an incredible blend of flavors and one you will not want to miss.
Now while this chocolate cake roll has all the components of S'mores, I purposefully didn't call it a s'mores cake because the graham cracker flavor is not as present as I'd like. You can however incorporate more into the filling or top your cake with crushed graham crackers to complete the look. Whatever you decide to do, I think this chocolate +toasted marshmallow combo will remind you of summer and smores.
Happy baking!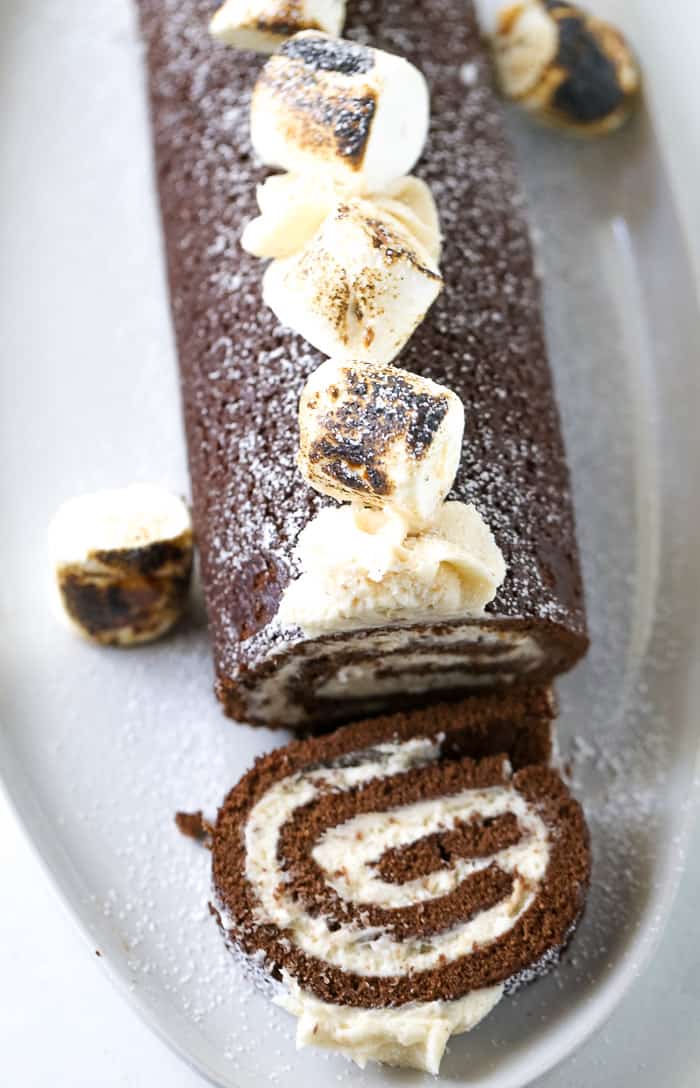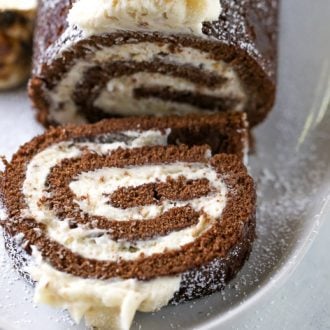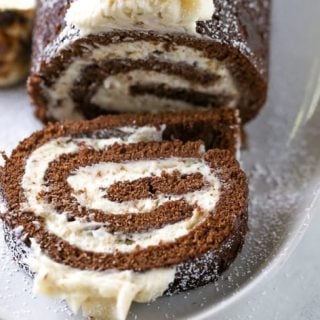 Yield: 1 cake roll
Chocolate Swiss Roll Cake with Toasted Marshmallow Frosting
Ingredients
For the Roll Cake
2/3 cup cake flour, sifted
1/3 cup cocoa powder, sifted
1/4 cup graham cracker crumbs
Pinch of baking soda
5 tablespoons unsalted butter
6 large eggs
3/4 cup sugar
2 teaspoons pure vanilla extract
confectioner's sugar for dusting
Toasted Marshmallow Frosting:
16 large white marshmallows
1 cup powdered confectioners' sugar, sifted
1/2 cup (1 stick) unsalted butter, at room temperature
½ teaspoon vanilla paste or pure vanilla extract
Topping
Toasted Marshmallows
Graham Crackers Crumbs (optional)
Instructions
For the Cake:
Preheat oven to 350 degrees F. Grease a 10 1/2-by-15 1/2-by-1-inch jellyroll pan and line with parchment; grease paper.
In a medium bowl sift together flour, cocoa, graham cracker crumbs, and baking soda twice. (Discard the bigger pieces of graham cracker that doesn't pass through your sieve.)
In a small saucepan over low heat, melt butter. Remove the white foam on top of the butter, and pour clear yellow butter into a bowl, making sure to discard the white liquid at the bottom.
In a medium bowl, using an electric mixer whisk together eggs and sugar, on medium-high heat about 3 to 4 minutes or until the mixture is thick, pale and tripled in size. Reduce the speed to medium and beat in the vanilla extracts for an additional 2 to 3 minutes.
Using a spatula, gently fold in the sifted flour mixture in three additions. During the last addition, drizzle the melted butter over the batter and fold in. The batter will be thin. Spread evenly in prepared pan. Tap the pan on the counter to remove any air bubbles. Bake the cake until it springs back when touched in the center, about 15-20 minutes. Try not to over-bake, or the cake will crack. While the cake is baking, generously dust a tea/dish towel with powdered sugar.
Dust cake with powdered sugar. Invert cake onto the tea towel and peel off parchment. Dust with powdered sugar. Starting at the longest end, carefully roll up cake in towel. Allow cake to cool on a cooling rack seam side down.
Toasted Marshmallow Filling:
Preheat oven to broil.
Line a cookie sheet with foil and spray with nonstick cooking spray.
Place the marshmallows on the lined sheet and place it on the lowest rack of the oven.
Broil marshmallows until brown, about 30-60 seconds. Keep an eye on them as they burn really fast.
Remove pan from oven and turn the marshmallows over.
Broil until golden brown, another 30-60 seconds.
In an electric mixer fitted with the paddle attachment, beat the butter and powdered sugar on low until combined, about 1 minute. Add vanilla and increase speed to medium and beat for about 3 minutes.
Add the toasted marshmallows and mix on the lowest speed for 1 minute, just until combined.
To Assemble:
Unroll the cake and spread the buttercream filling leaving a ¼ inch in thickness around the edges. Roll up the filled cake carefully from end to end. Trim off the edges for a cleaner finish.
Transfer the cake to a serving plate. Top with additional toasted marshmallows. Sprinkle with crushed graham crackers if using.
Recommended Products
As an Amazon Associate and member of other affiliate programs, I earn from qualifying purchases.