Coconut Coolers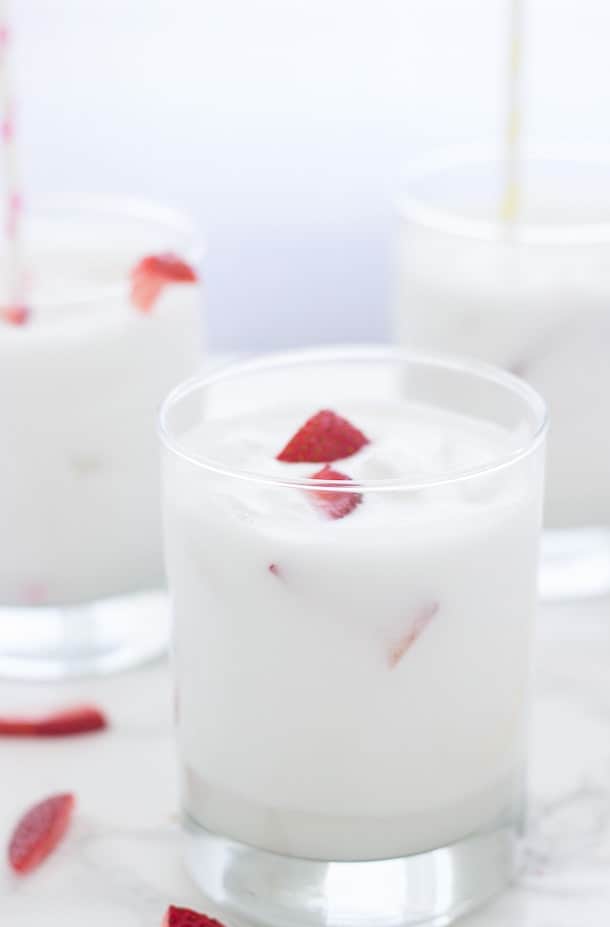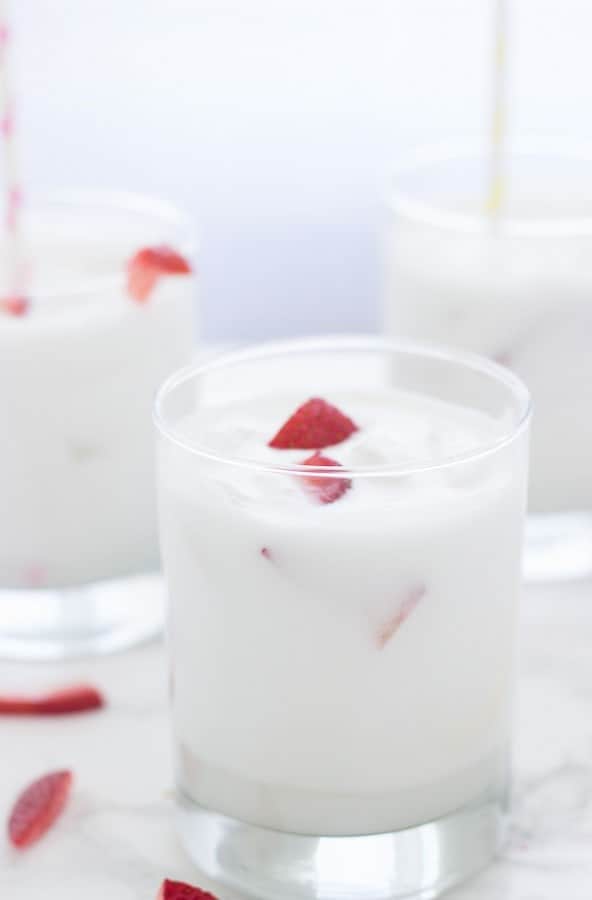 According to my baby app (What to Expect), this growing boy is about the size of a coconut at the moment. First of all, it is so weird that they measure baby growth by the sizes of fruits. Uhmm?? Not sure that is cute coz all I think about is eating these fruits. Anyway, when I saw coconut pop up this week, I got excited!! One more reason to have some coconut treats this week and get this baby's taste buds adjusted right away. You know I am one to NOT pass up an opportunity to get my coconut love on.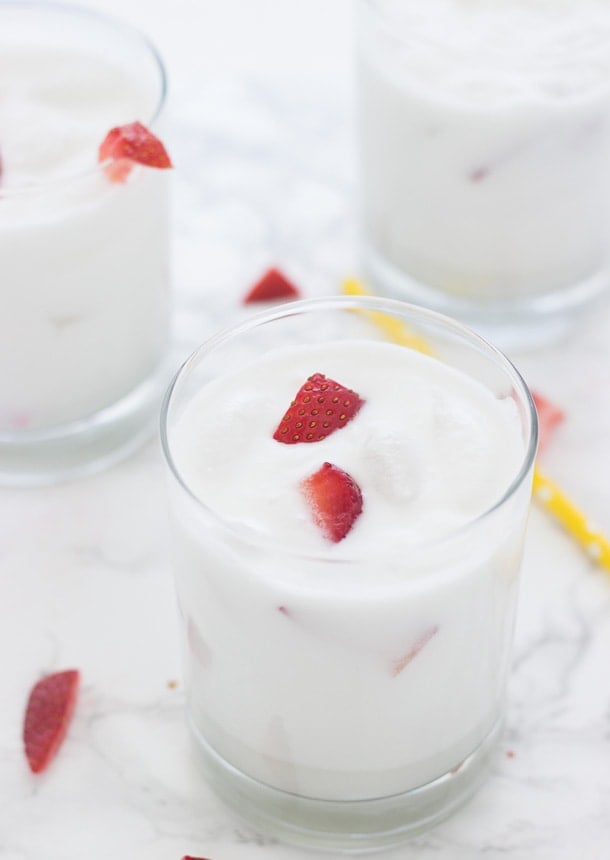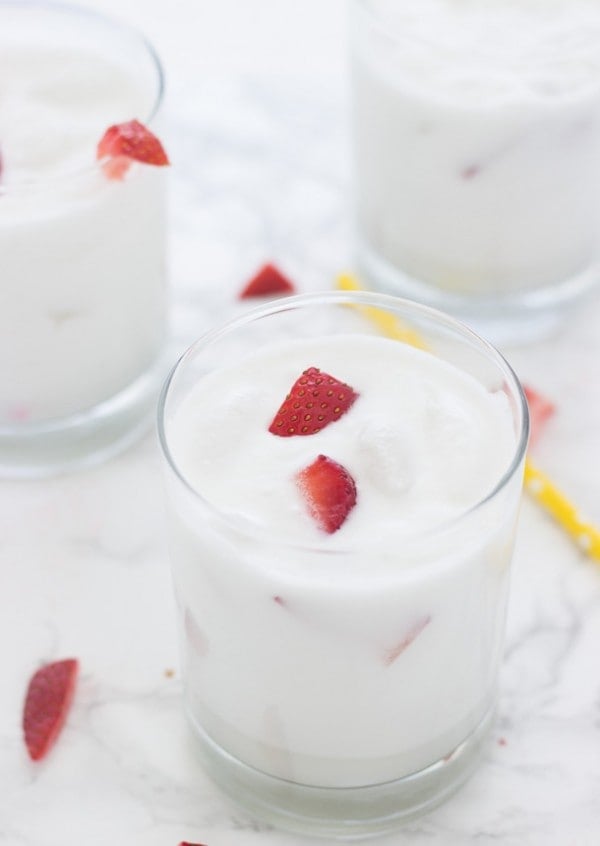 The hubs and I ate at P.F Chang's the week before and I had one of their coconut coolers and it was delicious!! A little sweet for my taste but I loved the heavy coconut flavors and I decided to replicate it at home. These coconut coolers are a sweet combination of coconut milk, coconut cream and some ice. Simple, easy and yet refreshing on a hot humid day.  They are now my go-to drink these days as it is so easy to whip up and I can get all my coconut fix in a jiffy. They are easy to customize as well. Try adding fresh fruit toppings, mixing in pineapple juice for a more tropical flavor or heck add some rum to get the party started. I just left things simple … added a few chopped strawberries in this batch for the pop of color. But feel to free to make these your own and enjoy some coconut loving.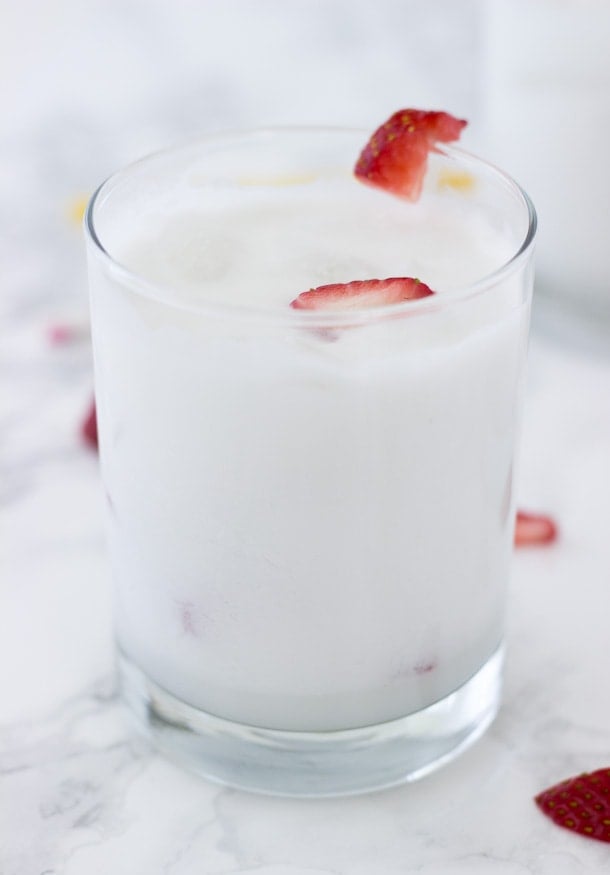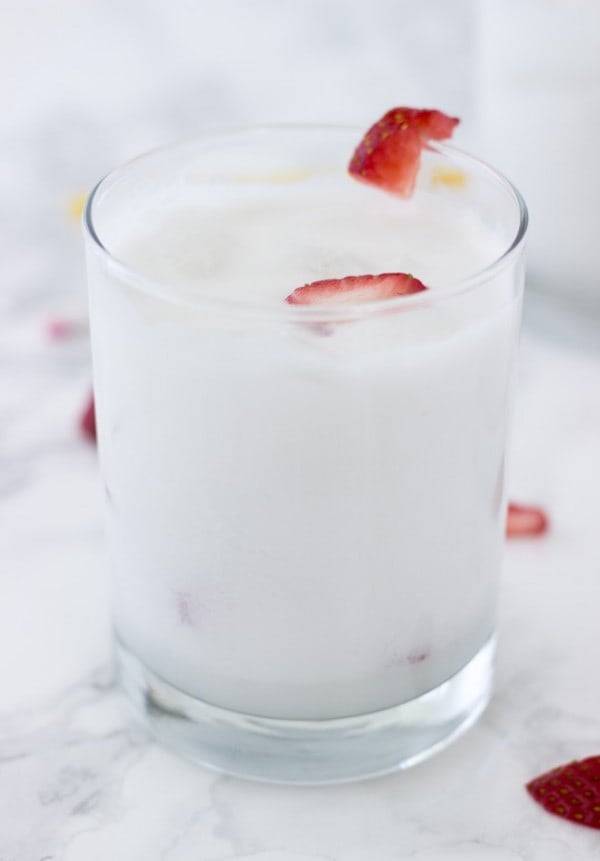 Now I am looking forward to celebrating the watermelon stage of this baby growth!!! Although I am sure by the time I am carrying a watermelon, I will not be in a celebratory mood. Hmmm, maybe I should get started sooner rather than later 😉
Have a great weekend friends!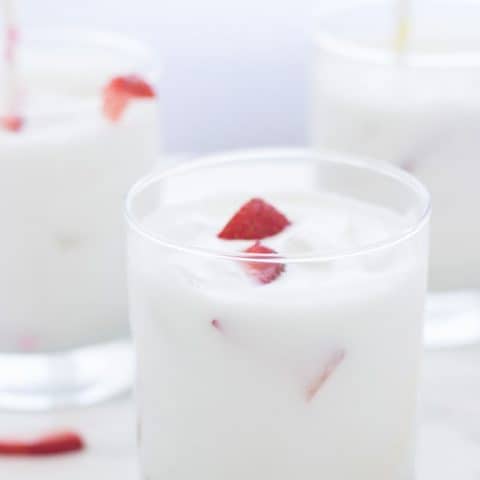 Yield: 3 drinks
Coconut Cooler
Prep Time 10 minutes
Total Time 10 minutes
Ingredients
1 can coconut milk (13.5 oz)
1/4 cup coconut cream (or more to taste)
3 tablespoons rum (optional)
Garnish: fresh strawberries
Instructions
Combine the coconut milk and coconut cream in a blender. Blend until smooth. Taste and add more coconut cream if you want it sweeter.
Divide ice cubes into three glasses. Add rum to glasses if using. Top glasses with coconut mixture. Garnish with strawberries. Enjoy!