S'mores Charcuterie Board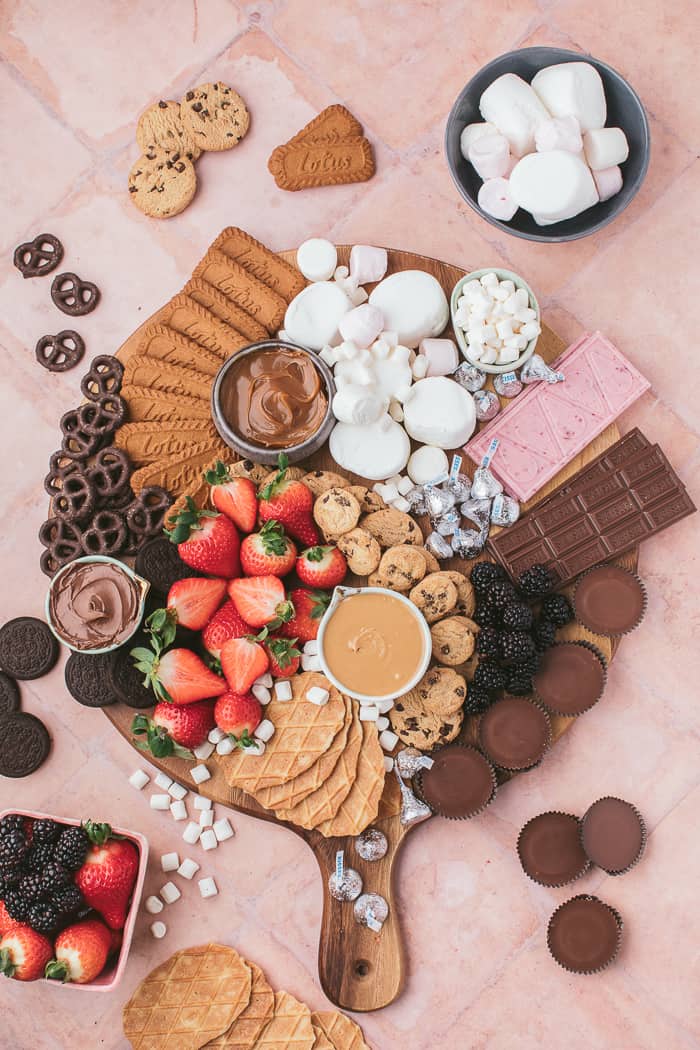 Hey there! I always start planning for summer way before summer is actually here. On our list so far we have the beach, pool days with their friends, sleepovers, amusement parks, and cookouts. Just thinking of all the fun stuff we can do together which I enjoy because before we know it, they won't want to spend their free time with us anymore.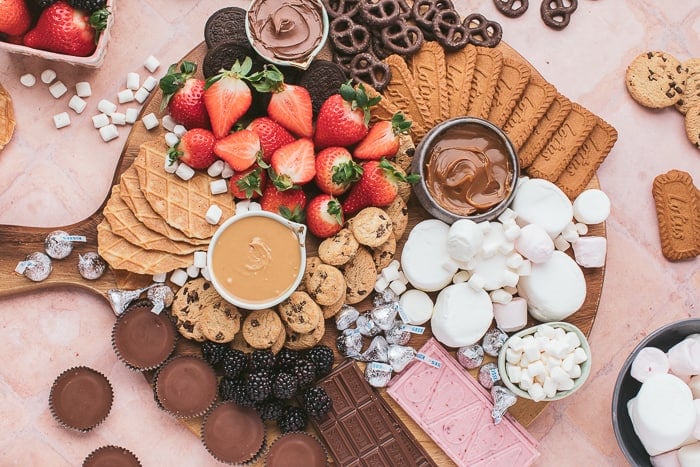 I love all of the above but my favorite obviously is the cookouts. Spending sunny days with friends and family to enjoy some darn good food, drinks, and our kids making memories together. After a long, hot day the relief comes when the sun starts to go down and the bonfire starts roaring. Kids only want one thing during a bonfire; s'mores! Since they are planning so far ahead and a bonfire isn't happening right now, I came up with another way the kids can enjoy the summer snacks at any time; S'mores Charcuterie Board.
I know I know, charcuterie boards were based on appetizer-sized meats, cheeses, and fruit laid perfectly on a wood or slate board for your guests to enjoy. I added my own twist to the classic and made it kid-friendly.
S'mores Charcuterie Boards are super easy, quick, and great for any day of the week or when your kids have sleepovers. If your family are s'mores addicts, then you might want to also check out these S'mores Cupcakes with Marshmallow Frosting, S'mores Rice Krispie Treats, or S'mores Bundt Cake.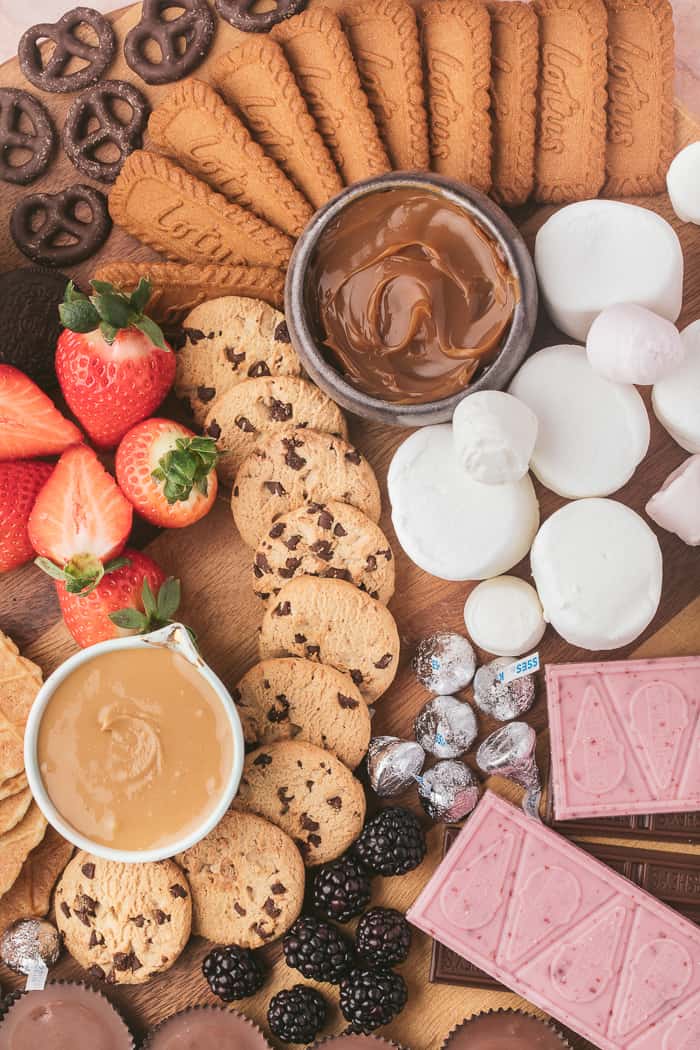 Let's walk through these simple steps to create your boards at home. You can design your board however you please but I will walk you through how I displayed mine. If you wish to skip this part and go right for the recipe, simply scroll down to the bottom.
The first thing you need is a board. If you want to be traditional you can use any wooden board, cutting board, or piece of slate. A platter also works great. You need a few small glass bowls to place around your board for spreads and sauces. Put those around the board with space between them for your goodies.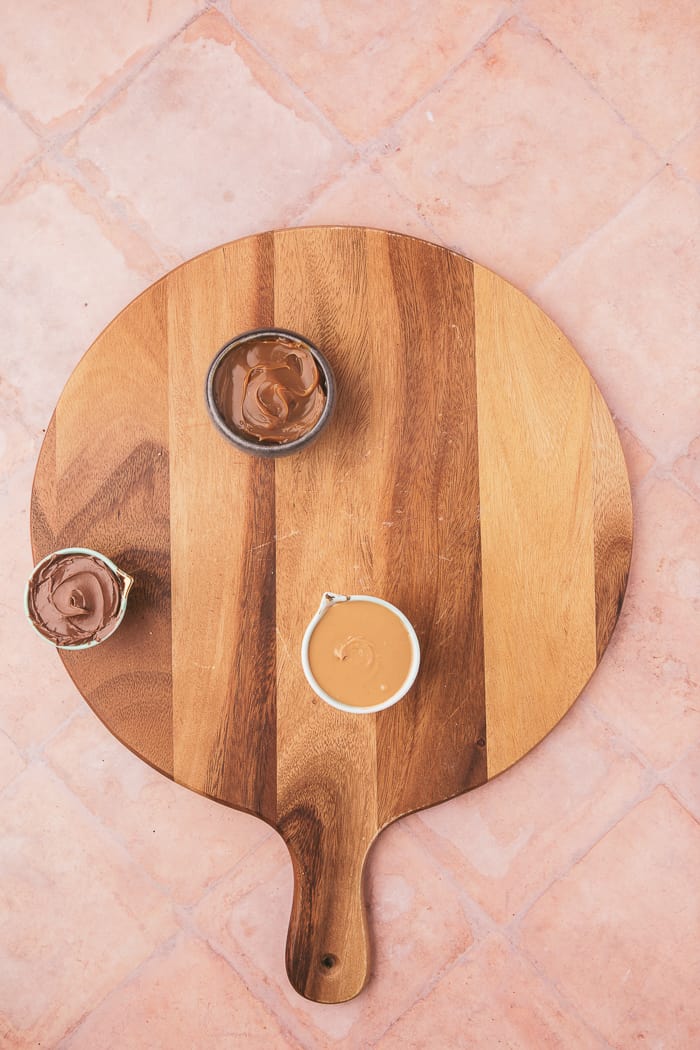 Place your cookies in a row around your board first.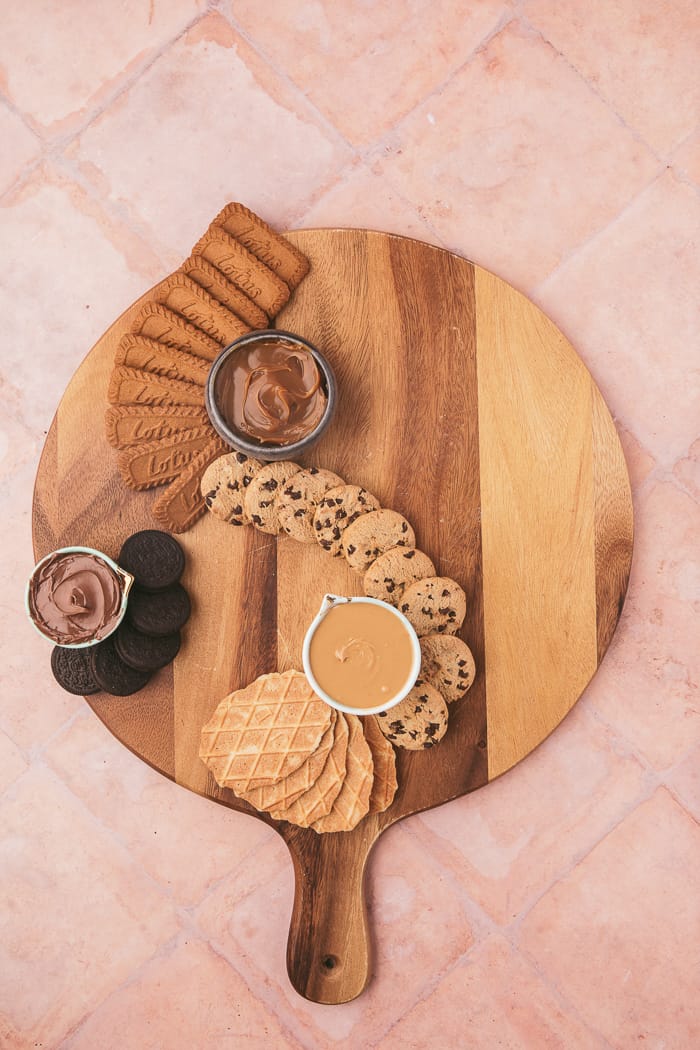 Spread your marshmallows, chocolate, and fruit around the board in piles.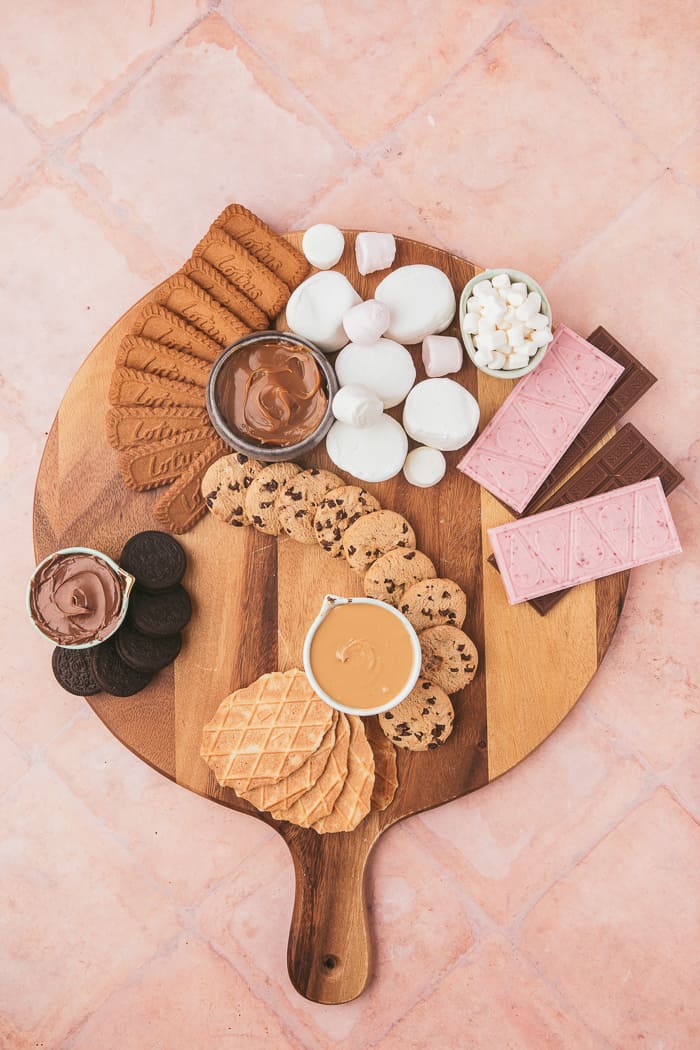 To roast your marshmallows you do it by the campfire if you choose or with a portal burner (make sure to do this yourself and do not allow children to roast unsupervised. We don't want any burnt fingers, only marshmallows). Toast to your preferred shade of brown/char.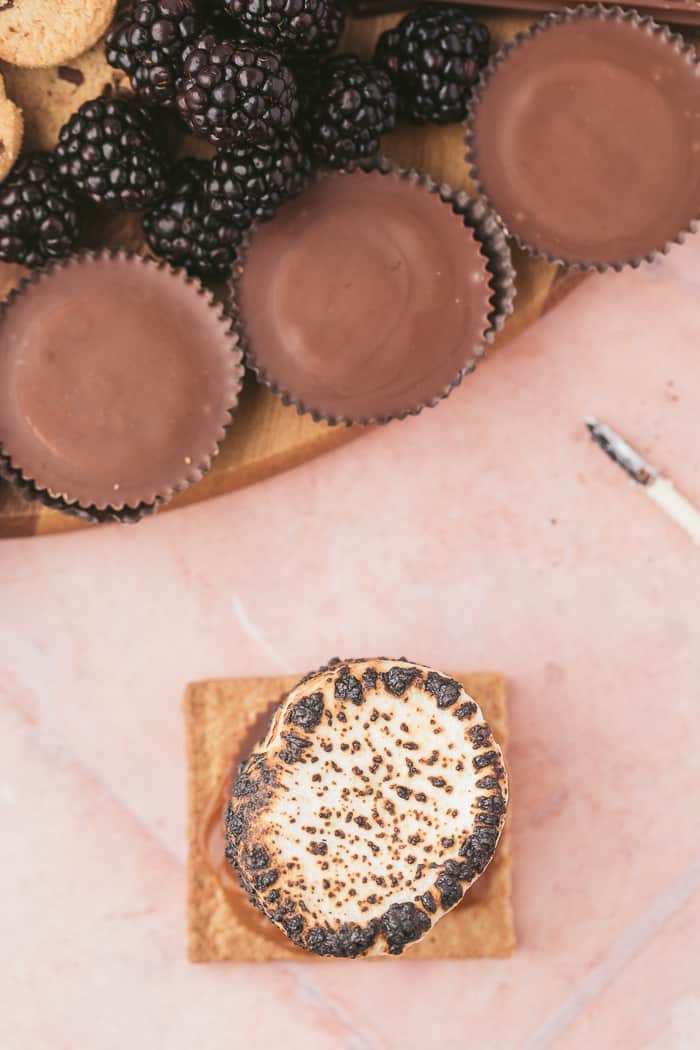 Select a cookie, top with your toasted marshmallow, add any spread or chocolate you prefer, and smoosh with another cookie.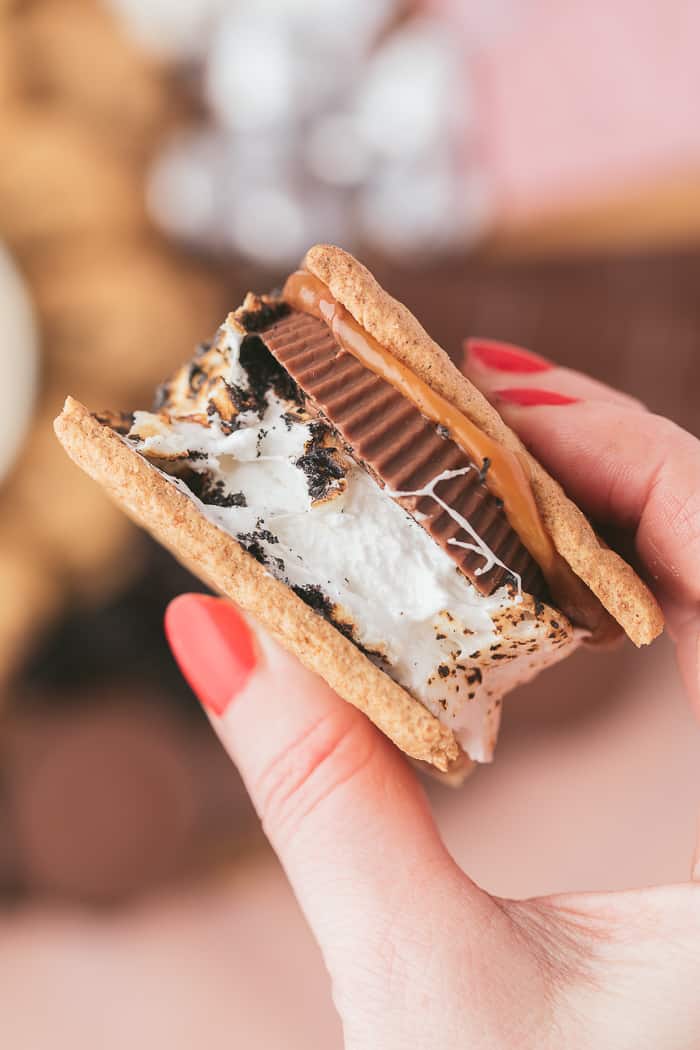 It's that simple! Swap out any ingredients for stuff your family prefers and make it your own! These boards are so fun because you can get as creative as you want and cleaning up is a breeze. Except for those little sticky fingers and faces. S'mores Charcuterie Boards are truly a hit for any occasion.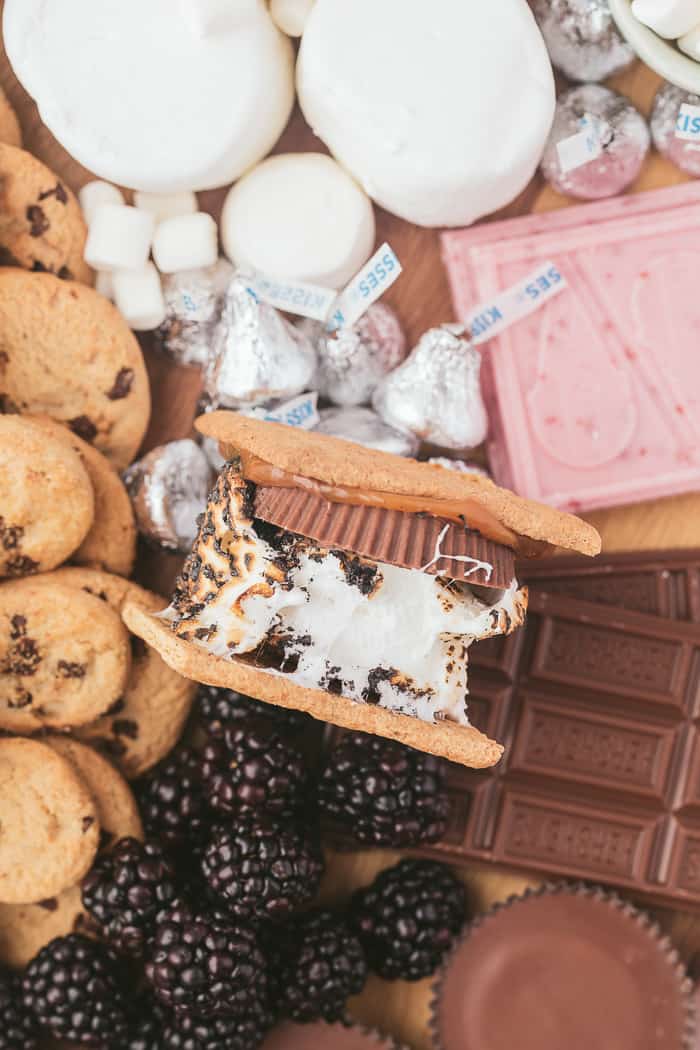 What do you think of this board? What would you swap out for your littles (or yourself)? Let me know in the comment section below. As always, if you share across social media make sure to tag #aclassictwist so I can see your beautiful creation come to life.
Happy Board making friends!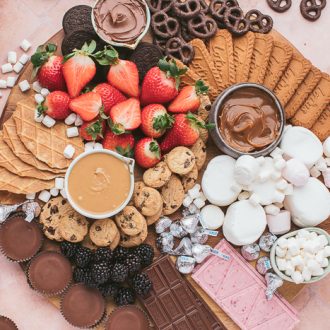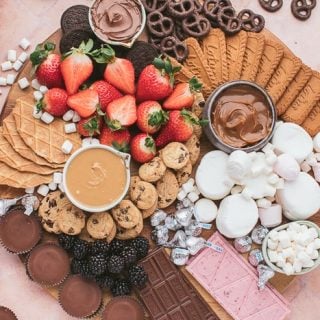 Yield: Serves 10
S'mores Charcuterie Board
Summer nights call for a bonfire, marshmallows, Hershey chocolate, and graham crackers. Bring the fun inside with this quick, easy, and delicious S'mores Charcuterie Board. Filled with all your summer favorites.
Prep Time 15 minutes
Total Time 15 minutes
Ingredients
Spreads (1 cup of each) - Salted caramel, Nutella and peanut butter
Variety of cookies (1 pack of each) - Lotus, Chocolate Chip, Oreos, Wafers and Graham Crackers.
Marshmallows (1 bag of each) - giant marshmallows, standard marshmallows and mini marshmallows.
Chocolate - Hershey's milk chocolate, Hershey's Strawberries and Cream, Reese's Peanut Butter Cups, Hershey's Kisses, Chocolate covered pretzels.
Fruit ( 1 cup of each) - Strawberries and blackberries
You will also need
A heat source to toast the marshmallows
Bamboo sticks
Instructions
Choose a large board or platter and place the bowls of spreads/dipping sauces on it leaving space in-between the bowls to arrange the other items around.
Arrange the cookies in rows across the board.
Next, add piles of marshmallows, chocolate, and fruit to fill in the gaps.
To toast the marshmallows, ready a portable burner, or perhaps you have your board set up next to a campfire. You can even use the gas burner of your stove.
Add the marshmallows to sticks and toast until bubbling, blackening, and oozing.
Choose a cookie, add a spread, top with whichever chocolate you fancy, add the marshmallow and then sandwich with a second cookie.
We recommend the graham cracker spread with caramel, topped with a peanut butter cup and giant marshmallow combo but you do you!
Notes
A board upwards of 15 inches will fit a lot of items. You can use any large board-like vessel you have, be it a platter or oversized serving plate. You could also arrange everything on a clean tabletop if you don't have anything large enough to house all the ingredients.
You can use the toppings as described, but really, anything goes. As long as you have a good variety of cookies, chocolate, and spreads - you're good to go!
For a visually appealing charcuterie board use items that are of different sizes, colors, and textures. A small selection of fresh fruit will always make a charcuterie look pretty (even if no one eats it!).
It's easiest to put together a good-looking board if you begin by placing the items in bowls first and then work your way around.
Use smaller items such as Hershey's kisses and fresh fruits to fill in any gaps.