How to Make a Number Cake
Seen the trending number cakes and ever wondered how to make one? Follow my easy step-by-step guide on how to make a number cake to create one at home and for your next celebration.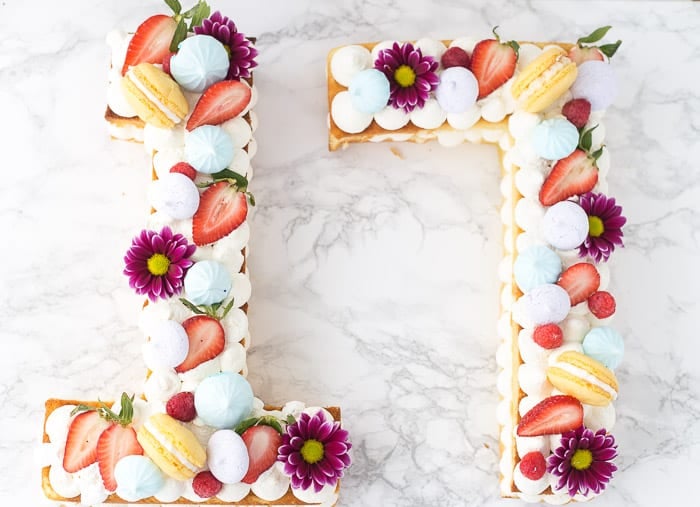 I am sure you have all seen the trend of number cakes on Instagram lately. My niece wanted one for her birthday last month and I was challenged to make one for her. Just like her Minion birthday cake from four years ago, I posted a picture on my Instagram and everyone loved it.
A few people even asked for a step-by-step guide on how to make a number cake. Well, here it is!! Disclaimer: it is straightforward, and all you need is my secret weapon.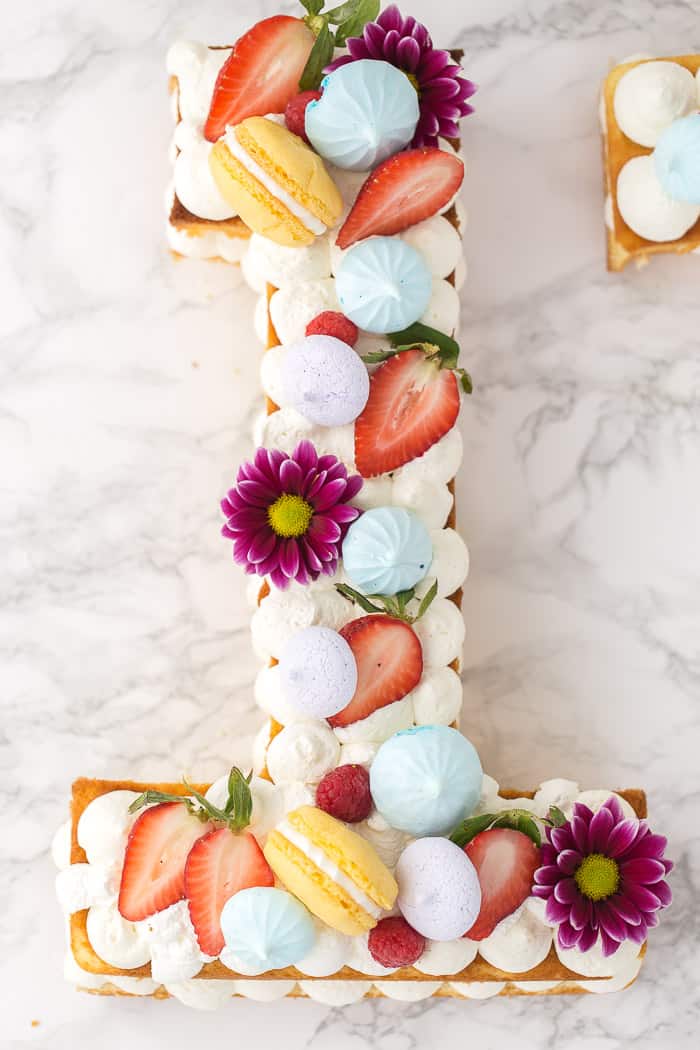 I am always a skeptic when it comes to trying anything that is on-trend. Especially during the hype of the trend. It took me years to get on the kale bandwagon (spoiler, this kale salad with radishes and lime vinaigrette is my favorite salad now) or the dripping cake (I am not there) or the Unicorn obsession (this Mother's Day cake was my interpretation of the trend).
Needless to say, trends don't push me to try things. My now 17-year old niece loves every trend out there and uses her birthday to challenge me to do some. I am glad she pushes me sometimes as her ideas are some of the most popular cakes on my blog.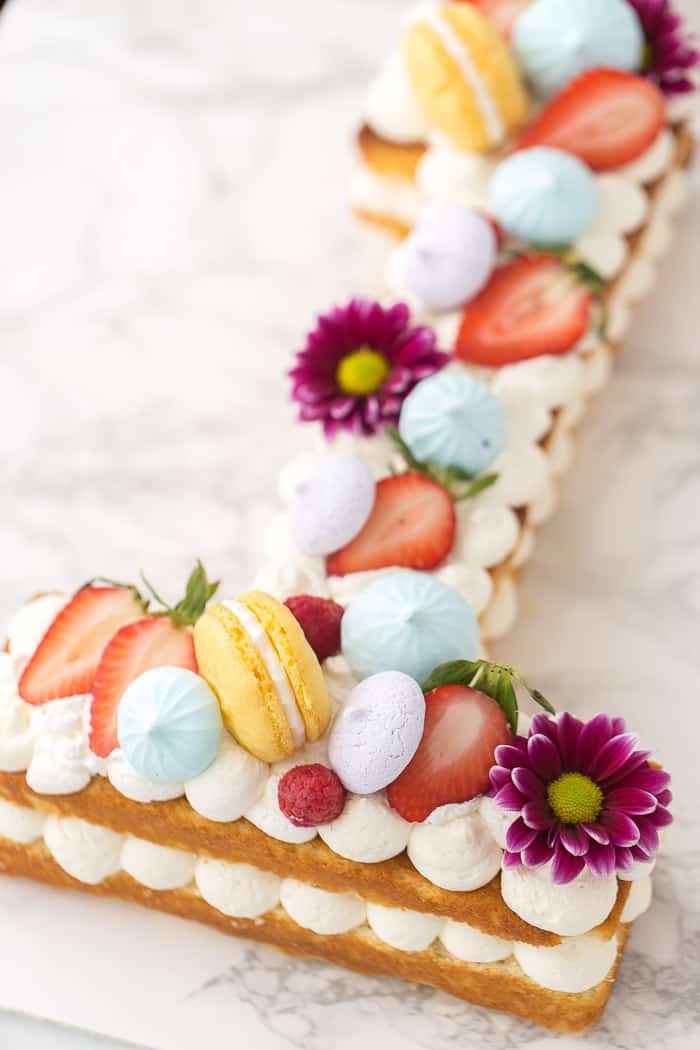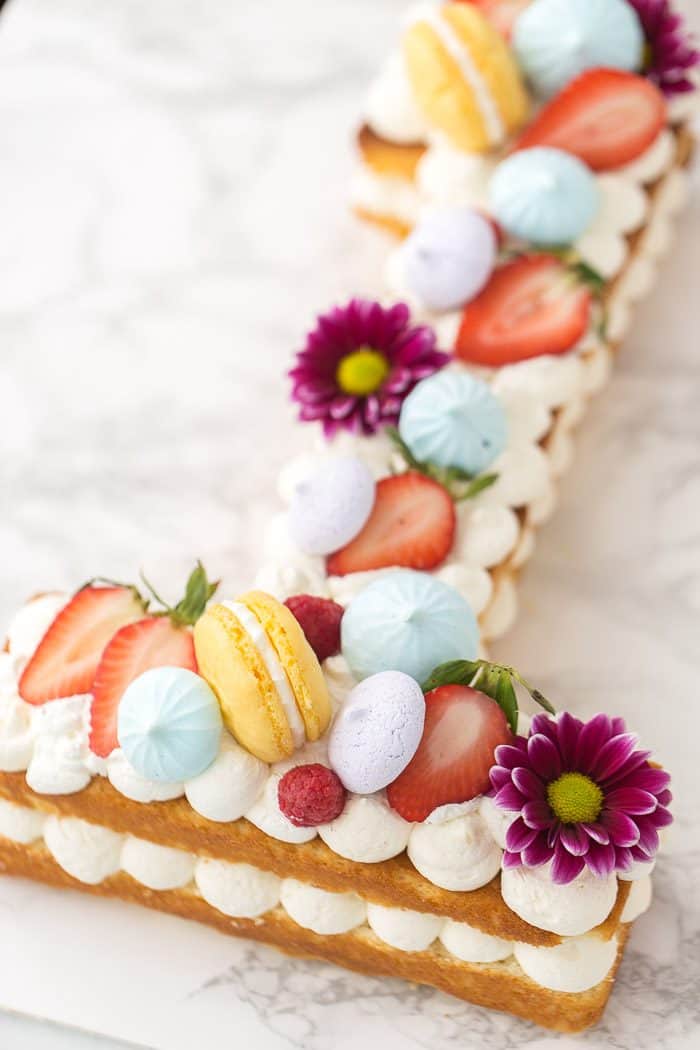 When researching how to create this beautiful spring-like number cake for her, I watched a few youtube videos and a lot of people were baking the cakes or cookies in a sheet pan and then using a stencil to cut out the numbers. If you know me, I am the laziest baker there is and I was not down for that. There had to be an easier way to achieve this so I went on the hunt for a numbered cake pan.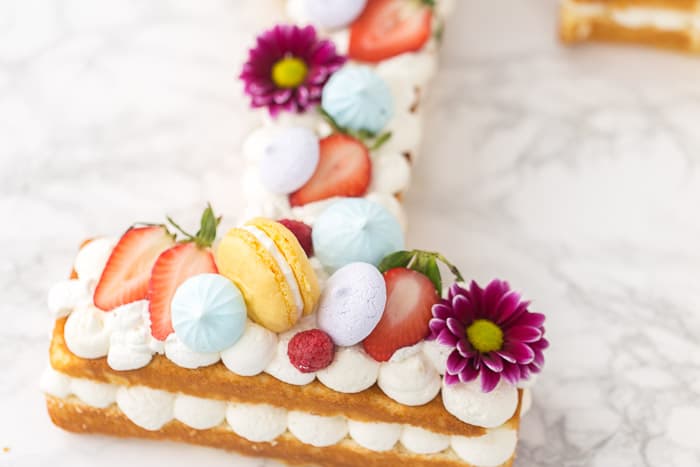 Out of several options that I explored, this Wilton cake pan was the best I found. There were a few others but in the end, the value and numerous possibilities for the future won me over.
It is essentially one pan with pieces that shape out all the numbers and alphabets. Can you imagine that? One pan to make all the number cakes your heart desires and the alphabets. I foresee a lot of birthday number cakes in my son's future. (Update: See my how to make a letter cake tutorial for my son's birthday cake!)
Okay, now that we have the pan, the rest of the cake is really simple. Personally, I think you should get two of the pans. It makes baking easier and faster but you can survive with one as I did.
Here's your step-by-step guide on how to make a number cake:
Align the sections of your cake pan using this Wilton Countless Celebration Cake Pan. Make sure you have your number outlined as directed by the instructions that come with the pan.
Grease your cake pan including the section dividers using baking spray.
Prepare your cake batter. You can use your favorite cake recipe, vanilla or chocolate. I used this vanilla cake recipe (doubled the recipe for my number 17)
Spoon the batter into the prepared pan and bake for the recommended time of your recipe. Note that since you are baking in a special pan, you will need to adjust your baking time. I started checking my cake after 12 minutes.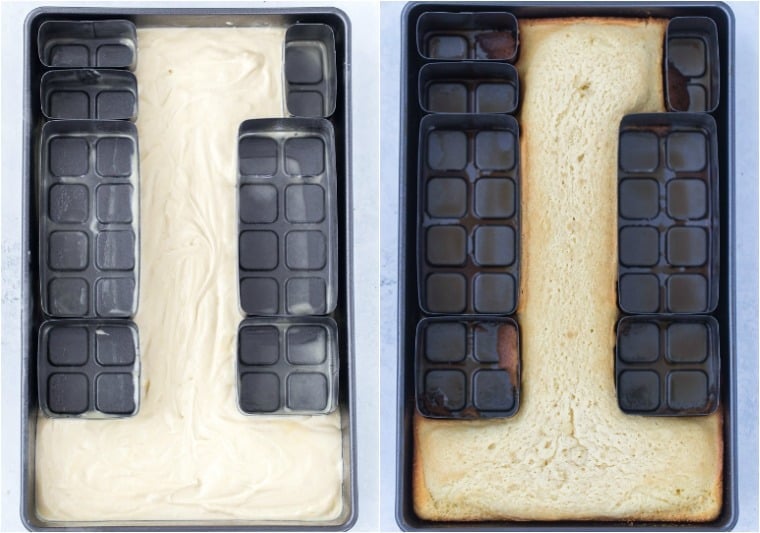 Let cake cool in the pan for at least 10 minutes before inverting onto a wire rack to cool completely.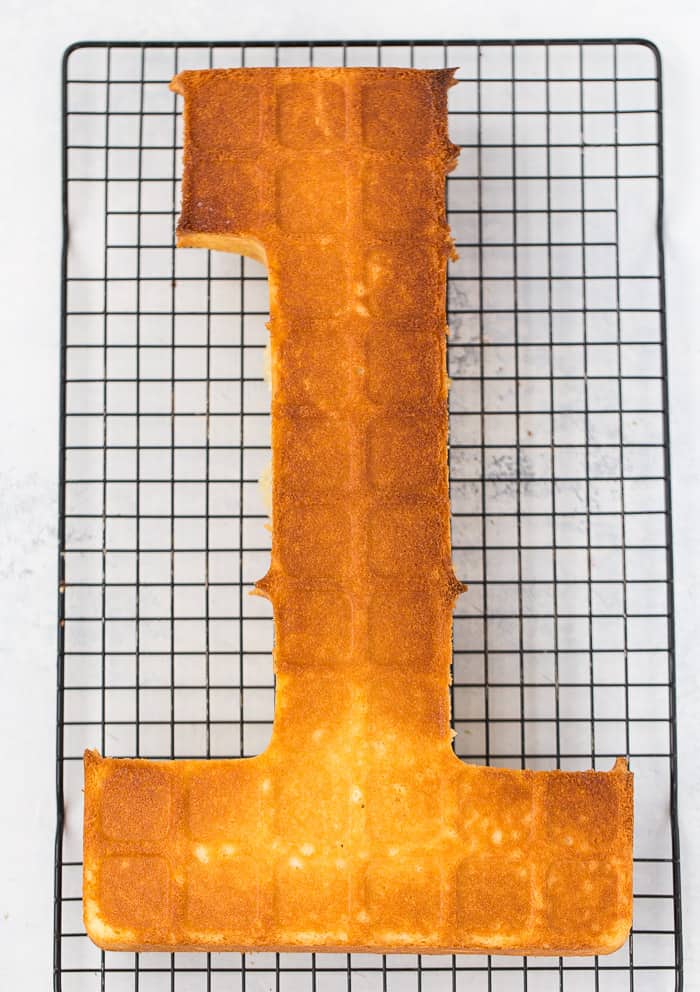 Once cool, slice each number cake into two halves for layering. I used a cake wire cutter to slice my cake but you can also use a serrated knife.
If using just one pan, repeat the process and bake your second cake/ number.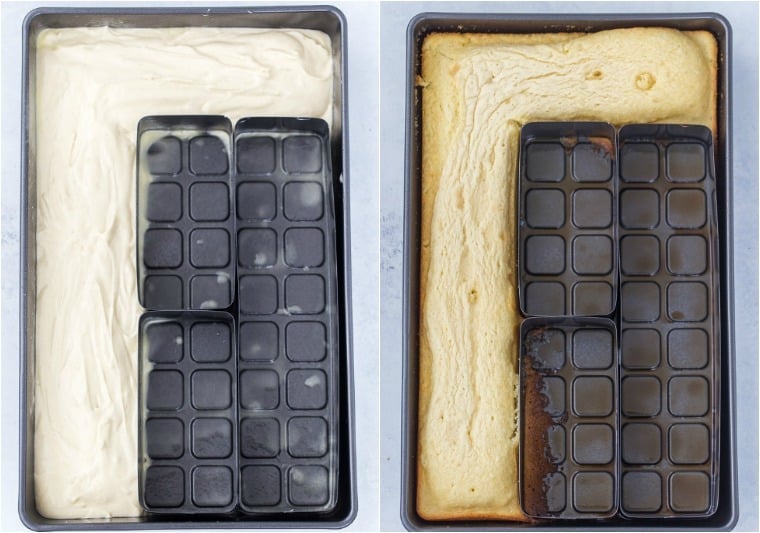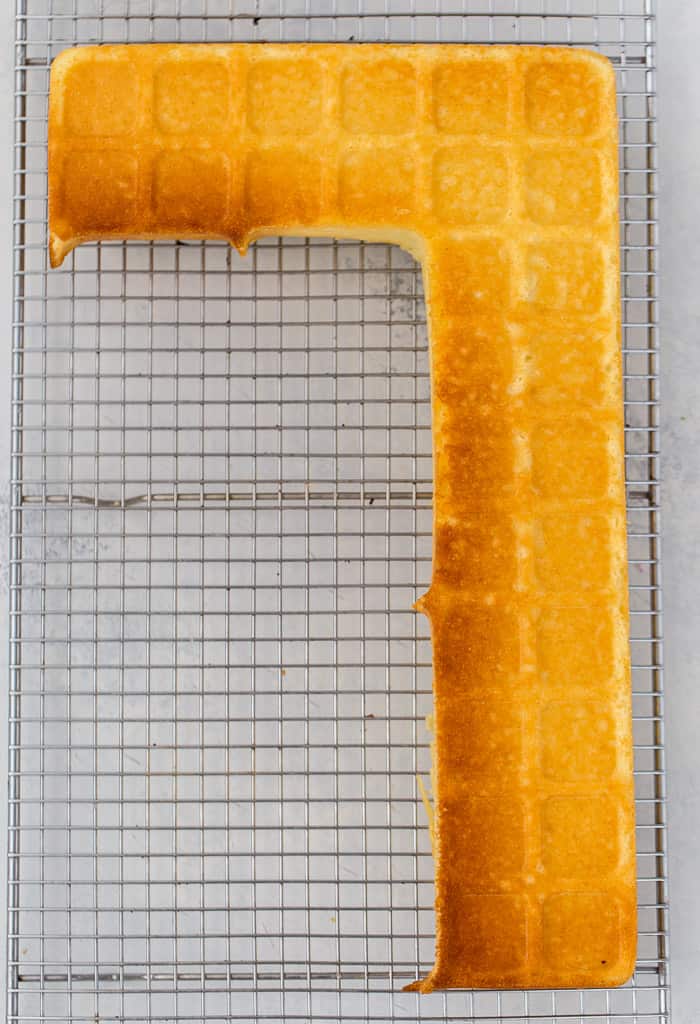 While the cakes cool, prepare your whipped cream cheese frosting, recipe below.
Gather your decorations. I used fresh flowers, meringue kisses, fresh fruits and macarons (lemon macarons). Of course, you can use any combination of decorations, colors, etc. to personalize the cake for your celebration.
When ready to decorate, fit a pastry bag with a large round tip and fill with the frosting.
Place your first layer of cake on a cake plate or serving board.
Pipe frosting all over the cake in dollops using the round tip. You want the dollops to be at least 2-inches tall.
Place the second layer of cake over the frosting gently.
Repeat the dollop frosting on top of the second layer.
Top with your decorations.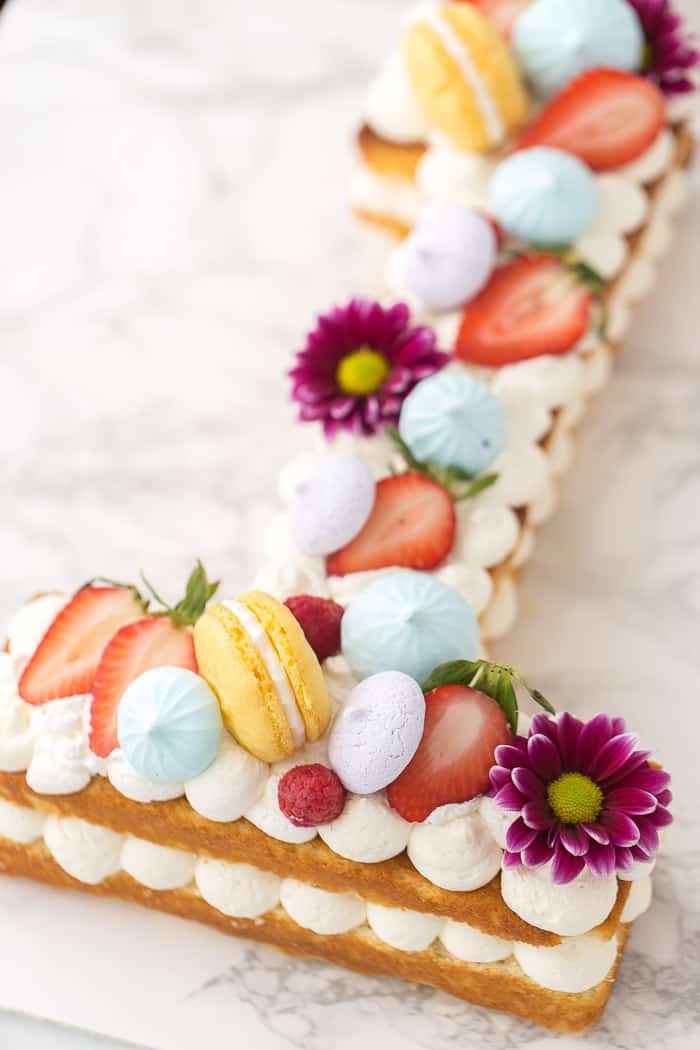 There you have it, friends. The steps are truly easy to make this number cake or any letter cake. These are perfect for birthdays, baby showers, or special event celebrations. Let me know below in the comments if you try it!
If you love specialty cakes check out my step-by-step tutorial on how to make a makeup cake.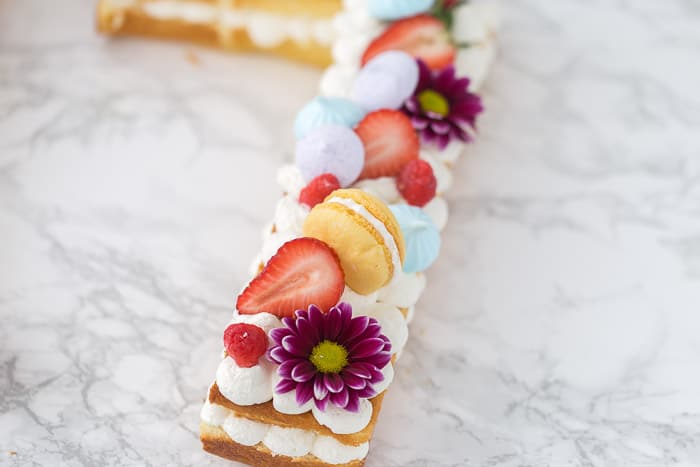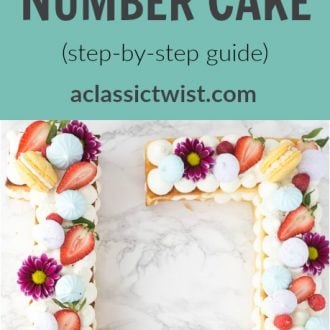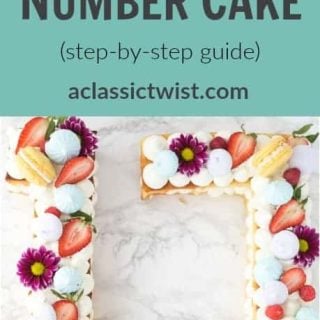 Yield: 1 number cake (two digits)
How to Make a Number Cake
Seen the trending number cakes and ever wondered how to make one? Follow my easy step-by-step guide on how to make a number cake to create one at home and for your next celebration. 
Prep Time
1 hour
30 minutes
Additional Time
20 minutes
Total Time
2 hours
30 minutes
Ingredients
For the Vanilla Cake:
2 cups cake flour, sifted
1 1/2 cup all-purpose flour
2 cups granulated sugar
1 tablespoon baking powder
1 teaspoon salt
1 cup (2 sticks) unsalted butter cut into 1-inch cubes, room temperature
4 large eggs, at room temperature
1 cup whole milk, at room temperature
1 teaspoon vanilla bean paste or 2 teaspoons pure vanilla extract
1/2 teaspoon pure almond extract
Cream Cheese Whipped Cream Frosting:
8 ounces cream cheese, room temperature
2 cups heavy whipping cream, very cold
¾ cup powdered sugar
2 teaspoons pure vanilla extract
Instructions
For Cakes:
Preheat oven to 325 degrees F. Assemble your number in the number cake pan. Grease the pan with baking spray and set aside. The recipe as written will make two numbers. So if you only have one pan, you will need to bake each number.
In the bowl of an electric mixer, combine the dry ingredients and mix at low speed until well blended.
Increase speed to medium-low and add the cubes of butter, one at a time mixing each one for a few seconds before adding the next. Mix until there are no large chunks.
Add eggs, one at a time, and mix well between each addition. In a small mixing bowl, whisk together the milk, vanilla, and almond extract.
Increase mixer speed to medium and add in the wet ingredients in 3 parts, mixing until incorporated and scraping down the bowls after each addition. DO NOT over beat otherwise, you will end up with dense cakes.
Divide batter into the prepared number cake pan, filling each about ⅔ full. Bake cakes, one at a time, until a toothpick inserted into the center come out clean, 17-20 minutes.
Remove cakes from oven and let cool in the pan for at least 15 minutes. Invert onto a cooling rack and let cool completely.
Using a wire cake leveler, slice each number cake into two equal halves.
For the Cream Cheese Whipped Cream Frosting:
Pre-chill the bowl of your stand mixer and whisk in the freezer for about 10 minutes.
Beat the cream cheese until smooth, about 2-3 minutes. Add the cold heavy cream, powdered sugar, and vanilla extract to the bowl. Whisk on medium-high speed until stiff peaks form. Be careful not to over whip the heavy cream.
Assembly:
Working with one number at a time, place one layer of the number onto a cake platter. Using a pastry bag fitted with a large round tip (or your favorite tip), pipe the whipped cream frosting over the cake in dollops. You can choose to evenly spread the frosting too.
Place the second layer of the number cake on top of the frosting. Pipe some more frosting on top in dollops.
Finally, decorate the cake with your desired toppings. I used meringue kisses, macarons, fresh flowers, and fresh fruits. Remember to save an equal amount of decorations for your second number if you are making a two-digit numbered cake.
Repeat the above steps for the other number if you are making a double-digit numbered cake.
Notes
Notes: You can find the pan I used here on Amazon
For a one-digit cake (e.g. 3), half the recipe above and bake one cake.
The recipe above is written for a double-digit cake (e.g. 17)
Recommended Products
As an Amazon Associate and member of other affiliate programs, I earn from qualifying purchases.
*Amazon affiliate links included above*