Spinach Artichoke Dip Bites
This post is sponsored by Duke's Mayonnaise and includes tracking links. For more information about tracking links and how to opt-out, please visit All About Do Not Track prior to clicking any links found in this post. Thank you for supporting the brands that make it possible for me to keep creating authentic recipes for you!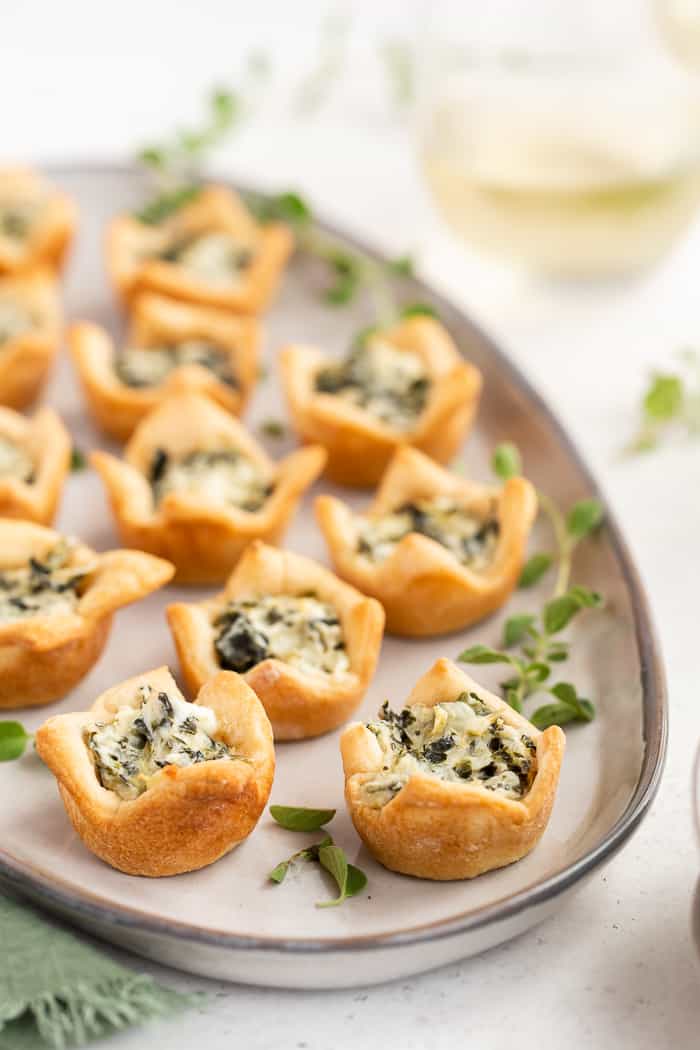 Hi guys! I know I know, I am not sharing the usual peppermint or gingerbread holiday recipe today. But these spinach artichoke dip bites are not only essential for all your holiday gatherings, but they are also game-day perfect. Because let's be honest, 2020 is almost over and the next grand affair is Game Day.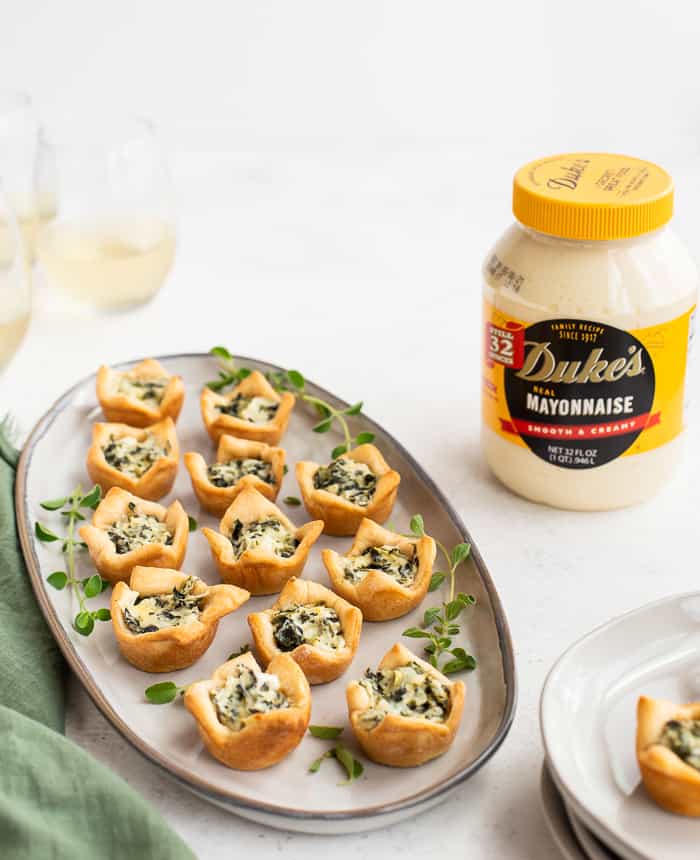 So are you still with me? Okay, thanks! I am pretty sure you will love these because I did a thing and used Duke's Mayonnaise in the dip and it turned out amazing. You already know my love affair with Duke's Mayonnaise since I first tried it a few weeks ago in this pumpkin bread pudding recipe. It's got twang and I kid you not, it elevates everything it comes in contact with. That tangy taste and the fact that it is always sugar-free, adds a lot of flavor to your recipe. In this case, you get a nice rounded flavor of the mayo with the artichoke and spinach. My husband in just a few weeks is now banishing all other mayos from our house.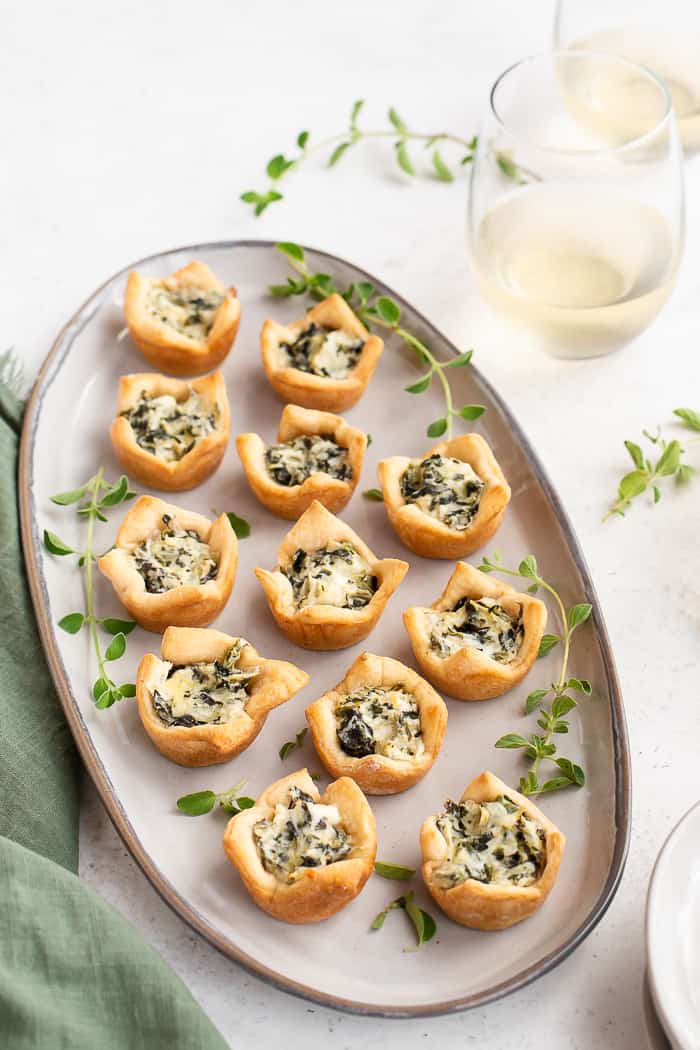 So why spinach artichoke dip bites? For me, game day food is easy to make, easy to grab, and packed with flavors. Whether it is buffalo chicken dip bites or BBQ chicken nachos, I want to make sure what I am serving up is also easy for my family and guests to grab and go. While we may be doing smaller gatherings this holiday season and into Game Day, we will not give up on delicious appetizers and will keep the spirit alive.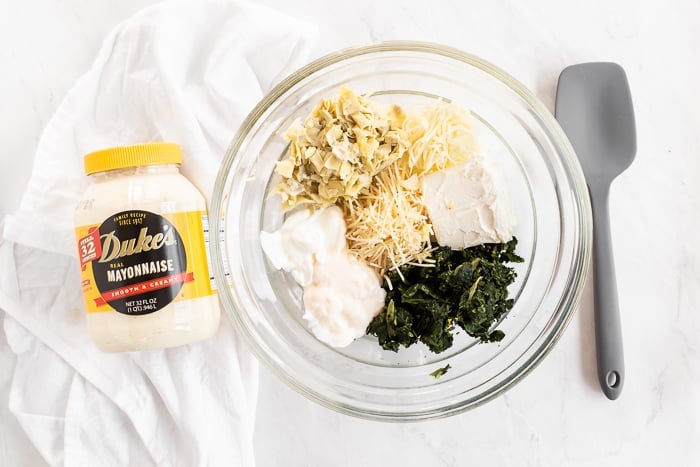 For these bites, we start with combining cream cheese, sour cream, and a good dose of Duke's Real mayonnaise (I used 1/4 cup). Next is building a complex base of cheese flavors so we add in freshly grated parmesan cheese and some shredded mozzarella cheese. Add in your spinach and artichokes to this cheese-filled base and you have yourself the classic spinach artichoke dip.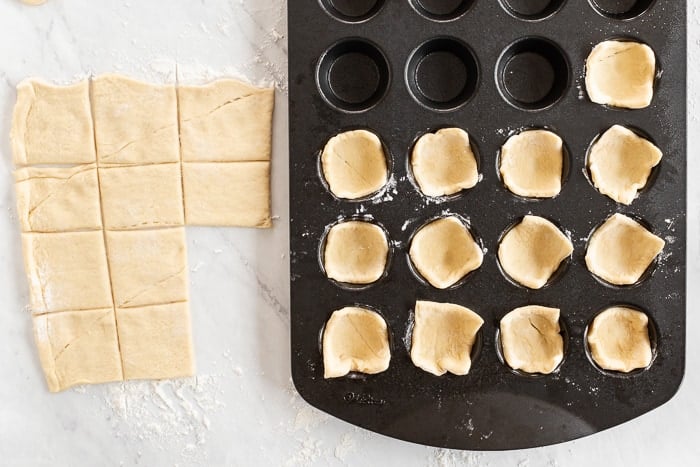 Except, we don't stop there. We take it one step further by baking this dip in a puff pastry crust or pie crust. Why have spinach artichoke dip when you can have spinach artichoke dip wrapped in a warm buttery crust?? Yup, that's what I thought, you would prefer the bites too! It's a no-brainer and one I suggest you add to both your holiday season appetizers and game day list.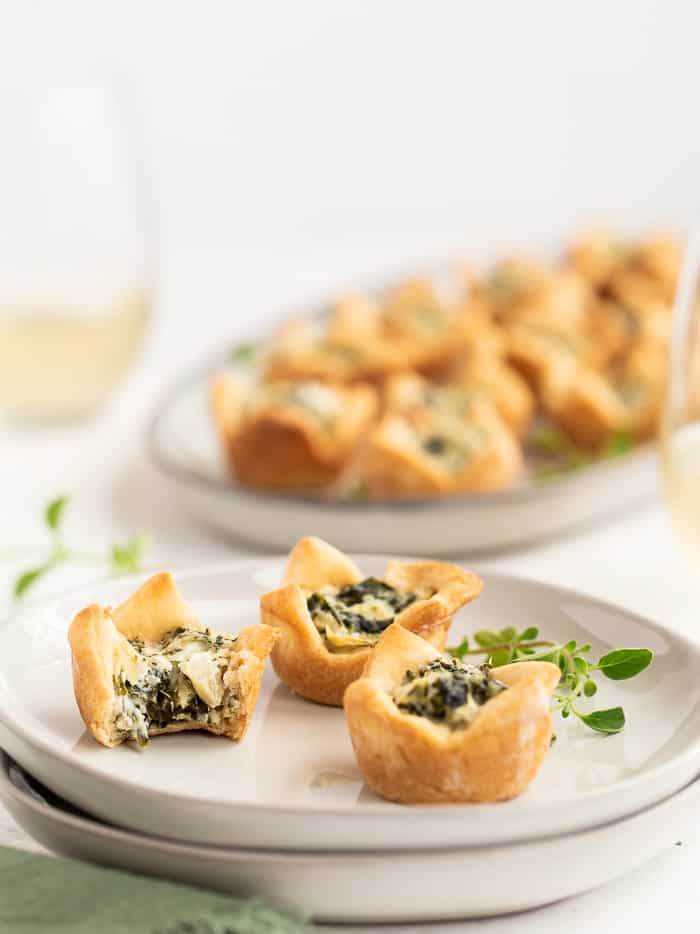 It's a quick bake and you can easily use pre-purchased crusts to make these an effortless activity.
For more creative ways to use Duke's Mayonnaise and find out why this southern heritage mayonnaise has a cult following, visit their website and follow them on social media (Facebook, Twitter, Instagram, and Pinterest).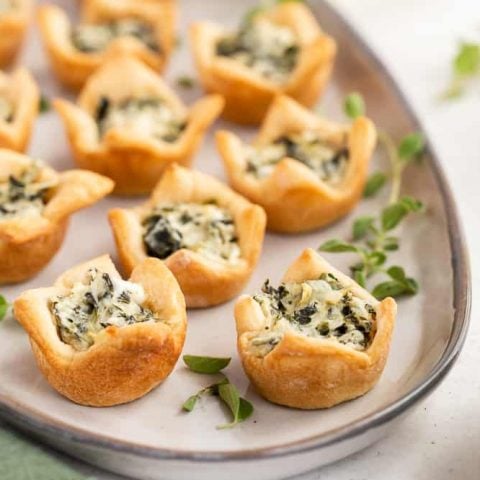 Yield: 12-18 bites
Spinach Artichoke Dip Bites
Why have spinach artichoke dip when you can have spinach artichoke dip bites wrapped in a warm buttery crust?? These are perfect for Game Day!
Ingredients
4 ounces cream cheese, softened
2 tablespoons sour cream
¼ cup Duke's Real Mayonnaise
1 garlic clove, minced
½ cup finely grated parmesan cheese
¼ cup shredded mozzarella cheese
6 ounces artichoke heads, chopped (be sure to drain liquid form can and squeeze liquid off artichokes before measuring)
4 oz frozen spinach, thaw and squeezed of excess liquid
1 package puff pastry or frozen pie crust
Instructions
Heat oven to 375 degrees F. Lightly spray 2 mini muffin pans (48 mini muffins) with nonstick cooking spray.
In a medium bowl, mix all the ingredients except the crescent rolls/puff pastry until well combined. Transfer to an oven-safe dish and bake for 10 minutes.
Remove and let cool on a cooling rack while you prepare dough sheets.
Unroll 1 dough sheet. Roll into a 12x8-inch rectangle. Cut dough sheet into 24 squares. Press a square in the bottom and up the side of each mini muffin cup. Spoon about 1-2 teaspoon artichoke dip into each cup. Repeat with the remaining dough sheet and fill.
Bake for 8 to 12 minutes or until the edges of the dough are golden brown. Remove from pan and let cool on a serving platter for 5 minutes. Serve warm.


Recommended Products
As an Amazon Associate and member of other affiliate programs, I earn from qualifying purchases.