Strawberry Lemonade Cookies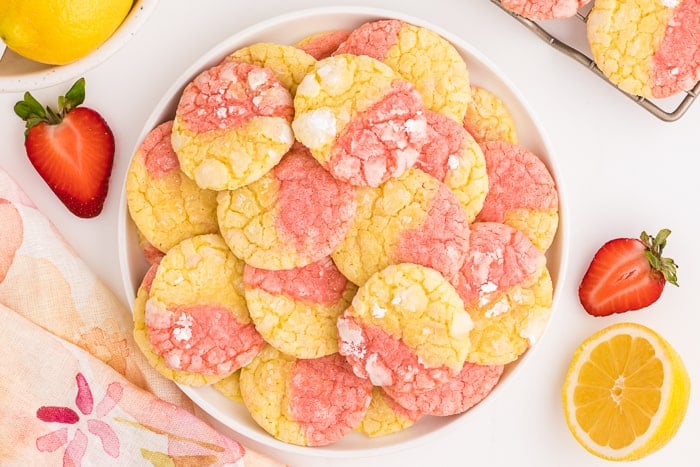 Hey there friends, and welcome back to a brand new summer recipe! These colorful and cheerful strawberry lemonade cookies are summer in every single bite.
No one gets more excited about the beginning of summer than your little ones. Between cannonballing into the community pool, running around the neighborhood with their friends, staying up late, and sleeping in, it truly is a magical time.
Another fun activity so many of us enjoyed as kids were to set up a little lemonade stand on the corner of the street and see if we could get enough money for the ice cream truck when it came around—mixing your lemonade packets with mounds of sugar and most of the time drinking all of your inventory. Some of you might have even had the luxury of a family member who would make fresh-squeezed lemonade for you to sell!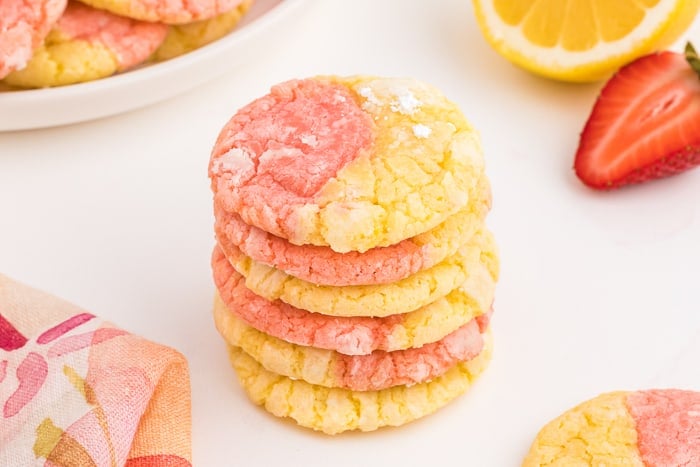 We enjoy relaxing by the pool as adults, but most of these activities are long gone from our summer list. Now, we are the ones making the lemonade and loving the big smiles on those little faces when they get a sale.
Since it's 2022, why not step up the game? What about a lip-puckering sweet treat with your favorite nostalgic summer drink and fresh strawberries? I'm talking about these beautiful Strawberry Lemonade Cookies.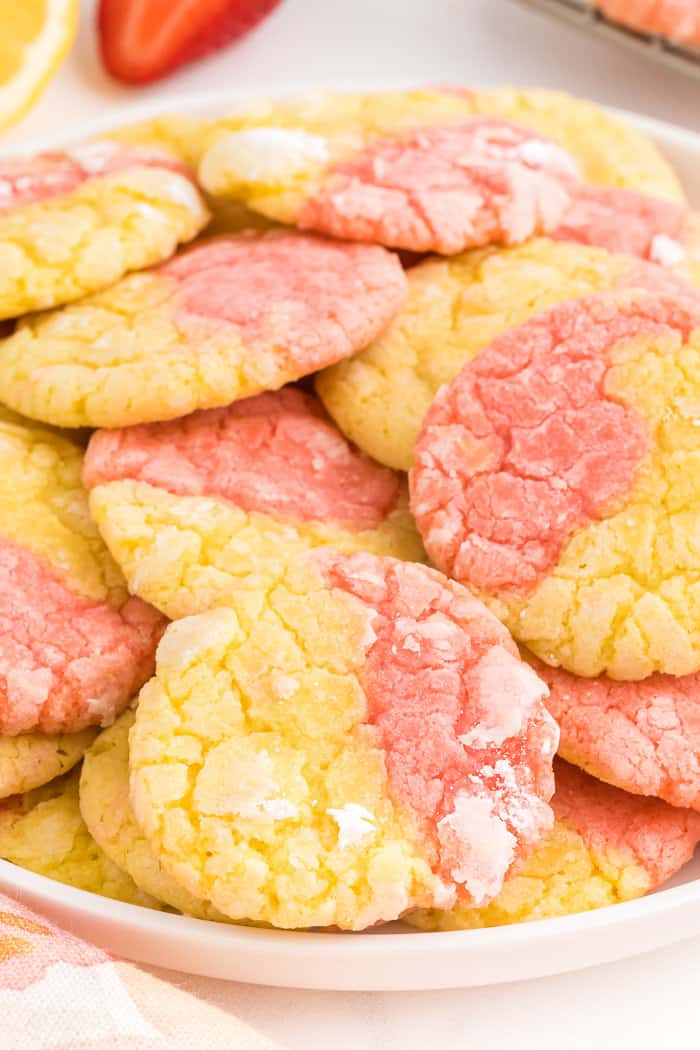 A soft sugar cookie dough infused with sweet strawberry syrup and combine that with a sugar cookie dough infused with lemon juice and zest. These Strawberry Lemonade Cookies are also fun to do with your kids. The flavors offer a perfect balance, and each bite is like biting into a cloud.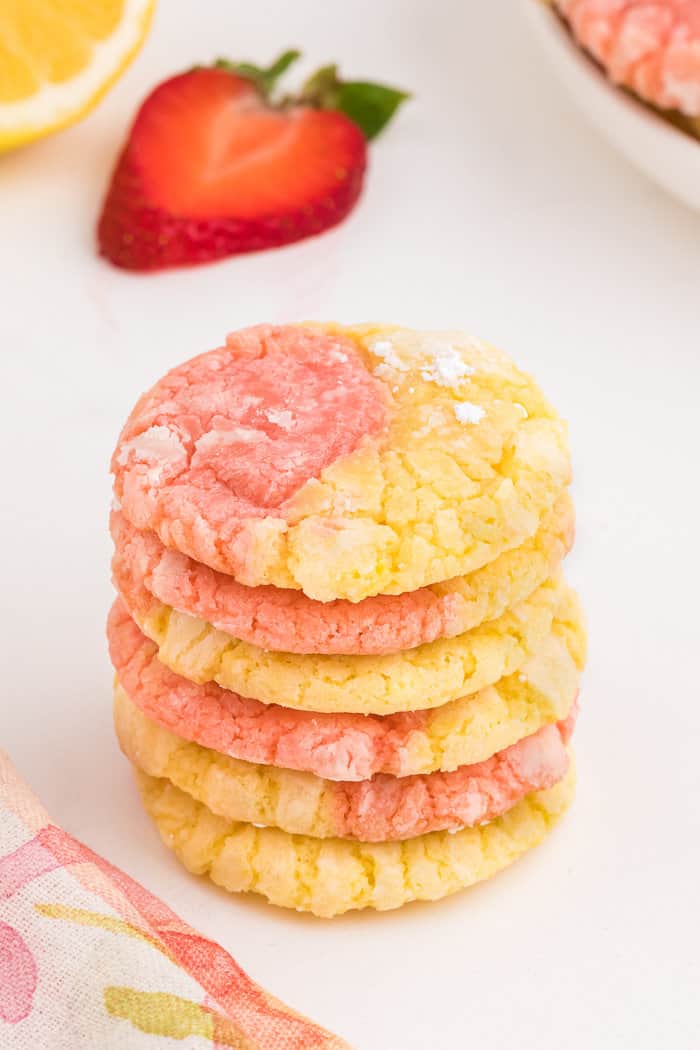 Now that I have your attention let's dive into baking these sweet treats. If you don't want to see it step-by-step right now, you can simply scroll to the bottom for the full recipe.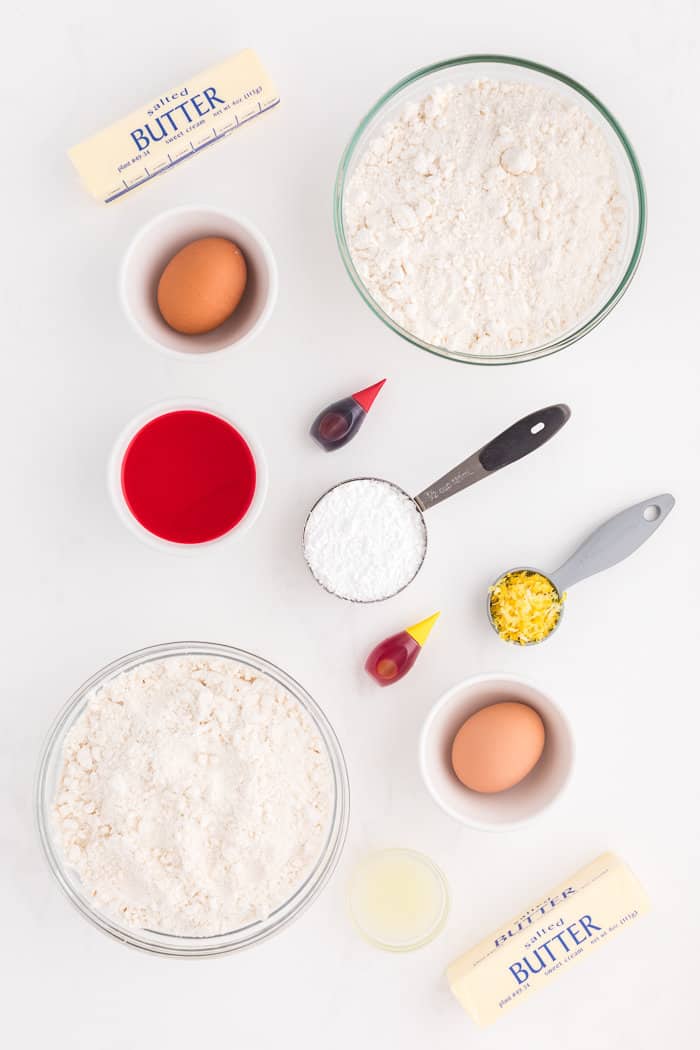 First, we want to make our lemon dough, so add all the ingredients into your mixture and combine until soft dough forms.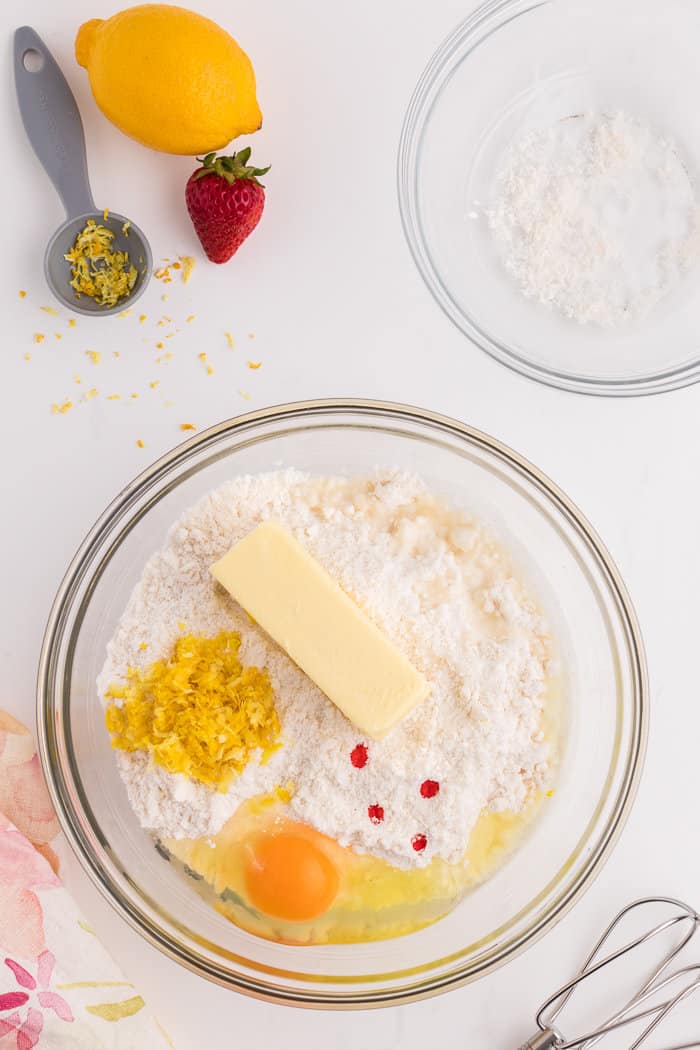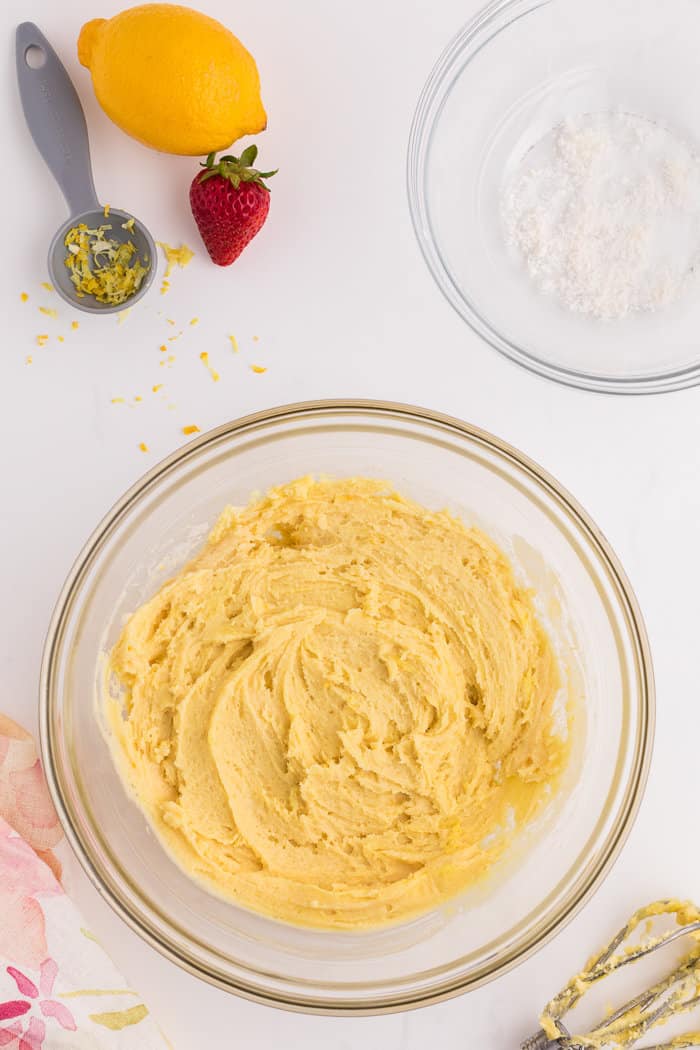 In another bowl, combine your ingredients for the strawberry dough.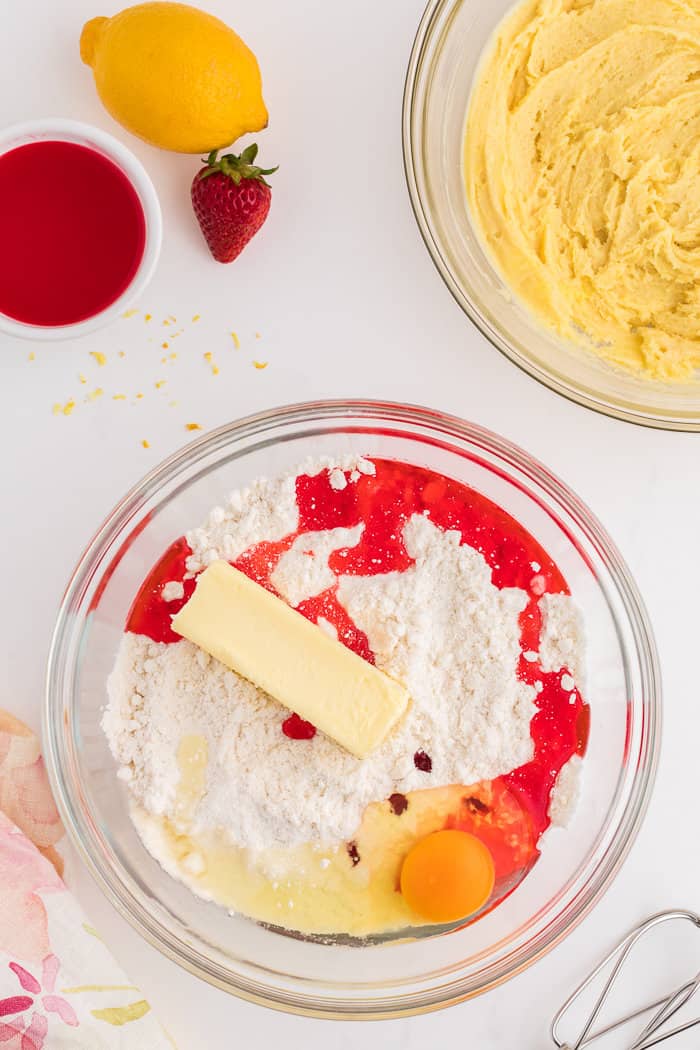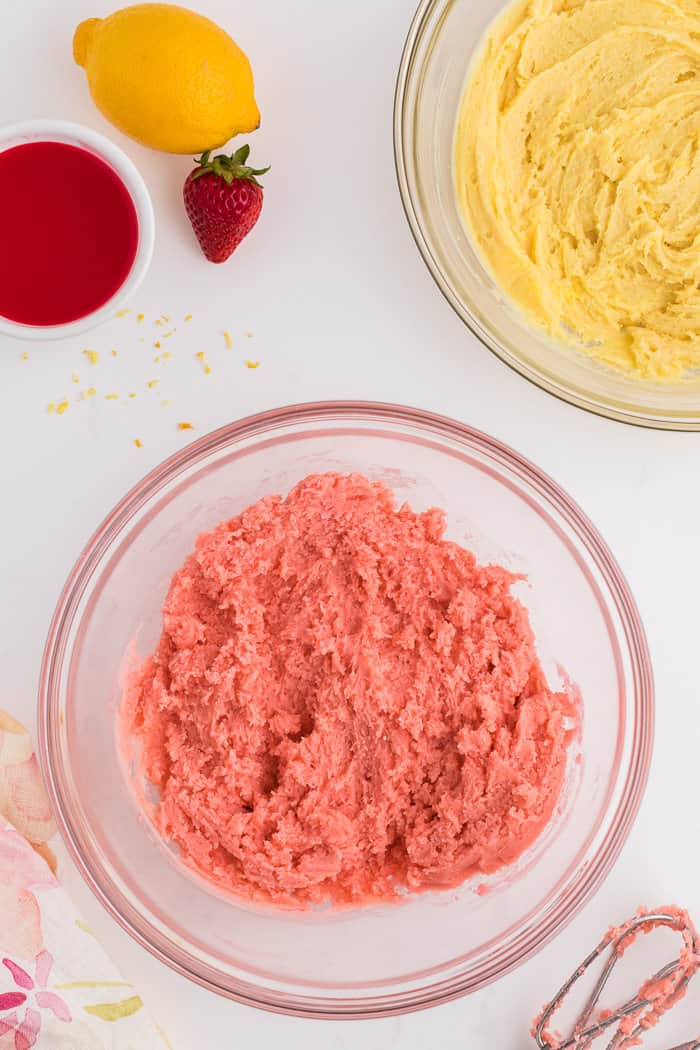 Grab your cookie sheets and prepare them lightly with cooking spray.
Use a ½ tablespoon to get a scoop of lemon and a scoop of strawberry dough.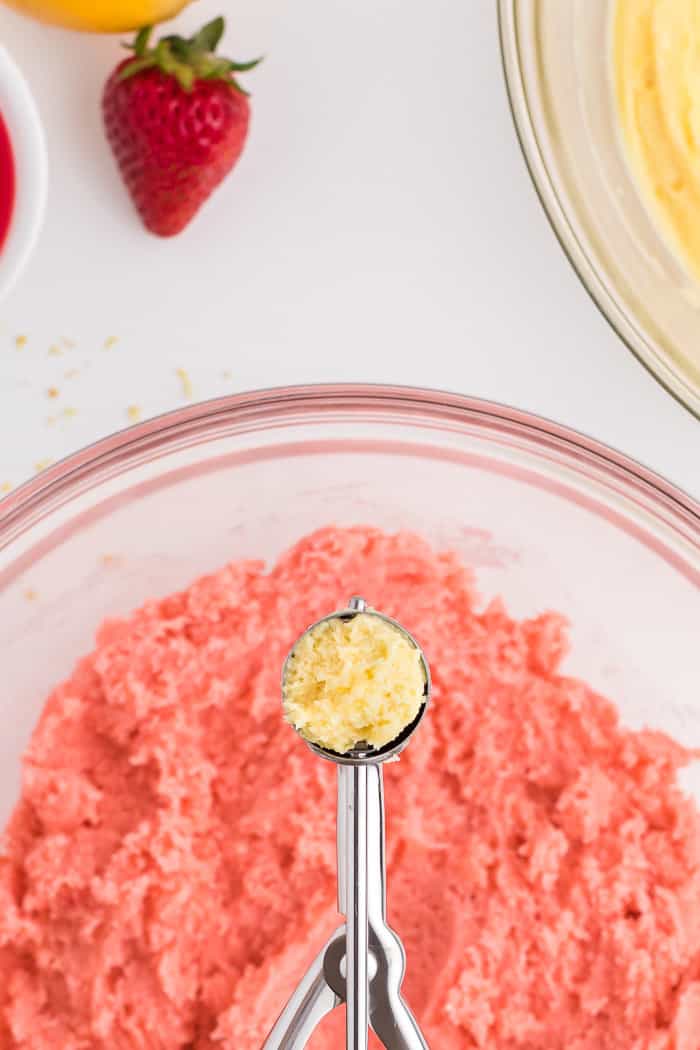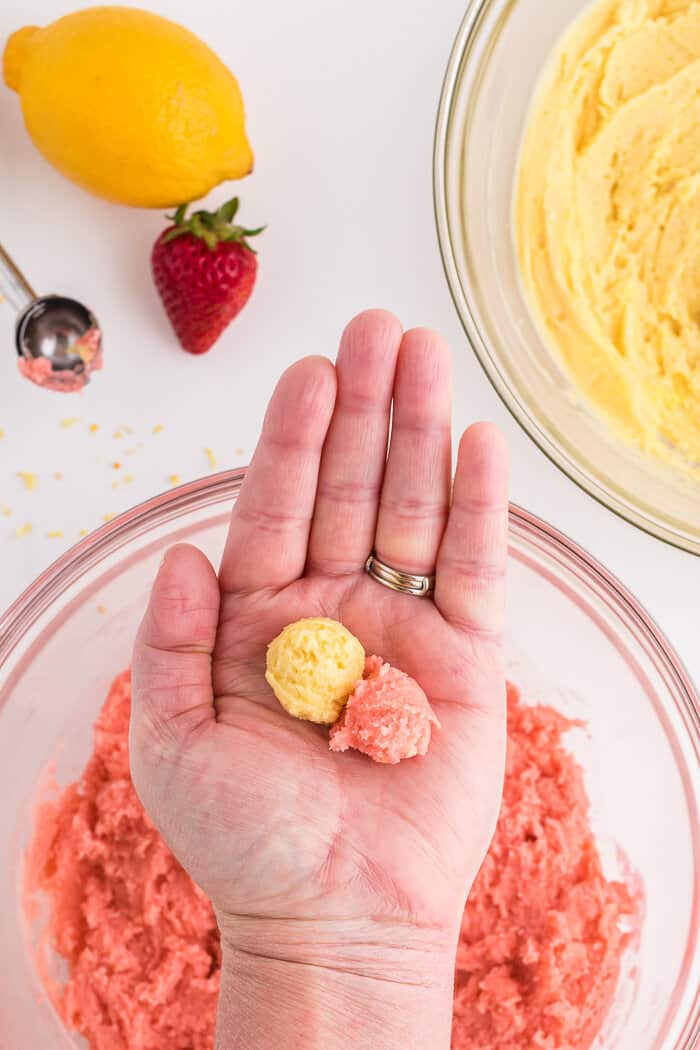 Roll together into a 1-inch ball. Roll in powdered sugar and place on your prepared cookie sheet.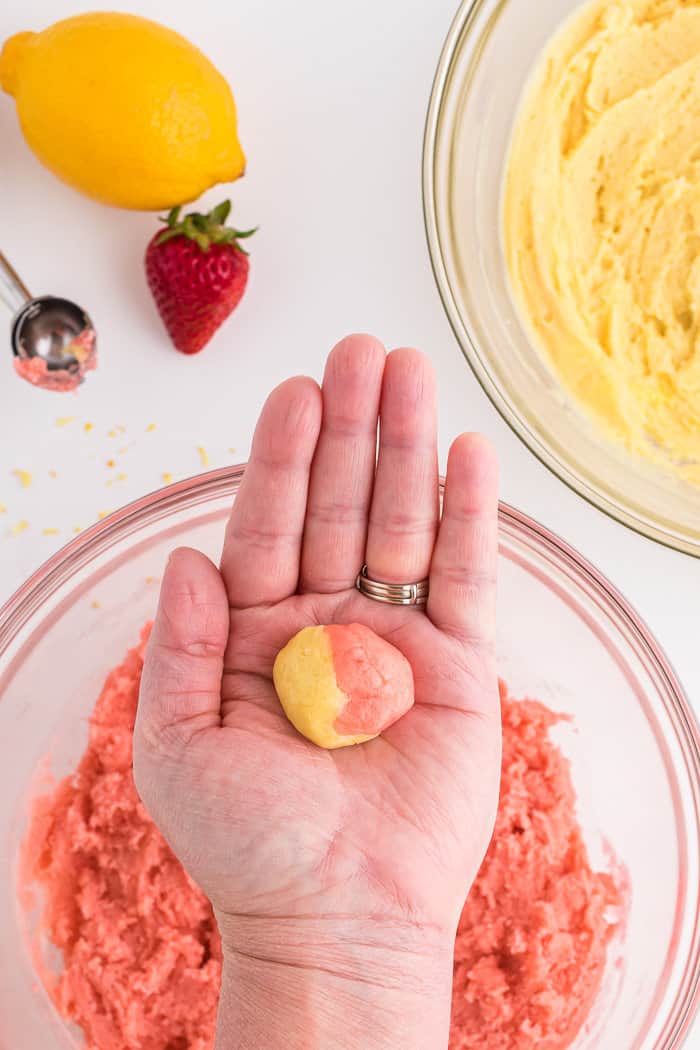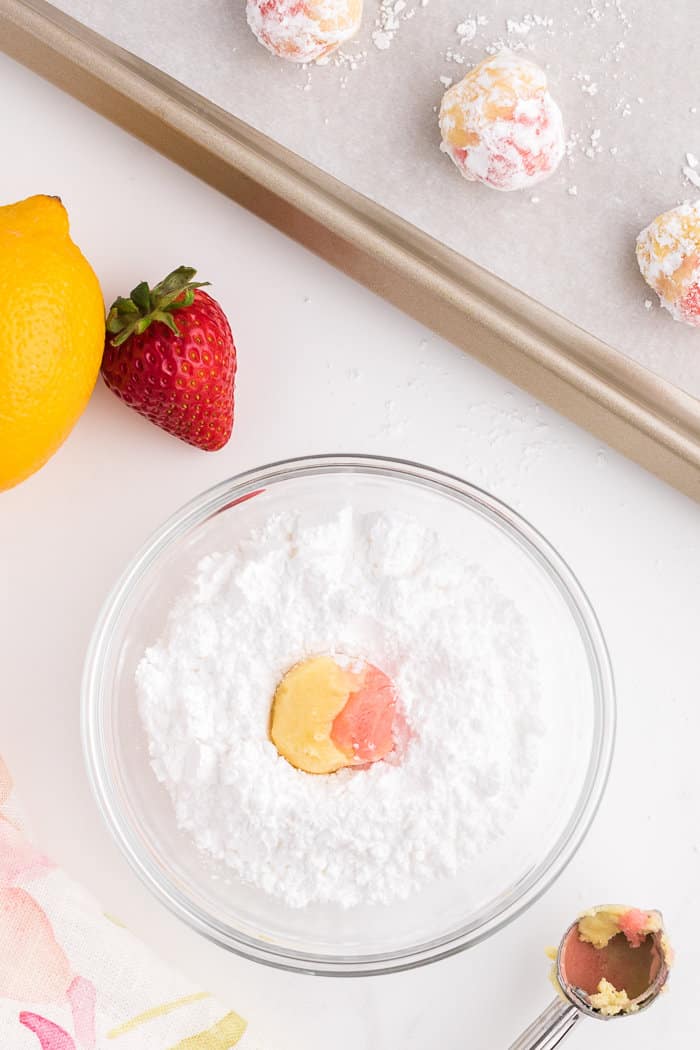 Refrigerate your dough for at least one hour before baking.
Bake one sheet at a time for 7-9 minutes or until the edges, have barely started to change color.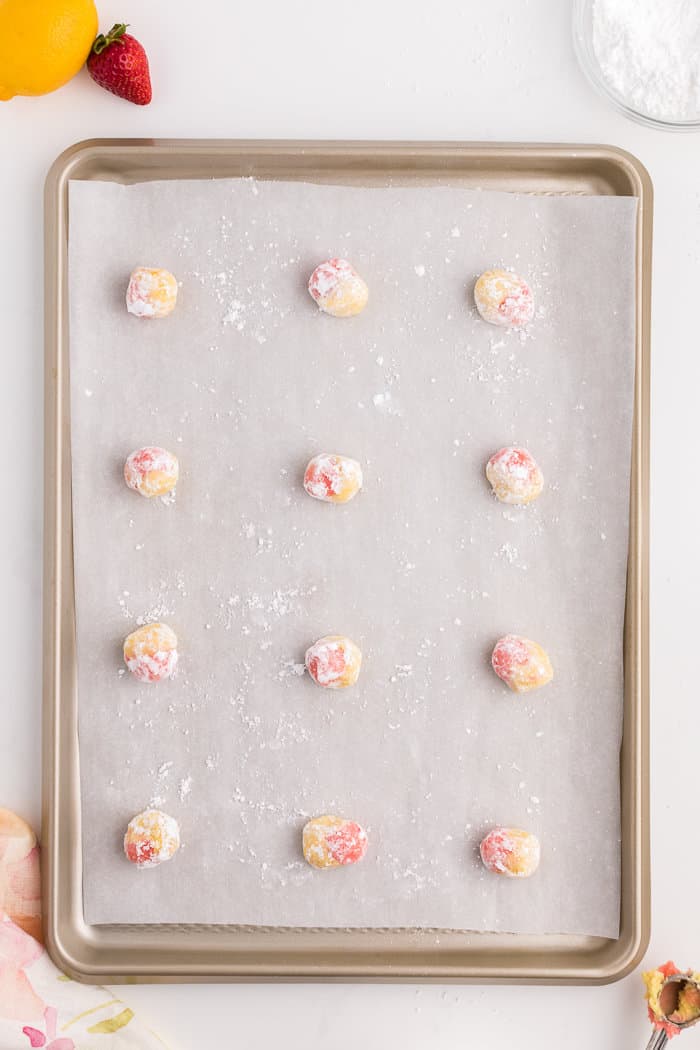 Remove them from the oven, let them cool, and enjoy!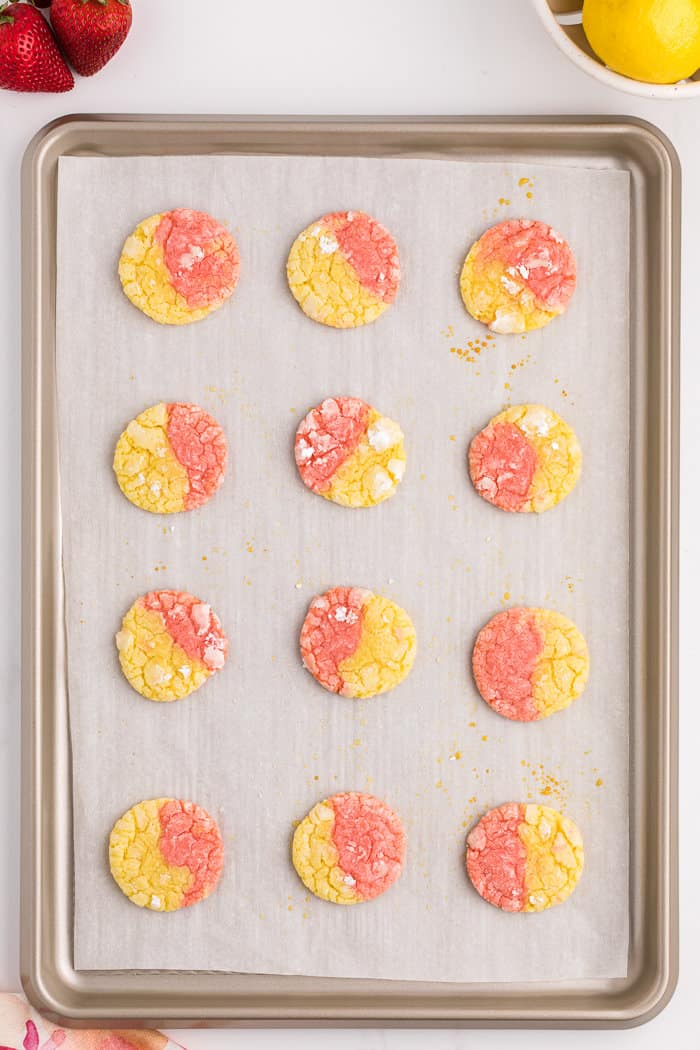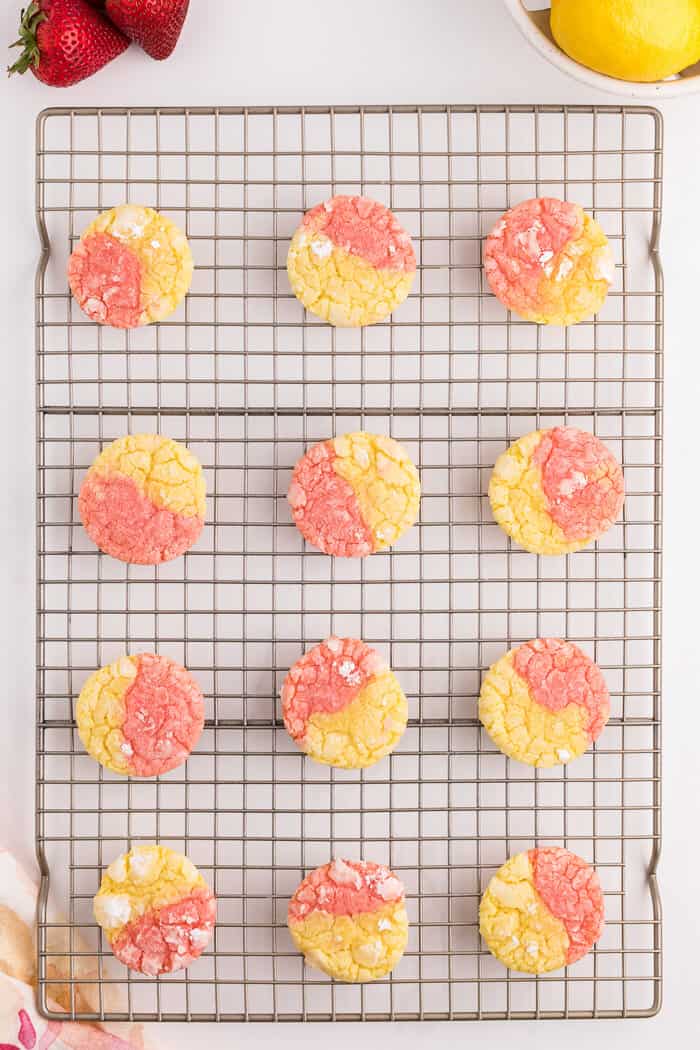 These Strawberry Lemonade Cookies are great warm or cool and will keep everyone in the house satisfied; until they run out and everyone is begging for more :-).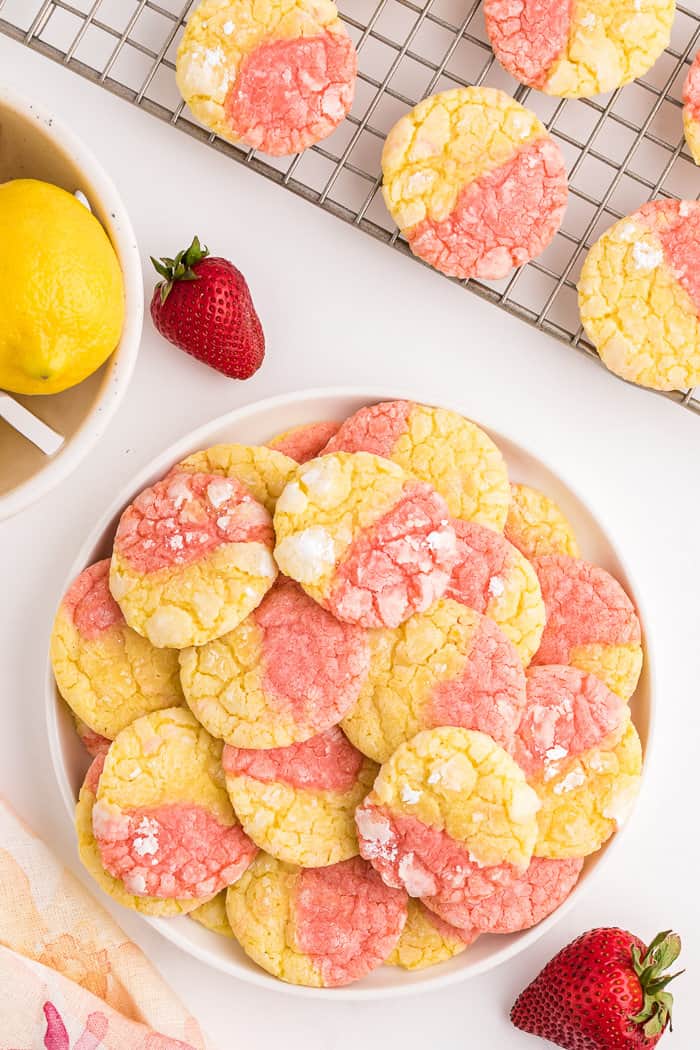 If you want some other fun lemonade-inspired recipes, then take a look at these Pink Lemonade Cupcakes or these Mango Kiwi Lemonade Popsicles.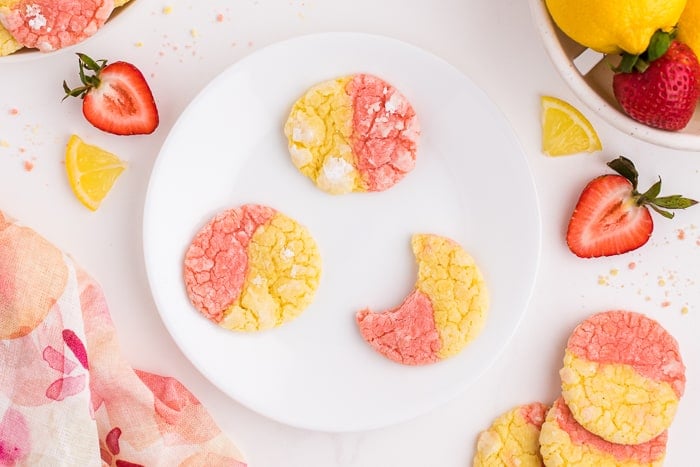 What do you think of these super easy and delicious Strawberry Lemonade Cookies? Let me know in the comment section below. As always, if you share across social media, make sure you tag #aclassictwist so I can see your beautiful creation come to life.
Happy baking, everyone!
Frequently Asked Questions
How do I store these Strawberry Lemonade Cookies?

These cookies will keep at room temperature, in an airtight container, for 3-5 days. You can store them in the refrigerator for up to 2 weeks or wrap them well and freeze them for 4-6 months.

What are some tips and tricks for making these Strawberry Lemonade Cookies?

These cookies are incredibly easy to make, but all easy things can get complicated if you aren't prepared! Here are some tips and tricks to ensure your cookies turn out delicious every time!

Use room temperature ingredients! This is incredibly important, especially for the butter. Using cold butter for this recipe will give you inconsistent or lumpy dough and a hard, unpleasant cookie. Do not melt your butter. Set it out on the counter about an hour before you intend to make your cookies at a nice room temperature when used. I also recommend setting out your eggs at the same time.
Chill the dough. This step is optional because the cookies will still be lovely and delicious if you skip chilling. But if you have the extra time, some chilling will give you beautifully fluffy, thick cookies. It is a simple step that can have a big result but is also unnecessary.
Top with a glaze. The only thing that can make these cookies better is topping them with a bit of a drizzle of glaze. You can easily make one with powdered sugar and milk or go fancy and make a cream cheese glaze. Either way, the added sugar, and elegance take these cookies to the next level.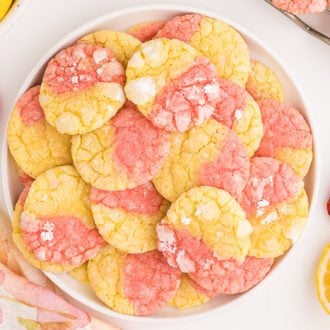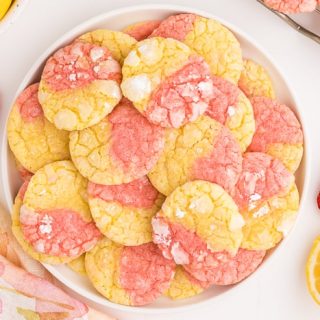 Yield: 4 dozen cookies
Strawberry Lemonade Cookies
These Strawberry Lemonade Cookies are a summer delight with their chewy texture and lip-puckering flavor.
Ingredients
Lemon Dough:
1 (17.5 ounce) sugar cookie mix
6 tablespoons (¾ stick) salted butter, softened
1 large egg
2 tablespoons lemon juice, about 1 lemon
1 tablespoon lemon zest, about ½ lemon
4 drops yellow food coloring
Strawberry Dough:
1 (17.5 ounce) sugar cookie mix
6 tablespoons (¾ stick) salted butter, softened
1 large egg
2 tablespoons strawberry syrup
4 drops red food coloring
Additional ingredients:
Instructions
Prepare the lemon dough by using a stand or hand mixer and a medium-sized mixing bowl to combine the sugar cookie mix, softened butter, egg,
lemon juice, lemon zest and yellow food coloring together until a soft dough forms.
In a separate mixing bowl, combine the second cookie mix, softened butter, egg, strawberry syrup and red food coloring until it also forms a soft dough.
Prepare several cookie sheets with parchment paper or a small amount of cooking spray.
Use a ½ Tablespoon to scoop out a ball of lemon dough and a ball of strawberry dough.
Gently roll the two doughs together to form a 1-inch ball. Roll the cookie ball in the powdered sugar until covered and then place it on the prepared cookie sheet.
Repeat steps 4 and 5 until all dough has been used to form balls. Be sure to keep 1-2 inches of distance between cookies.
Place the prepared dough in the refrigerator for 1 hour or up to overnight, optional.
Once the dough has been chilled, preheat the oven to 375 degrees Fahrenheit.
Bake the cookies, one cookie sheet at a time, for 7-9 minutes or until the cookies have set on the top and the edges have just barely begun to change color.
Remove from the oven and allow the cookies to cool 5-10 minutes before removing them from the cookie sheet.
Enjoy warm or cooled to room temperature.
Recommended Products
As an Amazon Associate and member of other affiliate programs, I earn from qualifying purchases.